Minnesota's $65 million gamble paying off
Steve Hutchinson, Chester Taylor and Tony Richardson -- Minnesota's three big free-agent signings -- paid off big in the Vikings' win over Seattle, writes John Clayton.
Updated:
October 24, 2006, 9:18 AM ET
By
John Clayton
| ESPN.com
SEATTLE -- On Sunday at Qwest Field, Vikings coach Brad Childress finally convinced the world why the Vikings invested $65 million to make a playoff run.
Viking fans had been growing impatient. Chester Taylor, who cost $14 million over four years, entered the game against the Seahawks averaging only 3.8 yards a carry. Steve Hutchinson, the Vikings $49 million left guard, was just settling in and getting comfortable playing beside left tackle Bryant McKinnie. Tony Richardson, who signed a two-year, $2 million deal to be the fullback, was like a "Dancing With the Stars" partner waiting to take the lead.
In a surprising 31-13 domination of the Seahawks, the Vikings' running trifecta all came together, highlighted by one stunning and backbreaking play. The Vikings led, 17-10, in the third quarter. The Seahawks and their loud fans were still grimacing over quarterback Matt Hasselbeck's knee sprain. Knowing the game could come down to field position, Mike Holmgren watched his punter pin the Vikings at their 5-yard line.
Childress called a basic lead running play to the left, which really isn't basic when the game's best left guard (Hutchinson) and a destined-to-be Pro Bowl left tackle McKinnie, all 6-feet-8 inches of him, fill the left side of the line. The Seahawks rode a similar type of weakside play to the Super Bowl last year with Shaun Alexander running behind Hutchinson and Walter Jones.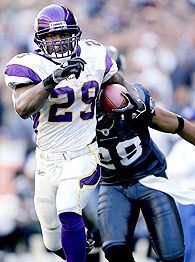 Dustin Snipes/US PresswireChester Taylor's 95-yard run was the highlight of the Vikings' win over Seattle.
"This is a play that gets the linebackers flowing," Taylor said. "If the offensive linemen can push them by, then you see what happens."
What happened was a 95-yard Taylor run that basically sealed one of the Vikings' most important road wins of the past year. Taylor, who's known for chipping away at defenses with short, no-nonsense runs, made the longest run of his football career -- high school and college included.
"I'm glad he didn't spasm his back," Childress said of Taylor's long run, which seemed to take an eternity. "He threw his chin back around the 25-yard line. Those guys in the front did something, and if you make somebody miss or step through ... ."
The weird part about Taylor's run was how it started. He flowed naturally to his left, drawing the Seahawks linebackers and defensive tackles into an enticing trap. The only problem was, at first, Taylor's shoulders weren't square to the line of scrimmage, the technique most running backs need to have full vision of the field. His body was contorted to a point where he was initially staring toward the side of the Vikings end zone.
But backs run according to instinct and that's what Taylor did. Hutchinson, McKinnie and others started knocking down the overpursuing Seahawks defenders and Taylor cut neatly behind the blocking until he found open field.
"Sometimes as a running back, you don't know why you do things. You just go on instincts," Taylor said. "But you need a little more than instincts in this game. I can't pinpoint it."
Taylor finished with 169 yards on 26 carries, but he struggled to figure out which was exactly more tiring -- the constant sacrificing of his body into the middle of the Seahawks defense, or his 95-yard run.
"To tell you the truth, I felt it at about the 15-yard line," Taylor said. "Luckily, the safety (Michael Boulware) dove for my legs, so I cut it back inside. He felt it, too."
And so did the Seahawks, who couldn't recover from the double push of losing Hasselbeck and giving up a 95-yard touchdown to a back whose longest run this season was 33 yards.
"We've been pretty good on defense all around the board," Seahawks linebacker Julian Peterson said. "Then you'll see a big play every once in a while, and it will be a big deflator. This team, we didn't get enough opportunities to make a couple big plays ourselves, either on defense, offense or special teams. They made all the big plays, and that was the big difference in the game."
For the first time this season, the Vikings showed some explosion. They have been used to playing close-to-the-vest heavyweight fights that go down to the wire. Against the Seahawks, the Vikings opened up the big play.
Trailing 10-3 in the first half, Minnesota quarterback Brad Johnson hit Marcus Robinson with a 40-yard touchdown pass that caught cornerback Kelly Jennings and Boulware confused as to where to position themselves in coverage. To help their red-zone production, halfback Mewelde Moore fired a 15-yard touchdown pass to tight end Jermaine Wiggins in the back of the end zone.
"We had open tryouts this past week for that particular play and Chester was getting too many runs," Brad Johnson said of the halfback-option pass. "Mewelde did a great job. For that to be a third-and-long call ... one, to make that call, and two, to trust your player to make the right read, that was a huge play."
Certainly, the Vikings wanted to make huge plays for Hutchinson's return to Seattle. Even though Hutchinson helped take the Seahawks to the Super Bowl last year, Seahawks fans booed him with disdain for leaving. Seahawks management made a strategic negotiating mistake by placing the transition, and not the franchise, tag on Hutchinson, giving the Vikings the chance to make a poison pill-laden contract the Seahawks had no choice but to reject.
"I got booed more than anybody in the history of the Seahawks," Hutchinson said. "Certainly, no offensive lineman got booed as much as me. The fans basically cussed me out for about three hours. That was it. I don't know. That is about as much interaction as I had."
The game, after all, was labeled the Hutchinson Bowl. So it was fitting for the biggest play of the game -- Taylor's 95-yard run -- to come at the closed end of the stadium where voices carry to the field.
"We were backed up," Hutchinson said of the third-quarter situation before the run. "The crowd was obviously loud back here. It was a crucial point in the game. If they hold us there, and we have to punt, then they have a short field. You know that their offense is very potent. The first play out of the gate, I think that we broke a little bit of their spirit there by running 95 yards and going up by 14. It was a play that we ran several times in the game. I think we just got a different look."
Hutchinson sensed the run would go big when the linebackers got out of their line. Taylor redirected his body and followed Richardson's lead block and those by Hutchinson and the left side of the line.
"We needed that," Johnson said. "The crowd was going nuts, and you could barely hear in the huddle. We called one of our best runs and they jammed it. There really wasn't much there. Chester did a great job of keeping his legs alive and took it around up the side. To run that distance, that's a long way to run. It was huge for the momentum of the game."
And for the momentum of a season. The Vikings are 4-2 heading into next Monday night's home game against the Patriots. After that, they play four games against teams with a combined record of 10-20. If the Vikings can beat New England, it's not out of the question for them to be 9-2 heading into their Dec. 3 showdown against the Bears in Chicago.
"I feel like as far as the offense, we are coming together," McKinnie said. "We actually made some plays instead of coming up short with threes (field goals). Even when we did score three today, we rallied and ended up getting seven."
All of a sudden, that $65 million thrown at Hutchinson, Taylor and Richardson looks like money well spent.
John Clayton is a senior writer for ESPN.com.
NFL senior writer
Senior NFL writer and commentator
Joined ESPN in 1995
Member of the writers' wing of the Pro Football Hall of Fame in Canton, Ohio
EDITORS' PICKS
Odd jobs and a stint with NFL Europe's Rhein Fire prepped Jim Tomsula for his role as the 49ers' coach.
Gutierrez »

If Adrian Peterson's court victory doesn't mean he's been reinstated, what does it mean? We sort it all out.
Seifert »

Is Jameis Winston still the top pick? Here's how the combine impacted Todd McShay's first-round outlook.
Mock 3.0
Nike Men's Home Game Jersey Minnesota Vikings Greg Jennings #15 Shop »

MOST SENT STORIES ON ESPN.COM