Rivers, Chargers a 'relentless' bunch
Thanks to Philip Rivers' ability to forget, the Chargers have another win they'll remember for a long time, writes John Clayton.
Updated:
November 20, 2006, 4:52 PM ET
By
John Clayton
| ESPN.com
DENVER -- The great quarterbacks have short memories. All the great ones made mistakes. They just didn't remember them when they were on the field.
Following the Chargers' unbelievable 17-point second-half comeback to beat the Broncos 35-27 on Sunday night, Chargers coach Marty Schottenheimer used the Joe Montana comparison with Philip Rivers' short memory. Last season, the Chargers blew a game in Denver when Drew Brees opened the second half by throwing an interception that Champ Bailey returned for a touchdown. On Sunday night, Rivers threw a third-quarter pick to cornerback Darrent Williams, who returned it 31 yards for a touchdown to give the Broncos a 24-7 lead.
Rivers spent about a minute questioning himself with teammates on the bench, saying, "I can't believe I threw that ball out there." Veteran receiver Keenan McCardell and others told him not to worry. Rivers didn't. He came back by completing 11 of his next 13 passes for 148 yards in three consecutive scoring drives to take a 28-27 lead.
"We're a relentless group of guys. We feel like we're never out of a ball game no matter how much we're down. You have to keep playing against us because we feel like we can score at any time. I'm going along for the ride."
-- San Diego RB LaDainian Tomlinson
A week ago, Rivers rallied the Chargers from a 21-point deficit against the Bengals to beat them 49-41. Rivers doesn't mind going against the stream. This Rivers has ice running through his veins when the games get hot. Thanks to Rivers' ability to rebound, LaDainian Tomlinson's fresh legs and a relentless group of Chargers, San Diego (8-2) leads the AFC West by a game over Denver.
"The best quality of Philip Rivers is that he never thinks about the last play," Schottenheimer said. "That was the quality in my view that made Joe Montana the great quarterback that he was. When the previous play's over, it doesn't matter to him."
Schottenheimer brought up an anecdote from the preseason that gave him a preview of coming attractions involving Rivers. The Chargers were playing the Seahawks in San Diego. Rivers botched center snaps and handed the Seahawks a 14-0 lead. Most quarterbacks would have folded. Rivers went to work, coming back with three touchdown drives to give the Chargers a 21-14 halftime lead.
Sunday night was no different. After nine weeks of playing safe, efficient zone defenses that lacked blitzes, Shanahan opened the defensive playbook and unleashed the hounds. The Broncos moved safeties from the middle of the defense and stuck them near the line of scrimmage in "Cover 0" blitzes. To stop Tomlinson, the Broncos stacked eight and nine defenders near the line of scrimmage.
Rivers struggled. He completed only one pass in the second quarter, and he watched the Broncos build a 24-7 lead in the third quarter. The killer could have been Williams' interception for a touchdown. But after lamenting it while Jason Elam kicked the extra point, Rivers blocked it out and went back to work.
"You make a critical error like that -- an interception for a touchdown on the road -- you usually don't come away with a win," Rivers said. "Nobody panicked. I put it behind me and said, 'I just have to keep playing.' That's a credit to our team, our maturity and we're a special bunch. It was like the scoreboard wasn't even up there. We just went out there and played."
Give offensive coordinator Cam Cameron credit, too. Trailing 24-7, and set up with good field position at the Chargers' 40 because of a Michael Turner 40-yard kickoff return, Cameron opened the comeback with a screen pass to Tomlinson for 14 yards.
"It's tough," Rivers said. "An interception like that never leaves your mind, but you don't want it to affect you on the field. If you worry about the interception, you throw another one. The key thing was starting with a screen that was a completion. It's amazing. You go back in the huddle and the score is 24-7 and everybody has the same look. That's what's comforting to know -- that nobody was down."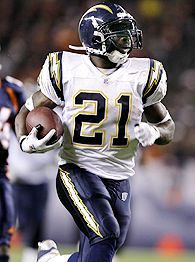 AP Photo/David ZalubowskiiLaDainian Tomlinson has scored 14 TDs in his last four games.
The Chargers simply charged. After driving to the Broncos' 37, Rivers got into a rhythm. He hit
Eric Parker
for a 15-yard gain and found
Antonio Gates
for 17 to move San Diego to the Broncos' 3. Tomlinson sealed the deal with a 3-yard touchdown run, his second of four on the night. The Chargers trailed 24-14.
It was no different than a week ago. Once the Chargers got two quick scores against the Bengals, they felt comfortable getting within seven points and made it a game. Same story, different city. The next time Rivers touched the ball Sunday night, he had good field position at the Chargers' 42.
On third down, he spotted the Broncos heading into another "Cover 0" blitz. No safeties were in the middle of the field. That was the good news. The bad news was six or seven angry Broncos were coming toward him, so he was not going to have much time to throw the ball.
"We called a protection in which everybody was out in route, so I have only the five linemen blocking for me," Rivers said. "We don't have anyone to block them. I can throw it hot to Gates on the other side. He ran the right route, but it was third down [and 3] and I didn't know if he had enough to get the first down or not. Or you can run away from the pressure. I ran away from the pressure. I had just enough time to get it to LaDainian."
Tomlinson took the screen 51 yards for a touchdown. The Chargers now trailed 24-21 with 4:51 left in the third quarter. It was a ball game. The Broncos marched 60 yards for a field goal, but the the score was 27-21. Still just a one-possession game.
The Chargers were suddenly in position to be the first team in NFL history to make 17-point comebacks in back-to-back games. Rivers marched the Chargers 55 yards on seven plays and hit Vincent Jackson in the back of the end zone with a 5-yard touchdown pass to take a 28-27 lead.
"We're a relentless group of guys," Tomlinson said. "We feel like we're never out of a ball game no matter how much we're down. You have to keep playing against us because we feel like we can score at any time. I'm going along for the ride."
Even when the Chargers don't want to score, they score. Jake Plummer threw an interception to Drayton Florence with 3:03 remaining, setting up the Chargers at the Broncos' 23. Tomlinson made three runs totaling 22 yards to the Broncos' 1, but two minutes remained and the Broncos had no timeouts. Rivers took a knee, but there was still 1:17 left. Because it was third-and-1, the Chargers called a Tomlinson run and the Broncos let him score to give the Chargers a 35-27 lead.
Then things got a little crazy. Broncos defenders lost their composure. Linebacker Ian Gold was called for unnecessary roughness and Williams was flagged for jawing at an official. The 30 yards of penalties let the Chargers kick off from the 40.
"You have to keep your poise at the end of the game," Shanahan said. "I'm not exactly sure what happened, but usually they catch the second guy. You have to keep your focus at those points in the game on both sides of the ball."
The Chargers' defense lost its composure briefly in the final 70 seconds. Defensive end Igor Olshansky was ejected after a personal foul call during a Plummer spike of the ball following a completion. That was a 15-yard penalty. Florence was called for delaying the game after a 14-yard completion to Rod Smith.
With 24 seconds left, the Broncos had the ball at the Chargers' 32, down eight. Plummer was sacked by linebacker Shaun Phillips. The ball popped loose and the Broncos never had a chance to get off another play.
This might have been the most courageous Chargers win in a long time. They were without their top two defenders -- Luis Castillo (ankle injury) and Shawne Merriman (suspension) -- and linebackers and defensive linemen were regularly limping to the sidelines. Suddenly, defensive coordinator Wade Phillips was running out of bodies.
"I don't remember all the injuries, but I just remember them coming to me and telling me, 'We don't know if we have enough guys to go out there,'" Schottenheimer said. "It's your worst nightmare when you're having trouble stopping the rushing game of one of the best rushing teams in the NFL. Our guys in the second half ratcheted it up. If we don't play well in the second half, we don't get back in the game."
Relentless is what Tomlinson calls his teammates. The Broncos can't argue. Last year, the Chargers lost a similar game. Now they lead the division by a game and aren't looking back.
John Clayton is a senior writer at ESPN.com.
NFL senior writer
Senior NFL writer and commentator
Joined ESPN in 1995
Member of the writers' wing of the Pro Football Hall of Fame in Canton, Ohio
SPONSORED HEADLINES
MORE NFL HEADLINES
MOST SENT STORIES ON ESPN.COM
EDITORS' PICKS
Before earning Seattle's reverence, Pete Carroll endured New England's scorn while trying to replace a legend.
Ashley Fox »

Michael Irvin picked seven Cowboys for his Pro Bowl team, but Cris Carter has Andrew Luck and J.J. Watt.
Preview »

Bill Belichick denied any team wrongdoings and offered other potential reasons for the deflated footballs.
Story »