Assistants have to be prepared
With many teams turning to young head coaches, assistants know they always need to be prepared for every opportunity. But it's hard to be ready for all of the obstacles a first-time head coach will have to overcome.
Originally Published:
March 28, 2007
By
John Clayton
| ESPN.com
Back in the days of Don Shula, Bill Walsh and Chuck Noll, the wait for head coaching jobs seemed eternal.
The NFL didn't have 32 head coaching jobs, so turnover wasn't as dramatic as it is now. Since 1992, the NFL has averaged seven head coaching changes a year. Back in the old days, assistants had the chance to compile long lists of fellow assistants they would hire if the head coaching opportunity came to them. Many didn't need job résumés because coaches hired friends they had worked with in the past.
Whether it's the high price of successful veteran head coaches or some other reason, the NFL has hired 12 first-time head coaches in the past two offseasons. Many of them are young -- really young. The Steelers went with 34-year-old Mike Tomlin. The Raiders turned to 31-year-old Lane Kiffin. Last offseason the Jets hired Eric Mangini, who was just 35 at the time. Though the process of hiring young first-time assistants isn't new, it's happening more frequently.
It has definitely altered how assistants prepare for the job. Call it the Boy Scouts way: be prepared. The chance for a head coaching job can hit at the most unlikely of times.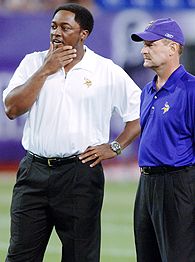 Kirby Lee/WireImage.comMike Tomlin, left, was the defensive coordinator in Minnesota last season.
Kiffin, for example, visited the Raiders with close friend Steve Sarkisian because he was going to be Sarkisian's offensive coordinator. Sarkisian pulled himself out of the running for the job, but Kiffin had impressed Al Davis enough that he was next in line. Fortunately for him, Kiffin had been thinking of being a head coach since his teens. His father, Monte Kiffin, is the defensive coordinator of the Tampa Bay Bucs and one of the most respected minds in the game, so Lane had always had his eye on the NFL.
He ended up changing all but five coaches on the Raiders' staff and he surrounded himself with a number of other young coaches he either had past relationships with or liked in interviews.
"These are creative, bright guys," Ravens coach Brian Billick said at this week's owners meetings. "They will figure it out. Everything goes in cycles, but this is an impressive group of first-time coaches. I know I'm feeling old. A bunch of us were sitting around in the meeting room [at the meetings] and saying, 'Who are these guys?' There are lot of bright minds."
Being bright is one thing, being right is another. While the trend may be creating opportunities for young coaches, the requirements are a little scary. Most first-time coaches get jobs on losing teams. If the coach isn't making his franchise a playoff contender by his third season, he's on the hot seat to be fired.
That's why the hiring of assistant coaches is the most important job of a head coach. Most staffs are only as good as their weakest assistants. A few mistakes in those hires can cause turmoil on an entire staff. A poorly coached position could lead to the downfall of the entire offense or defense and leave the head coach scrambling for fixes in Year 2.
"In the NFL, you better adapt or die," Billick said. "You better adapt on the run quick or you will die."
The new coaches have to adapt on the run. First, to create loyalty on their staff, they have to hire some assistants from their age group. But they can't go overboard -- they also have to get the right mix of veteran coaches. That isn't as easy as it might seem.
"When you interview a veteran coach, there is a different anxiety they have," Chiefs coach Herm Edwards said. "A veteran coach has been around. They will tell you, 'This is what I do.' The young guy wants the opportunity so bad when he leaves the room he's excited. He's excited about being in the NFL. You shake his hand and you get the feeling he thinks this is like Christmas."
Getting the proper chemistry is critical. The veteran assistant coach has to put aside the frustrations of working with or directly under a coach 10-20 years his junior. With the timetable so short for a first-time head coach to be successful, his staff has to click -- and click early.
Edwards has been successful with the Jets and the Chiefs. Those two jobs have seasoned him. He accepts the fast-paced nature of being an NFL head coach. The rapid turnover of head coaches has had its ripple effect among assistants. Coordinators are either getting head coaching jobs or getting fired at a much faster pace than in the past.
The Chiefs coach knows if he hires a bright, young coordinator, he's going to lose him within the next year or two. Edwards says it's just part of the job.
"When you hire a guy, you have to have a backup guy ready to take that spot," Edwards said. "I know if I've got a good coordinator, I'm probably going to lose the guy. If you don't have a guy ready, you are in a panic. You put yourself in the pool of fighting to get the good ones out there."
In the past, the wait for a chance to be a head coach was frustrating. Now, young head coaches live on the edge. They have to make the right decisions. If the job isn't right, it might be better to pass on the opportunity. Few have the luxury of hiring staffs of friends and co-workers from other teams. It makes the job much harder and the chances for failure much greater.
It's a brave, new and dangerous world for these coaches.
John Clayton is a senior writer for ESPN.com.
NFL senior writer
Senior NFL writer and commentator
Joined ESPN in 1995
Member of the writers' wing of the Pro Football Hall of Fame in Canton, Ohio
SPONSORED HEADLINES
MORE NFL HEADLINES
MOST SENT STORIES ON ESPN.COM
Our offseason series, The Talk, tackles hot NFL topics.
THE SCHEDULE:

TALKIN' COMBINE, MORE
Feb. 28: Interviewing at combine
March 1: Hot team in free agency
March 2: Five bargains and busts
March 3: Trades we'd like to see

TALKIN' QBs
March 5: Young, Cutler or Leinart?
March 6: This year's Jeff Garcia?
March 7: No. 3 QB in draft?
March 8: Life of a backup QB
March 9: Mentality of a backup

TALKIN' FRANCHISES
March 12: Franchises on the rise
March 13: Franchise on the decline
March 15: Best football cities

TALKIN' WRs
March 19: NFL's best WRs
March 20: How high to take a WR
March 21: Lions drop the ball
March 22: Perfect wide receiver March 23: WRs tough to size up

TALKIN' ISSUES/COACHES
March 26: Player conduct
March 27: Best organizations
March 30: Once a coach ...
March 30: When opportunity knocks

TALKIN' DEFENSE
April 2: Best defensive player (current)
April 3: Best defensive player (ever)
April 4: Defensive trend
April 5: Dallas' renovation project
April 6: Up-and-coming