Crennel has a lot to do and little margin for error
Can Romeo Crennel save his job? Is Matt Schaub the answer in Houston? John Clayton poses five questions to ponder as June winds down.
Originally Published:
June 27, 2007
By
John Clayton
| ESPN.com
Every team has questions.
The defending champion Colts have to replace two starting cornerbacks and a weakside linebacker. The Patriots have to see how their four new receivers, including Randy Moss, can mesh with Tom Brady. The Chargers have to see whether they can advance beyond the first round of the playoffs by changing head coaches from Marty Schottenheimer to Norv Turner.
Training camps open in about a month, so there isn't enough time to resolve all the questions. Here are the five top questions as June ends.
1. Can Romeo Crennel turn the Browns into a winner?
No coach has more pressure on him than Crennel. He can't afford to get off to a slow start. The Browns' bye week is after Week 6, but his season and future will be determined in September. The team's first four games are AFC North home games and a potentially winnable game against the Raiders. Going 2-2 might not be good enough.
Even though Derek Anderson might appear a little more efficient running practices, Charlie Frye will be the starting quarterback. Frye has the confidence of Braylon Edwards and the returning starters, and any little bit of confidence is important.
Still, during camp -- regardless of whether Brady Quinn holds out -- Crennel has to develop the team's first-round quarterback. Making everything tougher is the new offense being installed. Lots of balls hit the ground during minicamp. Crennel has to break in a new running back, Jamal Lewis. He has to get the most out of a defense that has trouble stopping the run. The Browns have major question marks at cornerback.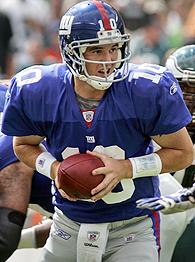 AP Photo/George WidmanThe Giants are counting on QB Eli Manning to emerge as a leader this season.
2. Will the Giants have a happy training camp with Tom Coughlin?
Coughlin made it clear to his players at minicamp that he wants the griping and complaints to stop. Coughlin wins because he is demanding. He makes everyone focus on the practices and the games. But that wears on players. Coughlin makes all of his players do the little things that turn them into winners. In camp, though, Coughlin has to convince the players they will be winners. That might be tough. They don't have the running back to completely replace the offensive production of Tiki Barber. They are patching the left tackle position with guard David Diehl.
This is an important training camp for quarterback Eli Manning. He has to be more of a leader this summer with Barber gone. He has gotten off to good starts the past two years, but faded in the second half of the season. Despite back-to-back trips to the playoffs, the Giants have a lot of questions.
3. Can the Bengals behave for one more month?
A year ago, every time coach Marvin Lewis turned on a television set or read a newspaper, he had to worry. The concern was the behavior of his Bengals. The situation is so volatile in Cincinnati that even innocent acts could turn into headlines because everyone is watching. Wide receiver Chris Henry, who hasn't missed a drug test or a counseling session as he prepares for his eight-game suspension, had a false positive on a drug test, but the office that received that information was quick to leak it to the press.
Backup halfback Quincy Wilson and linebacker A.J. Nicholson were the only Bengals this offseason to have any issues. Nicholson is gone, and Wilson will struggle to make the team. But the fallout from 10 Bengals' being arrested in the past 14 months remains. The good news for the Bengals is Carson Palmer has had the entire offseason to work with his receivers and improve his fundamentals. His goal is to hit the 70-percent accuracy mark this season. What the Bengals can't tolerate is any more off-the-field distractions.
4. Will Steelers coach Mike Tomlin be able to carry over the momentum from minicamp into what will be a tough training camp?
Tomlin won great reviews for what he did at minicamp. Veteran defenders like the new ways he made everyone accountable for mental mistakes. Tomlin added a few aggressive changes to the defense. Ben Roethlisberger spent more time with the team this offseason. He likes how more involved he will be with the passing offense.
But camps for new coaches are tough. Tomlin has to make a statement. In Minnesota as defensive coordinator, Tomlin caught the attention of veteran defenders by how hard he made them work. In the end, he won them over and the defense grew around him. Tomlin has to find a pass-rush option now that Joey Porter is gone. He has to sort out a lot of long-term offensive line issues because so many of the starters are entering the final years of their contracts. It's an important camp for the Steelers.
5. Is Matt Schaub the savior of the Texans' offense?
The answer is he had better be. For five years, David Carr tried every configuration of offense, but it didn't work because of poor offensive-line blocking. He tried quick throws. He tried roll-outs. The results still ended up being too many sacks. Head coach Gary Kubiak felt change was needed, so he traded for former Atlanta backup Schaub, who is a tall, smart quarterback who gets rid of the ball fast.
First, Kubiak has to establish a running game with Ahman Green. Second, he needs to find a receiver on the other side of Andre Johnson; Kevin Walter is the leading candidate. The team is considering the signing of Keenan McCardell, which wouldn't be a bad idea. The Texans' starters are the youngest in the NFL. The team is particularly young on defense. Offense has been the biggest problem, and Kubiak is banking on Schaub to be the answer to the problems.
John Clayton is a senior writer for ESPN.com.
NFL senior writer
Senior NFL writer and commentator
Joined ESPN in 1995
Member of the writers' wing of the Pro Football Hall of Fame in Canton, Ohio
SPONSORED HEADLINES
MORE NFL HEADLINES
MOST SENT STORIES ON ESPN.COM
EDITORS' PICKS
The NFC North and AFC North are two of four divisions to be settled in a Week 17 packed with intrigue.
Game previews »

Getting these workload warriors to leave the field is no easy task. Here is this year's NFL All-Ironman team.
Pro Football Focus

Can the Lions win in Green Bay? Here are all our Week 17 picks.
NFL Nation »