Commentary
Chargers find their identity in Denver
With their season already hanging in the balance, the Chargers respond with a blowout win at Denver.
Originally Published:
October 7, 2007
By
John Clayton
| ESPN.com
DENVER -- For three weeks, their opponents have guessed correctly when calling run blitzes against two-back sets. So when San Diego Chargers running back LaDainian Tomlinson was stuffed for a 4-yard loss by Denver Broncos safety Nick Ferguson on the opening play of Sunday's game, one thing immediately came to mind.
Here we go again.
Thing is, the Chargers didn't give in to that negative mind-set. Instead, they called another running play, with Tomlinson gaining a couple of yards. Then the big play -- Tomlinson catching the Broncos in overpursuit and rumbling 36 yards on a screen pass.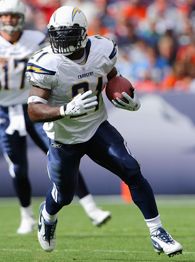 Photo by Doug Pensinger/Getty ImagesLaDainian Tomlinson produced 140 yards of offense.
Suddenly, the Chargers had confidence. A few plays later, they had a touchdown. A few seconds later, they had another touchdown, thanks to a fumbled forced by Carlos Polk on the kickoff that rookie Brandon Siler picked up and ran 23 yards for the the score. Eventually, they had the outcome they so desperately needed, romping past the Broncos, 41-3.
Tomlinson admitted afterward that another loss would have put the Chargers in serious trouble. They would have fallen to 1-4 and been feeling as though their identity had been stolen. That's why Sunday's game was a must win. So during the week, Tomlinson, Philip Rivers and the offensive linemen focused on executing the running attack, which entered the game ranked 24th. Thursday's practice, said Tomlinson, was the best of the year.
"Not to say we have to run the ball all the time and be conservative," Tomlinson said, "but the foundation is to run the ball. It sets up the passing. That's the way this team is built. Norv [Turner] is a smart guy. He understands that. We are just starting to get used to each other.
"It's nice to have a game come up like that where you get a touchdown on the first drive and then, bang, you get an easy touchdown -- whether it be a return or a fumble pick up in the air -- and then score."
Now, five weeks into the season, the Chargers' run to the playoff has officially started, even though their record is just 2-3.
Of course, what invigorated San Diego felt just the opposite for Denver, which suffered its worst home loss in 41 years. "I don't think our players have ever been more embarrassed to put on that type of show," Broncos coach Mike Shanahan said.
Despite the quick 14-0 lead, the Chargers' true defining moments came on the next two series. Safety Marlon McCree forced Broncos WR Brandon Marshall to fumble at the 9-yard line to stop a Denver scoring drive. Then San Diego made it a point to go to the two-back set featuring Tomlinson and fullback Lorenzo Neal.
"We know how important our two-back running game and Lorenzo is to the offense," Rivers said. "At the same time, defenses know when we have that personnel that we like to run the football. We tried some shifts and movements to give us a chance."
Tomlinson called that particular series a statement. In the Week 3 loss to Green Bay, the Chargers lined up in two-back a dozen times, and the Packers called run blitzes a dozen times. The Chargers were held to 73 rushing yards. What teams were doing was seeing where Neal would angle his body, then blitzing a safety to that side.
Against the Broncos, the Chargers tried different formations. They lined up Neal as a receiver and then had him come into a normal fullback position in front of Tomlinson. Many of those calls were similar to what the Chargers did a week ago in a loss to the Chiefs. The difference in this possession was the execution. Blockers buried Broncos defenders. Tomlinson slipped through the holes, and the running game finally got running.
In a 13-play drive that ended with a Nate Kaeding field goal and a 17-0 lead, Tomlinson ran six times for 32 yards. When Broncos defenders started overpursuing, Turner called another Tomlinson screen pass. That went for 29 yards. The blowout was on.
"The running game was definitely a main point of emphasis, and even though they tried to play the run with eight men in the box, we were still committed to it," Tomlinson said. "That's why we had the play-action work for us and the screens work for us."
The Chargers finished with 214 yards on 37 carries. Tomlinson had 67 yards on 21 carries and 73 more on three pass receptions. Michael Turner embarrassed the Broncos for long second-half runs and had 147 yards on 10 carries. Things were so bad for the Broncos that Rivers, who admits to having 5.0 speed in the 40, beat defenders to the corner on the slowest 1-yard touchdown run in recent memory.
"Man, it took forever, forever, for him to score," Tomlinson said with a laugh. "I don't think I've ever seen anybody run that slow."
Tomlinson and the Chargers should laugh. The Broncos are a joke against the run. They entered the game as the league's No. 1 pass defense (114 yards a game) because there is no reason to throw on them. Adding San Diego's totals, Denver is giving up 187.6 yards a game on the ground, which is why the Broncos' losing streak is up to three games.
"We've got a lot of work to do," Shanahan said. "Anytime you give up the type of yards we gave up in the running game, there's a concern there. So we'll work at it extremely hard this week. Obviously, in our bye week we'll do it for a couple of days and hopefully improve. Against a team like San Diego, you can stop them for a couple of plays, but you make one wrong mistake at linebacker or defensive end and they can turn it into a big play."
Despite the quick deficit, the Broncos had visions of getting back into the game in the third quarter during a Chargers drive that was going in reverse. San Diego, ahead 20-3, faced a second-and-33 from its 39. Momentum was starting to shift … until Rivers spotted Broncos linebacker Ian Gold matched up in single coverage on WR Vincent Jackson. The result: a 45-yard pass play to Jackson that broke the will of the Broncos.
And if anybody thought the Chargers' will had been broken by their three-game losing streak ... well, the doubters got the response Sunday.
John Clayton, a member of the Pro Football Hall of Fame writers' wing, is a senior writer for ESPN.com.
NFL senior writer
Senior NFL writer and commentator
Joined ESPN in 1995
Member of the writers' wing of the Pro Football Hall of Fame in Canton, Ohio
SPONSORED HEADLINES
MORE NFL HEADLINES
MOST SENT STORIES ON ESPN.COM
EDITORS' PICKS
Will the Broncos or Bengals win Monday night? We pick every Week 16 game.
NFL Nation »

Wes Welker built a stellar career on fearlessness. Does that attribute put his long-term health at risk?
Van Valkenburg »

Graphic: Rob Gronkowski has regained his dominant form. Here are Week 16 stats to track.
Viewer's Guide »