Commentary
Running it up: Belichick, Pats take no prisoners
On Sunday, Bill Belichick kicked a Hall of Fame coach while he was down, running up the score on Joe Gibbs' Redskins, 52-7. Welcome to the Patriots' no-mercy policy.
Originally Published:
October 28, 2007
By
John Clayton
| ESPN.com
FOXBOROUGH, Mass. -- The Patriots' zeal for stealing opposing defensive coaches' signals in the season opener against the Jets cost the team a first-round choice and $250,000. It also made coach Bill Belichick's bank account lighter by $500,000.
Now, the only hand signals worth mentioning might be the possibility of obscene gestures coming from the coaches and players he beats.
On Sunday, Belichick kicked a Hall of Fame coach while he was down, running up the score on Joe Gibbs' Redskins in a 52-7 win. This comes a week after Belichick reinserted quarterback Tom Brady midway through the fourth quarter of a 49-28 win over the Dolphins.
What seemed cute three weeks when Kyle Eckel scored late on a 1-yard run during the Pats' 48-27 win in Dallas has turned ugly.
Welcome to Belichick's no-mercy policy.
Although criticism and questions about Belichick's moves will further paint him as the bad guy in his showdown against Tony Dungy and the Colts next Sunday, the Pats coach simply doesn't care. He wore the black hoodie in the Week 1 spy incident and accepted his punishment. Now, he's making the league pay with blowouts.
That's why, on Sunday, he …
• … kept Brady on the field for an 88-yard drive six minutes into the fourth quarter despite already leading 38-0. On that 14-play drive, the Patriots went for a fourth-and-1 at the Redskins' 7 and ordered a 35-yard bomb to Randy Moss.
• … went for a fourth-and-2 at the Redskins' 37 on the next possession while leading 45-0. Backup QB Matt Cassel hit Jabar Gaffney with a 21-yard pass. Two plays later, Cassel scrambled for a 15-yard touchdown run to open up a 52-0 lead.
Asked why he would go for two fourth downs in a blowout, Belichick responded, "What do you want us to do, kick a field goal?"
Pressed further, he said, "It's 38-0. It's fourth down. We're just out there playing."
Still, there's no doubt what he's really doing. Redskins veterans Phillip Daniels and Marcus Washington, who have 18 years combined NFL experience, both said they had never seen a team run up the score the way the Patriots are doing.
Face it, folks, Belichick plans to lay waste to the NFL. Commissioner Roger Goodell took away a first-rounder, so the Patriots will take away your firstborn. Belichick has assembled perhaps the most dominating team in NFL history, and he's intent on destroying all opponents in his path.
Will the Colts be next? Although Indianapolis is also undefeated, has beaten Patriots in their past three meetings and is the defending Super Bowl champ, New England is the early 4½-point favorite.
Sunday's game shows how Belichick plans to handle the rest of the season. Anyone thinking he will rest Brady in the final month before the playoffs is wrong. He will allow his future Hall of Fame quarterback to shatter every record imaginable.
Against the Redskins, Brady threw for three more touchdowns, bringing his eight-game total to 30 and increasing his team's scoring average to 41.3. Oh, and Brady also ran for two touchdowns.
[+] Enlarge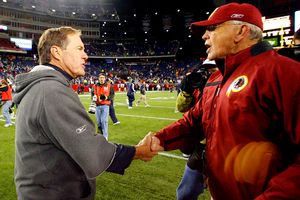 Jim Rogash/Getty ImagesJoe Gibbs said he didn't mind that Bill Belichick maintained his aggressive nature late in Sunday's blowout.
Yes, Belichick did rest a few defensive starters in the final six minutes, but he blitzed and did everything to keep the Redskins out of the end zone. Veteran players who weren't on the field encouraged those on the field to maintain the shutout. Belichick was clearly disappointed when the Redskins scored with three minutes left.
As for Gibbs, he didn't have a problem with Belichick's tactics, The two coaches shook hands after the game, although they certainly didn't make a lot of small talk.
"No, I have no problem with anything that they did," Gibbs said. "Nothing, no problems from me."
But Redskins players such as Daniels did have a problem, saying flat out that Belichick was running up the score.
Of course, the Redskins didn't have the ability to stop it. Their defense entered the game short-handed and left beheaded. Fred Smoot, the team's third cornerback, couldn't play because of a hamstring injury. Linebacker Marcus Washington was limited to passing plays because of a sore hamstring. On the Patriots' first touchdown drive, starting cornerback Carlos Rogers suffered an injury that could range from a sprained MCL (out for a few days) to a torn ACL (lost for the season). Linebacker Rocky McIntosh also was injured.
Consequently, the Redskins lost their opportunity to match up with the Pats' top four receivers. Gibbs had just three true corners left on the active roster -- Shawn Springs, Leigh Torrence and David Macklin. Brady completed 29 of 38 for 306 yards and three touchdowns.
To make matters worse, Gibbs and the coaches lost their communication system during the game. They couldn't work the headsets.
"There were issues," Gibbs said. "It's a problem across the league. I don't want to use that as an excuse for what happened to us today. We'll just continue to let the league know what happened to us today, and we'll just have to see how they deal with it."
Belichick was aware of the problem but, naturally, didn't care. He was communicating his own way -- sending a message to the 31 other teams that the Pats will take no prisoners.
It's an attitude that's going over big in the Patriots' locker room.
"It's just something the coaching staff wants to do," wide receiver Donte' Stallworth said. "We're behind them for whatever they want to do. Whatever play they call, we are going to run it.
"We've been attacked since the start of the season, so we don't care. Whatever is going on out there, we just go out and play and try to execute what we are doing."
That's exactly what the Patriots are doing. They are executing everyone. Next stop is Indianapolis.
Hide the kids.
John Clayton, a member of the Pro Football Hall of Fame writers' wing, is a senior writer for ESPN.com.
NFL senior writer
Senior NFL writer and commentator
Joined ESPN in 1995
Member of the writers' wing of the Pro Football Hall of Fame in Canton, Ohio
PATRIOTS BEAT COLTS, 24-20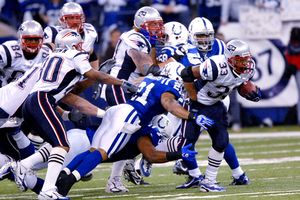 It's a battle of unbeatens ... and a possible AFC title game preview. It's Brady vs. Manning. Belichick vs. Dungy. It's 8-0 New England vs. 7-0 Indianapolis in Week 9 at the RCA Dome.
Sunday Countdown, (ESPN, 11 a.m. ET)
• In a report by Greg Garber, Hall of Fame QBs weigh in on the matchup of future Hall of Fame QBs Peyton Manning and Tom Brady. Also, special guest analyst Bill Parcells joins the crew to help cover every crucial angle of the epic matchup.
Commentary/features
•
Predictions: ESPN experts make their picks
•
Pasquarelli: Colts, Patriots take different paths
•
Clayton: Colts face Pats' big weapons
•
Sando: Manning or Brady? Experts make the call
•
Garber: Hall of Famers assess Manning, Brady
•
Drehs: Colts' Sanders a small wonder
•
EA Sports video: How they use Sanders
•
Chadiha: NFL's Top 5 rivalries
•
Power rankings: Pats No. 1, Colts No. 2
•
AccuScore: Pats have the edge
•
Clayton: Belichick seeks to run it up
•
Pasquarelli: Colts can finally focus on Pats
•
TMQ: It's an NFL battle of good vs. evil
Page 2
•
Got a problem? Ask coach Belichick
•
Inside the brain of ... Adam Vinatieri
•
Hill: Just call him Suge Belichick
•
Gallo: Secrets facts about Colts and Pats
•
Animation: Belichick's Cleveland years
Video
•
Colts, Patriots gamebreakers
•
EA Sports: How Colts use Sanders
•
Colts relishing underdog role
•
Cowboys' Crayton wants Colts to beat Pats
•
Keyshawn on Pats-Colts
•
Schlereth: Belichick breaking unwritten rules
•
Ismail: Colts, Pats right there together
•
Fassel: Teams must block out hype
•
Colts' Jackson ready for the Pats
Audio
•
Mike & Mike: Jimmy Johnson's preview
•
Jaws: Previewing Super Bowl XLI½

•
Freeney: Colts won't change approach

•
Patriots-Colts debate
•
Crayton: Colts have a great shot

•
Phil Simms on Brady-Manning

•
Jaws: QBs are pleasure to watch

Scouts Inc.
•
Horton: Both offensive lines are underrated
•
Green: Addai is offensive X-factor
•
Kidd: Maroney gives Pats another weapon
•
Maalouf: Pats have edge in punt game
•
Six keys to beating the Pats and Colts
•
Pats vs. Colts: Tale of the tape
•
Take 2: Pats-Cowboys scouting report
•
Colts' secondary will get physical
•
Cowboys' safeties are vulnerable
•
Follow this red-zone checklist
•
Wayne emerging as Colts' No. 1 receiver
•
Patriots-Colts scouting report
•
Seymour's return big for Pats
•
Clark, Welker play big roles
SportsNation
•
Who will win? Who's the better QB?
•
Where does the Colts-Pats rivalry rank?
Community
•
Got an opinion on the game? Let's hear it
•
Colts good, Patriots evil?
•
Sound off on Belichick's no-mercy approach
Manning vs. Brady: Previous results
•
Sept. 30, 2001 (at NE):
Patriots 44, Colts 13
•
Oct. 21, 2001 (at Indy):
Patriots 38, Colts 17
•
Nov. 30, 2003 (at Indy):
Patriots 38, Colts 34
•
Jan. 18, 2004 (at NE):
Patriots 24, Colts 14 *
•
Sept. 9, 2004 (at NE):
Patriots 27, Colts 24
•
Jan. 16, 2005 (at NE):
Patriots 20, Colts 3 **
•
Nov. 7, 2005 (at NE):
Colts 40, Patriots 21
•
Nov. 5, 2006 (at NE):
Colts 27, Patriots 20
•
Jan. 21, 2007 (at Indy):
Colts 38, Patriots 34 *
* = AFC championship game
** = AFC divisional playoffs
2007 Results
NEW ENGLAND (8-0)
•
Game 1:
Patriots 38, Jets 14
•
Game 2:
Patriots 38, Chargers 14
•
Game 3:
Patriots 38, Bills 7
•
Game 4:
Patriots 34, Bengals 14
•
Game 5:
Patriots 34, Browns 17
•
Game 6:
Patriots 48, Cowboys 27
•
Game 7:
Patriots 49, Dolphins 28
•
Game 8:
Patriots 52, Redskins 7
•
Patriots clubhouse page
INDIANAPOLIS (7-0)
•
Game 1:
Colts 41, Saints 0
•
Game 2:
Colts 22, Titans 20
•
Game 3:
Colts 30, Texans 24
•
Game 4:
Colts 38, Broncos 20
•
Game 5:
Colts 33, Bucs 14
•
Game 6:
Colts 29, Jaguars 7
•
Game 7:
Colts 31, Panthers 7
•
Colts clubhouse page