Commentary
Upon further review, some suggestions for wiser use of replay
In the first season instant replay was voted in on a permanent basis, the NFL needs to go under the hood of the replay machine for a long review, John Clayton writes.
Originally Published:
December 8, 2007
By
John Clayton
| ESPN.com
In the first season since the instant replay was voted in for good, the NFL needs to go under the hood of the replay machine for a long review.
Last spring, NFL owners voted in replay on a permanent basis, which is good. Replay is a necessary element of modern sports. The technology allows all willing sports to fix officiating mistakes that affect the outcomes of games. Replay supporters worried for years that the emotions of a season would switch two or three owner votes in the NFL and kill replay.
Clayton: Injury updates
Check out John Clayton for the latest news on injuries going into Week 14 of the 2007 NFL season. Injury report

But recent events exposed problems on the horizon. Overuse of replay can do more damage than good. It's too easy to go to the videotape than just let officials make their judgments. A football game is going to have 140 to 150 plays, including special teams, and not every call is going to be right. The NFL has a good crew of officials and needs to let the ones on the field do their jobs. Here's my worry: • At the end of regulation of the Browns-Ravens game Nov. 18, Cleveland kicker
Phil Dawson
hit the top left upright of the goalpost and the ball bounced on the curved extension post behind the crossbar. That field goal is good. One official ruled the kick was no good, and the other gave a lukewarm nod that it was good. Field goals are one of nine plays not to be reviewed, but it's pretty clear it should be subject to replay. Only a bionic eye or a television camera could catch Dawson's kick correctly. The league needs to consider adding field goals as a reviewable category. • In Week 13, two Cardinals defenders appeared to force Browns tight end
Kellen Winslow
out of the side of the end zone. Forceouts aren't reviewable because they are considered judgment calls. But replays could sway that judgment. Looking at the tapes, Winslow, one of the game's strongest pass-catchers, appeared to be coming down in a line in which he would have landed in bounds with both feet. Some coaches have pushed for forceouts to be added to the list of reviewable calls, and it deserves consideration.
Those who fought replay for years warned of this day, though. They predicted replay could become too much because it could get to the point at which every play can be reviewable. That's wrong. The closing of two games clearly made me wonder about where replay was heading.
In the overtime of a Browns-Seahawks game and the final two minutes of a Chargers-Colts game, the replay official in the booth overturned first downs by challenging the placement of the ball. That's going too far. The Colts and Seahawks lost those games because of those reversals.
[+] Enlarge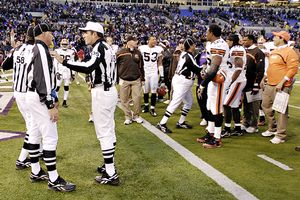 AP Photo/Nick WassField goals are not subject to replay, but maybe they should be. This was the scene as officials debated Phil Dawson's regulation-ending field goal for Cleveland against Baltimore in November.
Getting it right is one thing, but it's getting out of line when spots are being challenged from the replay booth. The game still is played on the field, not the television monitor. The NFL isn't Xbox. Coaches who have supported replay around the league are starting to turn on the system. Officials are human. They know the plays that are reviewable and those that are not. They have great integrity and want to get it right, so they are extra cautious when deciding on tight calls that are reviewable, knowing a replay challenge can get it right. Consequently, they'll make a consensus decision after an officials conference and await the replay challenge. Colts coach Tony Dungy sounded off about replay after the Week 13 game against the Jaguars. "Really, I'm not sure about replay anymore, what we are trying to do, what the standard is," Dungy said in a news conference. "When we first put this in, we said it was going to be a system to correct grievous errors and it was going to have to be indisputable. "Now, we are moving balls two feet. We're moving balls six inches. I know when you're challenging, you want to know what the standard is. I'm not sure what it is right now." The standard of replay is getting skewed. Replay should be there to fix the gross error. It's not there to make it right on every call. Wisely, but against a lot of resistance, replay was accepted with a way to prioritize. The league gave each coach two challenges a game to decide which calls were important enough to challenge. Lose a challenge, and you lose a valuable timeout. That's a great way to prevent overuse. But there is no cap on the number of times a replay official can make challenges in the final two minutes of halves or overtime. This is where the standard can get out of whack. Replay officials, like game officials and coaches, have egos, too. They want to get it right, and their roles in the final two minutes of halves and in overtime affect the outcome of games. If the cases to be made for adding field goals, forceout plays and other close calls win support, replay officials are going to look like a Game Boy player hyped up on too much coffee during the last two minutes of games. They'll want to get every play right and challenge everything. That would slow the flow of the game and make officials on the field too tentative. Officials need to be decisive in making their calls. The league instructs them to not only make their decisions but sell their calls with confidence by the body language they use in signaling their decisions. If more plays are going to be added to replay officiating, human nature would dictate that officials would make half-hearted calls -- knowing the replay official will try to get it right. So, in conclusion -- and coaches might hate me for saying this -- I think the only alternative is for the coaches' challenges to be extended for the entire game. I'd support the idea of giving coaches a third challenge if more plays are added. Many coaches have never liked the challenge because it puts them on the spot for their decision-making. It's hard enough for a coach to call plays
and
monitor the officiating. But it would be wrong to limit the number of replay challenges from the booth in the final minutes of games. What if they miss one by challenging too many and lose the chance to get the last play fixed if there is a mistake? Having been at the Browns-Ravens game, I say it would only make sense to add field goals as reviewable plays. Having seen the Winslow play in the end zone ruled as a non-catch, I would say it would make sense to add forceouts to replay. But in adding, something has to be subtracted, and things need to be prioritized. Replay gives people the chance to "get it right." But the game has to be decided on the field, and those officials on the field need the freedom to do their jobs. After further review, replay is a good thing, but there can be too much of it. The competition committee needs to make sure the system doesn't lose its focus. Replay still needs to stick to fixing the gross error, not every play.
John Clayton, a member of the Pro Football Hall of Fame writers' wing, is a senior writer for ESPN.com.
NFL senior writer
Senior NFL writer and commentator
Joined ESPN in 1995
Member of the writers' wing of the Pro Football Hall of Fame in Canton, Ohio
SPONSORED HEADLINES
MORE NFL HEADLINES
MOST SENT STORIES ON ESPN.COM
EDITORS' PICKS
Flem File: The Seahawks' expertise in manipulating the NFL rulebook makes them somewhat impervious to penalties.
Fleming »

Tom Brady's 49 playoff TD passes are a record. Here's an in-depth look at his impressive body of work.
Graphic »

He never worked as a referee, but Dean Blandino has been the right man to be the NFL's officiating czar.
Merrill »