Commentary
Seahawks reflect, set sights on bigger goals
The Seahawks have talent, but it's their strong core of veteran leaders that sets them apart from other NFC contenders, writes John Clayton.
Originally Published:
December 9, 2007
By
John Clayton
| ESPN.com
SEATTLE -- The Seattle Seahawks' locker room turned nostalgic following their 42-21 blowout of the Arizona Cardinals on Sunday, when Paul Allen, the team's rich but usually invisible owner, gave coach Mike Holmgren a game ball for winning the franchise's fourth consecutive NFC West title.
The team's core group, the 16 players who have been together for all four titles, looked at one another and into space. This journey, which started in 2004, has included one trip to the Super Bowl. It has included three playoff victories in six games over the past three years. And this year's team hasn't peaked yet.
"It's a different team every year," quarterback Matt Hasselbeck said. "I was thinking about it today. There are a lot of guys that have meant a lot to our team that aren't here anymore. They are playing for other teams or not playing. If it wasn't for those guys holding it tight when things were tough when we weren't as talented as we are -- those guys laid the foundation for the success we had then and we have now.''
But asked whether this team is the most talented of the four division winners, Hasselbeck pointed out that talent isn't everything.
"I don't know," he said. "I think the best year we had was the year [2005] we got rid of some quote-unquote talent, and we tried to keep guys that had a little bit more professionalism, that were good teammates. I don't think talent is necessarily what gets it done."
The Seahawks do have talent. Cornerback Marcus Trufant intercepted three Kurt Warner passes Sunday and stands to be one of the top defensive free agents in March. Defensive end Patrick Kerney beat Levi Brown and the right side of the Cardinals' line for three sacks and now has 13½ on the season. Linebacker Julian Peterson has nine sacks.
[+] Enlarge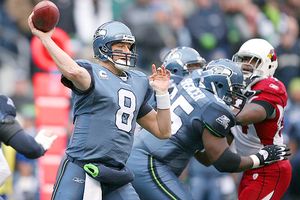 Otto Greule Jr/Getty Images The presence of veterans such as Matt Hasselbeck has helped Seattle stay on top in the NFC West.
But when the playoffs start in a little less than a month, the Seahawks believe they have a chance to reach the Super Bowl because their core group is ripe with leadership and experience. The Dallas Cowboys and Green Bay Packers are the NFC Super Bowl favorites, but the Seahawks are the most seasoned team entering the NFC playoff race.
The Seahawks' first NFC West title team might have been a little more talented, but it was a mess in the locker room. Individual agendas trumped team accomplishments. Consequently, the Seahawks were bounced from the playoffs in one game, and general manager Tim Ruskell was hired to clean up the mess.
Koren Robinson, Anthony Simmons and Chike Okeafor topped a long list of players purged from the roster.
"The first championship team, I honestly called it fool's gold, where it looks like it's something but really isn't," halfback Shaun Alexander said. "That was the team that lost to the [St. Louis] Rams three times [including a 2004 playoff game]. I just honestly thought we didn't have that team. I knew we had Super Bowl-type talent, but that first year, I felt we like we could win that thing, but I didn't think we had the horses we needed to 'win-win.'"
Ruskell added key horses to the Seahawks' race. Linebacker Lofa Tatupu is the leader of the defense. When he's not making plays, he's setting the defensive agenda for others to do so. Plus, that core group of 16 provides the leadership to help young players mature into winners.
"They have been there before," Holmgren said of his veterans. "If you look at the football season, you have the preseason and you have the regular season and you have the playoffs, and then you have the Super Bowl. Really, the intensity level of each, it ratchets up the closer you get to that game. That sudden-death feeling that is with every playoff game. If you have enough guys that have been there before, the approach and how they practice and how they study brings the other guys along.''
Bobby Engram is one of those leaders. A year ago, he was fighting a thyroid condition that threatened to shorten his career. With injuries to receivers D.J. Hackett and Deion Branch this season, Engram has emerged as Hasselbeck's go-to receiver and is having a career year with 76 catches for 929 yards. At the same time, left tackle Walter Jones sets an example by remaining the game's best left tackle, despite missing Steve Hutchinson at guard.
On Sunday, for the first time this season, the Seahawks poured it on a team instead of pulling out a close win. Hasselbeck couldn't have been sharper. He completed 22 of 33 passes for 272 yards and four touchdowns to four receivers, with his passes landing on their fingertips.
The defense kept pounding the Cardinals. The run defense held Edgerrin James to 46 yards on 13 carries, with his longest run only 9 yards. The Seahawks sacked Warner five times and forced him into five interceptions. By halftime, the Seahawks were up 27-7.
Things also got a little bit nasty between the two teams. On one play, defensive tackle Darnell Dockett dove for Hasselbeck's knees. Hasselbeck jumped, saving himself, but was hoping for a penalty. Referee Tony Corretente explained it wasn't a personal foul because no contact was made.
Later in the game, Dockett got into a pile and ripped off the helmet of right tackle Sean Locklear, another member of the core group.
"I think there is definitely a rivalry developing in the NFC West," Hasselbeck said. "We didn't have that early on. It wasn't like we had ever played each other very much. We respect these guys. They are very physical, very tough."
This was supposed to be the year the gap closed in the NFC Wast. The Seahawks' offense is getting older. The San Francisco 49ers and Cardinals were supposed to be the surprise teams.
But for the fourth year, the Seahawks came out on top. Although they might be the underdogs in the playoffs, with the road to the Super Bowl going through Dallas or Green Bay, they are the most experienced playoff team in the NFC. And the core group is getting bigger.
John Clayton, a member of the Pro Football Hall of Fame writers' wing, is a senior writer for ESPN.com.
NFL senior writer
Senior NFL writer and commentator
Joined ESPN in 1995
Member of the writers' wing of the Pro Football Hall of Fame in Canton, Ohio
EDITORS' PICKS
Using GIFs to support his argument, Todd McShay illustrates Jameis Winston's edge over Marcus Mariota.
Story

Mark Ingram had a breakout 2014. That's not the only reason the Saints RB is feeling blessed these days.
Triplett »

Late-round QBs are wasted picks. Dallas shouldn't worry about replacing Tony Romo until he hangs it up.
Archer »

MOST SENT STORIES ON ESPN.COM