Commentary
Parcells wants his own guy, so Cameron's out
Bill Parcells wanted his own guy. And he didn't known Cam Cameron. That's why the Dolphins will have a new head coach next season, writes John Clayton.
Originally Published:
January 3, 2008
By
John Clayton
| ESPN.com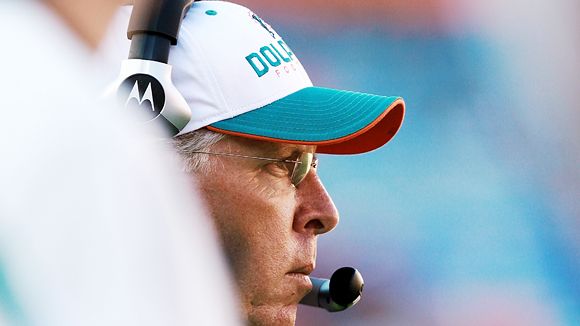 Doug Benc/Getty ImagesCam Cameron's first season as an NFL head coach ended with his firing after a 1-15 season in Miami.
When Cam Cameron left his meeting Tuesday with Bill Parcells, the Dolphins' new executive vice president of football operations, he was hopeful of saving his job as head coach.
After all, Texas Tech basketball coach Bobby Knight -- a mutual friend of both parties and the coach when Cameron was a two-sport letterman at Indiana -- had put in a good word with Parcells. Out of respect for Knight, Parcells listened.
More On Cameron Firing

VIDEO: Chris Mortensen says the firing was not simply about the Dolphins' 1-15 season. Analysis

HASHMARKS: Matt Mosley says the moves comes as an absolute shock to no one. Blog
APPROVAL RATINGS: As you might imagine, Cam Cameron's 1-15 record didn't exactly earn him much love from voters. Ratings
NEXT SEASON: Jeffri Chadiha pinpoints what the Dolphins and the league's 19 other non-playoff teams need to do in order to contend for a postseason berth in 2008. Column
In the end, however, Cameron didn't have a chance. Dolphins owner Wayne Huizenga gave Parcells the authority to do what was needed to fix the Dolphins after a 1-15 season. Once Parcells hired his general manager, Jeff Ireland, it became apparent that he is planning on surrounding himself with people he knows and believes can turn the Dolphins into winners. (Click here for early list of potential names.) And Parcells didn't really know Cameron.
Still, there were other factors involved in Cameron's departure after one season.
Cameron, hired by Huizenga from candidate pool of hot list of assistant coaches last season after coordinating a Chargers offense that averaged 30.8 points a game in 2006, wanted to kick-start the Miami offense. So he traded for quarterback Trent Green, who was coming off a season plagued by concussion problems.
Whether it was age or the hangover of his previous injury, Green looked old and slow and couldn't spark the offense. That forced Cameron to make the best out of Cleo Lemon and second-round choice John Beck.
In addition, the decision to bypass Brady Quinn with the ninth overall pick in order to draft wide receiver Ted Ginn Jr. in the first round and Beck in the second round didn't work out.
Although it's way too early to tell if Ginn and Beck will be failures or successes, Cameron and former general manager Randy Mueller pinned their reputations on those two players. Even with Beck on the roster, it's likely Parcells will be looking for more quarterback help in the offseason.
The failure to find anything close to the next Dan Marino has brought down every Miami coach since Don Shula. Jimmy Johnson had playoff teams but never found Marino's successor, and they both retired following the 1999 season. Dave Wannstedt squandered draft choices to fix the position but failed. Nick Saban tried for two years but left for college without solving the problem.
The past few years, the Dolphins have traded more than an entire draft's worth of choices in hopes of finding the right quarterback. But moves to acquire guys such as Cade McNown, Sage Rosenfels, A.J. Feeley, Daunte Culpepper, Joey Harrington, Lemon and Green have not panned out.
Instead, those failed decisions robbed the Dolphins of young players to fill the rest of the starting roster and dropped them to the bottom of the league.
Parcells is a bottom-line evaluator. Under Cameron, the Dolphins offense went from 16.1 points a game to 16.3, hardly a big leap forward. Parcells didn't doubt Cameron's ability to call plays. He didn't doubt the good things Knight had to say about Cameron and his integrity.
But Cameron's one-year of NFL head-coaching experience didn't offer the hope of scoring at a playoff level, so it was inevitable Parcells had to get his own coach.
Who'll Be The Next Dolphins Coach?
Now that Cam Cameron has been fired, new Miami boss Bill Parcells needs a head coach. It's pretty easy to see where he'll look, at least in terms of guys he knows. -- John Clayton
Tony Sparano
Dallas Cowboys
Assistant Head Coach
Sparano works with the Cowboys offensive line and helps with the play-calling. Jason Garrett gets a lot of credit for the team's offensive success this season, but Sparano gets understated credit for his contributions. Having coached in Dallas for four seasons prior to his departure a year ago, Parcells knows Sparano's value, and so do other teams. He's a candidate in Atlanta and Baltimore.
Maurice Carthon
Arizona Cardinals
Running Backs Coach
Carthon has been a coach whom Parcells has been grooming for years. He rose to the coordinator level at Cleveland but couldn't turn around the Browns' offense. He was offensive coordinator for Parcells for two years in Dallas.
Romeo Crennel
Cleveland Browns
Head Coach
This might be a long shot because he's under contract in Cleveland, but things could play out that he could be traded. The Browns have to decide whether this is the time to give Crennel a contract extension. He's been there for three years and the players love him. After their 10th win, linebacker Willie McGinest gave Crennel a game ball on behalf of the team and thanked him for believing in them. If the Browns consider working out a trade, Parcells would welcome the move. Crennel was his defensive coordinator and one of his favorite and most loyal assistants.
Todd Bowles
Dallas Cowboys
Secondary Coach
Parcells knows good, young coaches when he sees them and he groomed him for two years in the secondary in Dallas. Bowles is ready to take that next step as a coordinator. If the situation is right, Parcells might take a chance on him as a head coach.
Todd Haley
Arizona Cardinals
Offensive Coordinator
Here's another young coach Parcells developed and he's a good one. You've seen Haley along the sidelines in Cowboys games taking abuse from Terrell Owens, but Parcells and Owens were like oil and water. Those problems carried over to Haley, who was his position coach.
John Clayton, a member of the Pro Football Hall of Fame writers' wing, is a senior writer for ESPN.com.
NFL senior writer
Senior NFL writer and commentator
Joined ESPN in 1995
Member of the writers' wing of the Pro Football Hall of Fame in Canton, Ohio
SPONSORED HEADLINES
MORE NFL HEADLINES
MOST SENT STORIES ON ESPN.COM
EDITORS' PICKS
Two QBs and three WRs highlight Nos. 80-71 on offense in #NFLRank.
Story »

These players are poised to reach the next level.
Sando &nbsp

The Browns were smart to name Brian Hoyer their starter.
McManamon »