Commentary
Gibbs leaves Redskins a better team
Joe Gibbs is healthy enough to coach the Redskins in 2008, but the drain of four long seasons apparently was enough, John Clayton writes.
Updated:
January 8, 2008, 1:58 PM ET
By
John Clayton
| ESPN.com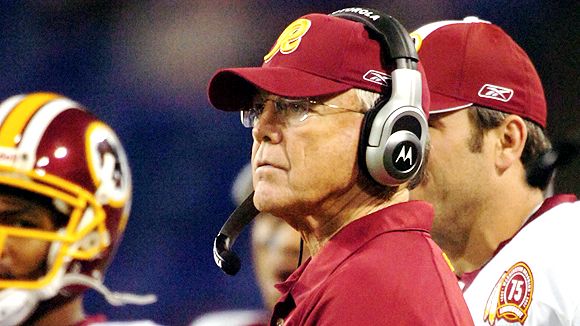 Larry French/Getty ImagesIn his second Redskins coaching stint, Joe Gibbs had a 31-36 record, including 1-2 in the playoffs.
On Monday, Joe Gibbs was noncommittal about his future when asked at a news conference. Now we know why.
The Redskins' coach -- who was entering the final year of his five-year, $37.5 million contract -- rejected a two-year extension from owner Daniel Snyder and resigned Tuesday. For Gibbs, it's not about the money. He resigned because the job has taken its toll and he wants to spend more time with his family, especially his 2-year-old grandson Taylor, who was diagnosed with leukemia last year.
Gibbs stunned his coaches at a Tuesday morning staff meeting when he walked in and told them he was stepping down. All season he had been suggesting he was -- at the very least -- going to fulfill his five-year contract to try to turn around the Redskins. But there were signs of his possible departure. Some noted the way he waved to Redskins fans in the season finale against the Cowboys, a win that clinched the team's playoff berth. In chapel service before the Redskins' playoff loss to Seattle, Gibbs was the surprise guest speaker. That worried some members of the Redskins organization.
Nevertheless, it appeared to be business as usual Monday as Gibbs worked with ownership. The coaches expected Gibbs to show up Tuesday morning and map out offseason plans. Instead, he told his coaches he was stepping down, and his family needed him. (Click here for possible Redskins candidates.)
The 2007 season was a drain on Gibbs. Though successful in making the playoffs for the second time in three years, Gibbs and the entire organization paid an emotional price with the tragic death of Sean Taylor. Taylor, a former first-round pick, had a bumpy start in Washington because he was hardheaded and a little rebellious, but he matured into a great player and better person in 2007. Gibbs helped in that process.
The Redskins had two games in a five-day stretch around the time of Taylor's funeral. Gibbs had to be more than a coach to his players then. He also had to be a father figure. He fell back on his deep religious beliefs to get his team through the wake of Taylor's death.
The loss to the Buffalo Bills following Taylor's death was particularly tough on Gibbs. He didn't remember the timeout rules when trying to ice Bills kicker Rian Lindell, receiving a 15-yard penalty after calling a second consecutive timeout, and making it easier for Lindell to kick the winning field goal.
At 5-7, the Redskins' season was in crisis mode, but Gibbs was always at his best when things were at their worst. His Hall of Fame career with the Redskins started with an 0-5 record that had ownership wondering whether he was the right choice. Gibbs won two of three Super Bowl rings during strike years, when teams normally are torn apart and distracted. Despite the loss of starting quarterback Jason Campbell to a knee injury, the Redskins won their final four games this season and made the playoffs.
Gibbs leaves the Redskins a much better team than the one he inherited. He assembled a top coaching staff. He appears to have found a quarterback in Campbell, and he built a strong running game with Clinton Portis. The defense, coached by coordinator Gregg Williams, is solid.
Williams appears to be the leading candidate for the head coaching job. Players like him, and he's grown under the direction of Gibbs. Snyder, who likes big names, may inquire about former Steelers coach Bill Cowher, but Cowher isn't planning on returning until 2009.
Gibbs' four-year stint didn't include a Super Bowl, but he re-established the Redskins as a playoff contender. He committed all of his time to the Redskins. But his priorities have now shifted from his Redskins family to the Gibbs family.
John Clayton, a member of the Pro Football Hall of Fame writers' wing, is a senior writer for ESPN.com.
Who'll Be The Next Redskins Coach?
Redskins owner Daniel Snyder likes big names, so it may be hard for him to settle on just an assistant. Gibbs plans to stay with the organization through the hiring process, which certainly will help Redskins defensive coordinator Gregg Williams' chances for the job. Here's who might get consideration.-- John Clayton
Jason Garrett
Dallas Cowboys
Offensive coordinator
Garrett is a hot name because of his impact on the development of Tony Romo. He's a candidate in Baltimore and Atlanta, but the team that gets him might have to wait until after the Super Bowl if the Cowboys win two playoff games.
Brian Billick
Ex-Ravens coach
Billick is a big name and he's a winner. He's still stunned by his firing from the Ravens, but his résumé is hard to ignore. Having worked in Baltimore, he knows the media market, which is an asset for the owner.
Jim Caldwell
Indianapolis Colts
Assistant head coach/QB coach
Caldwell brings The Tony Dungy Effect to a franchise. He is calm and stoic. Peyton Manning speaks about his understated value to the offense. Caldwell is a lead candidate in Atlanta and is drawing strong consideration from the Ravens.
Russ Grimm
Arizona Cardinals
Assistant head coach/offensive line coach
Snyder scored points with Redskins fans by hiring the Redskins' Hall of Fame coach, so why not hire one of their greatest offensive linemen? Grimm was a candidate for jobs in Chicago and Pittsburgh and is clearly ready to take the step into head coaching.
Mike Singletary
San Francisco 49ers
Assistant head coach/linebackers coach
A Hall of Famer, Singletary is probably going to get an interview for the Falcons' job soon. He has been groomed the past couple seasons to be a head coach.
Rex Ryan
Baltimore Ravens
Defensive coordinator
Ravens players are campaigning for him to be head coach, and he reportedly had a great interview with Baltimore over the weekend.
NFL senior writer
Senior NFL writer and commentator
Joined ESPN in 1995
Member of the writers' wing of the Pro Football Hall of Fame in Canton, Ohio
JOE GIBBS RETIRES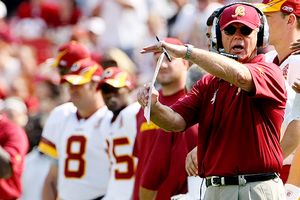 Joe Gibbs retired as Redskins coach and team president Tuesday, three days after a playoff loss ended an inspirational late-season run that followed the death of safety Sean Taylor.

News
•
Gibbs retires as Redskins coach, president
•
Gibbs expected to resume NASCAR team duties
•
NFL coaching changes
Commentary/analysis
•
Pasquarelli: Failed experiment to bring him back
•
Clayton: Job took a heavy toll
•
Newton: Redskins' loss could be racing's gain
•
Clayton: Possible candidates
•
Zoom gallery: Gibbs' career
•
Hashmarks blog: What about Cowher?
Video/Audio
•
Gibbs announces his retirement

•
Clayton on Gibbs' departure

•
Mortensen: It's no surprise

•
Gibbs to retire as Redskins coach

SportsNation
•
Vote: Did Gibbs tarnish legacy?
•
Gibbs' 2007 approval rating