Commentary
In free agency, it's better to be a keeper than a shopper
With free agency about to crank up, the key will be not which players you sign, but which ones you keep, writes John Clayton.
Originally Published:
February 27, 2008
By
John Clayton
| ESPN.com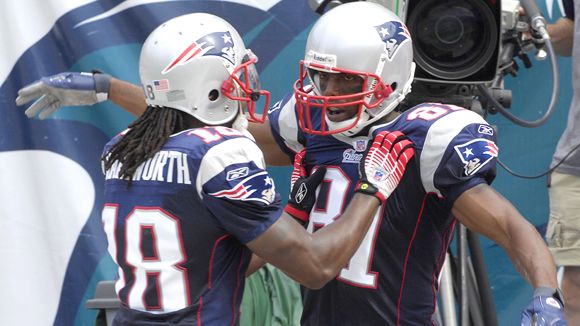 Al Messerschmidt/Getty ImagesThe Patriots could lose wide receivers Donte' Stallworth and Randy Moss to free agency.
Think back to the late 1980s when free agency started. A system called Plan B was created so that teams wouldn't lose their key players but would instead sacrifice aging starters or a couple of upcoming backups.
It's almost 20 years later. Plan B is long gone and true free agency now exists, with the latest shopping spree to start Friday.
The biggest twist this time -- actually, it has been in effect the past few years -- is the scarcity of options should a team lose a top free agent. That will create a fast market, and it's also going to cause panic.
Key Positions In Free Agency

Defensive tackle: This is a particularly thin market. The franchise tags given to Albert Haynesworth of the Titans and Corey Williams of the Packers wiped out the position. That leaves only three defensive tackles who played 40 percent of the defensive snaps -- the Vikings' Spencer Johnson (photo), the Saints' Brian Young and the Titans' Randy Starks. That doesn't include Raiders defensive lineman Tommy Kelly, an end who could convert to tackle, although there's a good chance he could re-sign with the Raiders.
---

Cornerback: This is one of the priciest positions on the market, thanks to Nate Clements' eight-year, $80 million contract last year. Asante Samuel (photo) will get his big deal. The Chargers' Drayton Florence is next. Brian Kelly of the Bucs might go to Detroit to reunite with former Bucs coach Rod Marinelli. After that, there's the Lions' Travis Fisher, the Cowboys' Jacques Reeves, the Pats' Randall Gay and the Jags' Terry Cousins. No wonder trade interest is heating up around the Falcons' DeAngelo Hall, the Eagles' Lito Sheppard and the Raiders' Fabian Washington.
---

Running back: The re-signings of Jamal Lewis (Browns) and Justin Fargas (Raiders) leave the Chargers' Michael Turner (photo) and the Cowboys' Julius Jones as the top backs available. After that, the only halfback on the field for more than 40 percent of the snaps last year is the Texans' Ron Dayne.
---

Quarterback: The Bears looked at free agency, trades and the draft and decided to take one more chance on Rex Grossman. Daunte Culpepper (photo) tops the list of quarterbacks, but if Josh McCown of the Raiders and Todd Collins of the Redskins re-sign, where does a team go? The Dolphins' Cleo Lemon and the Jags' Quinn Gray are the only other QBs who played more than 30 percent of the snaps.
-- John Clayton
Consider this: Nearly 80 of this year's unrestricted free agents started eight games or more. That's 2½ starters per team, meaning some pretty big holes may need to be filled.
On the flip side, approximately 170 of the 320 or so free agents expected to hit the market will have played less than 20 percent of their team's plays. That means teams may be reaching -- and paying significant bucks -- to unproven players.
Let the panic begin.
Thus, the key for teams this offseason won't be which free agents they sign, but which ones they keep. It's not surprising that the Bengals (guard Stacy Andrews), Steelers (tackle Max Starks) and Packers (defensive tackle Corey Williams) franchised or transitioned players who in some circles might be considered backups. In fact, a dozen teams preferred to keep the players they knew with those tags instead of taking chances on free agents they don't know.
In the grand scheme of things, the success or failures of 32 teams may be determined by the decisions they make during the next week. With so few top free agents available, teams better have, well, a Plan B (or even a Plan C) if they are forced to replace a key player. But it won't be easy -- the dropoff at several positions is incredibly steep.
On a plane heading to a game last fall, I went through depth charts of every team and came up with the rough number of 132 new starters teams acquired through free agency, street signings, trades and the draft. That's roughly four new starters a team. Any team trying to find four new starters in this market is in trouble.
The smart teams, as noted, will focus on keeping their own guys. A year ago, the Packers signed only backup cornerback Frank Walker in free agency and won 13 games. The Colts signed three minimum-salary free agents (none made the team) and also won 13 games. The Chargers didn't sign a single free agent and won 11.
Perhaps the most fascinating team in free agency will be the New England Patriots. They "won" the offseason last year by signing wide receivers Donte' Stallworth and Kelley Washington and linebacker Adalius Thomas, and trading for Randy Moss and Wes Welker. Moss, Stallworth and Washington are now free agents, with the Patriots scrambling to re-sign one or two of them. Meanwhile, cornerback Asante Samuel is expected to get $10 million a year from another team in free agency.
The Bears will also provide some intrigue, and not just because they're bringing back Rex Grossman. It was surprising that Chicago didn't put the franchise tag on wide receiver Bernard Berrian, because the Bears may not find a receiver as good as him -- unless they can get Moss, of course. The next options with deep speed are Drew Carter of the Panthers, D.J. Hackett of the Seahawks, Devery Henderson of the Saints and Stallworth, and each one will come in at $4 million to $5 million a year. The Texans' Andre Davis is also going to make $5 million a year, and no one is 100 percent certain he's a starter.
Now add the fact that the Bears cut Muhsin Muhammad, and it may be impossible to maintain -- much less upgrade -- that position by trying to find two starting receivers.
This market will be fast and dangerous. By the end of the weekend, most of the top free agents will be with new teams.
Of course, as history has shown, the top signings usually do pay off. Linebackers Lance Briggs and Calvin Pace, guard Alan Faneca, defensive end Justin Smith, running back Michael Turner, safety Madieu Williams and Moss, Berrian and Samuel will improve the teams that sign them.
Still, you can expect a flurry of re-signings to deplete the list of available players. The $116 million salary cap has afforded teams the luxury of re-signing their own. Going outside the organization is getting scarier and scarier.
Plan A in 2008 free agency, you see, is not having to use a Plan B approach. The focus is simple.
Keep your own.
John Clayton, a member of the Pro Football Hall of Fame writers' wing, is a senior writer for ESPN.com.
NFL senior writer
Senior NFL writer and commentator
Joined ESPN in 1995
Member of the writers' wing of the Pro Football Hall of Fame in Canton, Ohio
SPONSORED HEADLINES
MORE NFL HEADLINES
MOST SENT STORIES ON ESPN.COM
2008 FREE AGENCY
NFL teams began shopping for free agents on Feb. 29, with approximately 320 players available. Randy Moss (right), one of the top free agents available, re-signed with the Pats.
• Free-agent tracker


Commentary/Features
•
Paolantonio: Raiders wasting cash on Hall
•
Clayton: Raiders immersed in spending spree
•
Yasinskas: Bucs spending wisely
•
Third And Short: Free-agent analysis
•
Clayton: Best remaining players
•
Clayton: Top 10 free-agent gambles
•
Yasinskas: Saints rolling dice on Vilma, Morgan
•
Sando: Role players cashing in
•
Yasinskas: Jets improved, but QB remains issue
•
Yasinskas: Browns focused on winning
•
Clayton: Moss-Patriots deal meant to be
•
Clayton: Winners and losers
•
Chadiha: Reese sets the standard for rookie GMs
•
Yasinskas: Five aggressive teams in the market
•
Pasquarelli: Big payoffs await less-heralded FAs
•
Clayton: It's better to keep your own guys
•
Research: Top 10 free agents of all time
•
Yasinskas: Redskins to try new approach
•
Joyner: Evaluating four big names

•
Chadiha: Dealing with the franchise tag
News
March 28
•
Panthers continue O-line makeover, sign Brown
March 21
•
Browns help LB depth, sign Orr to 1-year contract
March 20
•
Pats agree to deal with CB Bryant
•
Roundup: Rams re-sign Romberg
March 19
•
Packers agree with LB Chillar
•
Bengals' Andrews signs franchise tender
•
Punter Turk re-signs with Texans
•
Colts keep defensive end Thomas with new deal