Commentary
After the big meeting, five things we learned about Spygate
The Patriots got their just desserts for stealing signals. But Matt Walsh, the media and even the Rams share responsibility for Spygate, John Clayton writes.
Originally Published:
May 13, 2008
By
John Clayton
| ESPN.com
Spygate is over, now that former New England Patriots videographer Matt Walsh had no new evidence to reopen the investigation.
The meeting in New York with commissioner Roger Goodell lasted almost 3½ hours. Walsh offered two minor revelations, but neither will result in additional fines to the Patriots or coach Bill Belichick. Walsh admitted he was involved in the scalping of some Super Bowl tickets. He also had knowledge of a player on the Patriots' injured reserve list practicing against league rules before Super Bowl XXXVI in 2002. Normally, using a player in such a manner would be a finable offense. Goodell determined enough was enough and that the Patriots have paid for their football crimes. Here's the five things we learned Tuesday:
1. Goodell was just in levying his Spygate penalties against the Patriots.
His penalties have held up during eight months of scrutiny. In September, Goodell revealed the
New York Jets
tipped off the league to a video-spying incident, and it was league officials who confiscated the camera and the tapes. Goodell said he didn't agree with Belichick's position that the taping of coaches' signals during games was legal. Goodell got an admission from Belichick that the Patriots taped signals since he took over as a head coach in 2000. Belichick thought he could tape signals as long as he didn't use the information in the same game. Goodell didn't buy it. He acted swiftly in taking away a No. 1 draft choice and handing out a $250,000 fine to the Patriots and a $500,000 fine to Belichick. Because the incident involving the Jets happened during the season, Goodell said he felt he needed to act quickly to get the word to 32 teams to play by the rules. He accomplished that. Now, there is no gray area involving spying. The league will conduct spot checks during games during the 2008 season and thereafter. Walsh backed up what Goodell already knew from about 50 interviews during Spygate. Goodell suspected the taping was done for future games but was still in violation of league policy. Goodell tried to protect the NFL shield with his September ruling. Walsh didn't have any evidence that would change the propriety of how he acted as a commissioner in September.
2. Matt Walsh's name never should have gone public.
Goodell admitted the first time he ever heard of Walsh was the Friday before the Super Bowl. The New York Times published Walsh's name as a person who might have some evidence involving Spygate. Since September, many news organizations have tried to convince Walsh to go public with his information. Walsh had the eight tapes of stolen signals, which he told Goodell he kept for possible use if he ever became a coach. Walsh never did work out an arrangement with a news organization. It would have helped if Goodell had let the world know Belichick admitted videotaping coaches' signals dating back to 2000. Before Goodell clarified that during Pro Bowl week, the thinking was that Belichick only had admitted to taping the Jets last season. Had Goodell clarified earlier, Walsh would have known his tapes had no value to changing Spygate. Instead, he had to find out during the week of the Pro Bowl that Belichick confessed and had paid the price for having Walsh tape signals. Walsh had some legal issues. Admittedly, he scalped Super Bowl tickets. He had tapes that belonged to the Patriots. Had he known that his tapes were worthless to Spygate, though, he might have said he had nothing and stayed out of the spotlight.
3. It was probably unfair to have the Patriots under the Spygate microscope for all this time.
They were caught spying and accepted the penalty, a very harsh penalty at that. People love spy stories, so the press continued to pursue the story. The Boston Herald is under scrutiny for using a source that accused the Patriots of having an unnamed employee tape a
St. Louis Rams
walk-through just before the 2002 Super Bowl. Walsh told Goodell he had no knowledge of any taping of a Rams walk-through or any other taping of an opposing team's practice. The Patriots have one of the top dynasties in NFL history, but some will always question their tactics. People will say, "Yes, they won three Super Bowls, but … " The "yes" outweighs the "but."
[+] Enlarge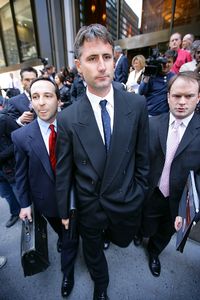 Chris Trotman/Getty ImagesFormer Patriots video assistant Matt Walsh met for more than three hours Tuesday with NFL commissioner Roger Goodell.
The Patriots have had one of the greatest runs in NFL history. Spygate won't change that. When the Patriots issued a statement Tuesday afternoon, the organization sounded angry that it had had to defend itself on Spygate since Feb. 2, when the Boston Herald report emerged.
4. Walsh said he was on the Louisiana Superdome field during the Rams' Super Bowl walk-through, and Walsh reported what he saw to the Patriots.
He told Goodell that he was setting up video equipment for the next day. ESPN's Sal Paolantonio reported Walsh noticed that Rams back Marshall Faulk was lined up in a formation on a kickoff and that a tight end went into a different motion on another play. Walsh told Goodell that Brian Daboll, who was then the Patriots' receivers coach, asked Walsh what he saw at the Rams' walk-through.
As much as that shouldn't have happened, it's the Rams' responsibility to kick Walsh off the field during a walk-through. He told Goodell he was wearing a Patriots coat. During Super Bowl week, participating teams have control of their practice field and have the right to boot any representative from an opposing team. Walsh is a trained eye, but he wasn't trespassing unless the Rams kicked him out. That one is on them.
5. League reaction is mixed. Most teams are tired of Spygate and are ready to move on. The NFL's competition committee accepted Goodell's report on Spygate back in February. The committee was willing to put Spygate to bed then.
Others wonder whether the Patriots got out of this too easily. Calling around Tuesday, ESPN.com learned there was anger over the Patriots' using an injured reserve player in pre-Super Bowl practices. That's against the rules. Everyone knows Belichick will push rules to the max.
Whatever people think at this point about Spygate doesn't matter. Goodell has interviewed more than 50 people, including Walsh.
In his eyes, nothing has changed since September. The violation was the stealing of coaching signals.
People will have their opinions. Goodell has his verdict, and it stands.
John Clayton, a member of the Pro Football Hall of Fame writers' wing, is a senior writer for ESPN.com.
NFL senior writer
Senior NFL writer and commentator
Joined ESPN in 1995
Member of the writers' wing of the Pro Football Hall of Fame in Canton, Ohio
SPY GAMES
Former Patriots employee Matt Walsh met with NFL commissioner Roger Goodell and Sen. Arlen Specter to discuss Patriots' illegal videotaping.
Story
More News
•
Belichick says he made 'mistake'
•
Herald reporter: Sources never saw tape
•
Walsh admits he knew it was wrong
•
Senator wants inquiry
|
Read it (pdf)
•
Fish: Would Congress investigate Pats?
•
Boston Herald apologizes for false report
•
Clayton: Five things we learned from Spygate
•
Walsh sends eight tapes to NFL
•
Fish: Pats stole offensive signs
|
Timeline
•
Clayton: Spygate will expire quietly
•
Former Pats employee sends tapes to league
•
Fish: NFL faces serious questions
•
Goodell to punish Pats, depending on evidence
•
Walsh, NFL to finally talk
|
Agreement
•
Goodell growing impatient with Walsh stalemate
•
Kraft, Belichick apologize to owners
•
Walsh still working on deal for testimony
•
Rams player, fans withdraw lawsuit
•
Spygate revelations might not be imminent
•
NFL, Walsh close to deal to turn over tapes
•
Report: Specter calls on Goodell to release letters
•
Report: Goodell proposes crackdown on cheating
•
Specter says Pats 'stonewalling' Spygate probe
•
Committee lauds Goodell's handling of Spygate
•
Goodell hoping deal to talk to Walsh close to done
•
Report: Belichick denies Pats taped Rams' drills
•
Walsh's attorney: NFL indemnity offer falls short
•
Specter prepared to extend Spygate investigation
•
Goodell has no regrets about destroying tapes
•
Source: Specter wants NFL indemnity for witness
•
Goodell, Specter to discuss Spygate Wednesday
Commentary
•
Mortensen: What were Rams thinking?
•
Yasinskas: Spygate stench won't go away
•
Paolantonio: Goodell's Spygate responsibility
•
Clayton: Spygate closing with a whimper
At The Pro Bowl
News
•
Ex-Pats video assistant mum on Spygate probe
At The Super Bowl
News
•
Goodell willing to give Pats' Walsh indemnification
•
Goodell, Specter won't meet until after Pro Bowl
•
Vermeil doubts spying made difference for Pats
•&nbsp
Goodell to meet with Sen. Specter about Spygate
•&nbsp
Report: N.E. taped Rams before XXXVI
•
Fish: Ex-Ram Warner suspicious of Pats
•
Specter to Goodell: Let's talk
•
Fish: Possible 'Spygate' witness surfaces
Commentary
•
Once burned, Goodell turns fireman
•
Munson: Congressional interest is serious business
•
Pasquarelli: Specter should stick with politics
•
Clayton: Spy saga won't distract Patriots
•
Hashmarks at Goodell's news conference
Letters
•&nbsp
Specter to Goodell (.pdf)
•&nbsp
Goodell to Specter (.pdf)
From September
News
•
NFL has all materials from Pats in spying scandal
•
NFL reviews how tape leaked to Fox
•
Belichick to turn over materials in spying probe
•
Pats owner perturbed by Belichick's spy games
•
Goodell orders Pats to turn over all video
•
Sources: Patriots give Belichick extension
•
Wilson spies inconsistencies in Belichick case
•
NFL fines Belichick $500K, Pats $250K for spying
•
Bill Belichick's apology to Patriots community
•
Clayton Q&A: Patriots can survive this penalty
•
Two days later, Belichick still won't comment
•
Some Eagles question Pats' tactics in Super Bowl
•
Belichick issues apology amid accusations
•
Sources: Goodell determines Patriots broke rules
Commentary
•
Clayton: NFL penalty for Belichick, Pats too light
•
Mosley: Pats lose first-rounder? Roger that
•
Scouts Inc.: What the Pats will miss in '08 draft
•
Chadiha: Legal spying widespread in NFL
•
Sando: What's legal, what's not in spy game
•
What they're saying: Players, coaches, pundits
•
Luksa: Spy stories once had comedic value
•
Bryant: Belichick deserves two-week banishment
•
Clayton: Goodell to treat breech seriously
•
Simmons: The camera doesn't lie
•
Simmons: Cheating not necessary to win opener
Video

•
What should happen to the Pats?
•
Belichick deflects videotape-related questions
•
Former Patriot thinks team should be punished
•
Reactions from around the league
Audio

•
Mike Vrabel, Pats linebacker: Don't criticize the players

•
Chris Mortensen: Situation might motivate the Patriots

•
Keyshawn: It was 'scouting,' not cheating

•
Salisbury: Story blown out of proportion

SportsNation
•
Vote: Was New England's punishment fair?
•
Mixed reader results on NFL spying


MOST SENT STORIES ON ESPN.COM