Commentary
Improved running game shaping up for Texans
The Texans have finished .500 just once in the franchise's history. But with the hirinig of Alex Gibbs and an improved defensive line, Houston is ready to make a serious playoff run, writes John Clayton.
Originally Published:
June 20, 2008
By
John Clayton
| ESPN.com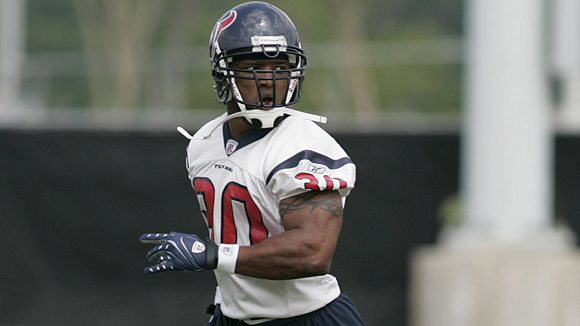 Brett Davis/US PRESSWIREInjuries slowed Ahman Green in 2007, but now healthy and behind a revamped offensive line, Green should return to his Pro Bowl form.
Gary Kubiak is ready for the Texans to make their first true playoff run, and the key word is run. Kubiak hired blocking guru Alex Gibbs to revamp the offensive line and install his athletic, attacking zone-blocking scheme. Though much of the success of the running offense depends on the health of veteran running back
Ahman Green
, the early reviews of the transition along the line are good.
Fantasy Update
AJ Mass breaks down the fantasy prospects for the Texans. Story
What we learned from minicamp
The offensive line is set to get younger and better at the expense of a few veterans. First-round pick Duane Brown moved ahead of veteran Ephraim Salaam, and Salaam wasn't too happy about the move. Most teams considered Brown a second-round pick, but Gibbs can usually take non first-round talents and turn them into solid blockers. Athletically, Brown fits perfectly in Gibbs' scheme. It also helps that he will be working next to left guard Chester Pitts, who has been a mentor to Brown. Chris Myers, acquired from the Broncos, has taken over at center. Mike Brisiel is holding down the right guard spot until veteran Fred Weary is healthy. Eric Winston is set at right tackle. The members of Gibbs' retooled line have an average age of 25, and he has veterans available to replace them in case they fail.
Finally, the Texans have options along the line. No longer are they going to patch the line with veteran free agents as they did the past season. The Texans felt so good about their depth that they released veteran tackle Jordan Black, whom they signed to a two-year, $3.4 million contract last year. The running options have also improved. Green is the starter. Chris Brown is a more athletic replacement as the backup instead of departed Ron Dayne. Steve Slaton, the team's third-round choice, could be a sleeper. On paper, this is the best the running offense has looked in the history of the franchise.
Still unresolved
The Texans have to figure out a plan at cornerback until Dunta Robinson returns from reconstructive knee surgery, and they appear to have everything covered. Robinson may miss the first six games of the season, which is more optimistic than the original plan of a November return. Jacques Reeves was given a five-year, $20 million contract to be the insurance policy, but he will have to be the No. 1 cornerback going into the season. Fred Bennett, who's coming off a good rookie season, will start on the other side. Third-round choice Antwaun Molden might be too raw to be the third cornerback, but veteran DeMarcus Faggins is still around if needed. Molden had a solid minicamp.
The loss of Robinson was a big blow. He was developing into one of the top corners in the AFC, and good cornerback play is needed in this conference and particularly in this division. What is encouraging is the pass rush looks good with the improvements along the defensive line, particularly defensive end Mario Williams.
Injury analysis
The biggest concerns are Robinson, who is on schedule for an October return, and tackle Charles Spencer, who seems to be nowhere close to coming back from two missed seasons because of knee problems. Guard Fred Weary needed a scope as he continues to rehabilitate his fractured leg and may not be ready for the start of camp. But he should be ready for the regular season and has a chance to compete for the starting job at right guard.
Halfback Ahman Green had a good offseason because he didn't push his recovery from knee problems. Wide receiver Andre Johnson looked good after having a couple of knee procedures in the past year. Halfback Chris Taylor is coming off ACL surgery and was active at camp. The best news is that quarterback Matt Schaub is showing no ill effects from the injury to his nonthrowing shoulder last season.
Biggest sign of optimism
Kubiak cited defensive tackle Amobi Okoye as having the team's best offseason. That took some doing. Defensive end Mario Williams, motivated by not being selected to the Pro Bowl last season, was unblockable in OTAs and minicamp. To beat out Williams for that praise says a lot for Okoye's spring. All of a sudden, the Texans have an inside-outside threat along the defensive line that might remind opponents of the Warren Sapp-Simeon Rice days in Tampa Bay. The Texans have the makings of a great defensive line. Travis Johnson and Anthony Weaver should be free to draw single blocking because of Williams and Okoye, which could make them more effective.
If the Texans can generate a great pass rush, it will make the transition in the secondary a lot easier. The Texans had only 31 team sacks last season, 14 by Williams. That number has to increase. The Texans signed former Patriots linebacker Rosevelt Colvin Monday to help on third downs and rush the quarterback.
Training camp start date: July 25
John Clayton, a member of the Pro Football Hall of Fame writers' wing, is a senior writer for ESPN.com.
NFL senior writer
Senior NFL writer and commentator
Joined ESPN in 1995
Member of the writers' wing of the Pro Football Hall of Fame in Canton, Ohio
DIVISION CHECKUP
With the draft way back in the rearview mirror and minicamps over, ESPN.com takes a division-by-division look at every team before training camps begin next month. Training camp dates

•
Arizona: All eyes on quarterback
•
San Francisco: Can Martz rejuvenate offense?
•
Seattle: Hawks hope young WRs emerge
•
St. Louis: Shortcomings at wide receiver
•

Scouts' NFC West roundtable
•
SportsNation:
Vote on who will win West, more
•
Denver: Who's the featured back?
•
Kansas City: Instant impact from picks?
•
Oakland: Turning the corner?
•
San Diego: Runaway train?
•

Scouts' AFC West roundtable
•
SportsNation:
Vote on who will win West, more
•
Atlanta: New beginning
•
Carolina: Fox in the crosshairs
•
New Orleans: Defensive overhaul
•
Tampa Bay: Gruden weathering storm
•

Scouts' NFC South roundtable
•
SportsNation:
Vote on who will win South, more
•
Houston: In the running?
•
Indianapolis: Depth perception
•
Jacksonville: O-line is cause for concern
•
Tennessee: Young saddled with shaky WRs
•

Scouts' AFC South roundtable
•
SportsNation:
Vote on who will win South, more
•
Chicago: Many pressing questions
•
Detroit: Blue-collar mentality
•
Green Bay: Great expectations
•
Minnesota: Meshing new with old
•

Scouts' NFC North roundtable
•
SportsNation:
Vote on who will win North, more
•
Baltimore: Change in the air
•
Cincinnati: Johnson in eye of storm
•
Cleveland: Riding the momentum
•
Pittsburgh: Big Ben armed and ready
•

Scouts' AFC North roundtable
•
SportsNation:
Vote on who will win North, more
•
Dallas: Beware of Ware
•
New York: Will Super Bowl affect focus?
•
Philadelphia: Counting on McNabb
•
Washington: Campbell adapting to Zorn
•

Scouts' NFC East roundtable
•
SportsNation:
Vote on who will win East, more
•
Buffalo: Edwards taking control
•
Miami: Parcells turning up the heat
•
New England: Veterans still hungry
•
New York Jets: Pennington or Clemens?
•

Scouts' AFC East roundtable
•
SportsNation:
Vote on who will win East, more