Commentary
Colts taking precautions in case Harrison's knee problems persist
With Marvin Harrison's knee still a question mark, the Colts are focused on developing the back end of their receiving corps in an attempt to ensure consistency in the passing game, writes John Clayton.
Originally Published:
June 20, 2008
By
John Clayton
| ESPN.com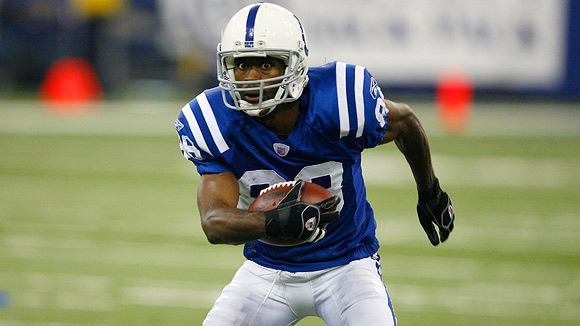 Joe Robbins/Getty ImagesKnee problems limited Marvin Harrison to six regular-season games in 2007. The Colts are hoping a limited training camp regimen will allow the veteran wideout to enter the '08 season at full strength.
Little has changed on the
Indianapolis Colts
. Normally, free agency robs the Colts' defense as young starters hit the open market, but not this year. Head coach Tony Dungy is a master of taking raw, young athletes and fitting them into his Cover 2 scheme.
Fantasy Update
AJ Mass breaks down the fantasy prospects for the Colts. Story
What we learned from minicamp
The offensive line looks solid despite the loss of right guard Jake Scott, who left for the rival Tennessee Titans in free agency. Charlie Johnson beat out Dylan Gandy for Scott's position, leading to Gandy's release. Mike Pollak, the team's second-round choice, is another option. Pollak is an interesting prospect. He'll compete for playing time at right guard and could be the long-term replacement at center for Jeff Saturday, who's entering the final year of his contract. The team would like to re-sign Saturday, a Pro Bowler who is among the best centers in football.
A year ago, the Colts were blindsided by the retirement of Tarik Glenn and had to rush second-rounder Tony Ugoh into the starting lineup. Ugoh enters his second season confident that he fits well in the Colts' offense. The Colts ask their left tackle to block the opponent's top defensive end man-on-man without any help. Thanks to Ugoh's rapid development last season, the Colts ran their offense and got more pass-catchers into routes.
Ryan Lilja is solid at left guard. The return of Dominic Rhodes as a backup to Joseph Addai makes the backfield that much stronger. The plan was for sixth-round choice Mike Hart to get Rhodes' old job of getting eight to 10 carries a game. Now the Colts go three-deep at halfback.
Still unresolved
The Colts have to develop key backups for their passing offense. Behind Marvin Harrison, Reggie Wayne and Anthony Gonzalez at receiver, the Colts don't know what they have. That was a problem last year. Injuries to their top three receivers in the middle of the season forced them to use Aaron Moorehead more than they planned. Moorehead is gone. The Colts are trying to develop Roy Hall, Devin Aromashhodu and former Titan Courtney Roby as fourth and fifth receivers. With Harrison's knee being a question mark, that role is important if the Colts want to maintain their three-receiver offense without Harrison.
They also have to find a replacement for Ben Utecht (now with the Bengals) at tight end. Utecht caught 31 passes as the No. 2 tight end, and the Colts like to use the two-tight end set a lot. They didn't bring back Bryan Fletcher, so those backup tight end hopes ride with Gijon Robinson and fourth-round choice Jacob Tamme. The Colts think they will be OK at that position.
Injury analysis
The Colts have major question marks heading into training camp, but the prognosis is encouraging. Harrison isn't expected to do much in training camp as he rests his aging knees. Harrison missed most of last season because of a bursa sac problem under the left kneecap that caused swelling when he ran. By resting the knee, Harrison hopes the swelling stays down and he can play the whole season.
Defensive end
Dwight Freeney
is coming off a Lis Franc foot injury. He probably won't do much in training camp, but he's expected to be ready for the regular season. Safety
Bob Sanders
is coming off shoulder surgery, but he's ready to resume his leadership role on defense. Four other key players are coming off minor surgeries and are fine: Guard
Ryan Lilja
(knee), tackle
Ryan Diem
(knee), linebacker
Gary Brackett
(hip) and defensive end
Robert Mathis
(knee).
Handling distractions
The Colts' front office was confident of Harrison's innocence in a shooting incident near a bar he owns in Philadelphia. Though Harrison was questioned by police and there have been reports his gun was involved in the shooting, little has come out of the Philadelphia Police Department in the past couple months. At the very least, he could be guilty of a misdemeanor if his gun was involved. That's a state law, and that could cause some minor problems for Harrison with the league office. Still, that the case has been so quiet possibly confirms the team's confidence that Harrison wasn't directly involved.
Training camp start: July 24
John Clayton, a member of the Pro Football Hall of Fame writers' wing, is a senior writer for ESPN.com.
NFL senior writer
Senior NFL writer and commentator
Joined ESPN in 1995
Member of the writers' wing of the Pro Football Hall of Fame in Canton, Ohio
SPONSORED HEADLINES
MORE NFL HEADLINES
MOST SENT STORIES ON ESPN.COM
DIVISION CHECKUP
With the draft way back in the rearview mirror and minicamps over, ESPN.com takes a division-by-division look at every team before training camps begin next month. Training camp dates

•
Arizona: All eyes on quarterback
•
San Francisco: Can Martz rejuvenate offense?
•
Seattle: Hawks hope young WRs emerge
•
St. Louis: Shortcomings at wide receiver
•

Scouts' NFC West roundtable
•
SportsNation:
Vote on who will win West, more
•
Denver: Who's the featured back?
•
Kansas City: Instant impact from picks?
•
Oakland: Turning the corner?
•
San Diego: Runaway train?
•

Scouts' AFC West roundtable
•
SportsNation:
Vote on who will win West, more
•
Atlanta: New beginning
•
Carolina: Fox in the crosshairs
•
New Orleans: Defensive overhaul
•
Tampa Bay: Gruden weathering storm
•

Scouts' NFC South roundtable
•
SportsNation:
Vote on who will win South, more
•
Houston: In the running?
•
Indianapolis: Depth perception
•
Jacksonville: O-line is cause for concern
•
Tennessee: Young saddled with shaky WRs
•

Scouts' AFC South roundtable
•
SportsNation:
Vote on who will win South, more
•
Chicago: Many pressing questions
•
Detroit: Blue-collar mentality
•
Green Bay: Great expectations
•
Minnesota: Meshing new with old
•

Scouts' NFC North roundtable
•
SportsNation:
Vote on who will win North, more
•
Baltimore: Change in the air
•
Cincinnati: Johnson in eye of storm
•
Cleveland: Riding the momentum
•
Pittsburgh: Big Ben armed and ready
•

Scouts' AFC North roundtable
•
SportsNation:
Vote on who will win North, more
•
Dallas: Beware of Ware
•
New York: Will Super Bowl affect focus?
•
Philadelphia: Counting on McNabb
•
Washington: Campbell adapting to Zorn
•

Scouts' NFC East roundtable
•
SportsNation:
Vote on who will win East, more
•
Buffalo: Edwards taking control
•
Miami: Parcells turning up the heat
•
New England: Veterans still hungry
•
New York Jets: Pennington or Clemens?
•

Scouts' AFC East roundtable
•
SportsNation:
Vote on who will win East, more