Commentary
Cable must repair relationship between coaching staff and Davis
Tom Cable, the surprise choice to replace Lane Kiffin, will need to work with Al Davis to turn the Raiders around, John Clayton writes.
Originally Published:
September 30, 2008
By
John Clayton
| ESPN.com
Oakland Raiders offensive line coach Tom Cable was named as the surprise replacement for head coach Lane Kiffin, who was fired with the notification he won't be paid the remaining $3.5 million on his contract.
As a coach, Cable, 43, has the reputation of being a good protector. As a player at Idaho, Cable was a three-year starter at guard who protected starting quarterback Scott Linehan. Now, his job is to protect the interests of Raiders boss Al Davis, whose team is 20-64 since it went to the Super Bowl in 2002. His challenge is a tough one. The past couple of weeks, Raiders veterans played hard for Kiffin, some starters even playing with injuries. Now, Cable has to win over those players and try to turn around the losing mentality of this team.
To be the Raiders' coach beyond this season, though, Cable knows he has to "just win, baby." What does he need to succeed?
1. His first mission must be to re-establish a relationship with the coaching staff and Davis. For whatever reason, Kiffin and Davis drifted apart in what became a horrible relationship that lasted only 20 games. Kiffin was critical of the talent level of the team and of how some of the decisions were made. Davis and Kiffin rarely talked, which promoted plots and subplots within the organization. The Raiders seemed to be fighting more internal battles than they were battling opponents. Because Davis picked Cable over scout Paul Hackett, a former Pitt and USC coach, Cable obviously starts with a decent relationship with Davis. Over the next 12 games, Cable needs to work with Davis, who makes every major decision concerning the team, to make the Raiders better.
2. Cable's biggest selling points are his accomplishments on offense. Cable inherited an offensive line that was aging and underachieving -- the Raiders' offensive line gave up 76 sacks in 2006, and the offense scored only 10.5 points a game. Cable came in as a straight shooter, told his linemen he didn't care about the past and transformed the Raiders into a more aggressive line. As a result, Oakland jumped to sixth in the league in rushing in his first season as offensive line coach, which led to a seven-point improvement in offensive production. In Cable's first speech to the team, he will say he doesn't care about the past. He will try to bring some discipline.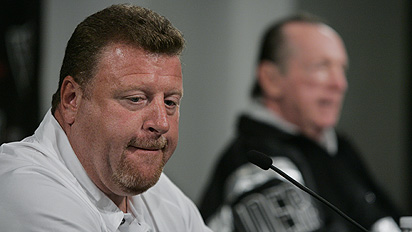 AP Photo/Paul SakumaOakland offensive line coach Tom Cable, left, was named Raiders interim head coach by owner Al Davis on Tuesday.
3. Cable needs to be supportive of the defensive staff, which is led by defensive coordinator Rob Ryan. Ryan is a players' coach, and the defensive unit likes playing for him. Kiffin wanted to fire Ryan after last season, but Davis stepped in and vetoed that suggestion. The Chargers had high praise for what they saw from the Raiders' defense in San Diego's 28-18 victory Sunday: The defensive front was aggressive and gave the Chargers' offensive line a lot of trouble. If Cable lets Ryan run the defense, he can concentrate on managing the offense and trying to create a no-nonsense environment for the players.
4. Cable got a big break when offensive coordinator Greg Knapp told Davis not to consider him for the interim job. Knapp felt his best role would be to call the offensive plays, which is a plus for Cable because he doesn't have to look over his shoulder. Knapp has run the West Coast offense in San Francisco and Atlanta, and he's focused on trying to build a passing offense for first-year starter JaMarcus Russell. The key to trying to win down the stretch will be the development of the passing offense -- Russell has a great arm, but the scheme is very elementary at the moment. Until the receivers do a better job of getting open, Knapp and Cable will have to work around the passing game. Kiffin felt the team couldn't pass the ball more than 20 times and still win the game. If Cable and Knapp can get the offense to a point at which it can successfully pass the ball 25 or 30 times a game, the Raiders will have a better chance of winning.
5. The final task will be making sure the offensive line doesn't regress with Cable in charge of the whole team. James Cregg is the offensive line assistant and presumably will take over managing the blocking schemes for Cable. Since his arrival 20 games ago, Cable has done a remarkable job of developing a consistent run-blocking team, even though Oakland isn't considered strong at tackle. Russell has been sacked 10 times in four games, which isn't horrible under the circumstances. The Raiders' backs are averaging 4.8 yards a carry even though Justin Fargas has been sidelined with a groin injury and Darren McFadden hasn't been the same the past two weeks because of a toe injury. The offensive line is one of the success stories of the team, and it can't take a step back because Cable has been promoted to the interim position.
John Clayton, a recipient of the Pro Football Hall of Fame's McCann Award for distinguished reporting, is a senior writer for ESPN.com
NFL senior writer
Senior NFL writer and commentator
Joined ESPN in 1995
Member of the writers' wing of the Pro Football Hall of Fame in Canton, Ohio
EDITORS' PICKS
Is Jameis Winston still the top pick? Here's how the combine impacted Todd McShay's first-round outlook.
Mock 3.0

The league's extensive analysis of in-game data may yield endless possibilities for the future of the game.
Seifert »

Josh McCown is a great guy. But he isn't a great option to clear up the Browns' unsettled QB position.
McManamon »

MOST SENT STORIES ON ESPN.COM