Commentary
Giants-Steelers showdown kicks off brutal stretch for both teams
Sunday's potential Super Bowl preview between the Giants and the Steelers marks the beginning of a brutal stretch for both teams, writes John Clayton.
Originally Published:
October 23, 2008
By
John Clayton
| ESPN.com
The Super Bowl run officially begins for the Steelers and the Giants when they meet Sunday at Heinz Field.
Their 5-1 starts have put them at or near the top of most NFL rankings. They've earned the attention. The Giants have fought through the distraction of being the Super Bowl champs and the losses of five key players on defense. The Steelers have battled a tough schedule and injuries.
QUESTIONS, PLEASE
Do you have a query for John Clayton?
Click here to send a note to his mailbag.
But as tough as it was at the start, life gets tougher for both franchises starting Sunday. Their remaining schedules are brutal.
The Steelers knew going into the season that they would be playing an impossible schedule. Their opponents' 2007 winning percentage of .598 is one of the toughest in decades. In 16 games, the Steelers face a dozen teams that went 8-8 or better last season, the only breaks being four divisional games against the Ravens and the Bengals, who had losing records in 2007.
A bad start by the Browns gave the Steelers an easier matchup against a team that won 10 games last season. So far, the Steelers have gone 5-1 against teams that were a combined 59-53 in 2007. In their final 10 games, the Steelers face opponents who went 94-50 last season, a staggering .653 winning percentage. Eight of their final 10 games are against teams that were .500 or better in 2007, including six against playoff teams.
The Giants have gotten most of their easy games out of the way. They played a modest .482 opening schedule. Their final 10 games are against teams with a combined 2007 winning percentage of .549, including seven teams that were .500 or better.
The problem with playing tough schedules is the attrition caused by injuries. The Steelers have suffered already. Quarterback Ben Roethlisberger has played despite a slight separation of his right shoulder. They have won with their third-string running back, Mewelde Moore. Their offensive line lost Kendall Simmons for the season, and it didn't have left tackle Marvel Smith in Week 7 because of a tight back. The defensive line has been without Casey Hampton (knee) and Brett Keisel (calf) for a while. Cornerback Bryant McFadden broke a forearm and is out for five weeks.
The Giants have been relatively healthy, but they've had their issues. Plaxico Burress was suspended by the team for one game for missing a meeting. The defense has had to adjust without Michael Strahan, Osi Umenyiora, Kawika Mitchell, Gibril Wilson and Reggie Torbor.
The Giants and the Steelers are heading into a long, tough grind. Sunday is just the first test.
1. Indianapolis Colts at Tennessee Titans: Monday night will be a defining game. If the Titans beat the Colts, they will change the balance of power in the AFC. With a victory, the Titans will be 7-0 and own an almost insurmountable four-game lead over the Colts. That will put the Colts in the wild-card mix instead of the AFC South title hunt.
[+] Enlarge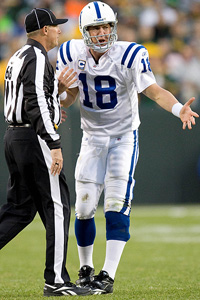 Jeff Hanisch/US PresswireWith a struggling run game and issues on defense, the Colts rely on Peyton Manning more than ever.
Although past matchups usually have favored the Colts, this one favors the Titans. The Colts have been going with two rookies at guard, which is a problem because Titans defensive tackle
Albert Haynesworth
is hard for even veterans to block. The Colts, who are weak at defensive tackle, will have a hard time stopping the Titans' power running game. The hope for Indianapolis is QB
Peyton Manning
, who won't concede anything and is at his best in prime time.
2. Tampa Bay Buccaneers at Dallas Cowboys: The key for the Cowboys is not falling behind. The Bucs' Monte Kiffin-coached defense is at its best when the team has the lead. It doesn't help the Cowboys that QB Brad Johnson once played for the Bucs, who know his strengths and weaknesses. Johnson, filling in for the injured Tony Romo, will have plenty of problems throwing into the Bucs' Cover 2 scheme. Plus, this could be a game in which Bucs cornerback Ronde Barber gets a couple of sacks on zone blitzes.
This is a critical game for the Cowboys. Coach Wade Phillips has taken over the defensive play calling.
Terrell Owens
is about ready to explode -- again. A loss would increase the Cowboys' losing streak to three and could drop them back significantly in the NFC East race. Bucs coach Jon Gruden will have to devise some schemes to contain Cowboys linebacker
DeMarcus Ware
, who has sacks in 11 consecutive games and already has nine sacks this season.
3. Arizona Cardinals at Carolina Panthers: No, the Cardinals didn't vacation on the East Coast during their bye week. Face it, the Cardinals have tried everything to improve their ability to win on the road. They usually go 2-6 on the road, and staying back East between losses to the Redskins and the Jets only confirmed how difficult it is for them to do well there.
Despite their road woes, the Cardinals are poised to run away with the NFC West. For the first time in a decade, the Cardinals can start thinking about playoffs and seedings. A loss to the Panthers could doom Arizona to a No. 3 or No. 4 seed, meaning the Cards likely would have to go to the East Coast in the second round. Coach Ken Whisenhunt is hopeful WR
Anquan Boldin
can play now that he's recovered from his sinus fracture.
4. San Diego Chargers at New Orleans Saints: The loser of this game might not want to go back to the States. The loser will be in a 3-5 hole and might as well spend the rest of the season touring London and planning vacation. The timing of Reggie Bush's knee surgery hurts the Saints' chances. With Bush and the way coach Sean Payton can put him in position to catch passes out of the backfield, QB Drew Brees has been able to find targets deep downfield. Now, it will be harder to make big plays until Bush's knee heals.
The Chargers get a bit of a break in the sense that this is a road game, even though it will be played on a neutral site. The Saints gave up a home game to give the NFL an international regular-season game featuring good teams. The Chargers have to hope no fan in England loses his souvenir balloon and lets it hit a power station. Their defense has been dimmed without LB
Shawne Merriman
, and the lights going out in Buffalo this past Sunday might have been construed as a bad omen by Chargers fans.
5. Atlanta Falcons at Philadelphia Eagles: The Eagles have had a bye week to study Falcons rookie quarterback Matt Ryan; if they can't stop him, they will allow Atlanta to pass them as a playoff contender. Coach Andy Reid, defensive coordinator Jim Johnson and quarterback Donovan McNabb can't allow that to happen. Except for Pro Bowl guard Shawn Andrews, who might be done for the year following back surgery, the Eagles are healthy. Brian Westbrook is back. The receivers are back. The Eagles can't allow the Falcons to fly.
6. Buffalo Bills at Miami Dolphins: The Bills are the last of the 32 NFL teams to get into divisional play. They have gone 5-1 in non-divisional games, and this opens a defining three-game stretch. The Dolphins have proved to be worthy opponents, but they lost each of their past two games by five points or fewer. Bills coach Dick Jauron knows this game won't be easy. The Dolphins are desperate. Bills quarterback Trent Edwards will have to be ready for extra blitzes and defensive surprises. The other AFC East teams know the Dolphins can do them a favor by bringing the Bills back to earth.
[+] Enlarge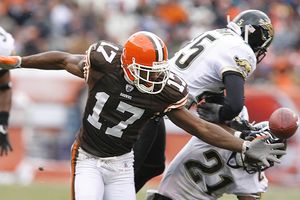 Matthew Emmons/US PresswireBraylon Edwards' slippery hands have contributed to the Browns' inconsistency.
7. Cleveland Browns at Jacksonville Jaguars: The Browns suspended tight end Kellen Winslow for this game because he called out management for hiding his staph infection and said he feels like a piece of meat. Something is infecting the Browns, because their inconsistency after a 10-win season is making their fans ill. Derek Anderson is completing less than 50 percent of his passes. Braylon Edwards isn't helping matters because he has dropped 11 passes. The defense is starting to develop some toughness, but the season is rapidly slipping away.
The Jaguars used the bye week to rest up and get healthy for a playoff run. At 3-3, coach
Jack Del Rio
isn't conceding anything.
8. Oakland Raiders at Baltimore Ravens: Raiders QB JaMarcus Russell pulled out a nice overtime victory against the Jets this past Sunday, but he's going to need a lot more help this week. Ravens defensive coordinator Rex Ryan runs some of the most imaginative schemes in football, with a veteran group led by Ray Lewis. The Ravens present a lot of zany fronts that keep quarterbacks guessing. What's worse for Russell is that the Ravens don't allow opposing running backs to get 100 yards. Without a running attack, Russell and the Raiders are in big trouble. The Raiders have to manage a game in which Russell throws 25 times or fewer, so if there is no running game, there is no Raiders win, baby.
9. Seattle Seahawks at San Francisco 49ers: Welcome to the San Francisco job fair. Mike Singletary, who was elevated to interim head coach after the 49ers fired Mike Nolan, is auditioning for the full-time job. Mike Holmgren might be looking for a new career opportunity; he's leaving the Seahawks after 2008 and plans to take a year off to refresh his mind and body. A lot of people have Holmgren penciled in as the 49ers' coach, but will they wait until 2010? Both teams are pretty much out of the playoffs race. The Seahawks are 1-5. The 49ers are 2-5.
10. St. Louis Rams at New England Patriots: Can Rams interim coach Jim Haslett take his run of major upsets to three? This will be tough. Rams RB Steven Jackson hopes to play despite a thigh injury, and if he does, he might not be 100 percent. The Patriots gained some confidence with their easy victory over the Broncos, but coach Bill Belichick realizes the Rams have improved. Now that safety Rodney Harrison is out for the season, the Patriots will learn a lot more about the abilities of DBs Brandon Meriweather and James Sanders.
John Clayton, a recipient of the Pro Football Hall of Fame's McCann Award for distinguished reporting, is a senior writer for ESPN.com.
NFL senior writer
Senior NFL writer and commentator
Joined ESPN in 1995
Member of the writers' wing of the Pro Football Hall of Fame in Canton, Ohio
EDITORS' PICKS
Extra points will likely be different in 2015, but how? NFL Nation reporters dissect the proposed changes.
Roundtable »

Poland's Babatunde Aiyegbusi has limited experience, but at 6-9, 351 pounds, he has the NFL's attention.
Wright »

Many teams created buzz, but who has done the best work in free agency? Our experts hand out grades.
Sando

MOST SENT STORIES ON ESPN.COM