Commentary
T.O.'s uphill climb to HOF consideration
Owens has the numbers, but crowded WR field could affect induction
Originally Published:
March 9, 2009
By
John Clayton
| ESPN.com
Terrell Owens has put up Hall of Fame numbers in his NFL career, but that doesn't guarantee first-ballot acceptance into the Pro Football Hall of Fame.
This has nothing to do with Owens' internal struggles with quarterbacks or his troubles in the locker room. Voting rules in the Hall of Fame prohibit balloters from considering off-the-field issues. Unlike HOFs in other sports, voters in the Pro Football Hall of Fame may judge only what a player does on the field.
Buffalo Bills
star would be the difficulty voters have had with modern-day receivers. For three decades, the voting board, which has grown to 44, has struggled getting enough ballots to enshrine the top receivers of certain eras.
It took more than two decades for the top receivers in the 1970s to enter. Lynn Swann of the Pittsburgh Steelers was a finalist 14 times before going into the Hall. Teammate John Stallworth had a 10-year wait. Bob Hayes of the Dallas Cowboys went into the Hall this January as a senior candidate, ending a 29-year wait since becoming eligible.
The problem these receivers faced was being part of a running era when teams didn't pass the ball that much.
Conversely, James Lofton and Art Monk were among three receivers from the more-pass-friendly 1980s who were inducted, but they didn't get in on the first ballot, either. Lofton went in five years after he was eligible. Monk, who had the most receptions in NFL history when he retired, had to endure eight years of being a finalist before being enshrined.
The reason receivers of all eras have faced difficulty in being enshrined is because there's a long list of stars contending for the limited number of spots in the Hall. Two years since he became eligible, former Minnesota Vikings star Cris Carter is still waiting to be voted into Canton. Carter ranks third in career receptions (1,101) and seventh in yards (13,889). Andre Reed of the Buffalo Bills has been fighting an uphill battle despite being seventh in receptions and 10th in yards.
A player is eligible for the Hall five years after his retirement. Owens currently ranks sixth in career catches (951) and fifth in yards (14,122). He has 139 touchdown catches.
Ultimately, Owens will get into the Hall, but it might not be on the first ballot. Like many wideouts before him, he might have to wait.
John Clayton, a recipient of the Pro Football Hall of Fame's McCann Award for distinguished reporting, is a senior writer for ESPN.com.
NFL senior writer
Senior NFL writer and commentator
Joined ESPN in 1995
Member of the writers' wing of the Pro Football Hall of Fame in Canton, Ohio
SPONSORED HEADLINES
MORE NFL HEADLINES
MOST SENT STORIES ON ESPN.COM
T.O. TO BUFFALO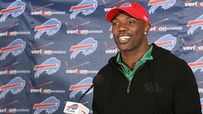 Terrell Owens, released by the Dallas Cowboys, signed a 1-year, $6.5 million with the Buffalo Bills on March 7.
NEWS AND FEATURES
ANALYSIS: BILLS SIGNING
PAGE 2
VIDEO: BUFFALO SIGNING
ANALYSIS: COWBOYS RELEASE
VIDEO: DALLAS RELEASE
AUDIO