Commentary
Draft was ray of hope for NFC West
Originally Published:
April 29, 2009
By
John Clayton
| ESPN.com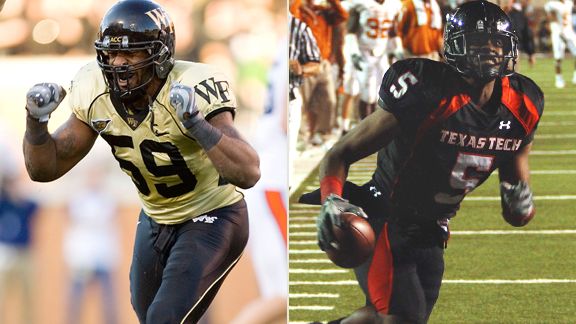 Getty ImagesAaron Curry, left, and Michael Crabtree are among the marquee NFC West draftees.
The late delivery of this week's mailbag has nothing to do with the post office. We wanted to give you enough time to share your questions and thoughts about the recently completed draft. Next week, we're back in the normal Monday slot.
QUESTIONS, PLEASE
Do you have a query for John Clayton?
Click here to send a note to his mailbag.
In the big picture, I saw life in the NFC West. The Seahawks had a great draft, getting Aaron Curry, Max Unger and the Broncos' first-round pick next year. The 49ers lucked into wide receiver Michael Crabtree and helped their future by getting the Panthers' first-round pick next year. The Rams had a solid draft. Although they picked 31st, the Cardinals' draft rated among the 10 best.
On the flip side, you have to wonder if the AFC West moved backward instead of forward. The Broncos didn't address the nose tackle position and came out of the draft thin in the front seven. The Raiders reached in the first two rounds. The Chiefs and Chargers didn't excite anyone with their selections.
Let's dive into the mailbag:
From the inbox
Q: Packers GM Ted Thompson might have saved his job with the picks he made in this year's draft. B.J. Raji should be a dominant force in the middle for years to come. Every need was met from my point of view. How do you grade the Packers' draft? Thanks.
Ricky in Greensboro, N.C.
A: Thompson has complete job security in Green Bay, even though he is unpopular in some circles. But I really liked this draft. I think it came out better than expected. For the conversion to the 3-4 defense, the Packers got the right nose tackle. Raji can share time with Ryan Pickett. As Raji learns, Pickett can be moved into a defensive end role if he doesn't fit into the 3-4. The hardest part of the transition from a 4-3 to a 3-4 is finding a nose tackle. The 49ers, Jets and Browns struggled for a couple years in stopping the run, and the key to any 3-4 is the ability to stop the run. I also liked the selection of Clay Matthews. Overall, it was a solid draft. I'd give it a B or a B+.
Short takes
Mark in Mt. Pleasant, Mich., accepts Matthew Stafford as the No. 1 pick, but he was distressed the Lions passed on Michael Oher at No. 20 and didn't go for Rey Maualuga at No. 33. Point taken. It was pretty evident GM Martin Mayhew went with the best available athlete philosophy in each of his choices after Stafford instead of going for need. The Lions could use a future left tackle, and they are still looking for the right middle linebacker. But hey, it's a different philosophy from the past administration. Let's see if it works. … Josh is doing a little Buffalo Bills coaching and proposes a line of Langston Walker, Eric Wood, Geoff Hangartner, Andy Levitre and Brad Butler. (Dick Jauron is going to try Kirk Chambers at right tackle.) He's OK with the Jason Peters trade because he's overrated. Coach Josh, I love the interior of your line. … Kiwi in San Francisco admits he's a biased 49ers fan, but he wants the 49ers to get their due for their recent draft. Kiwi, it was good, not great. Love the Michael Crabtree gift and I thought getting next year's first-rounder from Carolina was perfect. Without the second-rounder they sent to the Panthers, though, the 49ers didn't get more than one first-year starter, which is why the ratings were low. … Daniel in Anchorage asks if Fili Moala can anchor the Colts' defensive line. The plan is for Terrance Taylor to compete for the nose tackle job and for Moala to be a potential starter at the "three-technique." One of the two will end up starting, but there is no question the Colts are better suited to stop the run with the drafting of these two players. … Jay in Nashville, Tenn., is worried the Titans are positioning themselves for a future of "hand-me-down" quarterbacks until they have a 4-12 season. I don't necessarily agree. I think they will do their best to let Vince Young take the job back in 2010. … Barclay in Dallas wants to know if Jonathan Luigs, the fourth-round pick, will end up being the Bengals' starting center. Absolutely. It's his job to lose. As an SMU student, Barclay wonders how Thomas Morstead will do punting for the Saints. All I can tell you is that they will give him every chance to be the punter. … Adam in Sacramento, Calif., sounds as though he's hoping for the 49ers to make a play for Brady Quinn with the extra first-rounder they received from the Panthers. Nope. They'll take their chances on getting a quarterback next year. … Scott in St. Louis liked the Cowboys' draft even though he admits they only drafted backups. I agree that they are deeper, but are they better? Plus, if 12 draft choices make that team, they have real problems. … Kevin is a Rams fan who is glad they didn't take Mark Sanchez. I agree. I give the Rams a C+ on the draft. I like their No. 1, Jason Smith of Baylor. … Scott in Las Vegas is a little concerned about the Ravens not taking a wide receiver. Don't criticize them for not making the Anquan Boldin trade. They made the best offer, but the Cardinals wouldn't accept anything less than a first and a third. And the Ravens couldn't give up the chance to get CB Lardarius Webb in the third round. … To John in Washington, D.C., the reason the Redskins stayed away from drafting an offensive lineman with their six draft choices is because they believe Mike Williams can make the team at right tackle. They signed the former Texas first-rounder last Friday because of a great workout and how much offensive line coach Joe Bugel liked him. He was their drafted offensive lineman, right or wrong. … Trever in Marshalltown, Iowa, I really liked the selections of Percy Harvin and Phil Loadholt. Harvin is an interesting gamble. Loadholt will end up starting at right tackle. Trever wants a quarterback for the Vikings. Well, many agree.
Q: With Denver facing the NFC East this year, the draft pick the Seahawks will receive from Denver could be very high. Do you think they will go for a QB next year?
Jason in Seattle
A: The Seahawks could receive a high choice in the 2010 draft if the Broncos fail in Josh McDaniels' first season. And yes, I do think they will be in a position to get one of the top quarterbacks. This was an offer no smart general manager could refuse. Because they didn't draft much help at the front of their new 3-4 defense, the Broncos will still have a leaking defense. Without Jay Cutler, the Broncos won't be as good on offense either. The Seahawks won this one big time.
Q: I'm pleased with the Eagles' second-round pick of RB LeSean McCoy. My only concern is he barely tips the scale at 200 pounds. With that said, do you think the Eagles should have chosen a RB who is bigger than Brian Westbrook, rather then smaller? In the past, the Eagles' failure to convert on third-and-short is a direct result of having a small back.
Jessie in West Chester, Pa.
A: You should be pleased with the entire Eagles draft. McCoy should be great. He's elusive. He's tough. He'll probably top out at 210 or 215 pounds. At Pitt, he was the offense. He can work his way into increased playing time each year and eventually become the Eagles' featured back. I think the acquisition of fullback Leonard Weaver is the answer to the problems the Eagles had in short yardage. Reid will never be a coach to go crazy running the ball, but I think the Eagles' roster will allow them to run better than they have the past two years.
Q: Why did we see some teams trade a first-round pick in the next year's draft for a second-round pick in this year's draft?
Brock in Palo Alto, Calif.
A: It's a panic. Teams that give away next year's first-round picks believe in a player so much that they don't care about the future. The Broncos felt as though they apparently couldn't live without cornerback Alphonso Smith. The Panthers did it for a second consecutive year because they wanted Everette Brown's pass-rushing ability. To be honest, I didn't mind the Panthers' move from a year ago because Jeff Otah might be a better prospect than some of the top tackles in this year's draft. The problem I had with those moves this year is that next year's draft projects to be stronger than this year's. What if there is going to be a hard rookie cap in 2011? Every top underclassman could come out and it might be one of the best drafts in years. This year's draft was OK, not great.
Q: Why in the world would Washington even consider taking Mark Sanchez? They have QB in Jason Campbell who has make significant strides over the past couple of years.
Park in Seattle
A: Dan Snyder still questions whether Campbell is a franchise quarterback. Until Campbell convinces Snyder, the Redskins will continue looking for a "face-of-the-franchise" quarterback. If Campbell, who is in the last year of his contract, has a big year, Snyder will reward him. If not, the Redskins will be bidding for any franchise-caliber quarterback available. To his credit, Campbell understands the situation even if he doesn't like it. He works out at the facility every day. He continues to work with coach Jim Zorn to improve his game. Maybe being upset could bring out more leadership from him.
Q: It seems the Browns are trying to put a better team on the field, but why are they doing it so cheaply?
Tom in Cleveland
A: I don't think it's the money. I just think coach Eric Mangini has his own vision of the type of players he wants. The problem is he is getting rid of the some of the best players on the team, and any team is only as good as its players. I did not like the Browns' decision to trade the No. 5 pick. You don't trade from No. 5 to No. 21 and receive only a second-rounder and a couple of sixth-round picks. You also don't trade that far down and draft a center. Alex Mack may be the next Nick Mangold, but as good as Mangold is, the Jets didn't make the playoffs last year. I'm not sure if the Browns are getting better.
Q: Was this the Oakland Raiders' worst draft of the decade? Of their first five picks, the only guy who wasn't a significant reach was Louis Murphy.
Garrett in Wells, Nev.
A: The Raiders are in a bad cycle. They draft for speed but speed alone doesn't work anymore. Michael Huff hasn't lived up to his billing. Fabian Washington was traded. There is a growing list of No. 1 picks who haven't lived up to expectations. The problem Darrius Heyward-Bey is facing is that it is going to be hard for him to live up to being the No. 7 pick. It's never a good idea to draft a receiver in the top 10 unless he can be a true No. 1 target. Heyward-Bay could be a speedy split end, but can he be an 80-catch receiver? JaMarcus Russell needs a dependable receiver with separation and playmaking ability. A 15-yard completion to Michael Crabtree would be worth more to him than a 40-yard incompletion to Heyward-Bey.
Q: I am still a little baffled on why the Giants got a receiver like Hakeem Nicks. He is a good talent, but the Giants are stocked with Sinorice Moss, Steve Smith, Domenik Hixon and even Mario Manningham. Why didn't they draft a linebacker early?
Victor in New York
A: I know they liked Heyward-Bey, but they weren't going to get him. He went No. 7 to the Raiders. After the release of Plaxico Burress, you know they weren't going to trade up to get Percy Harvin. That left them with the options of Jeremy Maclin and Nicks. The Eagles made sure they got Maclin by trading up two spots. I still think the Giants would have been better served by giving up a first-rounder and getting Braylon Edwards. Nicks has more pressure on him than any other first-rounder.
Q: What is going on with new Broncos coach Josh McDaniels? First, there was the Jay Cutler fiasco. And now, he made some very questionable draft moves.
Bronco Fan
A: I just get the feeling that McDaniels is in a little over his head, which is expected with his age and experience level. From my limited time with him, I like him. He seems like a good guy. But he's had the worst offseason of any coach. He downgraded the quarterback position. He didn't help the defensive front seven much. He should have never given up his top pick next year because it might be in the top five. This could be a tough year.
John Clayton, a recipient of the Pro Football Hall of Fame's McCann Award for distinguished reporting, is a senior writer for ESPN.com.
NFL senior writer
Senior NFL writer and commentator
Joined ESPN in 1995
Member of the writers' wing of the Pro Football Hall of Fame in Canton, Ohio
SPONSORED HEADLINES
MORE NFL HEADLINES
MOST SENT STORIES ON ESPN.COM
2009 NFL Draft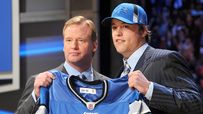 After 15 hours 15 minutes, the 2009 NFL draft is over. Georgia quarterback Matthew Stafford was the top overall pick by the Lions. The Chiefs took South Carolina kicker Ryan Succop with the 256th and final pick, earning him the title of Mr. Irrelevant.
NEWS
DIVISION-BY-DIVISION ANALYSIS
TEAM-BY-TEAM, ROUND-BY-ROUND PICKS
MEL KIPER
TODD McSHAY
FEATURED BLOG POSTS/BLOGS
COLUMNS/FEATURES
DRAFT TOOLS
SPORTSNATION