Commentary
Bears' WR shopping list limited
Originally Published:
May 11, 2009
By
John Clayton
| ESPN.com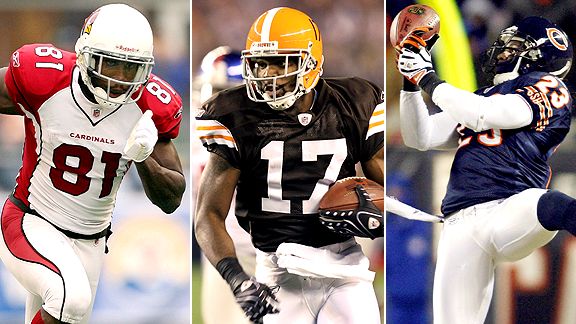 Getty Images/Icon SMI/US PresswireAnquan Boldin (left) and Braylon Edwards (center) reportedly are available, but the Bears might be resigned to hoping young Devin Hester (right) develops into a legitimate No. 1 receiver.
Now that the draft has passed and teams have exhausted the free-agent list, many of the questions in this week's mailbag deal with unfulfilled needs.
Fans in Chicago and Baltimore are still concerned about their teams' lack of success filling wide receiver needs. Vikings fans are still wondering about the quarterback position, if Brett Favre is indeed staying retired. Steelers fans are still concerned about the offensive line. Saints fans still see the need for a power inside running back.
It's impossible to fill all needs in one offseason. For example, teams that needed safeties knew it would be difficult to find good fits in the draft. Only 18 safeties were selected. Teams knew going in this was going to be a tough year to draft safeties. The draft didn't provide many opportunities for the present.
QUESTIONS, PLEASE
Do you have a query for John Clayton?
Click here to send a note to his mailbag.
Good receivers are always hard to find. Many of the top receivers taken in a draft are underclassmen, and it takes time for them to develop. Plus, the Cardinals weren't going to give away Anquan Boldin in a trade. The Browns weren't giving away Braylon Edwards.
Nowadays every team goes into training camp with holes. The worry is whether injuries are going to turn those holes into craters.
Let's dive into the mailbag:
From the inbox
Q: Why is the Redskins' draft graded as a B by most draft experts? The pick of Brian Orakpo was great, and necessary. But, otherwise I think the Redskins' draft was horrible. They came out of it with no OL to help an aging and injury-prone line. They also drafted another TE. The Redskins draft TEs like Matt Millen drafted WRs. Is one player really enough to make a draft that good?
From Chris in Lynchburg, Va.
A: It's graded a B because the Redskins kept their first-round choice and got a good player who can help them. They entered the draft with only five choices. You know how Dan Snyder loves to go for the big names. He tried to trade for Jay Cutler and he tried to move up for Mark Sanchez. The fact that he didn't and sat there with the 13th pick and got a good player helps. Brian Orakpo fills needs at strongside linebacker and defensive end. Being a Texas alum, he fits in well with former Longhorns Derrick Dockery and Mike Williams. Was it a great draft? No. But it was good enough to get a decent grade.
Short takes
To John in Wheeling, W. Va., I think Pat White will be used in the Wildcat formation and have a chance to compete for the backup quarterback job. The Dolphins are light-years ahead of the rest of the league in using the Wildcat. White is coming into the NFL to be developed as a quarterback. He's not just an athlete being groomed to play another position. Watch defenses scramble once he steps onto the field as a Wildcat quarterback. … Steve in Blackwood, N.Y., offers a theory that the Cowboys will be better without Terrell Owens because they can pound the ball with three running backs and take some pressure off Tony Romo. I offer that if Roy Williams doesn't catch 80 passes for 1,300 yards, the Cowboys' offense could drop to the third-best in the NFC East, and that could cost them a chance to make the playoffs. … An e-mailer in Nashville, Tenn., wonders what I would have done differently if I were the general manager of the Titans. The easy thing would have been to try to make sure Albert Haynesworth stayed and signed a long-term contract. After that, I would have considered trading a No. 1 pick for Braylon Edwards. The Titans have been fumbling around with draft choices at receiver who haven't worked out. I like Edwards' long-term future a little better than Kenny Britt's. … Gristoforo in York, Pa., apparently isn't a big fan of the idea of having a Super Bowl in London. He says the Super Bowl isn't like the Olympics in looking for the right host city. I couldn't agree more. Good take by you. … John in Cincinnati disagrees with me about my thinking that the Browns didn't get enough in trading down three times in the first round from the fifth pick to the 21st. He said the Browns got two starters and a big upgrade on the offensive line along with a receiver who could become a No. 1. I contend they could have taken Michael Crabtree and Max Unger and been better. … Bill in Honolulu is scratching his head at the thought the Rams believe they can make Laurent Robinson a starting wide receiver. He likes Donnie Avery and Keenan Burton, but he fears the Rams didn't do enough this offseason. Let's put it this way: The Rams' receiving corps doesn't give you the feeling that they are the Greatest Show on Turf. … Jonny in Fresno, Calif., is a big 49ers fan who believes his team has something at quarterback in Shaun Hill. He likes how Hill manages the game. You might be right, Jonny, but Hill has to manage an offense that can score 20 to 22 points a game to determine whether he's a legitimate NFL starter or just a very, very good backup. … Stephen in Pittsburgh admits he's not a draft expert, but he wonders why the Steelers didn't move up in the second round to draft Rey Maualuga. The reason is simple. They were so overloaded at linebacker that they let Larry Foote go, and Foote can still play. They have five starting linebackers and had to address other positions. … Jason in Nashville, Tenn., thinks everyone is overlooking a weakness on the Packers: special teams. He contends the team gave up too much field position on special teams in the fourth quarter of games. The Packers stockpile more young players than just about any team in the league. If their special teams aren't up to standards, they'd better re-evaluate those young players. For talent, the Packers should have one of the best special-teams units in the league. … Taavon in Baltimore is starting to worry about the Ravens' inability to land a wide receiver this offseason. One of the problems in most offseasons is the lack of good receivers to acquire. Remember a year ago when the Titans were ripped for not getting a receiver? They drafted running back Chris Johnson in the first round and went to the playoffs. Ozzie Newsome is smart. He's looking but he's not going to force a move that might not work out. … Patriots fan Jaime wonders if the Patriots would be downgraded for their offseason because they didn't land a quality outside linebacker. I won't downgrade them. Though I believe Jason Taylor is going to pick the Dolphins over the Patriots in the next week or two, I still think New England's linebacking corps is good enough. … Sharell in Raleigh, N.C., wonders how Packers fans will react if they see Brett Favre come to Lambeau with the Vikings. Packers fans were mad last year with Favre. They'd be furious if they see Favre in Vikings purple. … Finally, Nick from Albany, Ga., writes that reports from Giants minicamp indicated that Ramses Barden caught the ball well, along with showing good size and speed. Still, it's a lot to ask for rookie receivers to grow up in the first month of any season. The Giants have a tough opening schedule.
Q: Do you feel that the Bears made a mistake not pursuing a more veteran wide receiver such as Marvin Harrison and Torry Holt? And do you feel that they should have tried harder to get Anquan Boldin? Will their lack of experience at the wide receiver position haunt them as much as it did last year? I know that Devin Hester is becoming a good wideout, but I won't be convinced until I see results. His longest gain of yards came from pass interference calls, and something isn't right when your running back catches more passes than any other wideout.
From Dennis in Chicago
A: This might sound strange, but there wasn't a lot the Bears could do at wide receiver. They weren't going to get Anquan Boldin or Braylon Edwards without a first-round choice. The free-agency options weren't great either. The best option for them was T.J. Houshmandzadeh, but they didn't want to pay $8 million a year for a receiver. They might regret that. I don't know if any other receiver would have fit. Lovie Smith wouldn't want Terrell Owens in his locker room. Torry Holt might not be the right fit. Marvin Harrison hasn't attracted anyone's interest this offseason. Brandon Jones, Jabar Gaffney and David Patten didn't make much sense. Laveranues Coles might not have the speed to fit. The Bears' big acquisition was Cutler, but it left them in a tough spot to do much else.
Q: I was wondering what the deal was with Rashad Jennings. I thought he was projected to be a mid-round pick, but I was surprised to not see his name picked until late in the seventh round, behind a bunch of other RBs that I hadn't heard of before. Was there something about him that turned teams off?
From Alvin in Los Angeles
A: I didn't get that either. Every draft site pretty much had the Liberty product as the sleeper running back. It appeared teams fell asleep when thinking about drafting him. All I heard at the Jaguars' minicamp is that he looked great. He looked like every bit of the mid-round pick people thought he was. This could be a byproduct of teams' being overloaded at running back. You knew going in that the Jaguars and Saints were looking for a backup running back. The Jaguars got him in a steal.
Q: The fact that more and more athletes are choosing to demand trades is really becoming a trend that needs to be stopped. Am I seeing the sport that I love being destroyed before my eyes, or does the NFL feel as though [it is] impervious to losing fans due to inflated ticket prices? Oops, tangent sorry!
From Tyler in West Chester, Pa.
A: I wish I could tell you that the NFL can enact a rule that would prevent veterans from asking for trades, but nothing will change reality. There are only 22 starting jobs and not every starter is going to be paid the highest salary. Players do sign contracts, but players will tell you teams break those contracts all the time when they cut them or threaten to cut them. Sports isn't going on a downward cycle. Having covered professional sports dating to my days in high school, I'm numb to it, so I just figure it's part of the landscape. I understand where you would be frustrated. Just accept it. Don't let it affect your love for the sports. Remember that sports is also a business. It's a business for the owners. It's a business for the players. In football, there are only 16 games and a lot of time to think between those 16 weeks. Enjoy the game and the buildup and try your best to not let the business of sports burden you.
Q: Why is ESPN like The Weather Channel, and we do not see a lot of stories or comments (good or bad) about the Titans? It's not our fault that we are dubbed a "small-media market." I mean after all we did finish last year with an NFL-best 13-3 record. I know the Titans don't have what most would consider a premium draft, but what would you say about the '09 Titans and their draft and why does ESPN snub them like they do?
From Brad in Nashville
A: I feel your pain. You're right, the Titans aren't getting much love. I remember going to their training camp two years ago and coming out saying that this is a playoff team. They responded by going to the playoffs. I went to camp last year and came out saying they were better. They made the playoffs again. Until they advance further in the playoffs, though, they aren't going to be on the national radar. That's not fair, but it's reality. I'm glad they are back in the playoff picture because Jeff Fisher is one of the best coaches in the league and the stadium is one of the best places to see a game. Welcome back, Nashville.
Q: With a healthy Carson Palmer and a 12th-ranked defense sure to improve, what chances do you give the Bengals to make the playoffs this season?
From Brian in Cincinnati
A: I don't give them a great chance to make the playoffs, but I give them a chance to be much improved. On defense, they are still a pass-rusher or two away from being good. They need to have more playmaking ability on defense. But I like their draft. Clearly, the return of Carson Palmer will add an average of six to seven points a game to their offense. Their schedule is easy. The problem with thinking about playoffs is the fact the Steelers and Ravens have a significant talent edge over the Bengals, making the Bengals the third- or fourth-best team in the division. At least this season there is hope for the Bengals.
Q: Thomas Jones could be used as trade bait to land a receiver, but with Shaun Ellis getting old and Kenyon Coleman traded in the deal to get Mark Sanchez, could the Jets trade Jones and someone to land another lineman up front like Darnell Dockett or Shaun Rogers to play end in Rex Ryan's defense?
From Jason in New York
A: I wouldn't trade Thomas Jones unless Eric Mangini is going to give the Jets another one of his discount trades like he did in giving them Mark Sanchez. Jones still might have one good year ahead and it's important for Sanchez to play this year and grow. To do that, though, he needs to have a good running attack. That's why the Jets may need three backs. Jones, Leon Washington and Shonn Greene all will be used to help take pressure off Sanchez. Rex Ryan is going to try the same formula that was successful with Joe Flacco last year. Remember, the Ravens ran an average of 37 times a game. Plus, I'm not sure what trade value Jones would offer with his age. Clearly, they aren't going to get a second-rounder for him. And Mangini isn't going to give the Jets Braylon Edwards for Jones in a straight swap.
Q: With Willie Parker's contract set to expire at the end of the season, do you see Rashard Mendenhall being groomed this year to be the Pittsburgh Steelers' feature back next season or do you see Parker getting extended at some point?
From Joe in Dallas
A: Mendenhall had a great minicamp. While there are no plans for Mendenhall to unseat Parker this season, it's pretty evident that Mendenhall is being groomed for 2010. Parker, I'm sure, sees that just as Larry Foote saw it with the development of Lawrence Timmons. Mendenhall is big, fast and powerful. Parker will get most of the carries this year, but they will try to slide in a few extra carries to speed Mendenhall's development. He's the future.
Q: Can you please tell me if the league is looking into changing the rule to have more than 45 [members] of the 53-man team roster active on game day? It seems like this would be better for the players and teams, since all players are already getting paid. What are your thoughts?
From Bob in San Mateo, Calif.
A: Not now. They might consider it if the league goes to an 18-game schedule. The reason the league stays with a 45-man active roster is for competitive reasons, not economics. Old-school football people feel that if you have a 53-man active roster and the opponent has eight injuries, there is too much of a disadvantage to the injured team. New owners in the league say that doesn't make sense. They say, "Why can't we play them if we pay them?" But football is a game of attrition, and the league doesn't want to see blowouts of teams that are understaffed. It gives the healthy team too much of an advantage. Plus, it gives the team coming off a bye week a big edge because it will have a healthier roster.
Q: What do you think of the Percy Harvin pick? I'm still puzzled and questioning that pick because of the availability of Michael Oher. I still think taking [Oher] would have been a very good move considering that he is a top-10 talent and a player who can play right tackle. But I still like the playmaking ability that Harvin offers. What do you think?
From Ted in Minnesota
A: I'm probably in the minority, but I liked the pick. The Vikings rolled the dice. It might not pay the dividends of the Randy Moss selection, but I think Harvin could be great for the Vikings. First, he's getting a great coach in George Stewart. Second, there are enough veterans on that team to make sure he stays out of trouble. If he works out, the Vikings might be able to surpass the Packers in having the best receiving corps in the NFC North. Often, taking gambles on players with troubled pasts doesn't work unless you have the right organizational structure to help that player. I think Harvin is going to the Vikings at the right time, and the Vikings could be the ones who benefit the most.
John Clayton, a recipient of the Pro Football Hall of Fame's McCann Award for distinguished reporting, is a senior writer for ESPN.com.
NFL senior writer
Senior NFL writer and commentator
Joined ESPN in 1995
Member of the writers' wing of the Pro Football Hall of Fame in Canton, Ohio
EDITORS' PICKS
Shane Ray transformed himself in many ways to become a top prospect.
Merrill »

The Saints are positioned to land impact players early in the draft. Who else is in a favorable situation?
Barnwell »

Darrelle Revis is just what the Jets' D needed. Which other '15 acquisitions will pay immediate dividends?
Williamson

MOST SENT STORIES ON ESPN.COM