Commentary
Peterson's voice resonating in Atlanta
Originally Published:
June 25, 2009
By
John Clayton
| ESPN.com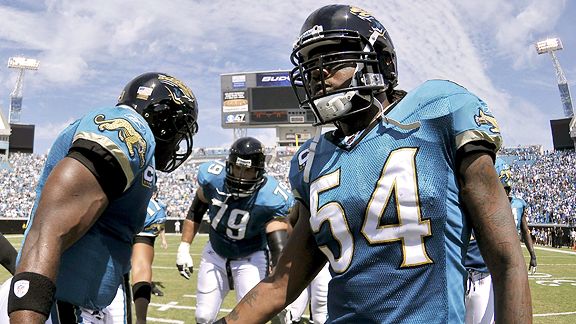 Fernando Medina/US PresswireAfter six productive seasons in Jacksonville, Mike Peterson (54) will try to solidify the Falcons' weakside linebacker spot as well as help fill a leadership void.
All you have to do is watch a Falcons practice and you see why veteran linebacker Mike Peterson is so valuable.
He's constantly communicating. His voice dominates the practice field as he makes sure teammates are in the right position. Over time, his voice will lessen because he's teaching middle linebacker Curtis Lofton how to be Atlanta's vocal leader.
"In Jacksonville, I was the talker," Peterson said. "I was the one getting guys lined up. If guys aren't lined up right, it's not their fault. It's my fault."
Peterson has assumed similar responsibilities in Atlanta. Signed by the Falcons in March, he is the leadership piece Atlanta coach Mike Smith was seeking.
Peterson had six productive years in Jacksonville, but his tenure with the Jaguars ended on a sour note. The Jaguars' 2008 season went awry almost from the very beginning. Left tackle Richard Collier lost a leg after being an innocent victim of a shooting outside a club. Constant losing on the field caused the team to lose focus.
Leadership qualities
Five other veterans who will help fill leadership voids in 2009:
Bobby Engram, WR, Kansas City:
General manager Scott Pioli signed Engram to work the slot and be a positive example for a young receiving crops.
Brian Dawkins, S, Denver:
Even though he's 35, Dawkins was considered one of the true leaders of the Eagles' defense. His new mission is to establish some professionalism on a Broncos defense that gave up 28 points a game in 2008.
Darren Sharper, S, New Orleans:
The Saints' secondary has struggled in recent years. Sharper, a playmaker known for anticipation and interceptions, will try to settle down this group.
Dre' Bly, CB, San Francisco:
49ers coaches and front-office execs are already raving about Bly, who was brought in after
Walt Harris
blew out a knee. Bly is a steady and smart corner who will help stabilize the 49ers' secondary.
Matt Birk, C, Baltimore:
The Ravens' talented offensive line lost its big center,
Jason Brown
. Birk is as tall as he is smart and will help anchor the line in the tough AFC North.
And then came a weird scene in a Week 9 loss to the Bengals. The Jaguars were trailing 21-3 and looking lethargic. Peterson made a shoestring sack of Bengals quarterback Ryan Fitzpatrick. Hoping to inspire his teammates, Peterson performed a sack celebration in which he flexed his muscles. Jack Del Rio, a no-nonsense coach and former linebacker, steamed on the sidelines.
In part, he was mad at the team's performance. Del Rio was also mad at defensive tackle John Henderson, who was ejected on the previous play for trying to gouge the eyes of Bengals tackle Andrew Whitworth.
Then came one of the weirdest blowups of the 2008 season. Del Rio held his temper until Wednesday of the following week. During a team meeting, Del Rio started singling out some of his grievances about the team's performance. He cited Peterson's celebration, and Peterson jumped up to explain himself. As a leader, he said he was trying to spark a comeback. The Jaguars did indeed come back, but they fell short 21-19. Del Rio fired back and things became verbally nasty.
Like the official who ejected Henderson for eye-gouging, Del Rio ejected Peterson from the locker room and told him to go home. Peterson lost his starting job. He was placed on the inactive list for the next game. One of the best free-agent signings in Jaguars history was suddenly deemed a bad guy.
"The thing that I don't want is for that one year to spoil my other years," Peterson said. "I had five great years, and Coach Del Rio and I had a great relationship. I still have fans there. In fact, I have a football camp down there. That's how I feel about the area. I had one bad year. I bumped heads with the head coach. You just hate for that one year to stand for your whole stay."
Fortunately, it didn't. Peterson knew his days were numbered in Jacksonville. First of all, it's rare for any free agent to play out his entire contract. Peterson did that with class and dignity. Del Rio was grooming a younger Daryl Smith to become Peterson's replacement, but Smith was injured late in the season, leaving Del Rio no choice but to re-insert Peterson as a the starter.
"It was just a matter of going out with a bang," Peterson said. "I knew the handwriting was on the wall. Daryl was destined to replace me, but he got hurt. To have that last game in Jacksonville and having me among the starting 11 was a blessing. I made it six years."
Work wasn't hard for Peterson to find. Mike Smith, who took over as the Falcons' head coach last year, was the Jaguars' defensive coordinator before that. Even though the Falcons sacked five defensive starters from last season's 11-win team in order to get younger and faster, Mike Smith made sure to sign the 33-year-old Peterson and name him the starter at weakside linebacker.
Youth movements require a delicate touch and can make or break head coaches. Football is a balancing act. Youth offers speed and energy. Experience offers leadership and consistency, but if players get too old, they can become liabilities. Mike Smith felt strongly enough about Peterson's skills that he put him at a speed position (weakside linebacker), even though Peterson's clearly not as fast as he was in his younger days.
"I'm a natural weakside linebacker," Peterson said. "Coming into the league, I ran a 4.47 40. Speed has always been my thing. In Jacksonville, I was asked to play the middle, but I loved being an outside linebacker. Getting a chance to play it again is a great compliment."
Peterson signed a two-year $6 million contract with the Falcons, so he knows the urgency of his job. He's schooling Lofton and working with the other young players on the defense. He's having a blast, and, to his credit, he's taken the high road with his battle with Del Rio.
"Four years ago I might have still been pissed off about the situation," Peterson said. "But I'm a grown man. I realized last year I was auditioning to go to another team."
There was a theory that Del Rio used Peterson as an example because he knew Peterson was a good enough person to accept it. Naturally, no coach wants to hear players speaking out in meetings, but Peterson was bold enough to do it. He was the talker -- and still is.
"The ultimate goal of any coach is to have 53 players buying into the system," Peterson said. "Once that happens, you let the players run the team. If guys are struggling, players tell them to get into the playbook and do what is needed."
Peterson's voice is once again being heard. And it's appreciated.
John Clayton, a recipient of the Pro Football Hall of Fame's McCann Award for distinguished reporting, is a senior writer for ESPN.com.
NFL senior writer
Senior NFL writer and commentator
Joined ESPN in 1995
Member of the writers' wing of the Pro Football Hall of Fame in Canton, Ohio
SPONSORED HEADLINES
MORE NFL HEADLINES
MOST SENT STORIES ON ESPN.COM
EDITORS' PICKS
How has the rookie QB class fared so far in camp?
NFL Nation »

Patrick Peterson is worth the money Arizona will dole out.
Weinfuss »

Mark Sanchez embraces his backup role in Philly.
Fox »
Northwest Atlanta Falcons Bed Rest Pillow Shop »