Commentary
Haynesworth's ripple effect will intrigue
Will DT's move from Tennessee to D.C. mirror Reggie White's impact in the '90s?
Originally Published:
July 14, 2009
By
John Clayton
| ESPN.com
In his move from the Tennessee Titans to the Washington Redskins this offseason, Albert Haynesworth dreams of having the impact like Reggie White had when he left the Philadelphia Eagles for the Green Bay Packers 16 years ago.
Why not think of the best in making one of the biggest moves in the history of free agency? The Redskins gave defensive tackle Haynesworth a contract that could end up being worth $100 million if he performs like a superstar. For years, I've been saying White, Rich Gannon and Deion Sanders were the greatest free-agent signings in NFL history. Drew Brees is making a case to be No. 4.
[+] Enlarge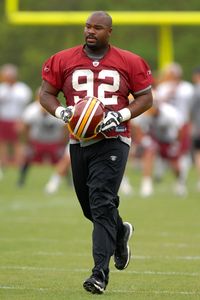 Mitchell Layton/Getty ImagesHaynesworth promises to be an impact player in Washington.
Now Haynesworth will be one of the most interesting signings to follow over the next couple of years.
The flipside to free agency is what happens once a great player leaves a team. In Nashville, the Titans know their defense will be different without Haynesworth, who took over games with his dominating rushing skills. Coach Jeff Fisher, a master of player psychology, already has the Titans believing they can win without Haynesworth. He's stressing the team concept in replacing him.
"We're going to keep four defensive tackles active and rotate them," Fisher said. "Albert played a little less than 59 percent of the snaps during his career. You have to look back and see that there were times we didn't have him and we still won. He was hurt and missed a lot of games. You are going to miss a great player like Albert, but you move on and you go on with the next guy stepping up."
During his seven-year career in Tennessee, Haynesworth missed 22 games. The defense surrendered an average of 40 more rushing yards a game when he was sidelined. Still, the Titans had the resolve to win. Fisher need only look back to Week 16 of last season, when the Titans faced the Pittsburgh Steelers, for proof that his team can excel without Haynesworth. Young lineman Jason Jones had a 3½-sack game against the eventual Super Bowl champions. The Titans won, 31-14, and the defense played well.
AFC South blog

ESPN.com's Paul Kuharsky writes about all things AFC South in his division blog.
One of the big reasons for the Titans' success is defensive line coach Jim Washburn, one of the best teachers in the game. During Washburn's tenure, it's rare that a drafted defensive lineman gets a second contract with the team -- they're so coveted in free agency. They've drafted 18 since Washburn joined the team in 1999. Washburn's pupils are the envy of the league. The Titans have calculated that, through the years, Washburn defensive linemen have received $395.6 million in contracts.
Many never lived up to those numbers after leaving. Jevon Kearse wasn't as good with the Philadelphia Eagles as he was with the Titans. Now, he's returned to get back with Washburn. Randy Starks, John Thornton, Robaire Smith, Antwan Odom and Travis LaBoy were just a few drafted defensive linemen who never received second contracts with the Titans. Still, their best days were in Tennessee.
The plan this season is to have Tony Brown and Jason Jones as the starters and rotate in Jovan Haye and second-round pick Sen'Derrick Marks.
"As long as the top three get the same number of plays," Fisher said, "we'll be fine. We're not concerned.''
The only defensive lineman not affected by the rotation is Kyle Vanden Bosch. His hustle is contagious to his teammates. Fisher plans to keep Vanden Bosch on the field the entire game.
In 2008, Vanden Bosch missed six games because of injury and played less than 40 percent of the defensive snaps. Despite that, the Titans won 13 games and the AFC South.
But let's not minimize the loss of Haynesworth. Over the past two seasons, he took his game to the top level. Opponents would stack two or three blockers in front of him, yet Haynesworth still would crash the pocket and alter the offensive play.
His success was reflected in some of the numbers of other players. Take linebacker Keith Bulluck as an example. From 2002 to 2006, Bulluck averaged 138.6 tackles a season. Haynesworth put together his best two seasons in 2007 and 2008. Bulluck's tackle numbers dropped to 88 and 98 in those two seasons.
"The last two years my numbers did go down because of the force Albert was," Bulluck said. "During those two years, Albert played on my side and so did Kyle Vanden Bosch. It's hard to make plays when you have two Pro Bowlers in front of you."
Bulluck, who plays the right side, watched so many opportunities get away from him the past two seasons. Haynesworth would blow up the right side of the blocking scheme with his bull rush. Vanden Bosch would slip around on the outside or inside. All of a sudden, the running back or quarterback would be flushed to the other side of the field, leaving Bulluck without much of a play.
"I honestly feel I will make more plays without Albert in the mix," Bulluck said. "I feel as though I'm going to have my best season."
Of course, the Eagles felt they could survive without White. In 1992, the Eagles had a dominating defense with White. They were 11-5 and only surrendered an average of 275 yards per game. The next season, the Eagles' defense dropped from ranking sixth in the NFL to 17th. It surrendered an average of 38 more rushing yards per game, evidence that great players are hard to replace.
The Eagles dropped to 8-8 and 7-9 in the two seasons after White left. The Packers' defense soared from being ranked 23rd the season before White arrived to second-rated overall in his first fall in Green Bay. White destroyed blocking schemes and set up a great Packers era that featured White on defense and Brett Favre on offense.
Seeing what the Redskins can do with Haynesworth and what the Titans will do without him will be one of the most interesting studies of the season.
John Clayton, a recipient of the Pro Football Hall of Fame's McCann Award for distinguished reporting, is a senior writer for ESPN.com.
NFL senior writer
Senior NFL writer and commentator
Joined ESPN in 1995
Member of the writers' wing of the Pro Football Hall of Fame in Canton, Ohio
SPONSORED HEADLINES
MORE NFL HEADLINES
MOST SENT STORIES ON ESPN.COM
EDITORS' PICKS
Source: Jay Gruden has benched Robert Griffin III in favor of Colt McCoy, who will start in Indy.
Story »

The Packers have risen to No. 2, setting up a rare showdown between our top two teams.
Rankings »

Overwhelmed by demands for money, Cowboys LT Tyron Smith took drastic action against his family.
Keown »