Commentary
Long odds might have sacked Favre
Originally Published:
July 28, 2009
By
John Clayton
| ESPN.com
Now that he's finally decided to remain retired, Brett Favre avoided perhaps the toughest challenge of his 19-year career.
The gambling quarterback from Gulfport, Miss., would have had to fight the long odds against a 39-year-old quarterback taking a team to the playoffs and winning.
It's pretty clear that 39 is the breaking point for quarterbacks trying to succeed. Favre might have taken into account the odds against him winning before he told Minnesota Vikings coach Brad Childress his decision Tuesday.
Favre seemed to think he could help the Vikings make a run at the Super Bowl. Their 10-6 record in the 2008 season wasn't satisfying. The Vikings' offense seemed hapless with Tarvaris Jackson behind center. Even with Favre this season, anything short of a trip to the NFC Championship Game might have been considered a disappointment.
Since 1983, the only NFL quarterback 39 or older who took a team to victory in a playoff game was Phil Simms with the New York Giants in 1993. It was Simms' final season, and he played it with style. He completed 247 of 400 passes for 3,038 yards and 15 touchdowns. The Giants went 11-5 in the regular season and beat the Vikings 17-10 in the playoffs, but lost the next week to the San Francisco 49ers 40-15.
The 1996 Vikings went 9-7 and made the playoffs with a 40-year-old Warren Moon starting the season at quarterback. Injuries, however, caught up to Moon that year, and he didn't play again after Nov. 10. The Vikings lost in the playoffs with Moon still on the sidelines.
Other than that, experiments with 39-plus-year-old starting quarterbacks usually didn't succeed.
Vinny Testaverde tried at 41 to take the 2004 Dallas Cowboys to the playoffs. They went 6-10. Testaverde tried in the two previous seasons with the New York Jets. They went 5-11 and 6-10. When he was 41, Moon tried to lead the 1997 Seattle Seahawks. He played 14 games and went 7-7. The team went 8-8.
Even Favre tried. He was 38 when he signed with the Jets last season. He turned 39 on Oct. 10. Things started out great. The Jets went 8-3. Favre was completing more than 70 percent of his passes. But he developed a tear in his right biceps. His statistics dropped dramatically after the 11th game. The Jets lost four of the final five games, and Favre, citing injuries, announced his retirement after the season.
Personally, I think Favre could have succeeded this season with the Vikings. The stars were aligned for him to find that fountain of youth. He had a defense that could stop the run. He had Adrian Peterson in the backfield. The Vikings' schedule is one of the easiest in the league, and their start is favorable: They're opening against six teams whose combined 2008 records were 19-61.
Favre started fast last season and might have lasted a little bit longer this season. Even playing in the Metrodome might have worked for him. After struggling in domed stadiums before, Favre has been a dome-field favorite the past four years. He completed 68 percent of his passes and averaged 2.2 touchdown passes a game in domes in that span.
Surprisingly, it's been cold-weather games that have affected him over the past four seasons and caused him to fade from Games 12 to 16. The Vikings have three home games in the Metrodome in the final five weeks.
Unless he changes his mind yet again, we'll never know if Favre could overcome the odds against a 39-year-old quarterback winning. It would have been fun to watch. Now we'll all wait five years -- barring yet another comeback -- for him to be voted on for induction into the Pro Football Hall of Fame.
John Clayton, a recipient of the Pro Football Hall of Fame's McCann Award for distinguished reporting, is a senior writer for ESPN.com.
NFL senior writer
Senior NFL writer and commentator
Joined ESPN in 1995
Member of the writers' wing of the Pro Football Hall of Fame in Canton, Ohio
SPONSORED HEADLINES
MORE NFL HEADLINES
MOST SENT STORIES ON ESPN.COM
FAVRE STAYING RETIRED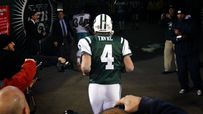 Calling it the hardest decision he has ever made, Brett Favre told Vikings officials that he will remain retired.
Story
|
NFC North blog
ANALYSIS/BLOG POSTS
NEWS
FEATURES
SPORTSNATION
VIDEO
PHOTO GALLERIES