Commentary
Schedule stunting AFC West's growth
Originally Published:
September 16, 2009
By
John Clayton
| ESPN.com
The first week of the NFL season is in the books, and some fascinating things happened in the AFC West.
The Raiders outplayed the Chargers on Monday night, but Philip Rivers saved the game for the Chargers with an 89-yard touchdown drive. The Broncos upset the Bengals with a deflected touchdown pass to Brandon Stokley with 11 seconds left. The Chiefs were tied at 24 with the Ravens with five minutes left before giving up two touchdowns in the final minutes.
QUESTIONS, PLEASE
Do you have a query for John Clayton?
Click here to send a note to his mailbag.
Is there hope in the AFC West? You'd think so, but I'm still not optimistic. My mailbag -- which is back to the regular-season Wednesday slot -- was filled by Broncos fans trying to rub it in, along with hopeful fans of the Raiders and Chiefs. I predicted only four wins each for the Raiders and Chiefs and only three for the Broncos.
New seasons offer hope, but the storm clouds are already forming over the horizon. For the Broncos, Raiders and Chiefs, the NFC East will be an impossible roadblock.
The NFC East, which is deepest and best division in football, plays the AFC West this season, and expect a lot of collateral damage. The NFC East has four serious playoff contenders, and, yes, I'm still including the Redskins. The NFC East went 12-4 against the NFC West last year, 11-5 against the AFC East in 2007 and 10-6 against the NFC South in 2006.
There's a good chance the NFC East will go 12-4 or 13-3 against the AFC West this year, creating the possibility of maybe two wild cards coming out of the NFC East.
The test for the AFC West is just around the corner. On Sept. 27, the Chiefs start a four-game stint against NFC East teams. Starting on Oct. 4, the Broncos start an impossible eight-game stretch that includes three NFC East games.
Even if the Broncos get off to a 3-0 start, coach Josh McDaniels could be staring at a 3-8 or 4-7 record by Thanksgiving. The Raiders' schedule toughens up Oct. 11 against the Giants and Oct. 18 against the Eagles.
That's why I'm not optimistic. Schedule is everything and it plays against the AFC West.
Let's go to the mailbag.
From the inbox
Q: With the CBA dispute rumbling on and the potential for a lockout in the 2011 season, do you think a considerable number of underclassmen will decide to enter the 2010 draft in order to avoid entering the NFL during a potential lockout year?
David in London
A: There is a good chance that will happen. If there is a new CBA, I do anticipate there will be a hard rookie pool and that could limit a top choice to $3 million a year, not $10 million a year. The current rookie pay system is broken and needs to be fixed. Agents recognize that and might encourage more underclassmen to declare in what might end up being the last year draft choices get the mega-bucks. Every decade or so, a labor issue does tend to make a draft class stronger. This could be one of those years coming up in 2010.
Short takes
Colton, a 17-year-old fan of the Cardinals, wonders if Matt Leinart has any chance to get the starting job in Arizona. As crazy as it might sound, I think he does. I worry about Kurt Warner's hip. It's sore. If Warner is hurt, Leinart could get a chance. &3133; Devin in Sydney, Australia, apparently didn't get my point in my last mailbag. I said the NFC has surpassed the AFC. There is more balance in the NFC and fewer bad teams in the NFC. Sure, the top teams in the AFC are at the top of the league. But for balance, the NFC has a chance to finally get back on top this year. We'll leave the Super Bowl evaluations until later. … Johnny in Cleveland apparently is on the biological clock. He notes that an average man lives to about 72. He's 27. He's wondering about the chances of the Browns winning a championship during his lifetime. Let's put it this way: You can plan your 30th birthday party without having to dig into your pockets for Super Bowl tickets. … Chris in Titusville, Fla., believes the Cowboys have enough weapons without Terrell Owens. He likes Roy Williams, Jason Witten, Martellus Bennett and Felix Jones. I'm not going to disagree because I believe Tony Romo can get the most out of what is there. Bennett's starting to intrigue me a little. All I know is Romo can put up 300 yards on any given Sunday, so somebody has to be catching the ball. … As a follow-up, Collin in New Jersey wants to know why I am forecasting an 8-8 season for the Cowboys. I think age will catch up to the team along the offensive line -- they have five starters in their 30s. If two go down, that affects everything on offense. I watched the same thing happen to Chicago in 2007 and the Redskins in 2008. … Kevin in Chicago looked closely at my NFC forecasts and wonders which of the four second-place teams with 10-6 records will earn wild-card spots. I'm going with the Eagles and Packers based on the talents of the teams. But when you start to break down what might happen with the schedules, watch for the NFC East teams to have a big advantage in the wild cards. … Tony in Two Rivers, Wis., has a question about two running backs. He wants me to chime in on the Adrian Peterson-LaDainian Tomlinson debate. LT was the best for many years, but Peterson has taken over as the best. I don't think there is much debate on that one. … Nick in Spokane, Wash., wants to know who initiated the Richard Seymour trade. I think it was the Raiders. Seymour looks pretty good to me, but the cost of a first-round pick in 2011 is too pricey for a team that might not win a lot of games. … Justin in San Diego says he's a big believer in the sophomore slump. He anticipates a drop-off in Matt Ryan and Joe Flacco. It sure didn't happen in Week 1. I don't see a slump with those two sophomores.
Q: If QB Shaun Hill pulls through, are the 49ers a strong playoff contender?
D.J. in Los Banos, Calif.
A: As strange as it sounds, yes. The 49ers can run the ball. They have a solid offensive line. Their defense may not be great, but it's solid. All they need is a quarterback to get them over the top. Say what you want about Hill, but he is 8-3 as a starter. Hill is a gamer. He's not pretty in what he does, but he gives the team a chance.
Q: What's the status of Marvin Harrison? Do you think he'll sign with a team? I know teams must have looked into it, and even offered contracts. Why isn't he in a uniform yet?
Shane in Aberdeen, S.D.
A: I think he will get a call, but his situation isn't much different from the one that haunted Shaun Alexander a year ago. Age has taken away a lot of Harrison's speed. It has to be telling that the Colts, who lost Anthony Gonzalez for at least a month with a knee injury, aren't going to sign Harrison. There aren't many good receivers on the street, so you figure he will get a chance. The question will be whether he would take a one-year deal at close to a minimum salary. Harrison is pretty proud and might not want to do that.
Q: If Donovan McNabb starts off badly, and Michael Vick makes huge strides in the Wildcat, do you think Vick can get the nod by popular demand? I know that Vick and the team say that there is no competition, but it is the NFL and stranger things have happened.
Austin in Ramsey, N.J.
A: I don't see Vick getting any chance to start in 2009. He's not a threat to McNabb and the two are supposedly friends. Missing two years of football robs him of any chance to be a successful quarterback in the West Coast offense. If the Eagles thought Vick had a chance to be even a backup this year, they wouldn't have signed Jeff Garcia after McNabb fractured a rib. Popular demand won't change his status in 2009. He's fourth on the depth chart for quarterbacks, but he will be used in certain situations.
Q: Does Michael Crabtree think, by holding out the whole year, he will picked higher than No. 10 overall next year and therefore be in line for a bigger contract? He slipped in the draft for health concerns. How will sitting out a whole year improve his stock?
Keith in Lawrence, Mass.
A: I honestly don't think he's thinking about missing the season. It would be silly to miss a year of pay and a year of vesting in the NFL. He's trying to get a contract that's better than the No. 10 slot in the first round. What Crabtree's gambling on is for the 49ers to suffer an injury at wide receiver, which would enhance his value. So far, the 49ers are healthy and they are off to a great start with their victory over the Cardinals. Big dollars are on the line. Remember, he is a receiver. Doing a go-route that would result in no money in 2009 isn't very wise.
Q: If you had an entire team in place and needed only a quarterback, which NFC North starter would you choose?
Dale in Minneapolis
A: What a great question. I'd take Aaron Rodgers. I love his arm. I love his leadership. I love his toughness. The guy threw for 4,038 yards last year and had a second-degree shoulder separation. Jay Cutler is a great talent. They can match each other throw for throw. Matthew Stafford might be able to top them all as far great throws are concerned. And Brett Favre is a one-year fix because of his age. Rodgers, to me, has the full package. To be honest, I'd take Rodgers, Cutler and Stafford to build around. The NFC North should be fun for a lot of years with these young gunslingers.
Q: We both know that running QBs may fill seats and sell jerseys, but not one has won the Super Bowl. McNabb is capable of winning the Super Bowl in the next few years and has had numerous NFC championship appearances. Philly doesn't think Vick could take his place, right?
Anthony in Saluda, N.C.
A: The Garcia signing should tell you that the Eagles have no immediate plans to move Vick into a backup role. Vick is a specialty player and can be helpful. Asking him to be an NFL starter or even a No. 1 backup after missing so much time is too much. Although I don't think Vick is a great fit with the West Coast passing offense, I do think he is getting the benefit of good coaching and a good organization. I still contend that he won't make a big impact on the offense, but I don't think he is a negative.
Q: In the Power Rankings comment about the Patriots, you wrote that Tom Brady will have to "carry an aging defense." Have you not been following the team in the offseason. Tedy Bruschi, Mike Vrabel, Rodney Harrison, and Junior Seau are all gone.
Sam in New York
A: OK, let's amend that to a "younger, but not as talented'' defense. You have to admit the defense has holes. The Richard Seymour trade has created another hole. The Jerod Mayo injury on Monday night exposed the Patriots' lack of depth at linebacker because they had to go to more of a 4-3 look. I'm still in the Patriots' corner, but the Patriots will win because of Brady and Bill Belichick, not the defense. To add to that thought, I think Belichick has recognized that for the past couple of years, which is why he has ramped up the offense.
Q: In your preview of the Vikings, you said that they had one of the most talented receiving corps in the entire NFC. I may be a little biased as a Packer fan, but don't the Saints, Cardinals, Seahawks and Packers all have better receivers? I think Percy Harvin is getting way too much hype. Has there has been a rookie WR to make the Pro Bowl since Randy Moss did in '98? Sidney Rice has not proved anything at the NFL level and Bernard Berrian has a major problem with dropping balls when he has to run in a direction other than a straight line.
Scott in Green Bay, Wis.
A: Let's debate. Obviously, Donald Driver and Greg Jennings are 1,000-yard receivers. You would have to concede the Packers have had much better quarterbacking play than the Vikings over the past few years. Rice is in his third year and is coming on. Berrian has averaged 20 yards a catch. Harvin isn't going to the Pro Bowl unless he makes it as a returner, but the guy is electric. I'd take Harvin over any third receiver currently on the Packers' roster. The clincher is at tight end. Vinsanthe Shiancoe has really come on over the past year and a half. The Vikings were so loaded they gave up a pretty good possession receiver in Bobby Wade, which I think might end up being a mistake. I just like what I see about the Vikings' receivers, even though Favre won't come close to throwing as many passes as Rodgers this season.
John Clayton, a recipient of the Pro Football Hall of Fame's McCann Award for distinguished reporting, is a senior writer for ESPN.com.
NFL senior writer
Senior NFL writer and commentator
Joined ESPN in 1995
Member of the writers' wing of the Pro Football Hall of Fame in Canton, Ohio
NFL WEEK 2 PREVIEW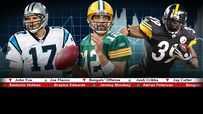 POWER RANKINGS
PICKS
FINAL WORD
STADIUM RATINGS
MVP WATCH
STOCK WATCH: Fallers, risers
COLUMNS/BLOG POSTS
SCOUTS INC.

MOST SENT STORIES ON ESPN.COM