Commentary
Trade deadline should pass quietly
Originally Published:
October 14, 2009
By
John Clayton
| ESPN.com
With an inordinate number of bad teams in the NFL this season, extra attention is being paid to Tuesday's trade deadline.
Unlike baseball, basketball and hockey, the NFL's trade deadline usually passes quietly. The deadline, traditionally set to expire after six weeks of the season, often comes at a time when teams still aren't sure whether they are contenders or pretenders. But the presence of four winless teams and four other 1-4 squads could alter things slightly. A quarter of the league knows it doesn't have a chance to compete for a playoff spot.
QUESTIONS, PLEASE
Do you have a query for John Clayton?
Click here to send a note to his mailbag.
Still, even though the large gap between the good and bad creates the chance for trades, don't expect many, if any. In some ways, we've already been surprised by the two big trades we've had since the end of training camp: defensive end Richard Seymour to the Oakland Raiders, and wide receiver Braylon Edwards to the New York Jets.
Here's the lowdown on some of the players being mentioned as trade possibilities:
1. Cleveland Browns QB Brady Quinn -- This was expected to be the final year the Browns would carry Quinn and Derek Anderson on the roster, so it makes sense for coach Eric Mangini to get trade value for Quinn, now Cleveland's backup. The problem is finding a team willing to step up and offer value. There appears to be only two logical options -- the St. Louis Rams and Washington Redskins -- and neither will be budging on a trade. The Rams have a lot of money invested in Marc Bulger. Plus, why would they trade for a quarterback when they could get one in what looks to be a quarterback-rich 2010 draft? As for the Redskins, it's not certain Dan Snyder would be interested in Quinn. Also, if there is a coaching change after the season, the new head coach would have to be on board with Quinn as the starter. Not happening.
2. Any good, young player on the Oakland Raiders -- Al Davis isn't afraid to make trades, and the Raiders have a lot of young players who so far haven't helped to reverse the team's fortunes. The interesting name to follow is cornerback Nnamdi Asomugha, one of the best coverage specialists in football. Davis gave him a three-year deal worth more than $15 million a season. That's a huge number for a team to put on the payroll this late in the year.
3. A Buffalo wide receiver -- It's doubtful anyone would step up to trade for Terrell Owens, but I could see Roscoe Parrish being shipped off elsewhere. Parrish is a slot receiver with return ability, and the Bills have a surplus of pass-catchers.
4. The rest of the struggling pack -- The Rams, Tampa Bay Bucs and Kansas City Chiefs don't have much to offer. The Titans have talent, but coach Jeff Fisher is still focused on getting something out of this season. A long-term decision must be made about Vince Young, but trading him now is not on the table.
From the inbox
Q: Thanks to that new horrendous rule of throwing a flag for hitting a QB below the waist, most O-linemen who get beat simply push the defender down from behind. Do you think the NFL will create a rule to deter this?
Carlos in Gilroy, Calif.
A: The league is going to do everything it can to protect the quarterback. That's a given. I don't see the league's adopting an emphasis to flag blockers pushing from behind unless it's pretty clear the foul is blatant. The league is calling only about 1.9 holding calls a game because it doesn't want the game cluttered up with too many penalties. Defensive players are protected from cheap shots that could potentially cause injury. Officials have a tough job of trying to maintain the flow of the game along with trying to prevent plays that could cause problems for players. The edge is always going to go to the offense, which is why defenders just have to live with a certain degree of injustice.
Short takes
To Connor in Kansas City, Mo.: The Titans should consider starting Vince Young after the bye week and give him 10 weeks to re-establish himself as a starter. … Manan in Woodbridge, Va., heard a lot about Dwayne Jarrett in the preseason. You're not hearing much now because his play is slipping and it doesn't appear he's good enough to merit starting time. … To Gabriel in Columbia, S.C.: I think Braylon Edwards is good enough to give the Jets one or two more wins down the stretch. He almost got one win with his play in the Monday night loss to the Dolphins. … Kilo in Costa Mesa, Calif., hears the Vikings are on the list of teams that could end up moving to Los Angeles if a stadium is built. Unless the Chargers get a new stadium in San Diego, the Chargers are the most likely to move in my opinion. … Gurman in San Ramon, Calif., proposes a Shaun Rogers trade to San Diego. You know what, that would be a fabulous trade. If you can pull that one off, I'd make you my early candidate for GM of the year. Good call by you.
Q: I am a big Packers fan and it seems to me that their lack of depth at O-line is a serious problem. Injuries happen, but the line wasn't much better before the injuries hit. The line woes are hurting our running game as well as putting more pressure on Aaron Rodgers. Is this a problem that can still be fixed, or will it continue the entire season?
Logan in Wisconsin
A: The Packers have plenty of O-line depth in general, but they don't have adequate depth at tackle specifically. When a 6-foot-3 guard such as Daryn Colledge must be the main option to replace an injured Chad Clifton, you know the Packers have problems. General manager Ted Thompson loves accumulating depth at every position, and he builds his team exclusively through the draft. But one of the problems of trading back to accumulate draft choices is that you move away from potential starters at offensive tackle. Normally, you have to get a great left tackle in the first round. For years, everyone knew Clifton and Mark Tauscher were getting older and needed to have replacements behind them. Injuries to both players (Tauscher hasn't played since December because of a knee injury) have magnified that problem. While Clifton was out, the Packers allowed 14 sacks in 10 quarters.
Q: I am a huge Falcons fan. After the injury to Peria Jerry that has crippled Atlanta's D-line, what do you think the Falcons will do to address the problem?
Jamie T. in Wichita, Kan.
A: Unfortunately, there isn't much the Falcons can do until the offseason. Losing Jerry was huge, but look north and you will see why the Falcons are handcuffed. Once the Panthers lost Maake Kemoeatu for the season, they lost their ability to stop the run and had nowhere to turn. They made a trade for Louis Leonard. Once he started to show signs of promise, he was lost for the season with an injury. The Panthers were so desperate they signed Hollis Thomas, hoping he can play 15 to 20 snaps on running downs. There aren't quality defensive tackles on the street, and most teams aren't willing to trade them. The Falcons did some interesting things in Week 5. They tried defensive end Jamaal Anderson at defensive tackle and he did some good things. Making the best of what they have is all they can do at this point.
Q: As a Jets fan, would it be fanatical or realistic for me to say there may be a changing of the guard in the AFC East? I was impressed with the victory over the Pats in Week 2 and truly believe we can win in Foxborough later this season.
Harold in Rocky Mount, N.C.
A: I wouldn't call it a changing of the guard because the Patriots aren't going away, but you have to say the Jets have positioned themselves to be the Patriots' main challenger. One victory at home over the Patriots doesn't create separation between the two teams. But the Jets have soared past the Bills and closed the gap at the top of the division. They've made great moves. Picking up Alan Faneca, Damien Woody and Tony Richardson re-energized the offense. The Kris Jenkins trade was a steal. It was still worth the gamble last year to trade for Brett Favre. When they were 8-3, the Jets were emerging as the team to beat in the AFC. Getting Mark Sanchez and Braylon Edwards this year has also moved the Jets to another level.
Q: I've been trying to get someone to respond to this for a year now. The Jets cut Chad Pennington last year and the Dolphins signed him. Antonio Bryant was out of the league for a year because of substance abuse issues. Even though Bryant came back and had a 1,000-yard season, Pennington won the comeback player of year award. What exactly did he come back from and what does the award signify? Too much attention is paid to QBs in this league.
Ron in Pittsburgh
A: Pennington came back from being cast off after the Favre trade, and then shocked everyone by landing in Miami and leading the Dolphins to the playoffs. Padding the comeback to a degree was that he was coming back from his second major shoulder surgery. Even if the Jets didn't make the Favre trade, Pennington was destined for the bench. The Jets wanted to start Kellen Clemens. Bryant put up great numbers, but the Bucs didn't go anywhere. Pennington's story won out over Bryant's numbers. You're right. Quarterbacks do get too much of the glory. But it's a quarterback-driven league, so that isn't going to change.
Q: What can the 49ers expect from Michael Crabtree after missing camp, preseason and the first several weeks of the regular season?
Martin in San Francisco
A: Crabtree had no training camp and limited offseason training because of his fractured foot. Still, he can help the 49ers' offense. Crabtree has the size and strength to be a good split end. But putting him in the middle of the field in three-receiver sets is a smart thing to do. If he lives up to expectations, Crabtree could be a receiver who grabs six to eight receptions a game. If he can add three receptions a game to the offense as a rookie, it will help.
Q: After watching my Ravens lose to the Pats in part because of QB penalties, I started thinking of ways to tweak the rules. My thinking was that some of the hits on a QB should be called a 5-yard penalty instead of a 15-yard penalty and a personal foul. It would be like the incidental face mask that used be in the rulebook. It would be hard to judge which plays should be a personal foul or which should be only a 5-yard penalty, but something needs to be done. Too many games are going to be decided on roughing-the-passer penalties. I understand that the QB needs to be protected, but to what extent should the game be affected?
Steve in Miami
A: The league is trying to eliminate the gray areas in these fouls. If the penalty is reduced to 5 yards, there is a chance for more questionable hits on the quarterback. Any defensive player or defensive coach would take a 5-yard penalty for a downed quarterback. The word here is deterrence. It's hard to train an athlete to stop before making a hit, but the possibility of a huge penalty at least forces defensive players to make judgments.
Q: Why all the Giants hate? When you were asked if DeSean Jackson is the best receiver in the NFC East, why didn't you give that title to Steve Smith? I've been following your power ranking votes and noticed the lack of love for the Giants there as well.
Kenneth in College Station, Texas
A: It's hard to think I hate the Giants when I predicted them to win the NFC and be in the Super Bowl. Steve Smith and Mario Manningham have really come on, but Jackson continues to make big plays and had to go two weeks without his starting quarterback. For a couple weeks in the rankings, I had the Giants down a few spots because of the injuries. But I'm still on record as having them in the Super Bowl.
Q: Do you think that the Bengals are going to be able to continue winning, and how do you think they will ultimately finish in the AFC North?
Roger in Lexington, Ky.
A: Before the season, I said that the return of Carson Palmer would make the Bengals my No. 2 surprise team. I had Seattle No. 1 because of the return of Matt Hasselbeck. Palmer's return gets the Bengals to at least eight wins, but there is a special quality emerging with this Bengals team. They seem mature and focused. The wins over the Steelers and Ravens were huge. The Bengals are a real threat in the AFC North. Welcome to the Jungle.
John Clayton, a recipient of the Pro Football Hall of Fame's McCann Award for distinguished reporting, is a senior writer for ESPN.com.
NFL senior writer
Senior NFL writer and commentator
Joined ESPN in 1995
Member of the writers' wing of the Pro Football Hall of Fame in Canton, Ohio
SPONSORED HEADLINES
MORE NFL HEADLINES
MOST SENT STORIES ON ESPN.COM
NFL WEEK 6 PREVIEW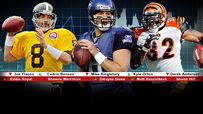 PICKS
POWER RANKINGS
FINAL WORD
FANTASY
HOT READ: CENTER STAGE
STOCK WATCH: Fallers, risers
COLUMNS/BLOG POSTS
SCOUTS INC.