Commentary
Dealing Jets deserve high marks
Originally Published:
October 21, 2009
By
John Clayton
| ESPN.com
The 2009 trade season came to a quiet close Tuesday, with only linebacker Will Witherspoon going from St. Louis to Philadelphia for wide receiver Brandon Gibson and a fifth-round draft pick.
QUESTIONS, PLEASE
Do you have a query for John Clayton?
Click here to send a note to his mailbag.
But trade winds were unseasonably strong in 2009; 66 trades caused 54 players to change teams. Plenty of big names were involved -- such as Jay Cutler (to Chicago), Kellen Winslow (Tampa Bay), Matt Cassel (Kansas City), Richard Seymour (Oakland), Tony Gonzalez (Atlanta), Braylon Edwards (New York Jets), Gaines Adams (Chicago) and Jason Peters (Philadelphia).
The clear winner of the trade wars was the Jets. They netted quarterback Mark Sanchez, Edwards and cornerback Lito Sheppard for what turned out to be five draft choices -- the highest being a second-rounder -- and five veteran players. To secure a franchise quarterback, No. 1 receiving talent and starting cornerback without giving up a first-round pick is incredible.
Cleveland Browns coach Eric Mangini went for volume, a strategy that might be debated during the next couple of years. Through trades, Mangini landed starting center Alex Mack, five former Jets, four additional midround picks in 2009 and five extra picks in 2010 to give the Browns 11 in next year's draft.
The Eagles upgraded their roster with Witherspoon, Peters and Ellis Hobbs. The Bears traded several picks, including first-rounders in 2009 and 2010, but they now have Cutler through 2013 and Adams through 2011.
The best move was Gonzalez to the Falcons. The worst might be Seymour to Oakland if Al Davis doesn't sign him to a long-term contract. The Raiders gave up a first-round pick in 2011 for Seymour, who will become a free agent after the season.
From the inbox
Q: How would you grade Mike Tannenbaum's tenure as Jets GM, and what do you think of his aggressive approach? I'm biased, but I think he's done a terrific job. He's received a lot of criticism for dealing so many of the Jets' draft picks, but he seems to have landed some serious studs with his quality-over-quantity approach.
Billy in Miami
A: I'd give him a B-plus. He's a deal-maker. Although I don't like the idea of giving away big chunks of draft choices because it limits the ability to rebuild, I like these moves. Sure, Brett Favre didn't deliver a trip to the playoffs, but he was 8-3 before his arm wore out. Alan Faneca, Damien Woody, Tony Richardson and Thomas Jones are good players and leaders on offense. The draft selections of David Harris and Darrelle Revis were great. Those are young, Pro Bowl-caliber talents. Even Vernon Gholston showed some promise against the run when filling in for Calvin Pace. Tannenbaum fixed problems at wide receiver with the Edwards trade, and even though Sanchez is struggling, he will be the Jets' fixture at quarterback. The B-plus will turn into an A if the Jets make the playoffs. During the past two years, Tannenbaum has added eight starters through signings or trades, five of whom have Pro Bowl experience.
Short takes
To Craig in Topeka, Kan., I don't think Miles Austin's recent success will lead to Patrick Crayton's eventual release. Jerry Jones saved a bunch of money in letting Terrell Owens go. He's not about to be cheap at the expense of developing the receiver position for Tony Romo. … J. Zhang in Los Angeles wonders whether Adrian Peterson is jealous about Brett Favre's presence on the team. Quite the contrary. They get along great. No schism there. … Kim in Eastern Shore, Md., is thinking Austin Collie is doing well enough for the Colts to think about using him to replace injured wideout Anthony Gonzalez. No way. Collie is the slot receiver, and although Gonzalez works well out of the slot, he's the team's second-best wide receiver behind Reggie Wayne. … Paul in Baltimore wants my opinion of the Ravens. They are tenacious, thanks to Ray Lewis' leadership, Ed Reed's brain and Joe Flacco's heart. I worry about their cornerbacks and lack of depth at wide receiver. Still, they are a contender despite their three-game losing streak. … JoeRon in Jacksonville, Fla., wonders why I keep ranking the Colts No. 1 in the ESPN.com NFL Power Rankings even though they don't have a healthy No. 2 wide receiver. The answer is Peyton Manning. He has five straight 300-yard games and is on fire. … Max in New York has the feeling there are more injuries this season than in past seasons. I don't have numbers to back this up, but I actually think injuries are down slightly. … Dave in Brookfield, Conn., is my kind of guy. He looked through the first five weeks of stats and realized the top four tacklers are on Washington, Cleveland, Tampa Bay and Buffalo -- losing teams. His read is that they get more opportunities to make tackles than defenders on winning teams. Good observation. He suggests a stat -- tacklers/plays. I'm with him. … Ryan in Swartz Creek, Mich., broke down Philip Rivers' stats and concluded that Rivers is throwing more passes downfield than in past seasons. Chargers coach Norv Turner always has let his quarterbacks go downfield if they have the arm, and Rivers clearly has the arm. Some contend Rivers has to make some of the toughest throws in the game. I agree, but he's good enough to pull it off. … Jake in Muncie, Ind., wants to know why the Colts released DT Ed Johnson. Here's the story, and it has nothing to do with off-the-field issues this time. The Colts felt Johnson was a little overweight and wasn't giving full effort on all his plays. They warned and challenged him, but he didn't change, so they opted to cut him during their bye week. It was a tough cut because Johnson has potential Pro Bowl talent. … John in Geneva, N.Y., wants to know whether the Bills will take a quarterback if they draft in the top five. My read is they would fear the cost and take a player at a different position.
Q: John, you commented in your previous mailbag about why the NFL probably will not loosen the roughing-the-passer penalty. What are your thoughts about taunting and excess celebration? They really don't pertain to protecting players, cost teams 15 yards and are sometimes game-changing factors. Is there any chance the NFL may consider reducing these penalties to 5 yards, or encourage the refs to call them only in the more blatant cases?
Bill in Mountain Home, Ark.
A: The taunting rule isn't a safety rule as much as it is a public relations statement. The NFL wants its athletes to be classy and professional. The league realizes its players are role models. If the players taunt and celebrate unprofessionally, the league believes that behavior sends a poor message to teen athletes. Although this leads to the thought that the NFL is the No Fun League, you can understand the league's position. These penalties are more for image than anything else. I hate to say this, but the league will stress these calls more and more over time because it realizes the 15-yard penalties and fines act as deterrents.
Q: I don't think Brady Quinn really ever got a fair shake in Cleveland. Usually a young quarterback will get two years to learn on the job, but Quinn never got that chance. It seems as if he'd be better off going somewhere else and starting over. What do you think?
Lewis in Detroit
A: I'll agree with you. All Quinn did was execute the game plan on an offense that lacked a lot of weapons. He needs more time, and you figure he'll get it later this season. Derek Anderson has a stronger arm, but he's not igniting this offense. Think about what has happened to Cleveland's offense. Donte' Stallworth, Kellen Winslow and Braylon Edwards are no longer around, and that's a lot to take out of an offense in one year. I still contend Quinn has high trade value, but I don't know which team might step up to get him after the season.
Q: What's the deal with Cedric Benson running hard for the Bengals after doing very little in Chicago?
Dan in Champaign, Ill.
A: It's fitting you write this with Benson going up against the Bears this weekend. Benson didn't fit into Chicago's zone-blocking scheme. Benson is more of a downhill runner who likes to wear out defenses in the second half. I remember going to a Bears practice when Benson was holding out as a rookie. I watched Thomas Jones zip through the holes and told people, "I don't care how good Cedric Benson is as a runner, he's going to have a hard time taking carries away from Jones in this scheme." That turned out to be true. Once Benson reached Cincinnati, the coaches recognized the type of runs that work well for him and adjusted their game plan. Now, he's one of the top runners in the NFL. It just wasn't going to work out in Chicago.
Q: As a Dolphins fan, I love what Chad Pennington brought to the team last season but wasn't blind to the idea that we actually might have been better off with Chad Henne at quarterback. Henne has a much better arm, and with time and experience will be a top-10 quarterback in this league. Now that Henne has the starting job, will the Dolphins finally admit they need a big-time wide receiver and preferably some height at the position?
Brandon in Tampa, Fla.
A: Bill Parcells doesn't put as much of a priority on the wide receiver position as other team builders. He wants good, solid and tough players, and he does a good job of finding players who fit the profile of winning teams. Even though he passed on Matt Ryan, Parcells looks as if he has a decent starter in Henne, who looked great against the Jets in Week 5. To your point, though, I don't think Parcells will go crazy trying to find a big-name wide receiver through a trade or in the draft. Parcells has a winning formula. It's a passing league but has a run-first mentality.
Q: I am big Colts fan, but I am concerned with their running game. They have two good running backs in Joseph Addai and Donald Brown, and neither seems to be contributing. Do you think Indy's coaching staff is worried over the fact that Peyton Manning has to throw 35 to 40 times a game?
Adrian in Brandywine, Md.
A: The numbers aren't there, but the talent is in the Colts' backfield. I love what I see in Brown. He's a tough inside runner with explosiveness, and he's really good near the goal line. I think he will create healthy competition that will make Addai do better. Defenses know the importance of the running game to Manning's no-huddle offense. Manning likes balance. The Colts are 5-0 and have 11 games to improve that balance. I don't think the coaches are worried because they know they have a good duo in the backfield along with a good offensive line. The running game will come.
Q: I'm a huge Minnesota fan, and I was just wondering what you think the Vikings will do about their quarterback situation next year. Do you really think Favre will stick around for a second season?
Nick in Omaha, Neb.
A: The Vikings might look to the draft to find a quarterback of the future, but I honestly think Favre might be back for another season. He's having a blast. As long as his body can hold up until January, I think he could stay on for another season. Favre is amazing. He didn't come out of retirement out of spite and anger at the Packers. He came out because he loves playing football. If he wasn't playing in the NFL this season, he'd be playing pickup football games at the high school near his home in Mississippi.
Q: When the Bills lost RT Brad Butler for the season, what was the brain trust thinking in signing a practice squad player from Green Bay instead of getting a veteran? The Bills are already too inexperienced on the O-line.
Matt in Syracuse, N.Y.
A: What have they been thinking all year in regard to their offensive line? Their problems are all self-inflicted. They used free agency a couple of years ago to upgrade the line. They signed Langston Walker and Derrick Dockery, figuring those additions to a line that had Jason Peters could take them to the playoffs. But they didn't re-do Peters' contract after last season and decided to trade him. They figured Walker could replace him at left tackle. He couldn't and was cut. They gave up on Dockery. After those moves, they were grasping at straws. They obviously made a mistake in switching to the no-huddle offense, but their no-huddle approach to personnel decisions about the offensive line has left them defenseless, and quarterback Trent Edwards has paid the price.
Q: What do you think about Dallas Clark in comparison to other great tight ends in the league right now?
Benjamin in Villa Jaragua, Dominican Republic
A: I saw Clark in training camp and after the Colts' Week 4 victory over the Seahawks, and reiterated the same thing -- Clark will go to the Pro Bowl. First, the AFC has an open slot at tight end now that Tony Gonzalez and Kellen Winslow are in the NFC. It was easy to figure that Clark would get many of the catches that used to go to Marvin Harrison. But Clark's run-after-the-catch numbers have been remarkable this season. Clark attributes some of his success to playing teams that aren't familiar with the Colts' offense. He could finish the season with more than 100 receptions.
John Clayton, a recipient of the Pro Football Hall of Fame's McCann Award for distinguished reporting, is a senior writer for ESPN.com.
NFL senior writer
Senior NFL writer and commentator
Joined ESPN in 1995
Member of the writers' wing of the Pro Football Hall of Fame in Canton, Ohio
NFL WEEK 7 PREVIEW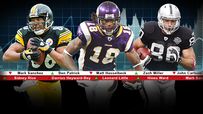 PICKS
POWER RANKINGS
MNF: Eagles at Redskins
FINAL WORD
HOT READ: JaMarcus Russell
UNDERACHIEVERS
STOCK WATCH: Fallers, risers
COLUMNS/BLOG POSTS
SCOUTS INC.

MOST SENT STORIES ON ESPN.COM