Commentary
Pine time or prime time for QBs
Some of the worst attacks stay the course; others need to switch signal-callers
Originally Published:
October 28, 2009
By
John Clayton
| ESPN.com
Week 8, for obvious reasons, is the crossroads for a lot of teams to make quarterback decisions.
Do they change their starting quarterback or stay the course with the incumbent? How those decisions shake out could determine whether some of the league's worst teams can salvage their seasons. Some teams change starters at midseason, others don't. But let's take a brief look at some interesting situations.
Among the league's seven worst offenses statistically, the only team not considering a starting quarterback change is the Kansas City Chiefs. Matt Cassel remains the No. 1, and that's a fair decision. With the New England Patriots in 2008, Cassel won 11 games filling in for an injured Tom Brady. The difference then: Cassel was playing with receivers who had run-after-the-catch ability.
QUESTIONS, PLEASE
Do you have a query for John Clayton?
Click here to send a note to his mailbag.
The Chiefs don't have those types of receivers. This season, Chiefs targets Dwayne Bowe and Bobby Wade pick up an average of 3.7 and 3.55 yards, respectively, after catches. That amounts to less than half what Cassel got from Patriots wideouts Randy Moss and Wes Welker in 2008. In Kansas City, there's no need for a quarterback change. The receivers must improve.
In Oakland, JaMarcus Russell remains the Raiders' starting quarterback because it's clear no one in the organization has felt comfortable making Bruce Gradkowski or Charlie Frye the starter. It still makes you wonder when the Raiders will admit they made a mistake cutting Jeff Garcia.
A little more puzzling is why Cleveland Browns coach Eric Mangini has stayed with Derek Anderson, who is putting up Russell-like stats (43.8 completion percentage with seven interceptions in 137 attempts). Brady Quinn has to get closer to starting.
Elsewhere, the Detroit Lions are prepared to go back to rookie Matthew Stafford if his knee holds up in practice this week. Jake Delhomme's 13 interceptions should have opened the door for the Carolina Panthers to go with Matt Moore, but Wednesday afternoon Panthers coach John Fox announced he was staying with Delhomme as his starter.
The bye week will allow the winless Tampa Bay Buccaneers to transition to rookie Josh Freeman over Josh Johnson. Freeman will be their third starting quarterback of the season. The edict from Tennessee Titans owner Bud Adams should give Vince Young the nod over a struggling Kerry Collins. The Titans' offense ranks 22nd in the league.
Of all the quarterback changes, though, the San Francisco 49ers' switch is very intriguing.
New starter Alex Smith might not be able to produce more victories, even though coach Mike Singletary had to make a change. Former starter Shaun Hill doesn't have the arm strength to prevent defenses from stacking the box against running back Frank Gore. Hill was 3-3 as a starter this season. Smith, who was outstanding after relieving Hill in the Week 7 loss to the Houston Texans, should make more downfield plays. The question is whether Smith finally will prove he can win more games than he loses.
From the inbox
Short takes
Will in New Orleans wonders whether the New Orleans Saints will find ways to get first-round pick Malcolm Jenkins more involved. They aren't in a hurry because their secondary is healthy, but coach Sean Payton will call on him when needed. He's waited three years to get former first-rounder Robert Meachem involved in the offense, and he's doing well. … Jim in Brunswick, Ga., pointed out that I didn't say the New York Jets used a first-round pick in the trade to get Mark Sanchez. The reason I didn't is they used other picks to move up. They went from No. 17 to No. 5 in the deal with the Cleveland Browns, but they still came out of it with a first-round pick. That's why it's OK to say they didn't give up a first-round pick to get Sanchez. … Spencer in Chandler, Ariz., came up with a suggestion I've been pushing for weeks. He writes: "I always hear how difficult it is for teams to transition from a 4-3 to a 3-4 without an elite nose tackle dominating the interior. How difficult would it be for the Chargers to switch back to a 4-3?" … Ryan in Olympia, Wash., asked whether I thought Dallas Cowboys quarterback Tony Romo was being tossed under the bus too early this season. I'll stand by Romo. Sure, he'll throw picks. But Jay Cutler and Brett Favre threw picks, and they worked out fine. Romo has a great arm and a great flare for running a big-play offense. … Dave in Brookfield, Conn., wonders why people aren't making more of the Saints' left tackle situation. They lost Jammal Brown and replaced him with Jermon Bushrod. I contend they also could get by with Zach Strief. It works because Drew Brees is so quick releasing the ball. Peyton Manning is doing the same with Charlie Johnson as his left tackle. The stories would be different with different quarterbacks. … Anthony in New York said it's pretty well proven that the Philadelphia Eagles can go far into the playoffs when Donovan McNabb is healthy, but the knock on him is that he doesn't perform well when the stakes are high. Winning a playoff game is tough. McNabb has won six. That's pretty good when the stakes are high. The Eagles have been to five conference championship games last I checked. That would be like saying Jim Kelly didn't do well in big games, but he won four conference titles. … Stacy in Valrico, Fla., wonders why I thought Ben Roethlisberger exposed coverage problems in the Pittsburgh Steelers' victory over the Minnesota Vikings. Big Ben noticed at the end of the first half the safeties in the Vikings' Cover 2 were splitting too wide. He worked Steelers receiver Mike Wallace behind the linebacker and in front of the safeties for for a touchdown. Trust me, the Vikings have to fix that. … Bob in Boca Raton, Fla., asks whether Chicago Bears coach Lovie Smith is on the hot seat. I'm trying to resist saying yes, but he might be. Here's the problem if Bears fans push for a change: I don't see ownership paying for a big-name coach like Mike Shanahan. They'd be better served staying with Smith than promoting a great assistant coach.
Q: What is the answer in Washington? Everyone (including myself) thinks that the best solution is for [owner Dan] Snyder to bring in an experienced GM, give him autonomy, then back off and let him rebuild the ship ... maybe like the Miami Dolphins and Bill Parcells. That is just a dream. I think we both know that is not going to happen. What is a feasible solution? Second: Assuming hell freezes and we get a new GM and go that route, does starting from scratch really solve our personnel issues?
Denis in Rockville, Md.
A: The best solution is to invest in a great coach-general manager team. A coach doesn't have enough time to successfully handle the demands of the GM job. The GM needs to have a coach who has the ability to hire a teaching staff with the ability to make great adjustments.
The problem the Redskins face is that hiring a GM creates layers that don't fit Snyder's aggressive style of running an operation. We can talk about styles all we want, but it's also vital to find the quarterback of the future and be correct. A great quarterback can cover many problems in any organization. As Snyder checks around, he needs to hire the person who can best figure out the right franchise quarterback and give that person the ability to build an offense around him. Much of that has to be done through the draft, not free agency and trades. The other thing that needs to be done is to accumulate draft choices to fill out the middle and back of the roster. The Redskins have jumped on picking the sexy, skilled players at the expense of selecting linemen, good young corners and solid backups.
Why is it Norv Turner's teams always seem to be playing from behind, in both individual games and during the season (early losses and late-season winning streaks)? I feel like he's wasting a ridiculously talented roster I think someone else might get more out of. What are the chances the Bolts let him go after this season should they not fare well in the playoffs, assuming they even make it?
David in Portland, Ore.
A: That's easy to explain. The Chargers' defense has trouble stopping anyone. Its ability to stop the run changed negatively when it lost nose tackle Jamal Williams for the season. Because there hasn't been a pass rush, cornerbacks are exposed too long in coverage and are beaten. The safeties are giving up too many big plays. At times, the cornerbacks use bad techniques. We probably all overrated the defense going into the season, and now the Chargers are paying the price early in games. Defensive coordinator Ron Rivera is doing everything he can to fix the problem, but injuries keep holding him back. In the end, I don't see A.J. Smith, the general manager, making a change. If there is going to be a change, it's going to be both the GM and the coach, and I don't see owner Dean Spanos doing that.
Q: Whom do the New England Patriots look to as far as playmakers on defense? They are ranked low in terms of interceptions and sacks and do not have a defensive touchdown. Is a washed-up Derrick Burgess, an underachieving Adalius Thomas and Tully Banta-Cain really going to provide a consistent pass rush?
Stephen in Gainesville, Fla.
A: The Patriots will have a first-rounder and three second-rounders in the 2010 draft, which will have to provide the answer. For now, Jerod Mayo has provided impact, and I think Darius Butler could end up being an impressive cornerback. Brandon Meriweather showed playmaking ability Sunday with his two interceptions against the Bucs. Free agency isn't the answer, except for finding role players who fit Belichick's scheme.
But you are correct in thinking the Pats let too many playmakers age or leave through free agency. Say what you want about Richard Seymour, but he still is a playmaker. Yet he's gone. Asante Samuel is one of the best playmakers in the league in the secondary, but the team didn't re-sign him. The Pats made those decisions to keep the team's nucleus together. Despite those decisions, the Pats are 5-2 and appear to be heading toward another division title.
Q: John, I read your comments on taunting and roughing the passer and the NFL's take on both. If the NFL really wants to avoid having players show one another up, how is it that the Lambeau Leap isn't considered unsportsmanlike? It seems ridiculous that a player can get penalized for spinning a ball on its tip, but you can jump into the stands after a touchdown.
Fred in New Orleans
A: The Lambeau Leap has been established as harmless and fun. Taking that away would really make the NFL the "No Fun League." I agree that the league tends to go overboard in throwing too many unsportsmanlike conduct flags. Touchdowns should be celebrated. In Cleveland or Oakland, they should hold parades if their teams score touchdowns. Let's not eliminate all the fun. What next, mandate that everyone in the stands comes in a suit and tie? Please.
Q: In last week's mailbag you stated that Brett Favre didn't come out of retirement to spite the Green Bay Packers. How can you say that? He "retired" from the New York Jets, then asked them to release him after he retired. Then he decided he wanted to play again, this time for Minnesota. Clearly he wanted to spite the Packers, else he would have never asked for his release from the Jets.
Ladi in Houston
A: People are more complex than that. I've known Favre his entire career. He loves the game. You can say what you want about anger and bitterness, but the main reason he is playing is he loves football. What he won't admit is how he's become a below-average quarterback when the weather turns bad. Age does that to you, and to see what I mean, all you have to do is look at his numbers from the final five weeks of the past four seasons. He goes from 1.9 touchdowns a game to 1.9 interceptions a game. It just so happens the Vikings offered him a chance at peace of mind. First, they have a domed stadium, and three of his last five games this season are in climate-controlled environments. Second, he knew the coaching staff had a system that would be easier to pick up than what he saw with the Jets.
Q: With the sudden success of Kyle Orton in what is the Patriots' "system" in Denver after not much success before that, and the success of Matt Cassel last year in the same system after not even playing in college and not playing as well this year, is it time to consider whether it's actually the system that breeds success and that Tom Brady might not be as good a QB without being in this system?
Kurt in Dayton, Nev.
A: Brady would be good in any system. He's just a great quarterback. Brady was successful before the Patriots added Wes Welker and Randy Moss, but after they came to New England, the offense rose to its highest level. Joe Montana was a "system" quarterback, but he proved he could move the system to Kansas City in his declining years and still be a playoff quarterback. Sure, the system is good, but the system Josh McDaniels and Bill Belichick developed around Brady only made his skills better. Orton is succeeding in Denver because his receivers are good and have good run-after-the-catch ability. Matt Cassel is struggling in Kansas City because his receivers lack those skills.
John Clayton, a recipient of the Pro Football Hall of Fame's McCann Award for distinguished reporting, is a senior writer for ESPN.com.
NFL senior writer
Senior NFL writer and commentator
Joined ESPN in 1995
Member of the writers' wing of the Pro Football Hall of Fame in Canton, Ohio
SPONSORED HEADLINES
MORE NFL HEADLINES
MOST SENT STORIES ON ESPN.COM
NFL WEEK 8 PREVIEW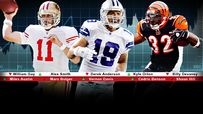 PICKS
POWER RANKINGS
MNF: Falcons at Saints
FINAL WORD
STOCK WATCH: Fallers, risers
COLUMNS/BLOG POSTS
HOT READ: Green Bay GM Ted Thompson
JOE FLACCO
HOW LONG WILL IT LAST?
FANTASY
SCOUTS INC.
PAGE 2