Commentary
Division races lack usual sizzle
Originally Published:
November 4, 2009
By
John Clayton
| ESPN.com
Because the bad teams have been so bad, the 2009 season doesn't have the parity the NFL has been accustomed to for years. The average margin of victory has crept to more than 14 points a game. Six of last season's 10-loss teams (there were nine) are heading in the same direction.
The surprising part of the season is the large percentage of division races turning into runaways. The Saints lead the NFC South by three games. The Vikings (NFC North) and Colts (AFC South) lead their divisions by two and a half games. The Broncos hold a two-game lead over the Chargers in the AFC West, and the Patriots have a game-and-a-half lead in the AFC East.
QUESTIONS, PLEASE
Do you have a query for John Clayton?
Click here to send a note to his mailbag.
Even if the Chargers make the AFC West interesting, four division races could be all but decided by the end of Week 9. If the Colts beat Houston on Sunday, they will own the AFC South by an insurmountable three-and-a-half-game lead. By beating Miami, the Patriots would increase their lead in the AFC East to two games over the Jets and three games over the Dolphins.
The only real races are in the AFC North and NFC East. The problem facing the NFC East winner is seeding in the playoffs. As usual, NFC East teams are hitting each other hard, making it tough for any team to come out of division play with fewer than two losses. Under these circumstances, the winner of the NFC East is almost destined to be a third seed to the Saints and Vikings. The Saints already have a two-game lead over the Eagles in playoff seeding and a two-and-a-half-game lead over the Giants. Plus, New Orleans has beaten both teams.
The AFC North should be a dogfight. The Bengals, who are tied for first with the Steelers at 5-2, already have beaten every team in the division. Over the next two weeks, though, Cincinnati plays the Ravens and Steelers again. Something has to give.
That doesn't mean the second half of the season will be without drama. The wild-card races should be wilder than ever. There could be as many as two 10-win teams in each conference that end up on the outside looking in.
From the inbox
Q: John, what's your take on the Chiefs' offense? Matt Cassel's problem is the O-line. Kansas City has given up the most sacks in the NFL. Also, he is getting no help from a putrid running game.
Karl in Salina, Kan.
A: Often, there are multiple problems that cause an offense to be as bad as the Chiefs'. I think Cassel is a decent quarterback. He showed that in New England last season with great receivers who can run after the catch. I agree with you on the offensive line. It's evident that the line can't pass protect, but I contend it can't run block, either. If the holes aren't there for Larry Johnson or any of the other backs, the running game is going nowhere. The Chiefs have to rebuild the offensive line. They are fine on the left side, but they haven't done enough on the right side. I also think they need more receiving help.
Short takes
E-mailer Matt read some of my recent comments about great fourth-quarter quarterback play. He wonders who are some of the worst QBs at that time. JaMarcus Russell was horrible in Week 8 and has struggled most of this season. He was sacked twice, had the ball knocked out of his hands and went backward in a last-minute drive against the Chargers. First-year quarterbacks don't have good records in close games. Believe it or not, Joe Flacco, who is a great fourth-quarter quarterback, has a 2-5 record in games decided by eight points or fewer. Aaron Rodgers is 2-9 in close games, but he's going to get better. … Umberto in Mentor, Ohio, wonders whether Browns owner Randy Lerner will go for one of the five Super Bowl coaches available at the end of the season. If he doesn't, Browns fans might stage more protests. … Steve in Olathe, Kan., has grown impatient with the Scott Pioli-Todd Haley administration. He's wondering whether those two are doing a good job. Pioli went into Kansas City knowing this wasn't going to be an overnight turnaround. I've wondered about the moves to bring in so many older players, but the team needs two more good drafts to improve. … Kevin in Dayton, Ohio, wants to know how many AFC North teams could make the playoffs. There is an outside chance three could make it. I still think Pittsburgh will win the division, but the Bengals could get a wild card and the Ravens are talented enough to be a wild-card team. … Cody in Louisville, Ky., is looking ahead and wonders which positions the Cowboys should address after the season. That's easy. They have five offensive-line starters in their 30s. … Mark in Philadelphia says he never understood why offensive linemen can survive in this league 10 to 15 years and why the cutoff for running backs is around 28 to 30 years old. That's simple. Coaches don't ask linemen to run the ball. The more a back gets hit and the older he gets, the more speed he loses. If a back's yards-per-attempt average drops to less than 4.0, he's usually going to be replaced. … Frank in Frisco, Texas, doesn't agree with me that Brett Favre doesn't do well anymore in the cold. He notes Favre carried the Packers on his shoulders in the 2007 playoffs. But eventually, the cold affected his play. It doesn't matter now. The Metrodome has a nice heating system. Over the past four seasons, Favre's numbers dropped significantly after Week 11. … Norb in Buffalo, N.Y., has given up on Trent Edwards and is ready to stay with Ryan Fitzpatrick. The problem with that is teams have figured out how to stop Fitzpatrick and his numbers have gone down each week. The Bills will go back to Edwards and then re-evaluate the position after the season.
Q: Derek Anderson is by far one of the worst quarterbacks in the NFL. I'm sure he's a good guy and all, but he can't quarterback a franchise. His numbers from his Pro Bowl season were blown up by the fact that he had a pretty decent offensive line giving him time to throw, and two deserving Pro-Bowl receivers in Braylon Edwards and Kellen Winslow Jr. What explanation can Eric Mangini have for not just putting Brady Quinn in? He's the more accurate of the two, and has the higher potential for success.
Kyle in Cleveland
A: The only problem I see is I don't know whether Quinn can do much more to help the offense. Except for Josh Cribbs, the Browns don't have any playmakers. The problem Quinn faced early was that he executed the called plays and didn't adjust. My guess is that he isn't allowed to make many audibles at the line of scrimmage. He needs those to stop defenses from bunching up at the line of scrimmage to stop the running game. Of course, in Cleveland, the running game isn't a threat. The passing game isn't a threat. Regardless, the Browns need to go back to Brady as a changeup.
Q: With the H1N1 seemingly getting worse, what has the NFL and NFLPA done?
Morese in District Heights, Md.
A: The NFL has been proactive with education and has been very reactive to the threat. The Texans, for example, had one case of swine flu, but they isolated tight end Anthony Hill quickly, and no one else was believed to be affected. The Browns had a dozen cases of the flu, but only one player had H1N1, and that crisis seemed to pass without much incident. Players have received a stream of newsletters and e-mails educating them on the proper ways of dealing with the threat of swine flu. Trainers and doctors on teams are in constant contact with each other in an effort to ward off problems. Before the season, the league hired two infectious disease doctors as consultants to help the league through this problem.
Q: John, why does the media continue to ignore the success of Matthew Stafford. When I last checked, Stafford had a higher QB rating than Mark Sanchez, despite playing for a team with far less talent. I think he should be in the thick of the rookie of the year conversation. How do you see it?
Rob in Cedar Rapids, Iowa
A: That's the problem with playing in Detroit, which was 0-16 last season. It's unfair to think Stanford can change the fortunes of the Lions, but he'll get his recognition in time. I still like what Sanchez has done better because he has made the Jets more competitive. Sure, the Jets have more talent, but Sanchez has made an immediate impact. The way things are going, Percy Harvin of the Vikings or Knowshon Moreno of the Broncos might sneak away with offensive rookie honors. Rob, we need you to go to some Lions home games. Some of the fans were on Stafford during the Week 8 loss to the Rams. You need to go there and educate them on the good thing they have.
Q: I've been a Buccaneers fan all my life, and though I have seen some horrible teams, this one seems to be the worst. Usually the media will jump all over a team's misfortune, but honestly no one seems to be doing that to the Buccaneers. I want that. I want everyone in the media to point out my team's flaws and weaknesses to possibly put a little more pressure on the Glazers, Mark Dominik and Raheem Morris. How come no one seems to care about our ineptitude?
Douglas in Gainesville, Fla.
A: The Bucs are so bad that they are an afterthought. I did not like the firings of Jon Gruden and Bruce Allen. Those two guys kept the franchise competitive despite its being in constant transition at quarterback. The Bucs' flaws are now too many to name. Their talent doesn't fit their defensive scheme. The running attack has underachieved. They are going to a rookie quarterback (Josh Freeman) who has about as much chance of winning as Stafford does in Detroit. Douglas, you might not like the attention ahead for the Bucs. They have a chance at an 0-16 season.
Q: Pat and Kevin Williams are currently fighting the NFL's four-game suspensions for failing a required drug test. How likely do you think it is they'll have to serve those suspensions?
James in Ames, Iowa
A: Both players feel great about the way things are going. They are still playing. They know the state of Minnesota is a hard place for a company to impose sanctions on employees for violating testing policies. That's why the NFL is trying to go through an appellate court to get the case out of Minnesota. This case should have been settled. If the league would have come to them with a proposal that called for a substantial fine and no missed games, both players probably would have settled. Roger Goodell went to Congress to get some help. It's pretty clear you can't have a steroid policy that makes exceptions in every state. The rules have to be the same in all states that have teams. If the Williamses serve any suspension time, it will be in the 2010 season. I still suggest a settlement by the league, though. This case has hurt its enforcement of the rules.
Q: A lot of people seem to forget that the 49ers passed on Aaron Rodgers back in the '05 draft. Do you think the 49ers regret not selecting him, or do you think Rodgers needed to sit on the bench for a few years?
Andy in Edwardsville, Ill.
A: I know they regret the results so far, but you have to judge what they saw. Rodgers was a little mechanical in the way he threw coming out of college. Once he got to Green Bay, his delivery changed to the way it was in high school. He was a naturally strong thrower in high school. At Cal, he followed the instructions of his coaches, and held the ball high and made the same type of delivery every time he threw the ball. Things might have been different if Rodgers had his current delivery straight out of college. Now, the 49ers just hope Alex Smith does well and makes them feel good about taking him.
Q: What are your thoughts on Dick Jauron and the job he has done in Buffalo so far? Three straight 7-9 seasons. It seems like the players really play hard for him, but when it comes to scheming, he is unable to cover up the lack of a true GM. He seems to make some questionable decisions in games and clock management seems like an ongoing issue with his teams. What should Buffalo do after it goes 7-9 again this year?
Jay in West Hartford, Conn.
A: I think players respect Jauron and play hard for him, but I see change coming at the end of the season. His downfall will be the inability to forge a solid offensive plan. Obvoiusly, Jauron's specialty is defense. As a coach in Chicago and in Buffalo, he has delegated authority of the offense to a coordinator, but too often, the systems haven't worked. There is no way he should have gone to a no-huddle offense with a defense that bends but doesn't break. When you have a 20-play dispararity with the defense being on the field more than the offense, you aren't going to be a winning team. If Jauron could ever find the right coordinator and offensive system, he'd win. He had some good years in Chicago. It's just not going to happen this season, and time has run out for him.
Q: Hey John, I read your column every week and was wondering what you think about the Saints switching Reggie Bush to wide receiver? With Mike Bell and Pierre Thomas, the Saints are crowded at running back and Bush is great in open space. I think he would excel on wide receiver screens much like Wes Welker does in New England.
Mike in New Orleans
A: Honestly, I think he'd do great at receiver, but I don't see that happening. The Saints are loaded at wide receiver, too. I think Sean Payton feels comfortable calling pass plays for Bush coming out of the backfield. If the Saints were to suffer two or three injuries at receiver, I could see Payton asking Bush for help, and he might accommodate. The Saints have a great thing going with the system they have. Bush feels comfortable at running back. They have surprised everyone with the success of their running attack. This would be a move that would work, but it doesn't need to happen.
John Clayton, a recipient of the Pro Football Hall of Fame's McCann Award for distinguished reporting, is a senior writer for ESPN.com.
NFL senior writer
Senior NFL writer and commentator
Joined ESPN in 1995
Member of the writers' wing of the Pro Football Hall of Fame in Canton, Ohio
SPONSORED HEADLINES
MORE NFL HEADLINES
MOST SENT STORIES ON ESPN.COM
NFL WEEK 9 PREVIEW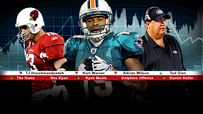 PICKS
HOT READ: Jacksonville viable for NFL?
FINAL WORD
POWER RANKINGS
DANGEROUS PLAYERS
MNF: Steelers at Broncos
COLUMNS/BLOG POSTS
FANTASY
SCOUTS INC.
PAGE 2