Commentary
Loss of Henry hits Bengals family hard
Originally Published:
December 20, 2009
By
John Clayton
| ESPN.com
SAN DIEGO -- Carson Palmer called the past four days of his life and those of his Bengals teammates like no other he has ever experienced.
On Thursday morning, the Bengals lost a teammate players considered their brother, wide receiver Chris Henry, who died from injuries he sustained Wednesday when he fell from the back of a pickup truck during a domestic dispute. On Sunday, with the Bengals ailing emotionally, Chargers quarterback Philip Rivers ripped at their football hearts by driving 46 yards in 51 seconds to set up Nate Kaeding's 52-yard field goal that sealed a 27-24 victory.
"It's been an eerie week, it's been a week like no other for me," Palmer said. "I haven't experienced anything like this with a big-time game and with the tragedy that took place. It sucks. It sucks to lose a teammate. There's no easy way to put it. There is no right or wrong way to put it. It sucks. But we've got a job to do and we've got to move on."
It won't be easy. After the Bengals return to Cincinnati, they have to hop on a plane and fly to New Orleans for Henry's funeral. The Bengals faced adversity earlier in the season, when Vikki Zimmer, the wife of defensive coordinator Mike Zimmer, died on the Friday before a big road game against Baltimore. With tears of emotion and great focus, the Bengals defeated the Ravens 17-14. But Vikki Zimmer's funeral followed and the team played a flat game the next week and lost to the Houston Texans.
The loss of Henry dug deeper into their emotions. Left tackle Andrew Whitworth noticed the flight to San Diego and the pregame locker room was much quieter than normal. Henry was more than just a teammate. He was family. Sure, Henry's arrests, suspensions and problems drove teammates to distraction in his early years with the Bengals.
But owner Mike Brown surprised the Bengals by giving Henry another chance last season. Henry returned and won back his teammates. He behaved. He worked hard. He cared. He was like the lost brother who left the family in turmoil but came back a man. Henry was a big part of the locker room. Whitworth saw tears.
"He's our brother," Whitworth said. "Like I said before, Chris changed his life around when nobody thought he could. Nobody thought the Cincinnati Bengals could go from 2-14 to where we are now. We embodied that. He embodied us. He changed and we changed. That's why he's important to us."
In Henry's early years, he defined the Bengals, like so many players who made a mess of their lives off the field and made the Bengals a laughingstock. Henry's return symbolized how these Bengals aren't the Bengals of the past. This team is mature. It's focused. It cares, which is why losing Henry hurts so much.
Whitworth can't remember another player like Henry. Sure, he was troubled. Outside of the locker room, Henry's life might have been a mess, but he felt safe with his teammates. They judged him for being a superb talent with great speed and pass-catching ability. But Henry made everyone around him feel special.
"He's the only NFL player I know, where every guy has pictures in their locker, he kept pictures of us in his locker," Whitworth said. "He kept pictures of us hanging out in his locker. He didn't just keep pictures of his family. We were his family. Not many of the guys do that. We kind of got around his locker and looked at the things in it. That showed you we were his family.''
After the game, players held back their tears -- even wide receiver Chad Ochocinco. No one on the team was affected more by the loss of Henry than No. 85. Ochocinco had a saying about Henry, who wore No. 15. He claimed 85 plus 15 made 100 ways for the Bengals to be good.
At the cost of a fine, Ochocinco planned to wear Henry's jersey in the game, but he changed his mind when he found that it might bring more attention to himself than Henry. Ochocinco admitted he was nervous going into the game, more nervous than ever.
"It was hard," Ochocinco said. "You have somebody like that that you take under your wings for five years and you see him hit that turn and turn the right way. He was like a brother."
All eyes went to the end zone when Ochocinco scored on a 49-yard touchdown in the second quarter. Ochocinco didn't have a planned celebration. Instead, he took a knee in an almost prayerful position. He said he kept saying to himself, "85 plus 15 gives us 100 ways to be great, 85 plus 15 gives us 100 ways to be great."
To deal with his loss, Ochocinco plans to stay busy.
"The flight home is going to bother me," Ochocinco said. "The funeral service is going to bother me. Anytime it's quiet and you have time to think, it's going to bother me. Other than that, everybody says stay strong and focused. It's easy to say when you have no bond with an individual."
The Bengals are bonded to a player they called "Slim." Henry was a symbol of the bad times. He was part of this year's success. Now he's gone and the Bengals feel it. The loss to the Chargers was hard enough. On Tuesday, any tears that have been held back for the past four days will flow.
John Clayton, a recipient of the Pro Football Hall of Fame's McCann Award for distinguished reporting, is a senior writer for ESPN.com.
NFL senior writer
Senior NFL writer and commentator
Joined ESPN in 1995
Member of the writers' wing of the Pro Football Hall of Fame in Canton, Ohio
SPONSORED HEADLINES
MORE NFL HEADLINES
MOST SENT STORIES ON ESPN.COM
NFL WEEK 15 COVERAGE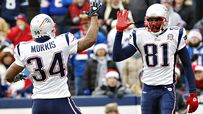 MNF: Giants 45, Redskins 12
COMMENTARY/BLOGS