Commentary
Schaub now a member of elite QB class
Big numbers, staying power make Houston signal-caller worthy of elevated status
Originally Published:
December 30, 2009
By
John Clayton
| ESPN.com
We've been kicking around the importance of quarterbacks all season in this mailbag. The NFL is a passing league geared around the play of quarterbacks, and that is even more pronounced by the way the playoffs are shaking out.
QUESTIONS, PLEASE
Do you have a query for John Clayton?
Click here to send a note to his mailbag.
I've used the term "elite" to describe a quarterback who completes better than 60 percent of his passes, throws for more than 220 yards a game, has fourth-quarter comeback ability and puts up 21 or more points on the scoreboard. The group had 14 members, beginning with Peyton Manning and ending with Joe Flacco.
Well, it's time to add one more. Matt Schaub of the Houston Texans is my 15th elite quarterback. Schaub had completion percentages of 66.4 and 66.1 during his first two seasons in Houston, but he couldn't stay healthy.
Despite battling a separated left shoulder, Schaub has played every game in 2009 and has had a monster year. He has passed for 4,467 yards, 27 touchdowns and completed 68.4 percent of his passes. His quarterback rating is 99.1 and he's kept Houston's offense ticking despite a butchered running attack. Schaub was selected as a Pro Bowl alternate and has the 8-7 Texans within a tiebreaker of being in the playoffs. Now that Schaub is established, the Texans have the chance to be an annual playoff contender.
The elite quarterback list is adjustable. Jay Cutler was on it last year in Denver when he threw for more than 4,500 yards and was sacked only 11 times. He sure hasn't been elite in Chicago. If the Bears can fix the problems, he can rejoin.
To consistently win in the NFL these days, a team needs an elite quarterback. The Texans have one in Schaub.
From the inbox
Q: John, people are talking a lot about the Chargers being a good matchup for the Colts based on recent success against them. I say the Chargers' pass rush is what gave them success in previous seasons, and their current pass-rush struggles make them extremely vulnerable to the Colts. What are your thoughts?
Justin in Rutherford, N.J.
A: You're correct. The Chargers' pass rush isn't as destructive as it has been in the past two years, which is why coordinator Ron Rivera -- who should get a head-coaching job in 2010 -- has blitzed safeties and cornerbacks. Shawne Merriman isn't getting to the quarterback as he has in past years. Larry English is a rookie and hasn't added much pressure. The Chargers have been able to disrupt Manning and get him out of his rhythm. They might have a tougher time doing that this season. You can see this is going to be a great game to dissect. I do think they'll meet in the AFC Championship Game.
Short takes
Kevin in Charlotte, N.C., asks what the Ravens will do with Willis McGahee now that Ray Rice has emerged as one of the best runners in the AFC. Because of his big salary, McGahee will be cut in February. … Kevin in Menlo Park, Calif., points out that 2009 had a lousy class of head-coaching hires. Not surprising. Owners, fearful of the big salaries of the big names, went for lower-cost head coaches. Sometimes, you get what you pay for. … Ben in New York City offers Antonio Bryant as an option for the Miami Dolphins' wide receiver needs. He'll be a candidate because he will be available. No way the Bucs are going to franchise him again. … Kevin in Menlo Park, Calif., jumps in again about the Pro Bowl voting. He thinks Jets LB David Harris was slighted. He probably was. DeMeco Ryans established himself as a Pro Bowl candidate last year. Harris did it this year and was the second alternate behind teammate Bart Scott. Now, Harris is established among the best inside linebackers in the AFC. … Jonathan in West Fargo, N.C., is worried about the integrity of the game with the Colts' decision to pull starters in the third quarter against the Jets. He notes in baseball there is an unwritten rule not to play September call-ups against teams in contention. Good point, but the Colts earned the right to protect their players from injuries going into the playoffs. They are worried about themselves more than the playoff implications of others, but it is a concern. It's just the reality of the late part of the season. … Steve in Pittsburgh questions the flex scheduling decision to move the Bengals-Jets game to prime time. That's an NBC decision. The network is banking on the New York market pulling in big numbers watching the Jets' attempt to make the playoffs, but it isn't going to be much of a game if the Bengals pull their starters. I think they will. … Brook in Teaneck, N.J., calls into question the idea of people saying Raheem Morris should be fired after one season in Tampa Bay while many people are saying Jim Mora shouldn't be fired after one season in Seattle. The Bucs shouldn't have fired Jon Gruden. He was 9-7 and the team went in the tank this year. Say what you want about the underachieving Seahawks, but they were 4-12 last year. While 5-10 isn't progress, the Seahawks didn't drop like the Bucs.
Q: I am a Seahawk fan who is looking for some sort of positive out of this season. Do you think Matt Hasselbeck's struggles as of late are an erosion of his skills or more of an offensive line/supporting cast situation?
Steve In Phoenix
A: Hasselbeck has been banged up all season and has taken a beating. It's affecting him a lot in December. His shoulder and ribs are aching. His back is sore. Still, he's a good quarterback. There's a debate in Seattle about whether to replace him. The Seahawks have two first-round picks, one that is probably going to be the seventh pick. They'll have to use that pick on either a left tackle or a quarterback. If they draft a quarterback and want to start him right away, the Seahawks don't have the offensive line or running game to give him a chance. If the right quarterback is there at No.7, you draft him, keep Hasselbeck and then scramble for the left tackle and running back.
Q: Did the Redskins and Browns violate the Rooney Rule when they hired Bruce Allen and Mike Holmgren? It seems like those hires happened very quickly and I never heard any other names mentioned for either job. It was my understanding that all teams are now required to interview minority candidates for front office positions.
Scott in Rochester, N.Y.
A: Both teams complied. Sure, it sounds fishy, but as long as you interview a minority on staff, you comply with the Rooney Rule. Dan Snyder talked to people in the Redskins' organization to comply. I'm not sure who Randy Lerner talked to in Cleveland, but I can guarantee that Holmgren is going to have a high-ranking minority in the front office, most likely Will Lewis, who is currently with the Seahawks. No penalties for either team.
Q: After reading your comments on Bill Parcells and his draft tendencies, I wonder about trading for Anquan Boldin. He would provide toughness and leadership and the type of receiver who would complement what the Dolphins already have. He's the type of player who might put them over the top in what is undoubtedly the toughest division in football.
Dave in Austin, Texas
A: That works for me. The cost might be a second-round choice. They sure didn't get a lot out of second-round choice Pat White. I'd offer that in a heartbeat. Parcells doesn't like investing first-round draft choices in wide receivers, but he doesn't mind investing a high pick in a trade for an established veteran. Count me in on that on that one, but I'm not sure if the Cardinals would trade Boldin for a second-rounder.
Q: As a Broncos fan, I want nothing more than my team to get out of its funk. I think I have a solution. I remember when they won their first six games, almost every player on the roster eligible to catch a pass would get the ball. Now, it seems as though the Broncos are throwing to Brandon Marshall every play. Yes, Marshall is great, but shouldn't Denver take advantage of its depth at receiver?
Ryan in New Jersey
A: It's pretty apparent defenses have figured out ways to contain the Broncos' offense. Here's the problem: Kyle Orton can't successfully throw longer than 20 yards. Defenses might concede passes to Marshall if they can contain his yards after the catch. Remember the Colts game? Marshall caught 21 passes, but he averaged under 10 yards a catch. That didn't translate into a victory for the Broncos. Face it, coach Josh McDaniels has gotten everything possible out of that team. The 6-0 start was phenomenal. The Broncos are certainly better than the 3-13 record I predicted at the beginning of the season. The defense tends to wear down in fourth quarters.
Q: Everyone in the Titans' organization knows that its starting linebackers, aside from Stephen Tulloch, are aging. The obvious draft pick for the Titans would either be a defensive end or linebacker, but what do you think about USC's Taylor Mays? He's a safety, but I think he could play outside linebacker if coached well.
Robert in California
A: The Titans have no shot at Mays. He will go in the top 10. Linebacker or defensive tackle would be logical choices. Jeff Fisher would know how to develop either one. I'd also throw a cornerback into the mix. Nick Harper has started most of the season despite injuries and the Titans had to sign Roderick Hood as insurance, which shows me they need help at that position.
Q: The San Diego Chargers are rumored to be parting ways with the future Hall of Famer LaDainian Tomlinson. Though I hope it doesn't happen, I realize it's inevitable. Also, standout NT Jamal Williams was out this entire year and is closing in on 34 years of age. What position do you think will present a bigger hole once both players depart?
Kevin in San Diego
A: Nose tackle is a bigger need if Williams doesn't come back. I agree that there is a good chance Tomlinson might not be back. This is a good draft for defensive linemen, so the Chargers can get the nose tackle or defensive end and then get the running back in a later round. First, they should re-sign Darren Sproles. They also have other backs on the roster who can get them through. What they don't have is a replacement for Williams. They are currently down to their fourth-string nose tackle, Ian Scott. The Chargers worry when they go against running teams. They have a better ability to run the ball next year than stop the run, so defensive tackle becomes the priority.
Q: With the New England Patriots' lack of offensive production in comparison to previous years, do you still believe they are serious contenders for another Super Bowl?
Mike in Boston
A: As long as Tom Brady is on the field, the Patriots are always serious contenders. I think they have a great chance to win their first-round playoff game, but the concerns start after that. They need Julian Edelman to step up as a third receiver. They pretty much don't throw to the tight ends. If Randy Moss is covered, Brady focuses on getting the ball to Wes Welker and that's about it. This is a good Patriots team, not a great Patriots team. Just being good in this year's AFC playoffs might cost them a chance to go to the Super Bowl, but you can never underestimate Brady in a big game.
Q: I'm not saying Eli Manning is as good as Peyton. But if people are going to give Peyton credit for putting up numbers with an inconsistent running game and new WRs, why doesn't Eli get that same respect? He lost both his starting WRs from last year, has had a lackluster running game, and all he's doing is putting up the best numbers of his career. And yet people still think he's a middle-of-the-road QB. What's it going to take for that perception to change?
Larry in Syracuse, N.Y.
A: He's an elite quarterback in my eyes and in the eyes of the NFL. Eli obviously isn't as good as his brother. Peyton is a Hall of Famer. But Eli had a long string of trips to the playoffs, and he has one Super Bowl win that wasn't a fluke. He's elite and those who don't accept that better be educated.
John Clayton, a recipient of the Pro Football Hall of Fame's McCann Award for distinguished reporting, is a senior writer for ESPN.com.
NFL senior writer
Senior NFL writer and commentator
Joined ESPN in 1995
Member of the writers' wing of the Pro Football Hall of Fame in Canton, Ohio
SPONSORED HEADLINES
MORE NFL HEADLINES
MOST SENT STORIES ON ESPN.COM
NFL WEEK 17 PREVIEW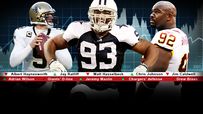 PLAYOFF PICTURE
POWER RANKINGS
FINAL WORD
HOT READ: THE PRICE THEY PAY
PRO BOWL ANNOUNCEMENTS
STOCK WATCH: Fallers, risers
COLUMNS/BLOG POSTS
SCOUTS INC.
ESPN FAN SHOP