Commentary
McNabb's arrival will propel Redskins
Originally Published:
April 29, 2010
By
John Clayton
| ESPN.com
Each year around this time, I try to forecast five surprise teams based on scheduling formulas, quarterback play and offseason moves.
This isn't a judgment on which teams had the best offseasons. That story is for another time. This isn't a playoff forecast, either; some of the surprise teams won't win enough games to make the playoffs.
For my purposes, a "surprise" team is one that, thanks to an easier schedule or significant roster moves, has a chance to either make a three-game improvement on last season's record or move into a spot from which it could make a playoff run.
What crystallized the thoughts of predicting surprise teams was the Baltimore Ravens' trade for quarterback Steve McNair in 2006. A few years before that, I would look at teams that went from tough schedules to easy schedules and try to predict their rise into playoff contention.
Schedule is everything in the NFL, and last year was just another example. The New Orleans Saints had the easiest schedule and won the Super Bowl. Three of the four teams in the conference finals -- the Saints, Colts and Vikings -- benefited from having one of the five-easiest schedules in 2009.
But the McNair trade pointed to the importance of upgrading the quarterback position. Combine an easier schedule with a better quarterback and a team can start talking playoffs. The Ravens were 6-10 in 2005 after playing a .523 schedule (their opponents' combined won-loss record). McNair zipped through a .461 schedule in 2006 and the Ravens went 13-3, a seven-game improvement.
Acquiring a franchise quarterback can add five or six points to an offense and such an improvement can improve a team by three to five wins.
So who are this year's surprise teams?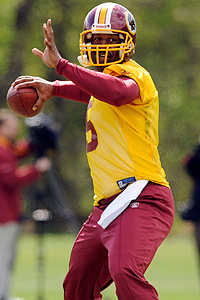 Rafael Suanes/US PresswireHaving Donovan McNabb at QB gives the Redskins a fighting chance to excel in the NFC East.
1. Washington Redskins: It's not the schedule that makes the Redskins the biggest surprise team for 2010. It's the quarterback. In the tradition of franchise quarterback acquisitions, Donovan McNabb should add five to six points to an anemic offense that averaged 16.6 points a game for the past two years. His impact should be best seen in division games. The Redskins were 0-6 in NFC East games last season and haven't had a winning record in divisional games since 2005. Last year's fourth-place finish gives the Redskins a break in the sense that they play the Tampa Bay Buccaneers and St. Louis Rams, two of the three worst teams in 2009.
Each year, a McNabb-like quarterback move usually results in a team making a three- to four-game jump. McNair had the seven-game jump in 2006. Jeff Garcia took advantage of an easy schedule to lead Tampa Bay to the playoffs in 2007. In 2008, Jake Delhomme came back from injury to lead the Panthers to a 12-4 record. In 2009, Brett Favre added more than five points a game to the Vikings' offense and the team went 12-4. With McNabb and the league's sixth-easiest non-division schedule (a .436 slate), the Redskins could go from 4-12 to 9-7 or better.
2. Carolina Panthers: Until the draft, the Panthers appeared to be in rebuilding mode. Having QB Jimmy Clausen fall to them in the second round could help them become a playoff contender -- assuming he beats out incumbent Matt Moore for the starting job. If so, Clausen could join Joe Flacco, Matt Ryan and Mark Sanchez as rookie quarterbacks who have gone to the playoffs recently.
The Panthers' offense is built to be run by a rookie quarterback as long as he picks up the system. For Clausen, that shouldn't be a problem. Panthers offensive coordinator Jeff Davidson learned his offense from Charlie Weis when Weis was at New England. The Panthers offer Clausen two 1,100-yard runners, DeAngelo Williams and Jonathan Stewart. In three seasons as a Notre Dame starter, Clausen never had a back run for more than 700 yards. Knowing that the Panthers will run the ball 32 to 35 times a game, Clausen would need to complete only 14 to 16 passes a game to run a good offense.
The schedule is also on Clausen's side. The Panthers and the NFC South play the NFC West and AFC North. Their non-division schedule is .450 (based on last year's records), fourth-easiest in the league. Overall, the Panthers go from a .539 schedule in 2009 to .477 in 2010, which could give them a three-game improvement from their 8-8 mark in '09.
3. Oakland Raiders: The Raiders might not be playoff contenders, but the addition of Jason Campbell at quarterback and an improved defense should end their rut of being a 5-11 team. Campbell was part of a disappointing offense in Washington that averaged 16.6 points a game, but that low number is 4.3 points better than what the Raiders averaged last season. Campbell completed half of his passes to wide receivers. JaMarcus Russell could consistently hit only tight end Zach Miller, and no wide receiver caught more than 34 passes in either of his two seasons at quarterback.
The Raiders' schedule goes from .527 to .500. That should add at least one win to their record. My guess is that Campbell will be able to get about 18 points a game, so the Raiders could get to between seven and nine wins. Hue Jackson, the Raiders' new offensive coordinator, will try to use Darrius Heyward-Bey on more bubble screens to take advantage of his speed. Having Campbell behind center improves the Raiders' chances of winning division games. If Campbell plays with more consistency than Russell, a 3-3 or 4-2 record in the AFC West isn't out of the question for Oakland.
4. Atlanta Falcons: Last year a tougher schedule dropped the Falcons from 11 wins to nine, but the schedule breaks perfectly this season, giving Atlanta the chance to get back to 11-5.
The biggest break for the Falcons is how the 2010 offseason made their schedule easier by not having to play three elite quarterbacks. The Falcons open the season in Pittsburgh while Ben Roethlisberger is on suspension. Their home opener in Week 2 is against an Arizona Cardinals team without Kurt Warner, who retired. The Falcons' second-place finish in 2009 allowed them to draw the Philadelphia Eagles on Oct. 17 in one of the two games that aren't common to the other three teams in the NFC South. The Falcons will face Kevin Kolb instead of McNabb.
The Falcons' non-divisional road schedule features teams that had a combined 31-49 record in 2009. The Steelers and Eagles are Atlanta's only non-divisional road opponents who had winning records last season. The other three are winnable games at Cleveland, St. Louis and Seattle.
5. Chicago Bears: Don't underestimate the influence of new coordinator Mike Martz on offense. Jay Cutler's first year was a disappointment, but Martz has been able to add three to six points to offenses with quarterbacks less talented than Cutler. The Bears averaged 19.4 points a game last year. If Martz can add about four or five points a game through Cutler's powerful arm, the Bears might be 9-7 or better instead of 7-9.
The schedule isn't easy because the NFC North plays the NFC East and AFC East. The Bears play a .504 schedule compared to .496 a year ago. The key is the improvement of the offense. Because expectations are down, the Bears have a chance to sneak up on teams.
John Clayton, a recipient of the Pro Football Hall of Fame's McCann Award for distinguished reporting, is a senior writer for ESPN.com.
NFL senior writer
Senior NFL writer and commentator
Joined ESPN in 1995
Member of the writers' wing of the Pro Football Hall of Fame in Canton, Ohio
SPONSORED HEADLINES
MORE NFL HEADLINES
MOST SENT STORIES ON ESPN.COM
EDITORS' PICKS
Robert Kraft's insight, drive and business mind have catapulted New England's franchise into rarefied air.
Garber »

Panned at first, Seattle's 2012 draft class became a driving force in the team's unexpected rise to power.
Merrill »

O'Connor: Poor performance can cost players money or their jobs, but those pitfalls don't exist for Roger Goodell.
Column »
Nike Men's Home Game Jersey Atlanta Falcons Steven Jackson #39 Shop »