Commentary
Pay Johnson what he's worth
As a lower first-round pick, Titans RB is paying price for outperforming his contract
Originally Published:
June 3, 2010
By
John Clayton
| ESPN.com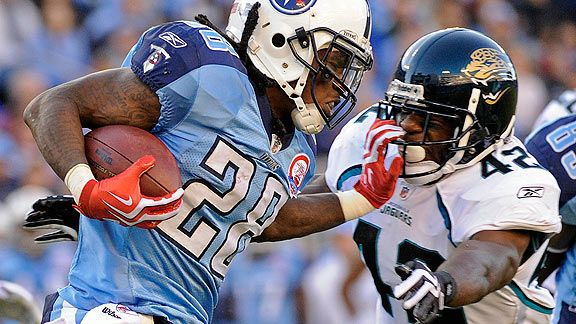 AP Photo/John RussellTitans tailback Chris Johnson (28) is the first player in NFL history to rush for 2,000 yards and record 500 yards receiving in the same season.
For the
Tennessee Titans
and most likely every other team in the NFL, it's easy to dismiss the contract demands of running back
Chris Johnson
. He's entering the third year of a $9.226 million contract that runs through 2012. He's 24, reasonably young for a running back. The No. 24 overall selection in the 2008 draft, he's coming off a 2,006-rushing-yard season. The
Minnesota Vikings
'
Adrian Peterson
, drafted a year ahead of Johnson, isn't close to getting a contract extension. Conventional wisdom advises Johnson to wait. The Titans clearly aren't going to change policy and reward him after two seasons. I say make him an exception. Pay the man. At some point, teams need to be sensitized to the short shelf life of an NFL running back. Hall of Famer Eric Dickerson tells youngsters that a running back starts to decline after 1,600 carries or after six years of pounding. Because of that reality, running backs taken in the first round are put in an unfair position. To describe their leverage in football terms, they are trapped behind the line of scrimmage and have almost no place to escape.
AFC South blog

ESPN.com's Paul Kuharsky writes about all things AFC South in his division blog.
A team can ride a back like a horse for five years and banish him to the glue factory at the end of his rookie deal. From the team standpoint, giving a second contract to a six-year running back isn't good business. The team is paying for a declining asset, and the back never lives up to the terms of the second deal. Johnson, to me, is the one case who needs to be studied closely and looked upon differently than other third-year players. Isn't it a good business decision to pay for Johnson's good years while he's still in his prime instead of giving him a six-year contract three years from now that he will never fulfill? Any great back selected after the 20th pick in the first round should have a chance to go for the gold he's earned. The teams might say a contract is a contract. A five-year contract for a running back taken after the 20th pick might be the coldest business proposition in football. A top-10 running back can't truly complain under the current system. Although he's held to the same length of a contract, a top-10 running back enjoys the benefits of the broken salary-slotting system, which favors the highest-drafted players. Peterson, the seventh pick in the 2007 draft, will earn $3.64 million this season because of a pay escalator. His salary jumps to $10.72 million next year. Johnson is scheduled to make $550,000 this year and $800,000 next year, and his big salary jump goes only to $2.21 million in 2012, the final year of his contract. Johnson will make less during his five-year contract than Peterson is on the books for in 2011. Had Johnson dropped to the second round, he wouldn't be trapped in this position. The
San Francisco 49ers
'
Frank Gore
, a former third-round pick, signed a four-year, $27.577 million extension before his third season.
Jacksonville Jaguars
star
Maurice Jones-Drew
, a former second-rounder, received a four-year, $30.515 million extension after three seasons.
Marion Barber
of the Cowboys, a former fourth-rounder, signed a seven-year, $45 million contract after his third season. If Johnson had been taken in the second round or lower, the team would be discussing a long-term deal during this season or planning on giving him a new deal in 2011. It's only because he's a first-rounder on a five-year deal that there aren't supposed to be contract talks. Because he's a first-rounder and first-rounders in Johnson's slot get five-year deals, thoughts of giving him a new contract are considered heresy in ownership circles. Where a four-year deal for $8 million a year or more would be in order to coincide with his productive years, you can see Johnson could end up being like most other first-round running backs -- hoping for a gift after five seasons for past services instead of being paid for being one of the league's best running backs.
[+] Enlarge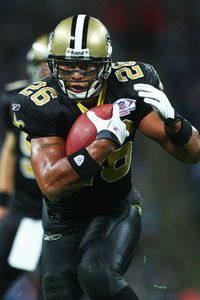 Laurence Griffiths/Getty ImagesFormer New Orleans Saints star tailback Deuce McAllister is among recent ball-carriers who had trouble fulfilling their second contracts.
History does show teams should look at running backs differently as far as contracts. From 2000 to 2004, 15 running backs were taken in the first round. Only six received second contracts with their teams:
Shaun Alexander
of the Seahawks,
Jamal Lewis
of the Ravens,
Deuce McAllister
of the Saints,
LaDainian Tomlinson
of the Chargers,
Larry Johnson
of the Chiefs and
Steven Jackson
of the Rams. Five of the six never played out those contracts, and Jackson probably won't be with the Rams when his contract runs out in 2013. As good a business deal as it is to hold a first-round running back to his five-year deal, the team usually makes a bad deal with the second contract. Usually, it's not even offered. It's easier to franchise the back and squeeze out another year. Alexander received a six-year, $61.68 million contract in 2006 when he was 28 and had 1,717 carries. He averaged 3.6 and 3.5 yards a carry during his final two seasons with the Seahawks, but he collected $18.525 million those two season. McAllister signed a seven-year, $47.75 million extension with the Saints in 2005. He had only 27 starts and rushed for a mere 1,902 yards in four seasons under that deal. Larry Johnson had to hold out in Kansas City to get a five-year, $43.14 million extension in 2007. He was 27 at the time of the signing. After enduring Johnson's myriad legal and personal problems, the Chiefs cut him last year -- three years into the deal. They paid him $22.3 million over those three seasons but he didn't give them a 1,000-yard season from 2007 to 2009. Plenty of first-round backs are coming up on their second contracts, and most won't get new deals with their teams. Age, injuries and declining production will be among the reasons. That's football. Drawing the hard line with Chris Johnson is what the Titans are expected to do. His contract has three years left. That's business. What I'm saying is some first-round backs can be exceptions. A four-year deal that would take him to the age of 29 wouldn't open the flood gates for other deals. After all, a four-year deal for a running back who is 24 going on 25 is a career-ending deal. Pay the guy.
John Clayton, a recipient of the Pro Football Hall of Fame's McCann Award for distinguished reporting, is a senior writer for ESPN.com.
NFL senior writer
Senior NFL writer and commentator
Joined ESPN in 1995
Member of the writers' wing of the Pro Football Hall of Fame in Canton, Ohio
EDITORS' PICKS
Extra points will likely be different in 2015, but how? NFL Nation reporters dissect the proposed changes.
Roundtable »

Using GIFs to support his argument, Todd McShay illustrates Jameis Winston's edge over Marcus Mariota.
Story

Late-round QBs are wasted picks. Dallas shouldn't worry about replacing Tony Romo until he hangs it up.
Archer »
Fathead Chris Johnson "in Your Face" Wall Graphic Shop »

MOST SENT STORIES ON ESPN.COM