Commentary
Controversial calls here to stay
Roethlisberger's fumble has sparked discussion, but don't expect any changes to replay
Originally Published:
October 27, 2010
By
John Clayton
| ESPN.com
The controversial call following Ben Roethlisberger's goal-line fumble against the Miami Dolphins in Week 7 gained a lot of attention this week.
QUESTIONS, PLEASE
Do you have a query for John Clayton?
Click here to send a note to his mailbag.
The officials ruled the play a touchdown and whistled the play dead. After that, confusion set in, because the Dolphins forced the fumble before Roethlisberger reached the end zone and it wasn't definitively clear who recovered (even though Miami linebacker Ikaika Alama-Francis emerged with the ball). Because the officials needed solid proof of a change of possession, the Steelers maintained possession on the 1-yard line, and kicked the game-winning field goal on the next snap.
It was a bad call, which offers no solace to the Dolphins and their fans. The only possible solution is to advise officials to take note of players recovering the ball in case a similar play happens in the future.
Although there will be an outcry for change, don't expect any. To get instant replay back into the NFL in 1999, owners had to settle on a philosophy of "indisputable evidence" being present to change a call on the field. Owners accepted the technology to fix bad calls, but they still want the eyes of officials to take priority.
What you won't see is an increased number of allotted challenges because the league worries about the length of the game and how constant stoppages slow the tempo. You also won't see many new types of reviewable plays for the same reason.
Technology is improving but, sad to say, bad calls will always be part of the game.
From the inbox
Q: When are people going to figure out that the Bears' O-line has been terrible for years? Matt Forte, just like Cedric Benson in the past, is getting blamed for low yards per carry, but when multiple backs can't have success, shouldn't people start looking elsewhere, like the line, for answers?
Mike in Waco, Texas
A: The Bears' offensive line has taken a lot of blame for the past couple of years. Its failures point to a possible bad trend for the conference. Back in 2007, the Bears had five starting offensive linemen who were each over 30 and a total age of 156. The Redskins had five in 2008 and the Cowboys did as well in 2009. You see what has happened to offensive lines in those cities. Offensive lines aren't fixed overnight. It often takes years. Because the Bears have struggled to find answers in the draft, it's a crapshoot in free agency. Obviously, the results have been subpar.
Short takes
Jib in Honolulu wonders if there is a realistic chance Colt Brennan will land on a roster anytime soon. With so many quarterback injuries this season, he may get a shot to be a third quarterback for someone this season. … LeVon in Albuquerque, N.M., proposes Bill Cowher to coach the 49ers because they run a 3-4 defense and have a great core of linebackers. He won't go there for two reasons. First, the 49ers don't have a quarterback. That will get a "no" answer from him. Second, he probably would exceed the 49ers' budget for a new head coach. … Eric in Rochester, N.Y., is hearing Jim Kelly is lining up a group to purchase the Buffalo Bills if Ralph Wilson eventually sells the team. Let's hope he lines up enough money people. He would be the perfect point person for the future. … Joe in Minnesota is looking ahead to next season and wondering what the Vikings will do at quarterback. Their easiest solution will be hoping the Redskins don't re-sign Donovan McNabb. I think they're in trouble because I think the Redskins could make the playoffs, which means they would keep McNabb. I don't see the Vikings signing Michael Vick. The problems with looking at short-term solutions like Brett Favre is it could take years to find the long-term solution. … Jeremy in Raleigh, N.C., wants an early line on candidates for the Panthers' job after John Fox leaves. Two early names to watch are Ron Rivera of the Chargers and Brian Schottenheimer of the Jets. I think they might look at Jim Harbaugh too. … Jamie in Rancho Cucamonga, Calif., wants the bottom line on rumors the 49ers might go for Shawne Merriman when he's released. That's not happening. Their problem isn't linebacker.
Q: I'm really scared about the Bears' offense after the past four games. How would you describe the Bears' woes? Is it Jay Cutler holding the ball for way too long? The offensive line not protecting? Or Mike Martz's play calling? And why are the Bears not using the running game as effectively anymore?
Nabeel in Chicago
A: I went to the Bears-Redskins game and I understand your concerns. It's a perfect storm of offensive disaster. It starts with the line. The line is terrible. After about a dozen hits or rushed throws, Cutler seems to simply lose accountability and just starts throwing the ball off his back foot. The combination of those two problems makes it impossible for any playcaller. The time isn't there for five-step drops. Cutler just starts flinging the ball. It seems as though the Bears try to use the running game, but there aren't any holes for a back to gain many yards. From what I saw, the Bears look like an 8-8 team.
Q: What is the likelihood defensive coordinator Rob Ryan is the next head coach of the Cleveland Browns? It seems that he is having success with that defense, and it doesn't seem like Eric Mangini will be there much longer. Ryan has the advantage of being a coach there already, and something tells me that he has the offensive players' favor more so than Mangini does.
Tom in Cleveland
A: Mike Holmgren was brought in to change the culture of the Browns and build a winner. I don't doubt that Ryan could go someplace and have some success as a head coach, but I don't see Holmgren hiring him. I think he'd go for John Fox or Jon Gruden, although Gruden will probably stay at ESPN at least through the 2012 season. I was a little surprised Holmgren stayed with Mangini, but he realized the roster wasn't ready to be a winner in 2010.
Q: The Falcons were recently routed in Philadelphia after a four-game winning streak in which three of the games came right down to the wire. Looking at the roster, the Falcons seem like a loaded team. But are they really among the NFC elite?
Kunal in Atlanta
A: To date, there isn't an elite team in the NFC. When you look at the schedule, it's pretty apparent the Falcons are going to win 11 or 12 games. They are 5-2 now. They have five more home games and Matt Ryan is 16-1 at home. They play host to Tampa Bay, Baltimore and Green Bay in three of the next four weeks. Their road games are against St. Louis, Tampa Bay, Carolina and Seattle. Even if the Falcons struggle with those tougher home games, I think there is a great chance they will be 10-4 or 11-3 heading into final home games against the Saints and Panthers. Other than the Giants, I don't know if there is another NFC team that can get to 11 or 12 wins. The Falcons might not be elite, but they could end up with the No. 1 seed.
Q: Is it just my imagination or have there been more missed field goals than usual this season? Has the quality of the the kicking game gone down or is it just a fluke?
Daniel in Lafayette, Ind.
A: While it's hard to believe, kickers are actually doing better than last year. After seven weeks, kickers have made 81.9 percent of their attempts. At this point last year, the number was 80.1. Here's the stunner. This is the fourth-best start for kickers in the history of the league. The best start after seven weeks was 84.4 percent in 2008. I had the same feeling seeing a lot of key field goals missed over the past few weeks. But those are the numbers. It's worth noting that 53 more field goals have been attempted than a year ago at this time, so technically, there have been more misses.
Q: It seems as though the Patriots are starting to look like the team they used to be back in 2004 when they won their last Super Bowl. The only problem I see is on defense. Do [you] think the D will get stronger as the season goes on?
Joshua in Fort Rucker, Ala.
A: Bill Belichick is the game's best coach. Give him 17 weeks and talent, and he'll make improvements. This won't be a great Patriots defense, but it will be decent by the end of the season. I still struggle to think they will be great with the pass rush, but the mental mistakes made in the first month and a half will be cleaned up and this will be a hard-hitting crew. With the extra draft choices next year, you know the Patriots will concentrate on improving the front seven of the defense. I think the secondary will be the most improved unit by the end of the season. Of course, it needs to be.
Q: It was disturbing to me to hear LBs James Harrison and Channing Crowder's statements last week. In Harrison's case, that his goal in playing football is to "hurt people," and in Crowder's case, that he's going to continue to use his helmet and aim for other players' helmets in order to intentionally cause concussions. I believe the defense's goal should be to prevent first downs and/or touchdowns, not cause pain and suffering to the opposing team. Do you think the NFL will take action against players who speak out in such a way, when they are clearly not willing to go along with stricter concussion rules?
Scott in Gresham, Ore.
A: Those players won't be fined for their words, but they have to watch out if they make punishable hits. Harrison's hit in the Cleveland game wasn't as bad as Brandon Meriweather's against Baltimore. I know Harrison had a past that went into the decision for a heavier fine, but I think his comments played a role. I also think his fine will be reduced upon appeal. You are correct in your thinking, though. The goal should be to prevent first downs and touchdowns. These are football players, not gladiators.
John Clayton, a recipient of the Pro Football Hall of Fame's McCann Award for distinguished reporting, is a senior writer for ESPN.com.
NFL senior writer
Senior NFL writer and commentator
Joined ESPN in 1995
Member of the writers' wing of the Pro Football Hall of Fame in Canton, Ohio
NFL WEEK 8 PREVIEW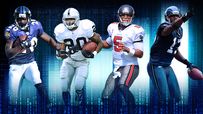 POWER RANKINGS
PICKS
FINAL WORD
HOT READ: LT AND LOMBARDI
COMMENTARY/BLOG POSTS
MNF: Texans at Colts, 8:30 ET
FANTASY FOOTBALL
NFL BLOG NETWORK
FOLLOW US ON TWITTER


MOST SENT STORIES ON ESPN.COM