Commentary
Flagging NFL's safety initiative
Overzealous officiating a byproduct of league's mandate on protecting QBs, receivers
Originally Published:
November 23, 2010
By
John Clayton
| ESPN.com
NFL justice has me completely confused, and I feel sorry for the officials and empathize with defensive players.
The re-emphasis on protecting quarterbacks from violent hits and defenseless receivers from helmet hits was the right call by the league, but the midseason adjustments have thrown everything out of whack.
QUESTIONS, PLEASE
Do you have a query for John Clayton?
Click here to send a note to his mailbag.
I was at Heinz Field in Week 11 for the Steelers-Raiders game and kept shaking my head because it's apparent officials now instinctively throw the penalty flag on any questionable hit. Steelers safety Ryan Clark suffered a temporary stinger using his shoulder -- not his helmet -- on a hit on Raiders receiver Jacoby Ford, but was penalized. Steelers linebacker LaMarr Woodley used a hand and his chest -- not his helmet -- on a hit on Jason Campbell when Campbell was releasing the ball. Woodley was penalized.
The James Harrison roughing-the-passer penalty was even more debatable because he was called for having the weight of his body -- not his helmet -- land on Campbell. In New Orleans, Seahawks defensive end Raheem Brock hit Drew Brees with his chest as Brees released the ball and drew a flag.
In Week 11, the pendulum went too far on the side of caution.
The final confusion came when Raiders defensive end Richard Seymour received only a $25,000 fine for slugging Ben Roethlisberger. If you're going to protect the quarterback, protect the quarterback. Referee Tony Corrente was on it and ejected Seymour. What if Seymour's hit, which knocked Roethlisberger to the ground, had broken Roethlisberger's jaw?
Interpretations are all over the place and that's a problem.
From the inbox
Q: I was hoping you could help me understand something with my Dolphins. Why does Tony Sparano refuse to run the ball? We have two 1,000-yard backs, yet we run the ball about 15 times a game. And it's not like we're getting down by a lot either. Is it too much to hope for a new coach next year? I would love Bill Cowher in Miami.
Rick in Florida
A: It has baffled me too. The Dolphins' offense has been one of the mysteries of the league this year. I've come to the conclusion Sparano wanted to use this year to develop Chad Henne as the quarterback, but he wanted to do it in a protective way. He stopped using the Wildcat so that Henne could have continuous plays in drives. I'm fine with that. But he used short, safe passes way too much. I'm not as fine with that. The Dolphins needed to stretch the field more. Then, when they were 4-4 at midseason, they benched Henne and went back with Chad Pennington. Weird. Go back to the origins of the Wildcat in Miami and you'll probably find the answer. The Dolphins used the Wildcat because they questioned their ability to run the ball from normal sets. The strategy worked. Somewhere in the back of Sparano's mind he doubts the Dolphins' ability to run the ball. Some teams struggle to find their offensive or defensive identity. The Dolphins are one of those teams this year.
Short takes
Jim in Rochester, N.Y., wonders what to do with Randy Moss. He says Moss' numbers have dropped in stops in Minnesota and now the Tennessee Titans. With Vince Young at quarterback, you knew his numbers would drop because Young threw the ball only 17 times a game and completed 10. With Young out as the starter, it's anyone's guess what Moss' numbers will be. He's been targeted seven times in two games with the Titans and has only a 26-yard pass to show for it. Until Kerry Collins is healthy, Moss might as well be in the witness protection program. … Billy in Fort Myers, Fla., loves how the Rams have turned around their franchise this season with Sam Bradford. He asks which area needs the most improvement -- wide receiver or secondary. The Rams need receivers more than a better secondary. Coach Steve Spagnuolo can scheme to fix some of the problems in the secondary. He can't scheme away the problems of a receiving corps that doesn't get much separation from defensive backs. … Cliff in Seattle wants to know how high Cam Newton can be taken if he's in the 2011 draft. I think he's a first-rounder. The guy has a rocket for an arm and he's mobile. The worst I see him going is about 22 or 23. … Joe in Manalapan, N.J., doesn't think the Jets' draft was all that productive. He likes fullback John Conner but he wonders about Joe McKnight. The Jets are a veteran squad and did not have too many spots for rookies to play. Vladimir Ducasse has been a disappointment. McKnight wasn't going to get any playing time behind Shonn Greene and LaDainian Tomlinson. … Dan in Cleveland wants an evaluation of the Browns. He realizes their record puts them toward the bottom of the league, but they've been in the fourth quarter of every game. Eric Mangini has done a good job coaching up this team, but I think his personnel moves of a year ago have left him without enough playmakers and athletes to win some of these games. That could lead to a new coach by next year. … Kyle in Los Angeles sees the parity of the 2010 season and wonders if the league will go back to a salary cap for next year. No question. The price of players will skyrocket if unrestricted free agency again starts after four years (instead of the current six years) and a cap can't hold down spending.
Q: There is a question coaches all around the league are asking themselves -- How do you stop Michael Vick? What would you do as a coach strategically to try to contain the resurgent quarterback?
From Austin in Las Vegas
A: If you caught the Sunday night game against the New York Giants, you saw a glimpse of what teams are going to try to do. The Giants used safety Deon Grant to blitz roughly 20 times. They also had all-out blitzes in which no safeties were in zone coverage, the so-called zero blitzes. I don't know if a team has figured out the right way to contain this version of Vick. In the old days, defenses had to guard the perimeters of the line of scrimmage to try to keep him in the pocket. Now, he's as effective in the pocket as he is outside of the pocket. Watching how defenses adjust will be one of the fun things to follow the second half of the season.
Q: Every day I hear how the Bears are contenders in the NFC, but I don't hear anyone bringing up that their schedule is one of the easiest in the league. Compare that to the Lions' schedule, which is one of the toughest. That's a big difference in competition. I know you can only play who's on your schedule, but I think strength of schedule should come into play a little more in evaluating teams.
From Steven in Brick, N.J.
A: You're like me in studying the schedule. In the NFL, schedule means everything. Going into the season, no one anticipated the Cowboys and Vikings would be struggling like they are. Those were supposed to be tough games for the Bears to win. The easy schedule is one of the reasons the Bears aren't winning over people as far as being a legitimate playoff team. But good teams and average teams that have easy schedules make the playoffs every year.
Q: I was wondering if you thought the year the Colts are having so far reminds you of the 2006 season in which they won the Super Bowl. I just see a lot of similarities; they are banged up, struggling against divisional opponents, struggling to run the ball and waiting for Bob Sanders to come back for a playoff run.
Brandon in Huntsville, Ala.
A: I do see a lot of similarities. The injury problem is significantly worse than it was in 2006. Every game is a grind for Peyton Manning and the rest of the team. With four home games remaining, the Colts should still win the AFC South and get into the playoffs as a third seed. If they can get a little healthier, the Colts will have a chance to win some playoff road games. As the league found out in 2006, don't write off the Colts.
Q: Do you think Albert Haynesworth ruined big contracts for other players since he tanked it after he got his money?
Kevin in La Habra Heights, Calif.
A: I don't think the Haynesworth situation will change anything. When a big-name player is available, it takes only one team to give him a mega-contract. There will always be that one team out there looking for the one player it thinks will make a difference. In fact, with a huge list of free agents available for 2011, you'll see more big-contract gambles being made. In retrospect, Haynesworth might have been better served to stay in Tennessee or take the offer from the Tampa Bay Buccaneers. He's a 4-3 defensive tackle. The switch to a 3-4 ruined him and devalued his stock.
John Clayton, a recipient of the Pro Football Hall of Fame's McCann Award for distinguished reporting, is a senior writer for ESPN.com.
NFL senior writer
Senior NFL writer and commentator
Joined ESPN in 1995
Member of the writers' wing of the Pro Football Hall of Fame in Canton, Ohio
NFL WEEK 12 PREVIEW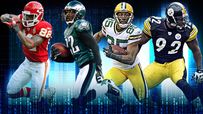 POWER RANKINGS
PICKS
FINAL WORD
HOT READ: RAVENS DT HALOTI NGATA
COMMENTARY/BLOG POSTS
MNF: 49ers at Cardinals, 8:30 ET
FANTASY FOOTBALL
NFL BLOG NETWORK
FOLLOW US ON TWITTER

MOST SENT STORIES ON ESPN.COM