Commentary
Josh McDaniels fiasco a cautionary tale
As Denver situation proved, giving a young head coach full control could easily backfire
Originally Published:
December 8, 2010
By
John Clayton
| ESPN.com
The lesson learned in the Josh McDaniels fiasco in Denver is not to surrender too much personnel power to a coach -- particularly a young one.
QUESTIONS, PLEASE
Do you have a query for John Clayton?
Click here to send a note to his mailbag.
Mike Shanahan lost his job as the Broncos' head coach because of his personnel decisions, but he put together one of his best core groups on offense before owner Pat Bowlen fired him. McDaniels was so headstrong that he got rid of Jay Cutler, Brandon Marshall and Tony Scheffler; McDaniels also ripped apart the offensive line and put together a 3-4 defense that has struggled.
Will the lesson change the temptation for an owner to hand over his franchise to one boss with a whistle? Maybe, but to land the bigger names with proven track records, owners will have to make those sacrifices. Bill Cowher won't return to the sidelines without being the major voice in the front office. Pete Carroll got all the power he wanted to go to the Seahawks. Shanahan wasn't going to Washington without control of the Redskins' personnel department.
Checks and balances are needed for a franchise to be successful. A coach looks ahead to the next Sunday. A general manager studies everything -- the present and the future.
The best model is one in which the general manger is in charge and the coach has a strong voice in the 53-man roster. Owners have gotten away from hiring the strong general manager, which is a mistake.
The NFL isn't a perfect world, so some coaches will be the kings of their franchise. Still, the McDaniels experience should at least make owners think long and hard before they make a king out of a young prince.
From the inbox
Q: There seems to be some favoritism, with referee/umpire/side judges etc., and some teams. Certain NFL darlings -- the Steelers, Eagles and Patriots -- get calls to go their way more often than not. All you have to do is view Steelers games and you'll see what I mean. It makes me mad enough to not want to watch football anymore.
Kevin in Scottsdale, Ariz.
A: If you lived in Pittsburgh, you wouldn't be feeling as though they are the darlings. They are getting slammed with defensive penalties. The Eagles are also getting their fair share of calls. Sure, many good teams get breaks and some lucky calls. Eagles coach Andy Reid is complaining officials aren't calling some questionable hits on QB Michael Vick. I've been to three Steelers games and haven't seen anything out of line. Because the top teams get on more national games, you tend to see more of their plays than, say, the Cardinals'. The Steelers feel as though the league is picking on them. In some years, some top teams tend to get lucky with a few calls, but I don't see anything out of line this year.
Short takes
Scott in Vernon, Conn., wonders if Seattle's Pete Carroll will bring in a new defensive coordinator next year. No way. The play calling on defense has been exceptional. The loss of Red Bryant and Colin Cole killed some of the run-stopping ability and Carroll doesn't have all the cornerbacks he prefers. … Kevin in Vernon, Texas, is a disappointed 49ers fan, but he wants to stick up for Mike Singletary. He doesn't think Singletary has had enough time to develop as a coach and would like to give him another year. That would be nice, but that's the problem of having a coach learn on the job. … Mike in Washington, D.C., wants to settle the Peyton Manning-Tom Brady debate by saying the Super Bowl argument is a barometer of picking the best of the two. They've played in the same era, Mike says, and Brady has three rings to Manning's one. It's starting to look like Brady could get No. 4. … James in Austin, Texas, offers a solution to the dismal play in the Pro Bowl. He says move the game to the beginning of next season. I can't see teams letting their best players out of camp for that to happen. … Shane in Pleasant Hill, Ohio, wants an update on coach Eric Mangini's status in Cleveland. I think he has to get to 8-8 to stay. I don't know if 7-9 gets it done. … Jason in Philadelphia goes back to the Singletary debate and wonders if the York family can pull off a Jim Harbaugh or a Jon Gruden move. From what we're hearing, the 49ers would have a decent shot at Gruden. … Mike in Pittsburgh asks, "What happened to Willie Parker?'' He looked and ran old in Washington, and now he may have trouble getting back in the league. It's an unfair league for running backs. … Piero in Lima, Peru, wonders if the Packers can win a Super Bowl with just a passing offense. That will be tough. You need some running and right now the Packers don't have it.
Q: It seems like the Titans are going away from what worked for them toward the end of last season. They had been using Chris Johnson more on short passes, which had moved linebackers back a yard or two out of the box. That gave CJ just enough room to turn those 0- to 2-yard gains into 5- to 8-yard gains. Why move away from this plan? The short passes have been there in any games I've seen. Factor in that this would also keep the safeties in and open up the downfield for Randy Moss and Nate Washington and it seems like a no-brainer.
Billy in Flemington, N.J.
A: When Vince Young was the quarterback, the Titans barely passed the ball at all. Young threw only about 17 passes a game, completing only about 10. I bet they'll get back to their old approach a little more with Kerry Collins, who is a more conventional pocket passer. You are right about Johnson's massive drop-off in his receiving production. Last year he caught 50 passes and had a 10.5-yard average. This year he has 29 catches and a 4.1-yard average. His longest reception has been 17 yards.
Q: Am I crazy for thinking that the best play for the Eagles after this season is to franchise/sign Vick and then trade him? He definitely represents the most value and they'd still have their franchise QB in Kevin Kolb.
Rob in Carlsbad, Calif.
A: I don't know if Vick would garner better trade value. Regardless of what happens, the Eagles have done a masterful job at quarterback. It reminds me of Ron Wolf and Mike Holmgren and the things they did in Green Bay. Believe it or not, Kolb might generate more trade value even though Vick is clearly the better quarterback this year and now one of the most exciting products in the sport. The reason is age and salary. Vick has escalated his value to the franchise level -- between $14 million and $17 million a year. He's also 30 and takes a lot of hits. Kolb is 26 and can be signed to a more affordable contract. The Eagles may hold out for two first-rounders, but I think it's reasonable to get a No. 1 and a No. 3 for Kolb. He's an accurate thrower with a high percentage of completions. The Eagles made the bold move of trading Donovan McNabb. Now, they look like geniuses.
Q: Shouldn't Ken Whisenhunt get criticism for cutting Matt Leinart after the way that Derek Anderson and Max Hall have worked out? I fear that a personal vendetta has set this team back five years. Thoughts?
Brad in Scottsdale, Ariz.
A: Coach Whisenhunt probably deserves criticism because I don't know if Leinart could do as poorly as Anderson and Hall have done this year for the Cardinals. It's pretty clear Leinart and Whisenhunt didn't hit it off. Leinart never stepped up and took the leadership of the offense. He also struggled with his accuracy. During the preseason, there seemed to be a little more spark when Anderson was on the field. Probably, the best move would have been to keep Leinart as the backup and try Anderson as the starter. It's very clear Hall was not ready. By his third game, he appeared to be mentally lost. By cutting Leinart, the Cardinals left themselves in an all-or-nothing situation with Anderson, and the season turned out to be a nothing.
Q: As a Bills fan, I'm wondering about your take on Ryan Fitzpatrick beyond this year. Do you think they would be likely to draft a QB if they wind up with a shot at a potential franchise QB (say, Andrew Luck or Jake Locker), and do you think that they should?
Jeff in Canton, Ga.
A: Fitzpatrick earned a chance to be the short-term answer, but if the Bills don't take a quarterback to be the long-term answer in the first round, they are going nowhere. Fitzpatrick has put up nice numbers, but the numbers don't mean anything if you don't win games. Fitzpatrick is a very good backup, but he makes enough mistakes in the second halves of games that prevent the team from winning.
Q: At the beginning of the year you had your full QB rundown. In it you ranked Matt Cassel as the No. 22 QB slightly behind Jason Campbell, and you gave him a zero percent chance of being elite, and gave Campbell a 10 percent chance and Matt Moore a five percent chance. Would you like to change your stance?
Andrew in Newton, N.H.
A: Cassel is good, but he's not elite. The Chiefs' emergence has been keyed by pass-catchers who help Cassel with yards after the catch. I take criticism for having too many elite quarterbacks, so the class has to be select. Cassel -- like Kyle Orton and Mark Sanchez -- has moved up to the top of my second class of quarterbacks. I call them the Chad Pennington division. Those are quarterbacks who are good enough to get a team to the playoffs if the schedule is favorable and the offensive talent around them is decent.
Q: The Bengals' defense fell from No. 4 last year to No. 20 (and still falling) this season. Any chance their coaching staff may consider some personnel changes and switch from 4-3 to 3-4? A 3-4 scheme seems to make more sense in a pass-happy NFL. What do you think?
AJ in Corner, Pa.
A: That would be a horrible mistake. The personnel is better suited to a 4-3 because of the linebackers and cornerbacks. The defensive line would be too light for a 3-4, too. There have been more failures than successes in switches to the 3-4. The Cleveland Browns, New York Jets and San Francisco 49ers had to ax head coaches after 3-4 failures. The Jaguars tried it and stayed with the 4-3. The Bills have been a 3-4 bust. So have the Redskins.
MY THIRD-QUARTER GRADES (Click on video below for more)
Note: Grades are for third-quarter of season only, not overall grades for season.
NFC EAST: Philadelphia: A- | N.Y. Giants: B | Dallas: B | Washington: D
NFC SOUTH: Atlanta: A | New Orleans: B | Tampa Bay: C | Carolina: F
NFC NORTH: Chicago: A- | Green Bay: B+ | Minnesota: C | Detroit: D
NFC WEST: St. Louis: B | Seattle: C | San Francisco: C- | Arizona: F
---
AFC EAST: New England: A | N.Y. Jets: B | Buffalo: C | Miami: D
AFC SOUTH: Jacksonville: B+ | Indy: C | Houston: C | Tennessee: D-
AFC NORTH: Pittsburgh: A- | Baltimore: B | Cleveland: B- | Cincinnati: F
AFC WEST: Kansas City: B+ | San Diego: C | Oakland: C | Denver: F
John Clayton, a recipient of the Pro Football Hall of Fame's McCann Award for distinguished reporting, is a senior writer for ESPN.com.
NFL senior writer
Senior NFL writer and commentator
Joined ESPN in 1995
Member of the writers' wing of the Pro Football Hall of Fame in Canton, Ohio
SPONSORED HEADLINES
MORE NFL HEADLINES
MOST SENT STORIES ON ESPN.COM
NFL WEEK 14 PREVIEW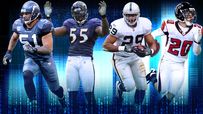 POWER RANKINGS
FINAL WORD
PICKS
HOT READ: Philip Rivers
COMMENTARY/BLOG POSTS
MNF: Ravens at Texans, 8:30 ET
FANTASY FOOTBALL
NFL BLOG NETWORK
FOLLOW US ON TWITTER