Commentary
NFC offensive line has peculiar feel
Conference's Pro Bowl front doesn't reflect ongoing transition
Originally Published:
December 29, 2010
By
John Clayton
| ESPN.com
There is an offensive line transition going on in the NFC, but the 2011 Pro Bowl roster isn't reflective of that.
QUESTIONS, PLEASE
Do you have a query for John Clayton?
Click here to send a note to his mailbag.
The decline of the NFC East this season has been, in part, due to the division's four offensive lines. The rise of the Atlanta Falcons and St. Louis Rams can be attributed to the improved play on their lines.
Still, Giants center Shaun O'Hara, who missed 10 games and has struggled since coming back from his mid-foot sprain, was selected. So was Dallas Cowboys center Andre Gurode, who leads the team with four holding penalties. Neither Atlanta nor St. Louis had an O-lineman selected.
Although the NFC boasts a great crop of young, powerful guards, the conference had an off season at tackle and center. The Pro Bowl roster bears that out. Tackles Chad Clifton of the Green Bay Packers and Jordan Gross of the Carolina Panthers made the team, even though they have combined for 15.5 sacks allowed.
Since 2007, NFC franchises have let their starting offensive lines get too old. In 2007, it was Chicago. The Redskins hit the age wall in 2008, the Cowboys last year and the Giants this season. Any time the combined age of the five starters goes over 150, bad things start happening.
From the inbox
Q: With the acquisition of Brandon Marshall, fans in Miami expected to see more action down the field. It seems Marshall is rarely being put in a position where he can get yards after the catch. So does that mean we have a problem with QB Chad Henne or coordinator Dan Henning?
Nick in Miami
A: The burden falls on Henning and head coach Tony Sparano. Henning will go out quietly and retire. Sparano is an odds-on favorite to be fired because of what happened with the offense. Everything was too conservative this year, and by being conservative Henne got worse, not better. I know it's the job of a coach to protect a young quarterback from making mistakes, but I contend that by staying conservative and not throwing downfield much on early downs you actually make it tougher on a quarterback. Defenses have been really good this year in dropping seven and eight guys into coverage and making young quarterbacks check down to the short options. The longer that happens in games, those defenses tend to jump routes and make interceptions.
Short takes
Eric in Washington can't understand why Mike Tomlin isn't being mentioned more for NFL Coach of the Year. Tomlin won three games without Ben Roethlisberger and kept the defense together when it was being flagged and fined for most hard hits. Great point, but it always seems first- or second-year coaches whose teams make big jumps get the nod. Tomlin should be considered, though. … Howard in Lanesborough, Mass., wanted to throw in Bill Belichick's name because of how he's started three to five rookies a game and numerous second-year players. Safe to say there are a lot of quality candidates. I'm sticking with Andy Reid. … Julian in Canton, Ga., asks, "Do you think Matt Ryan is underrated?'' Of course he is. Getting the Pro Bowl nod over Aaron Rodgers, though, is a good start for people recognizing his abilities. … Jorge in Patrick Air Force Base in Florida doesn't like the negative vibes around the Saints playing the second-easiest schedule in football. He notes no one expected Dallas, Minnesota, San Francisco and Cincinnati to be as bad as they were. You're right. I picked the Saints second in the NFC West because of what was supposed to be a tough schedule. You make a point. … Bruce in Portland is looking for head-coaching options if the Vikings don't keep Leslie Frazier. If they don't go the assistant route, I can see them looking at John Fox. … Jimmy in Milwaukee wonders if Lovie Smith doesn't get an extension even though his Chicago Bears won the NFC North. Smith will get his extension, but the Bears would like to wait until after the CBA is extended. … Brian in Bolder, Colo., is wondering what the Broncos are going to do with Champ Bailey. Bailey ended up as the first alternate to the Pro Bowl. I don't think they will get a deal done, and I think he will leave. They could have locked him up at midseason.
Q: I think it's about time we start recognizing Josh Freeman as the best QB from the 2009 draft class. In his first full season he has 23 TDs to only six picks with a 93.6 QB rating and is already breaking franchise records. It's not just about the stats, either. The guy flat out wins; he is carrying that team.
Matt in Streator, Ill.
A: There were some general managers who thought Freeman would eventually become the best quarterback in that draft. It's too early to make that declaration, but it's not too early to start the debate. Mark Sanchez landed on the best team, so he got the most victories over the first two seasons. Matthew Stafford ended up on the worst team and has paid the price with injuries. Freeman turned around a young Bucs franchise. As long as he doesn't go backward next season, you might be able to start the Freeman Campaign in 2011.
Q: After Vontae Davis' comments last Sunday, I am curious: Are teams really expecting the Lions to just lie down and die every Sunday? The worst team in the league this year, Carolina, has lost its games (so far) by over 200 combined points; the Lions have lost their games by a combined 78 points. As a Lions fan, his comments really rubbed me the wrong way.
Gary in Middlebury, Ind.
A: You can be satisfied that the Lions are going in a positive direction. The Dolphins aren't. Although the Dolphins may have more talent now, they're probably going to go through not only a coaching change, but a quarterback change in the next year. As long as Stafford can stay healthy in future years, the future should be bright for the Lions. The Lions have improved dramatically on offense. They need a couple of drafts to catch up on defense, but you could see the progress. Davis should have, too.
Q: I'm shocked at your statement that Andy Reid has remade Michael Vick. Granted, Reid gave Vick a chance by signing him, but he never gave him a chance to win the job as it was handed to Kevin Kolb. Had Kolb not gotten injured, we would have never seen this kind of year out of Vick. There was no competition in OTAs or training camp, and there was never a controversy over who would be the starter. Reid lucked out on this one, my friend, as he had no idea what he was getting.
Steve in Osprey, Fla.
A: Listen, we all lucked out on this one. Vick lucked out because he was able to resume his career and become a superstar again. Reid benefited because he has a quarterback who took him to another division title. We benefited because Vick has been the single most exciting thing in the game this season. Sometimes, they say it's better to be lucky than good. Reid is good, and he was lucky. Enjoy.
Q: I have to respectfully disagree with you about the NFC West playoff argument. Although I understand what you are saying about people overreacting, the main point should be focused on the fact you want to reward excellence, not mediocrity. I just don't get how you support the current system that is rewarding a team that isn't very good at all. I would rather have playoffs determined by wins than division races. Why are divisions more important than wins?
Eric in Jackson, Miss.
A: I hate to talk about the future when we have such a good debate about the present. Follow me on this one. By 2012, the NFL will have an 18-game schedule, and there will be push to expand the playoffs beyond 12 teams. That argument will win, and the league will have 14 or 16 playoffs teams. When that happens, there will be years in which teams make the playoffs with losing records. So the argument that the Seahawks shouldn't make the playoffs with losing record will be outdated as early as 2012. I agree that we shouldn't reward mediocrity, but mediocre teams are going to make the playoffs.
Q: There is a growing movement of people who believe teams with later byes are better off because they need the rest then, not in Week 4. Can you see the NFL going to interconference play in Weeks 8 and 9 and having the AFC off one week and the NFC off the following week?
Bart in Belgrade, Serbia
A: I am intrigued by your midseason interconference play idea, but I don't see the NFL doing that when the World Series is possibly still in play. You notice the NFL tends to shy away from having its best games going against the World Series. The only thing the NFL is reluctant to do is have two bye weeks in the season. The reason is that it will want to start the regular season after Labor Day. An 18-game schedule with two bye weeks doesn't work in a reworked schedule that has the Super Bowl in the middle of February. A thought that came to mind is having each team have a Thursday night game, which gives players a light week of practice before the Thursday night game and 10 days before the next one.
John Clayton, a recipient of the Pro Football Hall of Fame's McCann Award for distinguished reporting, is a senior writer for ESPN.com.
NFL senior writer
Senior NFL writer and commentator
Joined ESPN in 1995
Member of the writers' wing of the Pro Football Hall of Fame in Canton, Ohio
SPONSORED HEADLINES
MORE NFL HEADLINES
MOST SENT STORIES ON ESPN.COM
NFL WEEK 17 PREVIEW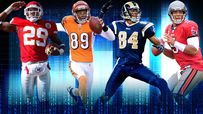 POWER RANKINGS
PICKS
HOT READ: BRIAN URLACHER
FINAL WORD
PRO BOWL ANALYSIS
COMMENTARY/BLOG POSTS
FANTASY FOOTBALL
NFL BLOG NETWORK
FOLLOW US ON TWITTER