Commentary
Nothing to labor over here
Originally Published:
March 28, 2011
By
John Clayton
| ESPN.com
Even though labor problems dominated the owners meeting last week, there was some pretty good football talk.
San Francisco 49ers coach Jim Harbaugh and other head coaches discussed the growing trend of quarterbacks being more mobile. Sure, pure pocket passers such as Peyton Manning, Tom Brady and others aren't dinosaurs. Their quick releases and decision-making ability make up for their lack of mobility.
QUESTIONS, PLEASE
Do you have a query for John Clayton?
Click here to send a note to his mailbag.
But there is a new generation of quarterbacks coming up who can win with their legs
and
with their arms.
"The ability to make people miss as a quarterback is critical," Harbaugh said. "We've got quarterbacks in this draft like Cam Newton and Blaine Gabbert and Jake Locker that not only will make people miss and avoid, but they can run and keep defenses out of certain coverages, which is quite the trait to have. And they can pick up first downs with their legs and keep the chains moving."
Steelers coach Mike Tomlin offered a good reason cornerbacks usually don't go in the top five selections. LSU cornerback Patrick Peterson is touted as one of the best players in the draft and even a potential first overall pick. (Check out KC Joyner's Insider column here.)
"I think defensively, it generally starts with the men up front," Tomlin said. "I think you look at how players are drafted. It bears that out. Big people go first. If you are applying pressure to the quarterback, you don't have to cover. If you're stopping the run, you don't have to cover."
Finally, Eagles coach Andy Reid offered a nice anecdote about what quarterback Kevin Kolb could offer a team in a trade. He remembered a conversation he had with then-Seahawks coach and general manager Mike Holmgren in 2001 at the combine about Matt Hasselbeck, who was on the Packers' roster at the time.
"I said, 'Matt Hasselbeck will come in and help you win a championship,'" Reid said. "That's how I feel about Kevin Kolb. So whatever you pay for him, pay for him, go get him."
Once there is a CBA, Kolb will be one of the league's hot trading commodities.
From the inbox
Q: The current ESPN poll reflects a vast majority of fans are against the kickoff rule change. Why does the NFL keep implementing rules that its fans (customers) are against?
Victor in Albuquerque, N.M.
A: Safety is the answer in this case. Kickoffs will be moved to the 35-yard line and coverage players will get only a 5-yard running start instead of 10 or 15 yards. In theory, this will curtail collisions. If it doesn't work, they'll make adjustments. I remember the outcry last year when the NFL eliminated the three-man wedge. As it turned out, the league was right. Injuries came down slightly, and the league had one of its best years for kickoff returns. Still, like you, I think moving kickoffs is a little too drastic. It encourages too many touchbacks at the expense of the returns.
Short takes
John in Port St. Lucie, Fla., can't figure out why a special rule can't be made to allow trades, especially before the draft. This is a labor issue and no player can be signed, traded or released until a new CBA is reached. … Pete in Syracuse wonders what kind of shape running back Tiki Barber is in and where he might sign. I'm sure he's in great shape, but I'm not sure there is much of a market. … Ryan in Hamilton, Calif., has a good question: "If you were building a team, what would come first, a good quarterback or a good offensive lineman?" It's a quarterback-driven league. You always take the quarterback first. … Timothy in Scottsdale, Ariz., sees another JaMarcus Russell in Auburn QB Cam Newton. He'd rather see the Cardinals take Texas A&M linebacker Von Miller or LSU cornerback Patrick Peterson with their first pick. I think Newton will be the first pick, but you're right on the direction the Cardinals should go. … Davis in Seville, Ohio, is a Browns fan. He wants to know if it is going to be hard for Pat Shurmur, the team's new head coach, to get his offense and defense in place if the lockout is long. I forecast a long season for any team with a new coach and a late start. … Alejandro in Phoenix can't figure out why Dan Snyder and the Redskins always get criticized when they sign big-name free agents. You're probably right that sometimes the criticism is unfair. Snyder wants to win. But the signings through the years have tended to hurt more than help. Winning stops the criticism. … Josh in Winston-Salem, N.C., doesn't buy my argument that the Bengals will be looking at Florida State QB Christian Ponder in the draft. He thinks four or five other quarterbacks in the draft are better than Ponder. The hiring of Jay Gruden puts a West Coast spin to the Bengals' offense, which makes Ponder and TCU's Andy Dalton better fits than most of the other quarterbacks for Cincinnati. … Derrike in Grantville, Pa., is reading a lot of mock drafts that have his Tennessee Titans taking Auburn defensive tackle Nick Fairley or Newton. He can't see why the Titans would consider Newton after going through the Vince Young experience. Though I can see them taking Missouri QB Blaine Gabbert if he is around, you're right in thinking Newton would be similar to Young. … Matt in Minnesota wonders if getting Eagles QB Kevin Kolb is the best answer for his Vikings. I'd say yes. Kolb could put them back at the 10-win level. Kolb would a short- and a long-term answer. … Architek in Dallas has heard the unrest in the Tampa Bay Buc Nation about bringing back linebacker Barrett Ruud. There shouldn't be any question: He's a tough player and a player the Bucs must bring back. … Tim in New Haven, Conn., wants a rewind of the 2004 trade that sent Eli Manning to the Giants and Philip Rivers to the Chargers. Both teams are winners. This was a perfect deal. Manning had no confidence in the Chargers. Rivers is the perfect leader for the Chargers. Manning has his ring, and Rivers can get one in the future. … Joe in Amherst, Mass., wants to know if linebacker Nick Barnett is going to be back with the Packers. With A.J. Hawk getting a $6.75 million-a-year contract, it's going to be hard to fit in Barnett's salary. I think he'll be cut or traded.
Q: What do you see the 49ers doing in the draft? Since it doesn't look like they can trade for Kevin Kolb before the draft, do you see them targeting someone like Andy Dalton or Christian Ponder in the second round and going defensive with their first pick?
Joe in Erie, Pa.
A: That's exactly what I think they will do -- defense first, quarterback second. One problem is getting the quarterback in the second round. Florida State's Ponder isn't going to fall below Cincinnati's pick in the second round, and there is a chance TCU's Dalton could be gone by the time San Francisco picks in the second round (45th overall). What might have to happen is the 49ers trade up in the lower part of the first round or top of the second to get the quarterback whom they prefer.
Q: Do you think Carson Palmer's future depends on the owners and players reaching an agreement before the draft? In other words, if a deal isn't reached and players can't be traded, would the Bengals consider taking a 2012 draft pick for Palmer or would they just let him ride off into the sunset?
Fil in Miami
A: The Bengals won't trade Palmer under any circumstance. You can count on that. Owner Mike Brown is not going to open the door to other players asking for trades by fulfilling Palmer's request. I do believe Palmer will miss the season. We'll see if that changes Brown's mind for the 2012 season and whether or not he would trade him then. This isn't affected by labor talks whatsoever. The decision is already made -- on both sides.
Q: Raymond in Indianapolis wonders if the new kickoff rule will mean teams will be less hesitant to use an onside kick. In 2010, kickoffs were from the 30, meaning the opposing team could recover the ball at the 40 after it traveled the required 10 yards. With the change, teams can recover an onside kick at the 45. "Five yards is a lot in special teams," Raymond writes. "Conversely, that is five yards they don't have to worry about defending if they do not recover it. Currently, if you fail on an onsides attempt, the returning team gets the ball right on the edge of field-goal range for big-leg kickers."
A: That difference would be minimal because you are still giving the ball to the other team in your territory if you try an onside kick and fail.
Q: Matt in Cromwell, Conn., wants insight into the lockout, specifically about fallout from the April 6 date in federal court. "I know the judge can rule the lockout invalid, but what does that do to the financial rules for 2011?" Matt writes. "Can the judge REALLY tell owners how to run their business?"
A: You are asking the $9.3 billion question of the moment. A federal judge in St. Paul, Minn., shouldn't tell owners how to run their business. If Judge Susan Nelson overturns the lockout, I get the feeling the league wants as many antitrust exemptions as possible in order to get the players back on the field. I don't think she will grant them. She could order the owners to lift the lockout, and if she doesn't give the league immediate relief in keeping the lockout in effect until an appeal is heard, the NFL faces a tough decision. Does it operate with a system that leaves it vulnerable to treble damages or does it simply shut down the league for a season? Anything can happen, which is why both sides need to sit down and work this out.
Q: I have been a Redskins fanatic since '73. That being said, it seems to me that it would make more sense to TRY and keep Donovan McNabb even though his interceptions were up. ... With another year of familiarity with the offense, good things can happen. His trade stock goes up and it allows the team to draft a QB in the second round to groom. The cost would be low and Rex Grossman is NOT the answer, even short term. Thoughts?
Mike in Salem, Ore.
A: I would go with you, but I'm not Mike Shanahan. There is no way McNabb should be back. Though owner Dan Snyder wants him back, McNabb was treated horribly by Shanahan. A starting quarterback must have the confidence of the head coach and offensive coordinator, but that's clearly not the case here. Both sides need to move on.
Q: The owners opted out of the CBA because they obviously were unhappy with it. The players liked the status quo. So shouldn't the players be coming down on their demands instead of getting more out of the situation? Issues do need to be resolved (18-game schedule, pension, health care), but the money split displeased the owners!
Nes in Oxford, Ohio
A: The players have tried to come down a little and will come down more if they get a chance to make a counteroffer. Don't minimize their offer to take 50 percent of all revenue: that percentage was the least the union would have received from 1993 to 2009. I think they'd be willing to drop to 48 percent of all revenue. On the negotiating side, this is a situation that would be resolved in three to five days with a couple of counteroffers. With the lawyers involved, it could now take months.
John Clayton, a recipient of the Pro Football Hall of Fame's McCann Award for distinguished reporting, is a senior writer for ESPN.com.
NFL senior writer
Senior NFL writer and commentator
Joined ESPN in 1995
Member of the writers' wing of the Pro Football Hall of Fame in Canton, Ohio
SPONSORED HEADLINES
MORE NFL HEADLINES
MOST SENT STORIES ON ESPN.COM
2011 NFL DRAFT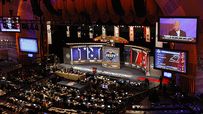 DraftTracker
|
Trade Tracker
|
Team talk
Gallery: Draft photos
|
Draft blog
PICK-BY-PICK ANALYSIS
TEAM-BY-TEAM PICKS
DIVISION DRAFT REVIEWS
ANALYSIS
NFC COLUMNS/BLOG POSTS
AFC COLUMNS/BLOG POSTS
SPORTSNATION
ESPN LOCAL DRAFT CENTERS
ESPN W
ESPN FAN SHOP