Commentary
Bad things come in threes on schedule
Seven teams must deal with the burden of three consecutive road games in 2011
Originally Published:
April 20, 2011
By
John Clayton
| ESPN.com
To its credit, the NFL tweaks the way it does its schedule each year.
Of course, no schedule-maker can compensate for labor problems. If the lockout continues until August, the quality of play will suffer and only the teams with established coaches, systems and quarterbacks will be good. The 2011 season will be a write-off.
2011 NFL Schedule

The NFL released the 2011 schedule on Tuesday. ESPN.com's John Clayton breaks down the matchups to see this season. Story
• Clayton: NFC East gets breather
---


How does your team's schedule break down? ESPN.com's NFL bloggers outline the highs and lows of the 2011 schedule. NFL | AFC | NFC
• 2011 schedule | MNF
• SN: Schedule questions | Best game?
• Stats & Info: Benefits of weak slate
But if both sides can reach an agreement or Judge Susan Richard Nelson lifts the lockout, then the scheduling formula has a chance to succeed for competitive balance.
What I like about this year's schedule is a better distribution of divisional games. What I didn't like was that seven teams got three-game road trips, which is two or three teams too many. The three-game trip may work in baseball, but it's a killer in the NFL.
Let's deal with the bad first. To create a schedule that fits the stadium availability of all teams, three-game trips are unavoidable. The league works a few computer programs to minimize the number of teams that have to play three consecutive road games. Unfortunately, seven teams will suffer that burden this season, and four of those teams could find it fatal.
It's stunning to see the Arizona Cardinals, Buffalo Bills and Carolina Panthers -- teams with combined 2010 records of 11-37 and combined road records of 3-21 -- getting three-game trips in November. The Cleveland Browns, who were 5-11 overall and 2-6 on the road, have three straight road games in December.
Since 1990, there have been 110 three-game trips. Nine teams went 3-0 and 30 teams went 2-1, but 71 teams had losing experiences in those stretches. Eighteen teams went 0-3.
The tough part for Arizona, Buffalo, Carolina and Cleveland is that they could be out of their division races by that time anyway, but if they aren't, this could be the knockout blow. The Bills, for example, play the Cowboys, Dolphins and Jets from Nov. 13 through Nov. 27. Those games start well after Buffalo's bye week, so there is no break to get injured players healthy.
Plus, each of those four teams are either going through quarterback transitions or have young quarterbacks. They could all go 0-3.
The other three teams with three consecutive road games are the Indianapolis Colts, New Orleans Saints and New York Jets. Thanks to Peyton Manning's no-huddle offense, the Colts may be the best-suited to handle three-game trips. Manning, in fact, plays some of his best football on the road. The Colts face the Bengals, Saints and Titans from Oct. 16 through Oct. 30. The Saints play Jacksonville, Carolina and Tampa Bay from Oct. 2 through Oct. 16.
Rex Ryan and the Jets simply don't care. Ryan told Jets reporters Tuesday night that the home teams during a three-game trip have to worry because they are playing the Jets, who travel to Oakland, Baltimore and New England from Sept. 25 through Oct. 9.
On the positive side, the NFL readjusted the balance of divisional games. After the 2009 season, commissioner Roger Goodell was rightfully concerned about division winners who wrapped up their titles in early December and were sitting starters for the final few weeks.
The competition committee backed him by pushing more divisional games into the final four weeks. Last year was the first time the league had all 16 games in Week 17 devoted completely to divisional play. In the final four weeks of the 2010 season, 36 of the 96 divisional games were played, 45 in the final five weeks. This year, the league has 26 divisional games in the final two weeks -- six more than last season -- including 16 in Week 17.
The problem with having more than 40 percent of the divisional games in the final five weeks is that it robs from the early and middle part of the schedule.
For this year's schedule, the NFL tried a new trick. It scheduled eight divisional games in Week 1 and eight more in Week 3, but none in Week 2 and Week 4. Good move. Thus, in two of the first three weeks, the NFL can promote the early stages of divisional races.
One of the problems I had with last year's schedule was not having many divisional games in the heart of the season. From Weeks 5 through 9, for example, 13 divisional games were played, including only one each in Weeks 5 and 8.
This year, there is better balance. From Weeks 5 through 9, the fewest number of divisional games is three in Week 7. Four or five divisional games are spread out over the other weeks, a very fair distribution. And the great part is that the number of divisional games during the first nine weeks came out close to last year: 38 in 2010, 37 in 2011.
Now if we can just weed out those three-game trips.
John Clayton, a recipient of the Pro Football Hall of Fame's McCann Award for distinguished reporting, is a senior writer for ESPN.com.
NFL senior writer
Senior NFL writer and commentator
Joined ESPN in 1995
Member of the writers' wing of the Pro Football Hall of Fame in Canton, Ohio
2011 NFL DRAFT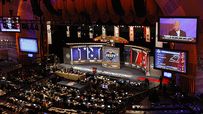 DraftTracker
|
Trade Tracker
|
Team talk
Gallery: Draft photos
|
Draft blog
PICK-BY-PICK ANALYSIS
TEAM-BY-TEAM PICKS
DIVISION DRAFT REVIEWS
ANALYSIS
NFC COLUMNS/BLOG POSTS
AFC COLUMNS/BLOG POSTS
SPORTSNATION
ESPN LOCAL DRAFT CENTERS
ESPN W
JamesWalkerNFL

James Walker


#Temple is going through one of its extra long offensive droughts vs. the #Hurricanes. The #Owls have been prone to this for years.
about a minute ago

mikerothstein

Michael Rothstein


Lions to DeAndre Levy: 'Don't fall' http://t.co/qu5tgU6lv6 via @espnnfl
22 minutes ago

LRiddickESPN

Louis Riddick


WR Dorial Green-Beckham risk profile not just off field behavior. Basically ran 3 routes at Mizzou, & didn't run one of them (slant) well.
28 minutes ago

mikerothstein

Michael Rothstein


Joe Lombardi said he wants to see what Ryan Broyles can do. First offseason he has been healthy. #Lions
42 minutes ago

mikerothstein

Michael Rothstein


The #Lions did discuss DeAndre Levy's wing-walking. Tom Lewand said team's official position is "Don't fall."
49 minutes ago

mikerothstein

Michael Rothstein


New special teams coach Joe Marciano is super intense. No question about that. Passionate dude. #Lions
50 minutes ago

mikerothstein

Michael Rothstein


#Lions coach Jim Caldwell found out about the Haloti Ngata trade after it broke on Twitter.
51 minutes ago

mikerothstein

Michael Rothstein


#Lions town hall over. Austin says defense will be multiple this season including 4 and 3 man fronts.
52 minutes ago

AdamSchefter

Adam Schefter


Like Jameis Winston, Marcus Mariota does not plan to attend NFL Draft in Chicago, per league sources. Top 2 QBs, maybe top 2 picks, now out.
about an hour ago

AdamSchefter

Adam Schefter


Marcus Mariota told NFL it is important to him, personally and culturally, to be in Hawaii to celebrate next step in life. No draft for him.
about an hour ago

AdamSchefter

Adam Schefter


Like Jameis Winston, Marcus Mariota does not plan to attend NFL Draft in Chicago, per league sources. Top 2 QBs, maybe top 2 picks, now out.
about an hour ago

RichCimini

Rich Cimini


RIP, John Buschhorn (aka Buschie), popular former #Jets ticket manager. Wonderful remembrance here by @eallenjets. http://t.co/Wv3gupI6tT
about an hour ago

taniaganguli

Tania Ganguli


Texans have interest in Antonio Smith for ninja assassin reunion: HOUSTON -- When he departed Houston,... http://t.co/8P3eSKwdrZ #Texans
about an hour ago

john_keim

John Keim


Also from earlier. Analyzing mcshay's latest mock. #Redskins. http://t.co/OrKScmyFZd
about an hour ago

JamesWalkerNFL

James Walker


I knew Temple's D would give the #Hurricanes problems. But when the #Owls also are making shots they are hard to beat. #NIT
about an hour ago

john_keim

John Keim


From earlier: some #s on garçon. Where things changed -- and can improve #Redskins http://t.co/kJDv2U68Hn
about an hour ago

toddarcher

Todd Archer


Tony Romo already attacking offseason: IRVING, Texas -- For the first time since 2012, Tony Romo's of... http://t.co/VNUax2Aq5Y #Cowboys
about an hour ago

stlstadium

#STLNFL Task Force


Here is Dave Peacock's statement: http://t.co/L4VNj3Qz2E #STLNFL #STL
about an hour ago

JamesWalkerNFL

James Walker


Good start so far by my #Owls. Their defense is giving the #Hurricanes issues early. #NIT
about an hour ago

WilliamsonNFL

Matt Williamson


Tune into @ESPN1000 in Chicago at 7:30 when I am on talking #NFL offseason
about an hour ago
Nike Women's Indianapolis Colts Upkilter Blue Mid-v T-shirt Shop »

MOST SENT STORIES ON ESPN.COM