Commentary
Pats-Colts is big, but it doesn't decide anything
Patriots-Colts is a big game for sure, but it ultimately might mean little in the big picture, writes John Clayton.
Originally Published:
November 1, 2007
By
John Clayton
| ESPN.com
Everyone agrees that Sunday's Colts-Patriots showdown is like a midseason championship game. With two unbeaten teams at this stage of the season, the NFL hasn't had a regular-season game quite like this one.
But ultimately will it be meaningful? There is a chance it might. Although the goal to gain a tie-breaking edge for a future meeting in the playoffs, less might be riding on this game than people think.
Tony Dungy has been hinting at it all week. The Colts' coach knows his team has a much tougher closing schedule than the Pats, who -- face it -- have a patsy schedule because of the ineptness within the AFC East. The Colts could win Sunday's game but not win home-field advantage throughout the playoffs.
In other words, the road to the Super Bowl might go through Foxborough regardless of Sunday's outcome.
The Colts' closing schedule consists of teams that are currently 36-29, a tough .554 road that includes Sunday's game against the 8-0 Patriots. Their second-half schedule features four games against teams with winning records. The toughest challenges will be trips to San Diego and Baltimore against tough 3-4 defenses.
Also ahead are three tough AFC South games. The good news for the Colts is that they've already beaten each divisional rival on the road, so Jacksonville, Houston and Tennessee must go to the RCA Dome as significant underdogs.
The Patriots have a .492 closing schedule, including the Colts game. They have only three games against winning teams after the Colts -- the Steelers, Ravens and Giants. They have three divisional games against teams with combined 4-19 records. Two of those games are at home.
That does put more pressure on the Colts to win than the Patriots. Home-field advantage could determine which of these two teams will be in the Super Bowl. Both teams are so much better than the rest of the league that each should be 13-3 at the worst.
But the Colts could beat the Patriots and lose to the Chargers in Week 10. The Patriots, with their schedule, would be playing better odds to regain the home edge.
Bill Belichick also can gain ground in the final two weeks of the season. The aggressive coach isn't about to bench players in the final weeks of the season to spare them from injuries. Over the past few weeks, he's shown he's going to try to shatter any team or individual record within reach. Under those circumstances, Tom Brady should break Manning's touchdown record and the team could be the first in football history to average more than 40 points a game.
Dungy has shown a history of resting Manning and key starters late in the season. If the AFC South is clinched, the Colts might ask backup QB Jim Sorgi to sweep season-ending home games against the Texans and Titans. That would give the Patriots another shot at coming out with the AFC's best record.
Obviously, Sunday's game is important for both teams, but it's really only the first step for the Colts.
1. Baltimore at Pittsburgh: A year ago, the Ravens handled Steelers quarterback Ben Roethlisberger like a punching bag. They blitzed. They slipped through missed blocks. They pounded him.

Quarterback
Pittsburgh Steelers
2007 Season Stats

| | | | | | |
| --- | --- | --- | --- | --- | --- |
| Att | Comp | Yds | TD | Int | Rat |
| 192 | 124 | 1414 | 15 | 6 | 102.2 |
Now, Roethlisberger is standing tall and the Ravens aren't. Healthy and confident, Roethlisberger sits atop the AFC North with a chance to gain some distance on the Ravens. He's grown at quarterback. The Ravens have regressed. A victory would give the Steelers a 6-2 record and a two-game lead that the Ravens probably won't be able to overcome.
The Steelers' closing schedule is pretty easy. The Ravens' is impossible. Unable to take advantage of the league's easiest opening schedule, the Ravens are at 4-3. Seven of the Ravens' final nine games are against good teams.
Sure, injuries have been a factor. Steve McNair has looked old because of injuries and has missed three starts. The offensive line has used three rookies. The secondary has been banged up. Ray Lewis is playing hurt. Last year, the Steelers were the team on the ropes, and the Ravens delivered the knockout punch. Ravens coach Brian Billick has to prevent the standing eight count.
2. Dallas at Philadelphia: Fans have been so preoccupied with the Eagles' inconsistency, they might have forgotten that Terrell Owens was coming to town. Why boo Owens when you can boo the offense, right?
This game is the season for the Eagles. If they lose, they will be four games behind the Cowboys and will have to start thinking about next season. A win would get them back to .500, but it would only be one step in trying to climb back into the playoff race.
First to worst wasn't the plan for the Eagles. Quarterback Donovan McNabb knew the season was going to be tough coming off a knee reconstruction, but the organization might have to think about reconstruction if the Eagles fall to last place in the always competitive NFC East.
The Eagles have the toughest closing schedule in the NFC East and have been the least consistent of the teams. Sunday night is total desperation.
3. Green Bay at Kansas City: Packers QB Brett Favre put the play back in the play-action pass by throwing long touchdown passes to James Jones and Greg Jennings on Monday night against the Broncos. But for the play-action to stick, the Packers will have to run the ball against a team that actually can stop the run.
The Broncos are so bad against the run that Jim Brown could come out of retirement and gain 100 yards against them. Ryan Grant rushed for 104 yards on Monday night. The Chiefs won't be as easy to run against. They rank 17th in rushing defense, giving up 108.7 yards a game, so more will fall on Favre to try to win back-to-back road games.
The good news for Favre is the Chiefs don't have much of an offense. They are averaging only 14.5 points, and the Packers are pretty good on defense. As long as Favre doesn't commit many turnovers, he will be only one or two big plays away from beating the Chiefs in the final quarter. On a short week, though, this could be a trap game for the Packers.
4. Carolina at Tennessee: The Panthers can't feel too good about their chances of putting together winning streaks. They go week to week seeing if QB David Carr can bend over center without wincing or if Vinny Testaverde can find youth in his old legs. Last week, Carr's back seemed older than Vinny's legs, and the Panthers were blown away by the Colts.
If Carr can make it to kickoff, he'll have to stare across at one of the better defensive lines in football.
Albert Haynesworth
is destroying blockers from his defensive tackle position and
Kyle Vanden Bosch
is pounding quarterbacks. Testaverde had a sore Achilles in a boot most of the week. He's only one hit or one bad twist of Carr's back away from being in the game. The Titans can continue pushing for a top wild-card spot if they can keep the pressure on the Panthers' quarterbacks and come out with a win.
5. Denver at Detroit: The Lions traded CB Dre' Bly because they thought he became a bad influence in the locker room. Bly is one of the league's good guys, but he grew tired of losing. In Detroit, Bly felt he was a leader on a team going in the wrong direction. It has to strike him as strange that the Lions are the team on the rise and the Broncos are falling.
Bly and Champ Bailey will be challenged against WRs Roy Williams and Calvin Johnson. They had enough trouble trying to stop Jennings and Jones on Monday night, and these Lions receivers are more talented. Bly still is stinging from giving up the game-winning touchdown pass to Jennings and wants to make amends. He'll get his chance.
Lions offensive coordinator Mike Martz spent the past two games establishing the run with Kevin Jones at halfback and converted defensive lineman Jon Bradley leading the way as a blocking fullback. With that job done, Martz can get back into his aggressive passing game.
6. Arizona at Tampa Bay: Bucs QB Jeff Garcia simply had a bad game against Jacksonville in Week 8. He didn't blame the diminished backfield. He didn't blame his receivers. It was just one of those games, but the Bucs can't afford a repeat. At 4-4, they don't want to slip below .500 and fall behind the Panthers in the NFC South or give the resurgent Saints the chance to pass them.
The Cardinals are coming off a much-needed bye week, giving QB Kurt Warner the chance to adjust to the protective device on his left elbow. He had a gutsy performance before the bye against the Redskins and almost pulled out a victory. That's been the tough thing for coach Ken Whisenhunt. The Cards have been so close. They've lost three games by three points or less.

Running Back
Seattle Seahawks
2007 Season Stats

| | | | | | |
| --- | --- | --- | --- | --- | --- |
| Rush | Yds | TD | Rec | Yds | TD |
| 135 | 460 | 2 | 11 | 55 | 0 |
7. Seattle at Cleveland: Head coach Mike Holmgren promised changes in the Seahawks' running offense. He's moved Floyd Womack into a rotation at guard to add more power. He's adjusted some plays for halfback Shaun Alexander, who is getting a lot of criticism for his slow start. The Seahawks are averaging only 92.6 rushing yards a game, and if they are going to take complete command of the NFC West, they need to get the running game going now.
An old friend returns to Cleveland in a strange role. Charlie Frye, the Browns' starting quarterback at the beginning of the season, comes back as the Seahawks' third-stringer with virtually no chance of playing. Since Frye's trade to the Seahawks, the Browns and Derek Anderson have established one of the more exciting offenses in the AFC. Who would have predicted that?
8. Cincinnati at Buffalo: Bills QB J.P. Losman has a chance for redemption. A knee injury after two weeks cost him his starting job. Buffalo head coach Dick Jauron liked what he saw from rookie Trent Edwards and gave Edwards his endorsement as the starting quarterback for the rest of the season. Then, Edwards hurt his wrist, giving Losman one more chance. He has to make the best of it.
Bengals quarterback
Carson Palmer
has been looking for a defense that will allow
Chad Johnson
and Co. to have a big day. Though the Bills have improved lately on defense, this could be that game for them.
9. Jacksonville at New Orleans: Gray skies continue to hang over Jack Del Rio and the Jaguars. First, they have to play two more road games with Quinn Gray as their starting quarterback. Now, Marcus Stroud faces a four-game suspension for violating the league's steroid policy, robbing Jacksonville of its premier defensive player.
In case you've been sleeping, the Saints, despite a 0-4 start, are emerging as the team to pick in the NFC South. They've won three in a row and have a .388 closing schedule, one of the easiest in football.
10. San Diego at Minnesota: The Chargers regained some of their swagger in Week 8, dispatching the Texans in a little over a quarter. Now, they have to win a road game against a Vikings team that has issues at quarterback. Tarvaris Jackson is back starting despite a broken bone in his index finger. The game features LaDainian Tomlinson going against Adrian Peterson.
John Clayton, a member of the Pro Football Hall of Fame writers' wing, is a senior writer for ESPN.com.
NFL senior writer
Senior NFL writer and commentator
Joined ESPN in 1995
Member of the writers' wing of the Pro Football Hall of Fame in Canton, Ohio
PATRIOTS BEAT COLTS, 24-20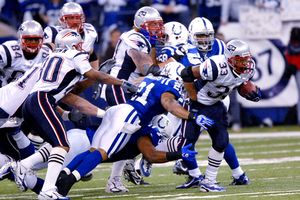 It's a battle of unbeatens ... and a possible AFC title game preview. It's Brady vs. Manning. Belichick vs. Dungy. It's 8-0 New England vs. 7-0 Indianapolis in Week 9 at the RCA Dome.
Sunday Countdown, (ESPN, 11 a.m. ET)
• In a report by Greg Garber, Hall of Fame QBs weigh in on the matchup of future Hall of Fame QBs Peyton Manning and Tom Brady. Also, special guest analyst Bill Parcells joins the crew to help cover every crucial angle of the epic matchup.
Commentary/features
•
Predictions: ESPN experts make their picks
•
Pasquarelli: Colts, Patriots take different paths
•
Clayton: Colts face Pats' big weapons
•
Sando: Manning or Brady? Experts make the call
•
Garber: Hall of Famers assess Manning, Brady
•
Drehs: Colts' Sanders a small wonder
•
EA Sports video: How they use Sanders
•
Chadiha: NFL's Top 5 rivalries
•
Power rankings: Pats No. 1, Colts No. 2
•
AccuScore: Pats have the edge
•
Clayton: Belichick seeks to run it up
•
Pasquarelli: Colts can finally focus on Pats
•
TMQ: It's an NFL battle of good vs. evil
Page 2
•
Got a problem? Ask coach Belichick
•
Inside the brain of ... Adam Vinatieri
•
Hill: Just call him Suge Belichick
•
Gallo: Secrets facts about Colts and Pats
•
Animation: Belichick's Cleveland years
Video
•
Colts, Patriots gamebreakers
•
EA Sports: How Colts use Sanders
•
Colts relishing underdog role
•
Cowboys' Crayton wants Colts to beat Pats
•
Keyshawn on Pats-Colts
•
Schlereth: Belichick breaking unwritten rules
•
Ismail: Colts, Pats right there together
•
Fassel: Teams must block out hype
•
Colts' Jackson ready for the Pats
Audio
•
Mike & Mike: Jimmy Johnson's preview
•
Jaws: Previewing Super Bowl XLI½

•
Freeney: Colts won't change approach

•
Patriots-Colts debate
•
Crayton: Colts have a great shot

•
Phil Simms on Brady-Manning

•
Jaws: QBs are pleasure to watch

Scouts Inc.
•
Horton: Both offensive lines are underrated
•
Green: Addai is offensive X-factor
•
Kidd: Maroney gives Pats another weapon
•
Maalouf: Pats have edge in punt game
•
Six keys to beating the Pats and Colts
•
Pats vs. Colts: Tale of the tape
•
Take 2: Pats-Cowboys scouting report
•
Colts' secondary will get physical
•
Cowboys' safeties are vulnerable
•
Follow this red-zone checklist
•
Wayne emerging as Colts' No. 1 receiver
•
Patriots-Colts scouting report
•
Seymour's return big for Pats
•
Clark, Welker play big roles
SportsNation
•
Who will win? Who's the better QB?
•
Where does the Colts-Pats rivalry rank?
Community
•
Got an opinion on the game? Let's hear it
•
Colts good, Patriots evil?
•
Sound off on Belichick's no-mercy approach
Manning vs. Brady: Previous results
•
Sept. 30, 2001 (at NE):
Patriots 44, Colts 13
•
Oct. 21, 2001 (at Indy):
Patriots 38, Colts 17
•
Nov. 30, 2003 (at Indy):
Patriots 38, Colts 34
•
Jan. 18, 2004 (at NE):
Patriots 24, Colts 14 *
•
Sept. 9, 2004 (at NE):
Patriots 27, Colts 24
•
Jan. 16, 2005 (at NE):
Patriots 20, Colts 3 **
•
Nov. 7, 2005 (at NE):
Colts 40, Patriots 21
•
Nov. 5, 2006 (at NE):
Colts 27, Patriots 20
•
Jan. 21, 2007 (at Indy):
Colts 38, Patriots 34 *
* = AFC championship game
** = AFC divisional playoffs
2007 Results
NEW ENGLAND (8-0)
•
Game 1:
Patriots 38, Jets 14
•
Game 2:
Patriots 38, Chargers 14
•
Game 3:
Patriots 38, Bills 7
•
Game 4:
Patriots 34, Bengals 14
•
Game 5:
Patriots 34, Browns 17
•
Game 6:
Patriots 48, Cowboys 27
•
Game 7:
Patriots 49, Dolphins 28
•
Game 8:
Patriots 52, Redskins 7
•
Patriots clubhouse page
INDIANAPOLIS (7-0)
•
Game 1:
Colts 41, Saints 0
•
Game 2:
Colts 22, Titans 20
•
Game 3:
Colts 30, Texans 24
•
Game 4:
Colts 38, Broncos 20
•
Game 5:
Colts 33, Bucs 14
•
Game 6:
Colts 29, Jaguars 7
•
Game 7:
Colts 31, Panthers 7
•
Colts clubhouse page


MOST SENT STORIES ON ESPN.COM