Commentary
A lot working against Broncos
After three straight losses, Denver brings QB concerns into showdown with Chargers
Originally Published:
November 19, 2009
By
John Clayton
| ESPN.com
The Denver Broncos enter Sunday's showdown against the San Diego Chargers knowing they will be playing at home in the mile-high altitude. Will they leave the field with their emotions below sea level?
For the second consecutive season, the Broncos have blown a big lead in the AFC West. In 2008, they blew a three-game lead in the final three weeks and lost the division tiebreaker to the Chargers. This year, they have blown a 3½-game lead over the past three weeks.
QUESTIONS, PLEASE
Do you have a query for John Clayton?
Click here to send a note to his mailbag.
Suddenly, the momentum has shifted to the Chargers. Sure, the Chargers have problems. LaDainian Tomlinson didn't have his best game until Week 10 against Philadelphia. San Diego still is inconsistent on defense, with injuries still nagging at key spots.
But the Broncos have bigger worries. The Ravens and Steelers found strategies that worked against Denver. Second-half no-huddle offenses affected the ability of the Broncos' defense to make adjustments, and the Ravens and Steelers took away the Broncos' ability to make yards after the catch, handcuffing quarterback Kyle Orton.
In Week 10, Redskins quarterback Jason Campbell didn't even have to go to the no-huddle against Denver. Instead, the Redskins' offensive line simply overpowered the Broncos' front seven. To make matters worse, Orton twisted his ankle and is questionable for Sunday's game. Chris Simms was ineffective coming off the bench to replace Orton.
The ankle injury to Orton is particularly troubling. Last season in Chicago, he suffered a high-ankle sprain and wasn't the same quarterback during the second half of the season. Not blessed with a strong downfield arm, Orton is at his best when he's managing the game and working a short passing game. The better his receivers are at making yards after the catch, the better he is. What Orton has been particularly good at this season is stepping into those short throws and delivering the ball with velocity.
In retrospect, Orton probably made a mistake last season in coming back from his injury too soon, but he was just trying to be a great teammate. The question facing Broncos coach Josh McDaniels is whether Orton at 80 or 90 percent is good enough to compete against San Diego's Philip Rivers, who continues to emerge as one of the league's elite quarterbacks.
The Chargers have won five of their past seven games against the Broncos, but Denver won the last meeting on Oct. 19. San Diego used that 34-23 loss as motivation; it hasn't lost since.
The Chargers must win Sunday to avoid giving Denver a potential tiebreaker at the end of the season. Unlike last season, the division won't be decided by the outcome of this game, but we'll have a good idea about where each franchise is headed.
On to the rest of this week's First and 10 ...
1. Indianapolis Colts at Baltimore Ravens: Peyton Manning and Joe Flacco will be the focal points, but the sidebar might be Colts kicker Matt Stover. The Ravens decided not to re-sign the veteran kicker this past offseason to give Steve Hauschke the place-kicking duties. John Harbaugh, a former special teams coach, naturally wanted to build his special teams around a good, young kicker as opposed to going year to year with Stover, 41. But Hauschke has missed four key field goals this season, including one that cost the Ravens a victory in Minnesota. He's gone. Stover, filling in for the injured Adam Vinatieri, has made all six of his field goals for the Colts.
This game will be a huge test for the Ravens' defense, which has had troubles at cornerback. Ravens defenders remember 2007 in Baltimore, when Manning threw four touchdown passes in a 44-20 victory. They also remember last season's 31-3 loss in which Manning threw three first-half touchdowns. And those were when the Ravens' defense was younger and more resourceful.
[+] Enlarge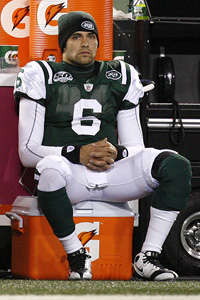 Andrew Mills/US PresswireMark Sanchez has the unenviable task of facing a Patriots team that's coming off a tough loss.
2. Atlanta Falcons at New York Giants: This isn't an elimination game for the two NFC playoff contenders, but it sets the stage for what we'll see in the NFC for the next month. New Orleans and Minnesota have all but wrapped up the top two seeds in the conference. There are seven teams with records of 5-4 or 4-5 playing for the final four spots, and many of those teams face each other down the stretch. The Giants got a double break in Week 10. First, they rested their injured defense during the bye. Second, the Eagles and Cowboys lost.
The Falcons have major problems at left corner, their offense really misses injured running back Michael Turner and quarterback Matt Ryan is throwing a bit too high to his left. Those are worries.
3. New York Jets at New England Patriots: Jets coach Rex Ryan might not cry after this game against the Patriots, but there is a good chance he won't be happy. The Patriots will be seeking revenge after their 16-9 loss to the Jets on Sept. 20. Bill Belichick always tries to do a little extra to beat the Jets, his former employer and the team that unveiled Spygate. Coming off the emotional loss to the Colts, expect one of Belichick's best game plans as a coach. That could mean nightmares for rookie quarterback Mark Sanchez, who beat New England in September with a 9-yard touchdown pass to Dustin Keller.
4. Washington Redskins at Dallas Cowboys: Normally, a Redskins-Cowboys game draws top billing. It's one of the best rivalries in the NFL. But there's something missing right now -- scoring. The Redskins enter this game averaging only 15.6 points a game. Although scoring has jumped to about 20.3 points a game with Sherm Lewis calling the plays, the Redskins' offense lacks overall firepower. The Cowboys have dominated this series of late, winning 17 of the past 23. But this is a game that could put Dallas coach Wade Phillips on the hot seat because he has lost two of his past three to Dan Snyder's club. There are issues in both backfields. The Redskins' Clinton Portis is expected to miss the game because of a concussion. Marion Barber (broken thumb) and Felix Jones (knee) aren't playing at 100 percent for the Cowboys.
5. San Francisco 49ers at Green Bay Packers: A win over the Cowboys in Week 10 took some heat off the Packers. A loss to the 49ers could put it back on. Green Bay has won seven straight against San Francisco. The interesting matchup is Alex Smith of the 49ers against Aaron Rodgers of the Packers. The 49ers passed up Rodgers and selected Smith as the first pick in the 2005 draft. To stay with the 49ers this season, Smith had to take a huge pay cut, while Rodgers, despite being the biggest sack target in football, has turned into one of the conference's elite quarterbacks.
6. Miami Dolphins at Carolina Panthers (Thursday): Although rules are set up for quarterbacks to throw for 300 yards and not endure unnecessary hits, the Panthers and Dolphins work under the old-school concept that it's better to run than pass. Injuries in the backfield are a problem for both teams. Ronnie Brown is out for the season with a foot injury. DeAngelo Williams and Jonathan Stewart are questionable because of lingering injuries.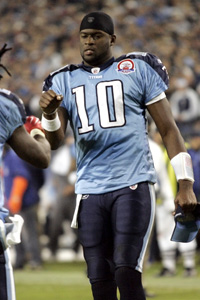 AP Photo/Wade PayneVince Young's return to the starting lineup as helped the Titans turn their season around.
7. Philadelphia Eagles at Chicago Bears: Brian Westbrook is out of the game for the Eagles because of a concussion. Bears quarterback Jay Cutler has major problems of his own: interceptions. He threw five in Week 10, increasing his season total to a league-leading 17 -- four more than second-place Jake Delhomme. As much as Cutler must worry about the Eagles' defense, he also must worry about Bears fans. They will boo as soon as they see his first mistake, so Cutler needs a good start.
8. Tennessee Titans at Houston Texans: This Monday night game has huge ramifications in the AFC wild-card race. It's a rare prime-time game for a Texans team trying to make the prime time. They are 5-4 and playing their best football in franchise history. Tennessee QB Vince Young, a former Texas star, is on a three-game winning streak since getting back the starting job and is 21-11 as a starter. The Titans are 11-4 all time against the Texans and have won seven of the past nine meetings.
9. Buffalo Bills at Jacksonville Jaguars: And so the Perry Fewell era begins for Buffalo. Ryan Fitzpatrick will be his quarterback, but Fewell must depend on an inferior offensive line that lost another left tackle, Demetrius Bell, to injury. Are the Jaguars (5-4) really playoff contenders? They should beat the Bills and have a winnable Week 12 game at San Francisco, so they could be in the mix.
10. Cleveland Browns at Detroit Lions: If you're Eric Mangini, you must worry. Your owner is willing to talk to Mike Holmgren and others about running the organization nine games into your run as coach. Players are talking to the NFL Players Association over grievances regarding the coaching staff. Fans are fed up. Your QBs can't stretch the field in the passing game. A loss to the 1-8 Detroit Lions would officially make the Browns the worst team in football.
John Clayton, a recipient of the Pro Football Hall of Fame's McCann Award for distinguished reporting, is a senior writer for ESPN.com.
NFL senior writer
Senior NFL writer and commentator
Joined ESPN in 1995
Member of the writers' wing of the Pro Football Hall of Fame in Canton, Ohio
SPONSORED HEADLINES
MORE NFL HEADLINES
MOST SENT STORIES ON ESPN.COM
NFL WEEK 11 PREVIEW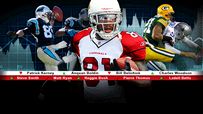 PICKS
FINAL WORD
POWER RANKINGS
HOT READ: Percy Harvin
MNF: Titans at Texans (8:30 ET)
COLUMNS/BLOG POSTS
FANTASY
PAGE 2
SCOUTS INC.