Commentary
It's crunch time for Giants
Back-to-back home games versus Dallas and Philly will determine G-Men's fate
Originally Published:
December 3, 2009
By
John Clayton
| ESPN.com
Even though Sunday's Dallas Cowboys-New York Giants showdown isn't scheduled for prime time, it's still the most compelling game of the week.
The next two weeks could determine who has the best chance to win this division and who might get a wild card. The Giants host the Eagles in Week 14.
QUESTIONS, PLEASE
Do you have a query for John Clayton?
Click here to send a note to his mailbag.
For the Giants, the next two home games are not only must-wins, but, in some ways, they are last stands. Things seemed to be settled two weeks ago when the Giants beat Atlanta. Eli Manning was relaxed and efficient. The offensive line controlled the day. The defense wasn't good, but that's the NFL these days. It's an offensive league.
Then came Thanksgiving night and the Giants played like stuffed turkeys. They were listless in a loss to the Denver Broncos. Last Sunday, news came out that Manning has a stress reaction in his right foot, which possibly explains why he hasn't been as accurate at times.
A loss Sunday would all but eliminate the Giants from the NFC East race because they would fall to 6-6, three games behind Dallas with four games left. That would leave next week's game against the Eagles as a possible elimination game in the wild-card race.
And speaking of wild card, the Cowboys enter what has been considered their worst month of the season -- December. Since 1999, the Cowboys are 17-29 in December. Their December schedule is tough again this year, with games against the Giants, Chargers, Saints and Redskins, followed by a Jan. 3 matchup against the Eagles.
Dallas coach Wade Phillips knows his job is on the line, and his future will be determined by how the Cowboys navigate this month. This week, owner Jerry Jones said he expects a trip to the playoffs and at least a playoff victory. With an 8-3 record and a talented team, those expectations are reasonable.
1. Minnesota Vikings at Arizona Cardinals: Post-concussion problems with vision leave Cardinals QB Kurt Warner questionable for Sunday night's game and have him sharing snaps in practice with Matt Leinart. Warner probably will play this week, but the Cardinals must worry. Vikings defensive end Jared Allen could hit him from one side and the tandem of Pat Williams and Kevin Williams will shrink his pocket. The other concern for the Cardinals is a loss could put the NFC West back in play. If the Cardinals lose and the 49ers beat Seattle on Sunday, San Francisco will enter the Monday night game in Week 14 against the Cardinals with a chance to take the division lead.
[+] Enlarge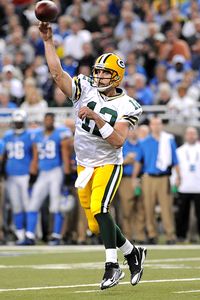 Al Messerschmidt/Getty ImagesThe Packers' defense has played well in recent weeks. So has QB Aaron Rodgers.
2. Baltimore Ravens at Green Bay Packers: The Packers have played a bigger role in the AFC North race than the NFC North race. An early-season home loss to the Bengals gave Carson Palmer and Cincinnati enough confidence to take control of the AFC North. In two of the next three weeks, the Packers could determine if the Ravens or Steelers earn a wild card. The Packers travel to Pittsburgh on Dec. 20. This is also a vital game for the Packers. At 7-4, they have a great chance of getting a wild card. Their defense has quietly moved up into the No. 1 spot in the league, statistically, a tribute to Dom Capers' 3-4 scheme. Aaron Rodgers continues to develop as a top-level quarterback. The Ravens are coming off a huge, physical victory over a Steelers team that didn't have Ben Roethlisberger at quarterback.
3. Philadelphia Eagles at Atlanta Falcons: This is a must-win game for the 6-5 Falcons, but they'll have a lot working against them. Quarterback Matt Ryan (toe) won't play, and halfback Michael Turner, left tackle Sam Baker and guard Harvey Dahl could also miss the game because of injuries. Can Chris Redman outduel Donovan McNabb? Probably not. The Eagles have their own problems. Brian Westbrook could be done for the season with a concussion, and last Sunday's concussion suffered by wide receiver DeSean Jackson could take away their best playmaker. Still, McNabb and Andy Reid have done a great job at developing rookies LeSean McCoy and Jeremy Maclin. Jason Avant has become a clutch receiver going across the middle.
4. New England Patriots at Miami Dolphins: Patriots coach Bill Belichick has a three-fold problem. Drew Brees picked apart the Patriots' secondary on Monday night in one of the worst losses of Belichick's New England tenure. Figuring the Dolphins don't have a lot of passing offense, Belichick should be able fix that. His second problem is making sure he stops the Dolphins' Wildcat offense, which has given him trouble at times. The Dolphins' Wildcat isn't as potent without Ronnie Brown, who is on the injured reserve list. The third problem is how poorly the Patriots have played on the road. Taking away the neutral-site blowout of the Bucs in London, the Patriots are 0-4 in road games this season, losing to the Jets, Broncos, Colts and Saints. The good news for the Patriots is that a victory should all but clinch the AFC East.
5. Tennessee Titans at Indianapolis Colts: The Colts have been teetering on the verge of their first loss for five consecutive weeks, but Peyton Manning has produced fourth-quarter rallies to keep the Colts unbeaten. Playing behind a below-average offensive line and playing with plenty of young pass-catchers, Manning is having another MVP season. He might need a sixth come-from-behind victory because the Titans are hot. Vince Young is 5-0 this season as a starter, and coach Jeff Fisher has done a great job of mixing Chris Johnson runs with a variety of option plays that fit Young's style. Without safety Bob Sanders, who is out for the season, the Colts' defense could be vulnerable to big runs by Johnson. The pass rush might also be missing defensive end Dwight Freeney, who is trying to get healthy for the postseason.
6. New Orleans Saints at Washington Redskins: For some reason, the Redskins feel confident about pulling off an upset. On paper, it doesn't look good. The Saints average 37 points a game. The Redskins average 15.5. Too many of the Redskins' star offensive players are injured, and the team is down to third-string halfback Rock Cartwright. Defensive tackle Albert Haynesworth should be back after missing two games with an ankle injury. The Redskins' defense is good. Plus, coach Jim Zorn should be credited for having a team that plays hard. In the past two weeks, the Skins battled the Cowboys and Eagles to the end in close losses.
7. Houston Texans at Jacksonville Jaguars: All signs point to Gary Kubiak's coming back as Houston's coach, but his résumé won't look as strong if he loses this crucial game in Jacksonville. First, a loss would end any hopes of a playoff berth because the Texans would be 5-7. Second, it would keep the Jaguars ahead of the Texans in the AFC South and could point to Houston's finishing last again in this division. With unemployed coaches Mike Shanahan and Bill Cowher available, Kubiak doesn't want a 1-5 division mark on his record heading into a postseason evaluation.
8. San Francisco 49ers at Seattle Seahawks: Seahawks general manager Tim Ruskell resigned Thursday, leaving the future of the franchise uncertain. Could the Seahawks bring back Mike Holmgren as a GM, or will they put first-year coach Jim Mora in a uncomfortable spot by going outside the organization for a general manager? More than anything, this is a vital game for Mora. Ownership is still behind Mora, but it would help his cause to beat the 49ers and finish with seven wins for the team to feel as if it made some progress this season.
9. Denver Broncos at Kansas City Chiefs: This is the first of two late-season meetings between these teams. This is also Denver's last AFC West road game. That the Chiefs upset Pittsburgh at Arrowhead two weeks ago will give Broncos coach Josh McDaniels all the coaching motivation he needs to make sure his team doesn't slip. Plus, the matchup is favorable for Denver. The Chiefs don't have a physical offensive line that could wear down the Broncos' defense, nor do they have the run-after-the-catch receivers who could give the Broncos troubles.
10. Tampa Bay Buccaneers at Carolina Panthers: First-year coach Raheem Morris needs a victory or two to show Bucs ownership that the team is heading in the right direction after a horrible start. Panthers coach John Fox is expected to go with Matt Moore at quarterback. Starter Jake Delhomme has a broken bone in his throwing hand. For job security, Fox can't afford a loss.
John Clayton, a recipient of the Pro Football Hall of Fame's McCann Award for distinguished reporting, is a senior writer for ESPN.com.
NFL senior writer
Senior NFL writer and commentator
Joined ESPN in 1995
Member of the writers' wing of the Pro Football Hall of Fame in Canton, Ohio
SPONSORED HEADLINES
MORE NFL HEADLINES
MOST SENT STORIES ON ESPN.COM
NFL WEEK 13 PREVIEW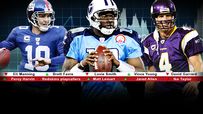 PICKS
FINAL WORD
POWER RANKINGS
MICHAEL VICK: Return to Atlanta
HOT READ
COLUMNS/BLOG POSTS
COLTS, SAINTS: PERFECTION?
PAGE 2
SCOUTS INC.
FANTASY