Commentary
Timing's right for Reid, Eagles
Coach's extension announced as team positions itself for NFC East title run
Originally Published:
December 10, 2009
By
John Clayton
| ESPN.com
The only issue for Eagles ownership in regard to Andy Reid's three-year contract extension was figuring out when to announce it.
The deal has been close to an agreement for weeks, but ownership knows Eagles fans. They're tough. Despite the fact that Reid and quarterback Donovan McNabb are part of a regime that has been to five NFC Championship games, fans want more and somehow have a sour taste about locking up Reid through 2013. Around the NFL, everyone felt this was a no-brainer because Reid runs one of the best teams in football.
QUESTIONS, PLEASE
Do you have a query for John Clayton?
Click here to send a note to his mailbag.
It's interesting that the deal was announced this week. The Eagles breezed by a banged-up Falcons team 34-7 this past Sunday to put them in a tie with the Cowboys for the NFC East lead. On Sunday night, the Eagles could start to take control of the division if they can beat the Giants in Giants Stadium.
Apparently, ownership felt the timing was right for the announcement, possibly feeling optimistic about the Eagles' chances in this game.
And why not? The Eagles blew out the Giants 40-17 on Nov. 1 when McNabb threw three touchdown passes. Last December, the Eagles beat the Giants 20-14 in Giants Stadium during their run to the NFC title game.
The Giants don't look large anymore. Since their 5-0 start, their once-top-ranked defense has surrendered just less than 31 points a game. Quarterback Eli Manning also seems to be struggling. His plantar fascia problem in his foot has created a stress reaction that could bring his season to an end quickly if he steps wrong, and you wonder whether that is starting to affect his mechanics.
Tom Coughlin benched a couple of starting defenders in Week 13 to kick-start the struggling defense. Tony Romo of the Cowboys threw for a lot of yards, but the Giants pulled out the victory. Now, this game is the season for them. A loss would drop them two games behind the Eagles in the division race and could leave them two games behind in the wild-card picture.
The odds favor the NFC East competition staying hot right down to the final week of the season, but the Giants must determine whether this will be a two- or a three-team race.
If the weather is cold and blustery Sunday night, that could help hold down McNabb and the Eagles' offense. Quarterbacks have a tough time in Giants Stadium in December, and the Giants need some breaks to stay in the NFC East race.
Reid got his extension and job security, but Eagles fans want more. They want the Eagles to win and start to move ahead in this division, worried that their efforts might fall short of a trip to the Super Bowl. They are hard fans to please.
1. San Diego Chargers at Dallas Cowboys: The Chargers meet an old friend, former Chargers defensive coordinator Wade Phillips, in an uncomfortable place Sunday. Phillips is trying like crazy to reverse years of December failures for the Cowboys, and if he can't turn things around, he could lose his job as head coach. The Chargers, meanwhile, are trying to stay ahead of the Broncos, and they know a victory will clinch a playoff spot. Chargers head coach Norv Turner had great success as the Cowboys' offensive coordinator back in the Troy Aikman days. The interesting part of this game is that Phillips might have ended up as the Chargers' coach if Jerry Jones hadn't offered him the Cowboys' job. Phillips was popular with the Chargers' defense in turning it into a 3-4.
2. Denver Broncos at Indianapolis Colts: In the Mike Shanahan days, playing the Colts usually was a bad experience. Shanahan would make the playoffs, but his Broncos would be blown away by Peyton Manning and the Colts' offense. Now, the Broncos go to Indianapolis with first-year coach Josh McDaniels, hoping he can change this series. Manning figures to use the no-huddle offense to prevent Broncos defensive coordinator Mike Nolan from doing too much blitzing and substituting. McDaniels' big challenge on offense is getting touchdown drives. The Broncos trail the Chargers by only a game in the AFC West, so they hope to pull off the upset and keep their division title hopes alive. The Colts are just trying to lock up home-field advantage for the playoffs and then start to rest injured players.
[+] Enlarge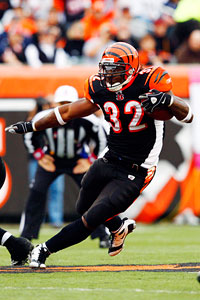 Frank Victores/US PresswireCedric Benson might find it difficult to run against the Vikings' defense.
3. Cincinnati Bengals at Minnesota Vikings: The Vikings are happy to be home after a bad Sunday night on the road against Arizona. They still need another win or two to wrap up the NFC North. The Bengals need another win to wrap up their division. Fans have seen Brett Favre fade in the final five games of the past four seasons, but Favre has too many weapons for that to happen with the Vikings. The Bengals have evolved into a relatively conservative, run-dominated offense with Cedric Benson being the workhorse. However, it's hard to run against the Vikings because of Kevin Williams and Pat Williams, so Carson Palmer might be forced to try to win the game through the air. The Vikings will have to make a major adjustment on defense after losing middle linebacker E.J. Henderson for the season with a broken leg. Rookie Jasper Brinkley takes over.
4. Miami Dolphins at Jacksonville Jaguars: The Jaguars might be a playoff contender, but their fans aren't buying it. Despite a 7-5 season, the Jaguars have had all of their home games blacked out -- including Sunday's game against Miami -- because they haven't had a sellout. It's a shame. Jack Del Rio and general manager Gene Smith turned around this franchise with a great draft and by revamping the wide receiving corps. But a loss to the Dolphins could cause a late-season collapse. The Jaguars face the Colts and the Patriots after this game, so if they lose to the Dolphins, they could drop to 7-8 very quickly. Dolphins coach Tony Sparano put aside his Wildcat plays in Week 13 in beating the Patriots. Quarterback Chad Henne is gaining confidence as the Dolphins try to make a late-season dash for the playoffs.
5. Green Bay Packers at Chicago Bears: These rivals have gone different directions since the opener, when the Packers squeaked out a 21-15 victory in the final 71 seconds. Dom Capers has revamped the Packers' defense from a 4-3 to a 3-4 that now ranks No. 1 in the league statistically. The Bears have fallen apart on both sides of the ball. Quarterback Jay Cutler is trying to slow his rate of interceptions, but knowing the Packers will take away the running game, he must pass to win. Weather conditions will play a big part in this game -- the forecast is for temperatures in the 30s -- but the Packers have the better chance of establishing the run. Lovie Smith is 7-4 against the Packers, but he might have a tough time in this game as the Packers try to wrap up a wild-card spot.
6. Arizona Cardinals at San Francisco 49ers: A week ago, the 49ers had hopes of using this Monday night game as a platform to challenge for the NFC West lead. A loss to the Seahawks and a Cardinals victory over the Vikings in Week 13 ended those hopes. The Cardinals lead the division by three games and can clinch the division with a victory. The 49ers' biggest issue is figuring what type of offense to use. Mike Singletary let the offense use more spread formations in Week 13, but things got out of control and the 49ers ran the ball only 12 times in the loss. Frank Gore doesn't look as comfortable running with Alex Smith handing him the ball out of shotgun formation. Smith doesn't look as comfortable when he's not in shotgun. Singletary must figure things out quickly.
7. Seattle Seahawks at Houston Texans: Two teams that were supposed to be better than 5-7 limp into Reliant Stadium for what is pretty much a meaningless game. The Texans are on a four-game losing streak that all but knocked them out of the playoff race and put coach Gary Kubiak's job under review. Quarterback Matt Schaub plans to play despite a separated left shoulder, but he won't have halfback Steve Slaton, who is out for the season because of a neck injury. Believe it or not, the Seahawks are relatively healthy, something they couldn't say much this season. QB Matt Hasselbeck has a banged-up shoulder, sore ribs and a sore back, but he plans to play.
8. New Orleans Saints at Atlanta Falcons: Give Matt Ryan credit for trying to be a leader and attempting to play despite a bad turf toe. Ryan cares, but unfortunately for him and the team, the season has fallen apart. More than likely, Ryan won't be able to play Sunday, leaving Chris Redman little hope of being able to outduel Drew Brees. Brees won the early-season meeting against the Falcons 35-27 when Ryan was healthy. With as many as five offensive starters possibly missing this game, it's hard to figure the Falcons will hand the Saints their first loss of the season.
9. Carolina Panthers at New England Patriots: How focused are the Patriots? Sunday will be a good test against a Panthers team that shouldn't give them many problems. It's not a good sign that Tom Brady questioned the team's commitment and four players, including Randy Moss and Adalius Thomas, had to be sent home after being late for meetings Wednesday morning. Meanwhile, Brady is glad to be home after losing five road games and watching his passing numbers tumble in the second halves of road games. The Patriots must pick up their pace to get to 10 or 11 wins and clinch the AFC East.
10. St. Louis Rams at Tennessee Titans: The only thing that makes this game interesting is Titans halfback Chris Johnson going against the Rams' run defense. The Rams surrender 146.2 rushing yards a game and 4.6 yards a carry. Johnson has four games left in his pursuit of a 2,000-yard season and has 1,509 yards on only 244 carries, roughly 20 a game. A 200-yard game could put him within range, and it's not out of the question for the Rams to be vulnerable to that type of day. On the other side, Steven Jackson, despite a sore back, will do his best to get more than 100 yards and keep Johnson off the field.
John Clayton, a recipient of the Pro Football Hall of Fame's McCann Award for distinguished reporting, is a senior writer for ESPN.com.
NFL senior writer
Senior NFL writer and commentator
Joined ESPN in 1995
Member of the writers' wing of the Pro Football Hall of Fame in Canton, Ohio
NFL WEEK 14 PREVIEW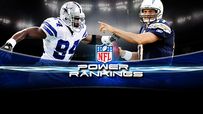 PICKS
FINAL WORD
POWER RANKINGS
HOT READ: LOST ART OF TACKLING
MNF: Cardinals at 49ers (8:30 ET)
COLUMNS/BLOG POSTS
SCOUTS INC.


MOST SENT STORIES ON ESPN.COM