Commentary
Giants learned not to time Manning by Big Ben's clock
Sunday's Eli Manning-Ben Roethlisberger matchup in Pittsburgh will be a barometer of how the Giants QB has evolved against the Steelers QB, John Clayton writes.
Originally Published:
October 23, 2008
By
John Clayton
| ESPN.com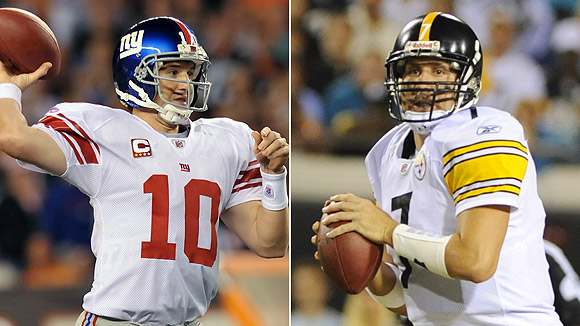 Getty ImagesEli Manning (left) and Ben Roethlisberger (right), each a first-round pick in the 2004 draft, developed at different rates as NFL starting quarterbacks.
During Ben Roethlisberger's rookie season in 2004, New York Giants front-office officials fretted at his rapid rise to success. The Giants had invested everything in the trade to make Eli Manning their franchise quarterback.
Roethlisberger fell into the Pittsburgh Steelers' lap when he dropped to the 11th pick in the 2004 draft. Then-Giants general manager Ernie Accorsi liked Roethlisberger but didn't want to use the fourth pick in the draft on a Miami (Ohio) prospect. The stakes were too high to take a flier on a small-college quarterback. Instead, Accorsi traded up to the top with the San Diego Chargers to get Ole Miss star Manning in exchange for North Carolina State prospect Philip Rivers.
But a few games into the 2004 season, Giants officials wondered whether the scouting reports had missed something. Roethlisberger was an instant star for the Steelers. Manning, despite his family name, was a work in progress.
The Giants' Super Bowl victory last season has eased all internal anxieties. Manning might not be at Roethlisberger's level yet, but he is close enough that it doesn't make much of a difference. Some time in the next year, the Giants will reward Manning with a contract extension close to, if not more than, the $12.5 million a year recently given to Roethlisberger.
Sunday's Manning-Roethlisberger matchup, which happens every four years under the scheduling formula unless they meet in the Super Bowl, will be a barometer of how Manning has evolved. Both teams are 5-1. Both teams operate a run-oriented offense that takes pressure off the quarterback.
"Ben and I are not competing against each other," Manning told reporters Wednesday. "I'm going against the Pittsburgh defense and trying to play the best as I can and try to get a win. He's doing the same. So I've never tried to compare my career with his just because we came out the same year."
Manning has no need to compare. That doesn't stop everyone else from making comparisons. As franchises, the Giants and the Steelers have special relationships. Each is a family-owned franchise, the Giants run by the Maras and Tischs, the Steelers run by the Rooneys.
The Steelers' success with Terry Bradshaw at quarterback reminded the Giants of the importance of a quarterback. They drafted Phil Simms with the intention of making him the next Bradshaw. Although Simms never had Bradshaw's Super Bowl career, he helped raise the Giants to Super Bowl level during the 1980s.
Like many quarterbacks, Manning took longer than Roethlisberger to establish himself. Last season's Super Bowl run was Manning's graduation party, and he's coming through with another solid season. His stats are better, and his leadership is growing.
Although Manning did help the Giants make the playoffs in his early years, he struggled with consistency. It helped that the Giants signed Plaxico Burress from the Steelers' roster to help his progress. Burress is a big target who makes it easier to complete passes in the red zone.
While Manning struggled, Roethlisberger's presence behind center gave the Steelers hope each year of going to the Super Bowl.
"I'll say it's a great credit to him and their team that year," Manning said of Roethlisberger's Super Bowl run in 2005. "He played outstanding from early on and has been a tremendous player. There's a lot of credit for Ben and the way he has played and the way he has produced in a number of years he has been in the league."
John Clayton, a recipient of the Pro Football Hall of Fame's McCann Award for distinguished reporting, is a senior writer for ESPN.com.
NFL senior writer
Senior NFL writer and commentator
Joined ESPN in 1995
Member of the writers' wing of the Pro Football Hall of Fame in Canton, Ohio
EDITORS' PICKS
Mastery of the salary cap's intricacies, with its spending limits and minimums, is a necessity in today's NFL.
Ashley Fox »

How much does the combine matter in draft analysis? Look at Kevin White's surge up Mel Kiper's board.
Mock 3.0

Durable, fiery and talented, Ndamukong Suh would thrive on any NFL team. We size up his leading suitors.
Dominik

MOST SENT STORIES ON ESPN.COM