Commentary
Belichick's brand of coaching is nothing new
Bill Belichick is ruthless, demanding and divisive -- no wonder he ticks off everyone outside of New England. But the man on the Pats' sideline is carrying on a star-spangled tradition that stretches back more than 100 years.
Originally Published:
January 11, 2008
By
Tom Farrey
| ESPN The Magazine
Why is Bill Belichick such a complete jerk?
Unless you live in New England, you may have pondered this question in 2007.
E-Ticket
Is the monotone man of mystery actually human? Back in November, ESPN.com's Elizabeth Merrill went in search of Bill Belichick's inner teddy bear. Story
It's not just the piling up of wins before ever-larger audiences that engenders so much loathing. It's the way he wins. It's Spygate. It's those surly postgame handshakes. The running up of scores. The jones for retribution against all perceived enemies. And that face, that stone face, the one that greets the cameras before and after every game, no matter the margin of victory. But step back for a minute. Give the man his due. A perfect regular season has earned the Patriots coach that courtesy, right?
Right. So we should ask the fair question, the one we'd want asked if so many people we'd never met hated us like some sports fans seem to hate the Patriots coach.
Is Bill Belichick really a jerk, or does he just play one on TV?
Let's start peeling the onion's layers by talking to Michael Holley.
Belichick granted the former Boston Globe columnist, now a local talk-show host, rare access to the Patriots' organization during the 2002 and 2003 seasons. The result was the revealing, if largely flattering, "Patriot Reign."
Of course, Belichick wasn't totally pleased with the book, annoyed that Holley didn't clean up his incessant cursing. Turns out that, in private, Belichick likes to call people a--holes -- sometimes even as a compliment, as in "Look at this a--hole." (It's almost touching.) At press conferences, Lord William isn't profane, but he can be downright dismissive of reporters. Take Spygate, the (possibly overblown) scandal that cost the Patriots $250,000 and Belichick $500,000 in fines for taping the Jets' defensive signals on opening day.
Belichick offered up a vague apology -- none specifically directed to the Jets -- and never addressed a host of obvious questions, like How long have you been doing this? And Why?
"The sad part is, this guy can be as charming as anyone," Holley says. "He can talk about sports, music, politics. But when it's football, it's different. I guarantee you none of his friends recognize the Bill Belichick they see in press conferences."
[+] Enlarge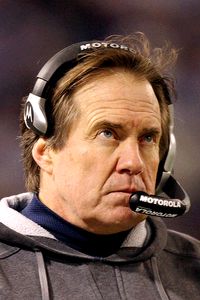 David Drapkin/Getty ImagesBill Belichick doesn't really care if you like him. He's more concerned with the bottom line.
Not that many of those friends are eager to talk. Ernie Adams, Belichick's former high school buddy who remains an adviser, rarely gives interviews about the man. Jon Bon Jovi, his rocker friend, hasn't given any either.
Before one game earlier this season, Belichick brought in his pal Lenny Clarke, a Boston comedian, to talk to the team and lighten the mood post-Spygate; he roasted Belichick. But call the funnyman at his home and his wife, Jennifer, answers. "Has Bill signed off on the project?" she asks.
One friend who will talk is the equally irascible Bob Knight. The Texas Tech coach is not surprised that Belichick, who turned down The Magazine's request for an interview, makes so little effort to share himself with the public.
"Well, why should he?" says Knight, who has known Belichick since Bill's father was a football scout at Navy and Knight was basketball coach at West Point. "He's not getting paid to work for the media."
There are stories of Belichick's singing among friends while on vacation; of his taking time out of his hectic NFL week to write long, supportive e-mails to a friend's kid; of his showing up at Ivy League games to cheer on a former Patriots ball boy playing college football. But Belichick refuses to flesh out these anecdotes for public consumption. Which is fine, because his reluctance to shape his image says something significant about the man:
There's only one game he thinks he must win to get respect.
---
Itıs been four years since Richard Seymour lost his grandfather to cancer, and the wound still hurts. Not just the passing of someone dear, but the penalty levied against him for taking a couple days to attend the funeral back home in South Carolina. When Seymour didn't return in time for a Friday practice, Belichick benched the Pro Bowl defensive lineman for the start of the next Sunday's game.
Seymour was deeply offended at the time, but he fell in line with the Belichick ethos. Pats players almost always do.
"I respect his decisions," Seymour says deliberately, resting on a stool in front of his locker. "We understand it's his way and that's what we're all going to adapt to." Sounds cold, but in Belichick's eyes no player is bigger than the system.
And none -- with the possible exception of Tom Brady -- is indispensable. That's how Lawyer Milloy, Ty Law, Drew Bledsoe and Adam Vinatieri, among others, ended up in other uniforms. It's also why many economists admire Belichick, who majored in the subject at Wesleyan.
"Economics teaches you to care about efficiency and to reason rigorously," says Andrew Zimbalist, an econ prof at Smith College who writes often about sports business. "It's all about trying to create models and logical systems, and to do that you have to have a sharp, analytical mind. All of that certainly is the epitome of what Belichick does."
Belichick has always gone about his business with a minimum of sentiment, as might be expected of someone whose first NFL job, with the Colts in 1975, included acting as The Turk -- the guy who summoned players to the coach's office when they were cut. Only this year, more successfully than ever, it's the Pats' opponents who've been targeted for elimination with ruthless efficiency. New England clinched home-field advantage throughout the playoffs by mid-December, but there was no sitting of starters, no easing up.

I respect his decisions. We understand it's his way and that's what we're all going to adapt to.
--Richard Seymour
"Bill is never satisfied, never content," says Patriots safety Rodney Harrison. "Because once you become content, that's when the enemy strikes."
And, boy, does Belichick have enemies -- or at least adversaries who would love to see him fall: coaches who feel he violated an unwritten code of conduct by videotaping signals, players who felt lied to during their time in Foxborough, agents who suspect Belichick of steering players to friendly reps who will cut below-market deals with the Pats.
"In his mind," says one prominent agent, "winning is morality."
Ted Johnson can tell you the price of that philosophy. He's a former linebacker for the Patriots. A year ago, he went public with the news that, since he retired in 2005, he has suffered from clinical depression, the result of post-concussion syndrome. Johnson says his condition might have been averted if Belichick hadn't submitted the linebacker to regular on-field contact, against the team trainer's advice, after one damaging head blow. Johnson allows that NFL coaches in general have made little effort to protect players' brains, and he's filed no lawsuit. He says he just wants to bring awareness to an important issue.
Still, the former team captain has never gotten a call from Belichick or anyone with the team. "We can all agree Belichick is headed to the Hall of Fame, right?" Johnson says. "Well, I always wonder how many of his ex-players are going to be there at the induction." And yet, a more humane portrait comes from Jim Brown, the Hall of Fame running back whose Amer-I-Can Foundation provides social services for underserved populations. "Bill's one of the people in America who has saved lives," Brown says. "He's donated money. He's helped us get contracts. He's been to prisons and schools with me."
Belichick has contributed to other causes as well, from homeless shelters to sports for the disabled. "I don't know a more honorable person," Brown says.
The two profiles of Belichick seem to be in conflict -- until you examine the roots of organized sports in America, dating back to the early 20th century.
"The equivalent figure is Andrew Carnegie," says Allen Guttmann, an Amherst College professor and one of the leading researchers on the origins of the games Americans play. "He was a fairly ruthless entrepreneur in the steel industry. And there were bloody strikes at the Carnegie mills. He didn't lose a lot of sleep about that. At the same time, the guy was endowing libraries all over the country and setting up foundations. So he was on both sides of the fence."
Like many corporate titans of the Gilded Age, Carnegie was a big fan of Charles Darwin, whose biological writings on survival of the fittest were used by some to rationalize a naked, sometimes unethical pursuit of great fortunes. Social Darwinists were the most extreme of the lot. Their brutal worldview held that the weak needed to perish in order for society to advance. At the other end of the political spectrum stood Utopian Socialists. Among them was the man whose name adorns the Patriots' stadium, King C. Gillette. The razor-blade magnate thought all industry should be taken over by a single corporation owned by the public and that everyone in the U.S. ought to live in a giant city called Metropolis powered by Niagara Falls.
It was an era of big, clashing ideals, and free enterprise won out. Just after the turn of the century, industrialists bankrolled the first public-school athletic leagues, hoping to promote competition as a social virtue and introduce immigrant children to that vision of the American way of life. (This school-based model of sports would stand in contrast to the club-based model that emerged in Europe.) Carnegie, in fact, was among the benefactors of New York City's influential Public Schools Athletic League. Less than a month after the PSAL was formed, in 1903, the first basketball tournament was held at Madison Square Garden, with the champ claiming a $300 trophy -- $7,090 in today's dollars -- donated by a copper-fortune heir.
So it should come as no surprise that the next few decades saw the creation of institutions and awards that glorified individual accomplishment. The Heisman Trophy was named after legendary Georgia Tech coach John Heisman, whose team once beat Cumberland College 222-0 because -- it could. (And because Heisman was bent on revenge after the Cumberland baseball team had run up the score on Tech's squad.)
The rise of pro leagues only served to encourage unrestrained, aggressive, even vindictive behavior. In 1940, the Bears beat the Redskins 73-0 to win the NFL title after being called quitters and crybabies by Washington's owner following a regular-season loss to the Redskins. So many footballs were kicked into the stands that refs asked Chicago coach George Halas to run or pass for the PAT on the last two touchdowns. Later, Vince Lombardi may or may not have said "Winning isn't everything, it's the only thing," but that widely repeated quote captured the sentiment of many Americans who, in the decades after World War II, understood that to the triumphant go the spoils.
Belichick descends from this rich vein of sports history. He's the grandson of Croatian immigrants who came to the U.S. without any familiarity with -- or interest in -- sports. The Bilicics arrived here looking for work, and found it in the oppressive steel mills of Youngstown, Ohio. Growing up in such a football-mad region, Bill's father, Steve, became a high school and college star, and ultimately a respected scout.
Steve's only child would come of age during a decade, the 1960s, when football was exploding in popularity, driven by TV and personified by Lombardi.
Belichick's foil, Colts coach Tony Dungy, takes his cues from another key pillar upon which sports was built, Muscular Christianity. In the late 19th century, its advocates saw sports as a way to recruit young men into the church and counter what they saw as the "feminization" of religion, dominated as it was by bookish ministers. Jesus was recast as a conquering, righteous hero ready to do battle in sports or war. Muscular Christians created such institutions as the YMCA and the Olympics, and games like basketball and volleyball. They also believed in winning as a virtue -- but with limits. When too many college students were dying on football fields in 1905, President Teddy Roosevelt, a Muscular Christian, encouraged the formation of what would become the NCAA to regulate competition. Muscular Christians also promoted such concepts as fair play and the postgame handshake, a gesture that some coaches would come to embrace and others ignore.
[+] Enlarge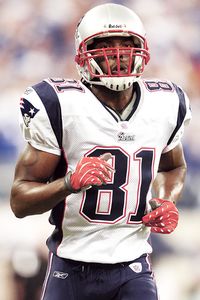 Andy Lyons/Getty Images The transformation of Randy Moss is just one example of Bill Belichick's ability to get the most out of his players.
Which begins to explain why, when the Colts and Patriots meet at midfield after a game, Dungy will extend a palm to his adversary, while Belichick will barely look Dungy in the eye. "I'm sure Belichick sees it as hypocrisy," Guttmann says.
The job of an NFL coach is to create wins, so that large, rich men can smoke cigars, or praise Jesus, amid confetti. Belichick appreciates this more than most. He's not hostile to gestures of faith -- a few Patriots join the other team in the postgame on-field prayer circle -- but there's a clear separation of church and state, of the personal and professional. Belichick wants his players focused on what they control, which is the execution of the fundamentals and schemes they have been taught.
"There's no hidden agenda here," says Scott Pioli, the Pats VP of player personnel. "You're supposed to know what your job is and do your job. It's an easy set of circumstances to work with. Randy and all of our players know that."
He's of course referring to Randy Moss, who has been transformed under Belichick. Not only is he a more effective receiver than at any time during his 10-year career, but he's shed his bad-boy, me-first rep. He runs his routes. He stays out of trouble. He mouths Belichick's mantra -- more an edict than a cliché in the Pats' locker room -- about taking the game one week at a time. He is happily humbled by a clinical enterprise that he trusts will bear dividends, as long as he abides by its amoral laws, which do not include the Golden Rule.
Belichick is not a man without values. Chief among them, according to Pioli, is devotion to longtime allies. He recalls attending the 2002 New Year's Eve funeral of NFL draftnik Joel Buschbaum who, over the decades, made many friends across the league. Or so it would seem. When it came to burying the man, only one coach showed up to pay his respects: Belichick.
"This guy was loyal to Bill, and Bill reciprocated that loyalty up until the very end," Pioli says.
Former New England assistant Eric Mangini violated Belichick's code three years later by accepting the Jets' job. Returning to the Patriots' facility to pick up his belongings, Mangini found that his security card had been disabled.
"Let me tell you something," Ted Johnson says. "Don't cross him. He's got the personality of a stray dog. You can't tell if he cares or not until you upset him."
Bob Knight says the tension between Belichick and Mangini is natural among coaches who once worked together. He has no qualms about Spygate, which he suspects is "nothing that every coach in the history of the NFL hasn't done in one way or another." He sees no fault in the wide margins of victory, because it's unnatural not to score if you can. And Knight is certain none of these controversies will matter much in the end, when obituaries are written.
"Over the past seven years they've been the best team in football," says the winningest men's coach in college hoops, who no doubt hopes his own faults will matter less with time. "If anybody has any intelligence whatsoever, that's how they'll remember the team and the coach."
Still, to gain not only the respect but the admiration of most Americans it's not enough just to dominate. You have to move the game forward. Even the Social Darwinists believed in progress as the desired outcome of sorting winners and losers.
The thing is, Belichick has every chance of delivering on that promise. To watch his latest incarnation is to watch the game being mastered, perhaps for the first time in history. When Larry Csonka put his head down and the Miami Dolphins went 17-0, that was impressive. But the 2007 Patriots are a revelation. Their record-setting offense is based on a passing attack so smart, so flexible and so disciplined that Brady rarely even got tackled until the regular- season finale against the Giants. Belichick is showing that bigger-stronger-faster isn't the key to victory, a fine lesson in an era when head and other injuries have become the No. 1 issue in the game, from the pros down to the youth levels. In the morality-free zone that he (and
Dungy) inhabits, Belichick ball counts as an advance. It's just not clear whether he recognizes that human capital is still, well, human.
Does that make him a complete jerk? Or just a patently American one, the
kind we'd eventually come to like if only he'd let us?
Tom Farrey writes about the origins and state of modern youth sports in Game On: The All-American Race to Make Champions of Our Children, available in May from ESPN Books.
Writer, Reporter
Honors include 2014 Alfred I. DuPont-Columbia University Award, 2013 Edward R. Murrow Award and two Outstanding Sports Journalism Emmys
Director: Aspen Institute Sports & Society Program
SPONSORED HEADLINES
MORE NFL HEADLINES
MOST SENT STORIES ON ESPN.COM
2007 PLAYOFFS

In a rematch of their Week 17 game, the unbeaten Patriots will play the red-hot Giants in Super Bowl XLII in Glendale, Ariz.
Super Bowl Central
Clayton: Eli's managing fine
Chadiha: Focused Giants
AccuScore simulation: Pats to prevail
Chadiha: First Look | Playoff schedule



Conference Championships (Jan. 20)
Patriots 21, Chargers 12
•
Merrill: Questions linger about Moss' postseason
•
Wojciechowski: Whatever it takes, Pats win
•
Pasquarelli: Patriots' offense grinds it out
•
Pasquarelli: Chargers squander opportunites
•
Pats make fourth SB in seven years
•
The Last Call: Mike Sando's observations, more
•
Zoom Gallery:
AFC title game
|
Pats' season
•
Playoff page
Giants 23, Packers 20
•
Clayton: Burress burns Harris, Packers
•
Chadiha: Bitter pill for Packers to swallow
•
Zoom Gallery: Giants edge Packers
•
The Last Call: Mike Sando's observations, more
•
Garber: Coughlin's personality makeover intact
•
Playoff page
Video
•
What is Tom Brady's legacy?
•
Eli and Burress lead Giants
•
Patriots avoid distractions on way to Super Bowl
•
Resilient Giants advance to SB
•
Red-zone efficiency fuels Patriots
Divisional Round (Jan. 12-13)
Packers 42, Seahawks 20
•
Recap
|
Playoff game page
•
Clayton: Ryan Grant sticks to the plan
•
Sando: Disastrous play at TE for Seattle
Patriots 31, Jaguars 20
•
Recap
|
Playoff game page
•
Pasquarelli: Patriots have too many weapons
Chargers 28, Colts 24
•
Recap
|
Playoff game page
•
Wojciechowski: Did Chargers get Pats' attention?
•
Clayton: Colts can't overcome mistakes
Giants 21, Cowboys 17
•
Recap
|
Playoff game page
•
Chadiha: Manning maturing at right time
More divisional playoffs
•
Saturday's Last Call: Pack, Pats advance
•
Sunday's Last Call: Giants, Chargers surprise
Commentary/Features
•
Pasquarelli: Tip Sheet
|
Notes

•
Smith: Special teams loom large
•
Scouts: Kryptonite for top four teams

•
Playoff upsets: By the numbers
•
Page 2: Handicapping the wild-card winners
Wild-Card Round (Jan. 5-6)
Seahawks 35, Redskins 14
•
Recap
|
Playoff game page
•
Clayton: Cool head Holmgren
•
Sando: Redskins inspired by Taylor
Jaguars 31, Steelers 29
•
Recap
|
Playoff game page
•
Chadiha: Jaguars pass character test
Giants 24, Bucs 14
•
Recap
|
Playoff game page
•
Pasquarelli: Manning delivers for Giants
•
Pasquarelli: Giants' D rises to occasion
Chargers 17, Titans 6
•
Recap
|
Playoff game page
•
Clayton: Turner, Rivers silence their critics
More Wild Card Weekend
•
Saturday's Last Call: Hawks, Jags escape
•
Sunday's Last Call: Giants, Chargers rule
•
ZOOM photos:
Saturday
|
Sunday
Commentary/Features
•
Sando: Controversial history of replay
•
Clayton: First and Goal, Wild Card
•
Sando: Playoff mantras
•
Numbers crunching: Wild-card weekend
•
Sunday Countdown
•
TMQ: Do the Pats need to run more?
•
Joyner: Steelers, Giants adjusting on the fly

•
Clayton: Handicapping possible Patriots foes
•
Clayton: Key playoff questions for the AFC
•
Pasquarelli: Key playoff questions for the NFC
Video
•
Chargers bolt past Titans, 17-6
•
Eli Manning silences his critics
•
Seattle's Hasselbeck is underrated
•
Phillips not concerned about late-season slide
Scouts Inc.
•
Ranking the playoff teams
•
Ranking the playoff coaches
•
Off. rankings:
Overall
|
QB
|
WR
|
RB
|
OL
•
Def. rankings:
Overall
|
DL
|
LB
|
DB
|
ST
•
Green: Smith's absence hurting Steelers
•
Williamson: Unknowns powering Bucs