Commentary
With Spygate tapes in hand, NFL faces serious questions
Originally Published:
May 7, 2008
By
Mike Fish
| ESPN.com
When NFL officials view the videotape evidence reportedly to be turned over by former New England Patriots video assistant Matt Walsh on Thursday, they'll be able to breathe a sigh of relief. The tapes apparently don't include the dreaded bombshell and their worst nightmare -- video of the St. Louis Rams' walk-through practice before the 2002 Super Bowl.
But if a New York Times description of the evidence is accurate, the league and the Patriots will see enough to feel uncomfortable.
[+] Enlarge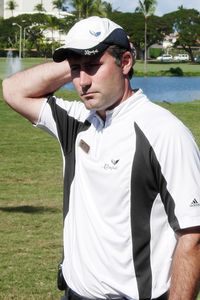 Mike Fish, ESPN.comMatt Walsh's tapes appear to further indict the Patriots for their spying tactics.
New England's videotaping practices might not be quite as limited as league officials have let on publicly since the scandal broke at the start of the 2007 season. And unlike in September, when the NFL destroyed video evidence turned over by the Patriots without alerting the teams that had been taped, five franchises will learn that their coaches were taped signaling from the sideline -- including New England's AFC East rivals Miami and Buffalo.
According to the Times, Walsh is preparing to send the NFL eight tapes that reveal the Patriots recorded play-calling signals of five opponents in six games between the 2000 and 2002 seasons. In addition to the Dolphins and the Bills, the tapes will reveal the Patriots recorded the signals of the offensive and defensive coaches in regular-season games with the Cleveland Browns and the San Diego Chargers, as well as taping the Pittsburgh Steelers in the 2002 AFC Championship Game.
The league initially portrayed the taping practices as limited, though officials have since said that coach Bill Belichick has acknowledged violating the policy since joining the Patriots in 2000. Back in September, when the league requested that the Patriots turn over evidence that might be in violation of the policy, New England made available six tapes from the 2006 season and 2007 preseason.
On Sept. 16, a week after a Patriots video assistant was caught taping the New York Jets coaches on the sideline, New England team owner Robert Kraft said he was stunned to learn of the practice.
"Before last Sunday's game [against the Jets], I had no knowledge of this practice," Kraft said in an NBC television halftime interview at the time.
But others did, and one of the key characters proved to be Walsh.
Walsh, who worked for the Patriots from 1997 to 2003, was never interviewed by the league during its investigation. His name surfaced in media circles as a former video assistant with knowledge of the team's unethical practices; and in an ESPN.com story before the Super Bowl, Walsh suggested he had information that could be embarrassing to the Patriots and to the league.
NFL commissioner Roger Goodell, however, played down the Spygate story when he was quizzed about it in his news conference before the Super Bowl, saying: "We had roughly six tapes. I think it was six tapes. There were notes from other teams that indicated that they were likely done in part through electronic taping. But we think it was quite limited. It was not something that was done on a widespread basis."
In explaining why the teams that had been taped weren't informed, Goodell said: "We didn't see any need to."
[+] Enlarge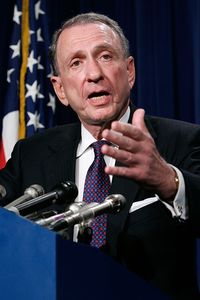 Alex Wong/Getty ImagesU.S. Sen. Arlen Specter (R-Pa.) will hear from Matt Walsh firsthand next week.
Now, that list is growing. So, too, are the questions. Between what the Patriots revealed in September and Walsh's new evidence, as many as 11 teams could have been spied on by New England. Is the league now compelled to identify them all? And now that new evidence has surfaced, do we believe the Patriots really turned over everything they had back in September?
Those close to the situation suggest the league is eager to move past Spygate and is likely to take the position that Walsh's video evidence only confirms what league officials already knew. Walsh is to discuss his firsthand knowledge and the evidence with Goodell and other league officials in New York on Tuesday morning. Later that day, he is to travel to Washington for a sit-down with Sen. Arlen Specter, R-Pa.
Specter, the ranking minority member of the Senate Judiciary Committee, has been critical of the league's handling of the situation, particularly its rush to end the investigation and the earlier destruction of evidence.
One question is whether Walsh's new evidence advances the story or allows the league to end its investigation and put Spygate to bed. Specter, for one, believes the league has changed its story as new facts have surfaced. In February, when Goodell met with him in Washington, Specter said the league publicly acknowledged that the taping went back to 2000.
That came shortly after Walsh, a video assistant in 2000 and 2001, surfaced as a whistle-blower with potentially damaging information.
"It first came up when Goodell talked to me, that it had been going on since the year 2000," Specter recently told ESPN.com. "No one has ever said why the discrepancy. I don't know how clearly it was articulated that the first they knew about it was when they saw the Jets taping. That all has been fuzzy, ambiguous.
"I want to know everything. I would begin chronologically. When did the first taping occur? Who directed it? And who knew about it? Who participated in it? And what use was made of it? And what effect did it have on the game?"
Specter has already asked the league to share with him the evidence Walsh turns over. Whether the NFL accepts his request should prove telling. And if Specter is given the evidence, how will the parties spin the ramifications?
Mike Fish is an investigative reporter for ESPN.com. He can be reached at michaeljfish@gmail.com.

SPONSORED HEADLINES
MORE NFL HEADLINES
MOST SENT STORIES ON ESPN.COM
SPY GAMES
Former Patriots employee Matt Walsh met with NFL commissioner Roger Goodell and Sen. Arlen Specter to discuss Patriots' illegal videotaping.
Story
More News
•
Belichick says he made 'mistake'
•
Herald reporter: Sources never saw tape
•
Walsh admits he knew it was wrong
•
Senator wants inquiry
|
Read it (pdf)
•
Fish: Would Congress investigate Pats?
•
Boston Herald apologizes for false report
•
Clayton: Five things we learned from Spygate
•
Walsh sends eight tapes to NFL
•
Fish: Pats stole offensive signs
|
Timeline
•
Clayton: Spygate will expire quietly
•
Former Pats employee sends tapes to league
•
Fish: NFL faces serious questions
•
Goodell to punish Pats, depending on evidence
•
Walsh, NFL to finally talk
|
Agreement
•
Goodell growing impatient with Walsh stalemate
•
Kraft, Belichick apologize to owners
•
Walsh still working on deal for testimony
•
Rams player, fans withdraw lawsuit
•
Spygate revelations might not be imminent
•
NFL, Walsh close to deal to turn over tapes
•
Report: Specter calls on Goodell to release letters
•
Report: Goodell proposes crackdown on cheating
•
Specter says Pats 'stonewalling' Spygate probe
•
Committee lauds Goodell's handling of Spygate
•
Goodell hoping deal to talk to Walsh close to done
•
Report: Belichick denies Pats taped Rams' drills
•
Walsh's attorney: NFL indemnity offer falls short
•
Specter prepared to extend Spygate investigation
•
Goodell has no regrets about destroying tapes
•
Source: Specter wants NFL indemnity for witness
•
Goodell, Specter to discuss Spygate Wednesday
Commentary
•
Mortensen: What were Rams thinking?
•
Yasinskas: Spygate stench won't go away
•
Paolantonio: Goodell's Spygate responsibility
•
Clayton: Spygate closing with a whimper
At The Pro Bowl
News
•
Ex-Pats video assistant mum on Spygate probe
At The Super Bowl
News
•
Goodell willing to give Pats' Walsh indemnification
•
Goodell, Specter won't meet until after Pro Bowl
•
Vermeil doubts spying made difference for Pats
•&nbsp
Goodell to meet with Sen. Specter about Spygate
•&nbsp
Report: N.E. taped Rams before XXXVI
•
Fish: Ex-Ram Warner suspicious of Pats
•
Specter to Goodell: Let's talk
•
Fish: Possible 'Spygate' witness surfaces
Commentary
•
Once burned, Goodell turns fireman
•
Munson: Congressional interest is serious business
•
Pasquarelli: Specter should stick with politics
•
Clayton: Spy saga won't distract Patriots
•
Hashmarks at Goodell's news conference
Letters
•&nbsp
Specter to Goodell (.pdf)
•&nbsp
Goodell to Specter (.pdf)
From September
News
•
NFL has all materials from Pats in spying scandal
•
NFL reviews how tape leaked to Fox
•
Belichick to turn over materials in spying probe
•
Pats owner perturbed by Belichick's spy games
•
Goodell orders Pats to turn over all video
•
Sources: Patriots give Belichick extension
•
Wilson spies inconsistencies in Belichick case
•
NFL fines Belichick $500K, Pats $250K for spying
•
Bill Belichick's apology to Patriots community
•
Clayton Q&A: Patriots can survive this penalty
•
Two days later, Belichick still won't comment
•
Some Eagles question Pats' tactics in Super Bowl
•
Belichick issues apology amid accusations
•
Sources: Goodell determines Patriots broke rules
Commentary
•
Clayton: NFL penalty for Belichick, Pats too light
•
Mosley: Pats lose first-rounder? Roger that
•
Scouts Inc.: What the Pats will miss in '08 draft
•
Chadiha: Legal spying widespread in NFL
•
Sando: What's legal, what's not in spy game
•
What they're saying: Players, coaches, pundits
•
Luksa: Spy stories once had comedic value
•
Bryant: Belichick deserves two-week banishment
•
Clayton: Goodell to treat breech seriously
•
Simmons: The camera doesn't lie
•
Simmons: Cheating not necessary to win opener
Video

•
What should happen to the Pats?
•
Belichick deflects videotape-related questions
•
Former Patriot thinks team should be punished
•
Reactions from around the league
Audio

•
Mike Vrabel, Pats linebacker: Don't criticize the players

•
Chris Mortensen: Situation might motivate the Patriots

•
Keyshawn: It was 'scouting,' not cheating

•
Salisbury: Story blown out of proportion

SportsNation
•
Vote: Was New England's punishment fair?
•
Mixed reader results on NFL spying