Successful tandems work out issues
Quarterbacks and wide receivers don't need to be best friends, but a healthy relationship fosters success.
Updated:
October 12, 2003, 8:06 PM ET
By
Greg Garber
| ESPN.com
It was a modest six-yard touchdown pass, thrown by Jeff Garcia to Terrell Owens early in last Sunday's victory over the Detroit Lions. Based on their reactions, you would have thought the San Francisco 49ers -- unlike their Bay Area brethren, the Giants or A's -- had advanced in the postseason.
Garcia sprinted into the end zone and hugged Owens with a fervor that was, at best, unconvincing. Some observers thought it was the most contrived post-game celebration since the infamous Sharpie Incident.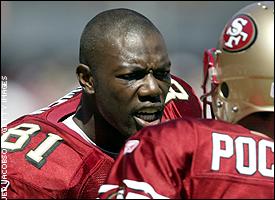 Terrell Owens has not been in the best of moods this season.
That's because in the wake of the previous week's 35-7 loss at Minnesota, Owens had suggested backup quarterback
Tim Rattay
should replace Garcia. Firing back, Garcia said that no individual should put himself above the team, adding that this kind of mentality could create a "sickness" destructive to team chemistry. Two days later there was a well-publicized shouting match between the two teammates.
So what happened? Well, Garcia and Owens cleared up their differences at the 49ers' pre-game breakfast.
"We just were cutting down the barriers, the roadblocks," Garcia said afterward. "I think we were both getting pretty uncomfortable."
Owens caught four other passes for 73 yards and San Francisco prevailed over the Lions and its old coach, Steve Mariucci, 24-17. No one believes that Garcia and Owens will be seen in the trendy Nob Hill section, quaffing Anchor Steams and munching on sushi, but they seem to have called a truce. They only have to co-exist for the season's remaining 11 games before Owens' contract runs out and, it is widely assumed, he will be encouraged by the 49ers to find work elsewhere.
Which begs the question: Do a quarterback and a wide receiver have to be pals to succeed in the NFL?
Based on the Garcia-Owens and Daunte Culpepper-Randy Moss partnerships, clearly not. Did Seigfried and Roy always get along? Bonnie and Clyde? Bill Clinton and Al Gore? Ginger Rogers and Fred Astaire? Of course not. All that's necessary is a professional, working relationship. But according to those who have played the game, a good relationship can make for a stronger connection.
"It's desirable," said Joe Theismann, who played quarterback for the Washington Redskins from 1974-85 and won Super Bowl XVII in the process. "The extra time that you spend makes a difference. Do you really want to be around somebody who's a pain in the rear end?
"After all the 7-on-7s and 11-on-11s, me and Art Monk would work on routes after the formal practice ended. You see that with Peyton Manning and Marvin Harrison. They've put the time in honing their skills and you can see the results."
Indeed you can.
Manning and Harrison connected 11 times for a total of 176 yards and two touchdowns in the Indianapolis Colts' stunning 38-35 overtime victory over Tampa Bay on Monday night. Going into the 2003 season, Owens had caught 42 touchdown passes in the three previous years -- the most among all NFL receivers. Harrison, a model of harmony in his relationship with Manning, now has a total of 46 scoring catches in three-plus seasons, better than Owens (44) and Minnesota's Moss (38).
Relationships, of course, are a two-way street. Privately, Garcia has been grousing about Owens' penchant for freelancing and running imprecise routes. And while Owens often proudly refers to his work ethic, Garcia has never been happy with Owens' all-around effort -- from offseason workouts to selling out to make plays in games.
Owens, despite his recent histrionics, has not been his usual forceful self on the field since he weathered a heavy hit from Rams cornerback Aeneas Williams in Week 2. He appeared to have a 50-50 chance at a second-quarter ball thrown by Garcia, but seemed to make a token effort, allowing Detroit corner Dré Bly to make an interception. Garcia, for his part, is believed to be suffering from chronic back pain (bulging disks) and a groin muscle pull.
If the feud continues to fester and the 2-3 49ers fail to make the playoffs, they are expected to cut their losses and send Owens packing.
"If the 49ers keep him," wrote Ira Miller of the San Francisco Chronicle, "they're as daft as he is."
If NFL history has demonstrated one thing, it is that talent -- hello, Jeff George and Terry Glenn -- and its byproduct, winning, can lure teams into compromising their unity.
"When you're calling out the quarterback, calling out the head coach and the offensive coordinator, obviously that's not helping the team," said ESPN analyst Mark Malone, who played quarterback for the Pittsburgh Steelers from 1980-87. "It becomes a huge distraction. No one questions Owens' ability to make plays, it's just dealing with all the baggage that comes with it.
"The funny thing is, for the rest of the season when Jeff Garcia has his back against the wall and needs a score, he's probably going to be looking for Terrell Owens."
Unconditional love

Vikings quarterback Daunte Culpepper and Moss have had their share of growing pains in four-plus seasons together. You have doubtless seen last season's highlights of the two teammates jawing at each other. Call it creative tension.
| | |
| --- | --- |
| | |
| | Moss |
Gus Frerotte
has no such history with Moss. When Culpepper suffered three broken bones in his back in a second-quarter end zone collision against the Lions in Week 3, Frerotte came into the game. After a dump-off pass to running back
Moe Williams
, Frerotte's second pass was a 72-yarder to Moss. His next two passes were to Moss as well, but they fell incomplete. In all, three of Frerotte's eight completions were to Moss.
In the Week 4 crushing of the 49ers, the Randy Ratio was surpassed with Moss catching eight passes for 172 yards and three touchdowns. That worked out to 50 percent of Frerotte's completions, 64 percent of his yards and 75 percent of his touchdowns. In last week's 39-26 victory over Atlanta, Moss lost yardage on his first catch, then dropped two of the next three passes Frerotte sent his way.
"Randy is a professional," Frerotte said later. "Those things happen to everybody. It doesn't mean I'm going to quit throwing it to him."
Ultimately, Moss provided 36 percent of Frerotte's completions, 34 percent of his yards and 100 percent of his touchdowns.
Moss hadn't caught five touchdown passes in a two-week span since burning Dallas and Chicago for six during his rookie season of 1998 -- from the hand of Randall Cunningham. Unburdened by emotional baggage, Frerotte showed Moss unconditional love and was rewarded with three victories.
"It made me feel good, for the fact that my quarterback had enough faith to come back to me, and also to know the team's showing me love," Moss said.
The Vikings are in the midst of a bye week, but when they return for the Oct. 19 showdown with Denver at the Metrodome, head coach Mike Tice has a difficult decision to make. According to Minnesota trainer Chuck Bertha, both Culpepper and Moss (back spasms) should be close to 100 percent fit. If Culpepper is cleared to play he would do well to study Frerotte's uncanny ability to deliver the ball into places where only Moss can catch it. Even when the coverage has been tight, Frerotte hasn't been afraid to let it fly and watch Moss run the ball down.
For his part, Moss seems to have matured in a modest way. He has shown Culpepper more respect this year and their relationship seems to have improved. Certainly, Culpepper looked more confident before he got hurt.
"They were more on the same page," observed ESPN analyst Michael Irvin. "And that's because they're getting along better. It definitely makes a difference."
When the subject came up on last week's NFL Countdown, most of ESPN's experts said they believed Garcia and Owens didn't have to be friends, but Irvin didn't buy it.
He played wide receiver for the Dallas Cowboys from 1988-99 and finished as the franchise's leading receiver with 750 catches, 11,904 yards and 65 touchdowns (second only to Bob Hayes). Most of those balls came from Troy Aikman, who tossed 165 touchdown passes from 1989-2000. Together, they helped the Cowboys win three Super Bowls in four seasons.
"When the ball was in the air, I'd say 'I'm going to go get it for my boy,' " Irvin explained. "I'd give it that little extra effort because I knew how much Troy despised those interceptions. It's like those studies when people find their loved ones in tough situations. They find unheard of strength to do incredible things. Adrenaline just sort of takes you over, you know?
"And that gave Troy confidence because he's thinking, 'No matter what, Michael's going to get that ball.' "
Risking for reward

Throwing a pass in the NFL is the ultimate act of faith, a hand-to-hand connection.
As Woody Hayes, the former Ohio State coach used to say, three things can happen when you throw the ball, and two of them are bad. Going through the air is the fastest way to gain yardage, but it is also the most dangerous; the risk-reward ratio is daunting, which is where all those abstract words like faith and trust and belief come in.
| | | |
| --- | --- | --- |
| | " | If you're the best chance a team has to make a play, they've got to give you the ball. As a quarterback, I was greedy. I wanted to throw touchdowns. If I do that it translates into success for our offense. Guys responsible for points need to have an individualistic approach. " |
| | | —ESPN NFL analyst Joe Theismann, a former QB of the Washington Redskins |
The No. 1 all-time duo in terms of touchdowns is Steve Young and Jerry Rice, who combined for 85 touchdowns between 1987-99. And while it is true that Rice originally balked at the prospect of Young's left-handed balls -- he was more comfortable with Joe Montana's softer right-hand deliveries -- they eventually became quite close.
Dan Marino and Mark Clayton are No. 2 with 79 scores. It was Marino who successfully lobbied the Dolphins to include Clayton and his running mate, Mark Duper, to be enshrined in the Dolphins' Honor Roll. Marino has always credited the Marks Brothers with his status as the NFL's most prolific passer and, very quietly, has assisted Clayton through his post-football difficulties.
When members of the Buffalo Bills great teams from the 1990s were asked a few years ago about the key to reaching four consecutive Super Bowls, they invariably answered, "The post-game parties at Jim's house."
Jim, as in Kelly, the quarterback. It was the camaraderie more than the beer that they credited with the Bills' unprecedented run. Kelly and Andre Reed are No. 2 on the all-time list, with 65 touchdowns, but Bruce Smith, Darryl Talley, Thurman Thomas and Kent Hull were all regulars at the Kelly home in Orchard Park, just a few miles from Ralph Wilson Stadium.
No. 4 on the list? Manning and Harrison, with 64 touchdowns. The way things are going, they could break the Young-Rice record by the end of the 2004 season. No one in Indianapolis is questioning the heavy rotation Harrison is getting, but when there are two great receivers, a quarterback's life -- not to mention a head coach's -- can get complicated.
Pittsburgh receivers Lynn Swann and John Stallworth used to complain bitterly about their respective pieces of the pie and all it got them was four Super Bowl victories. They are both enshrined in the Pro Football Hall of Fame.
People think Jon Gruden's finest coaching achievement was guiding the Tampa Bay Buccaneers to victory in Super Bowl XXXVII, but consider his effort in 2001 with the Oakland Raiders. With two future Hall of Fame wide receivers lined up on either side of quarterback Rich Gannon, Gruden pulled off a brilliant balancing act. Tim Brown caught 91 passes for 1,165 yards and Rice managed 83 catches for 1,139 yards. They both scored nine touchdowns.
"Believe me, that was not a coincidence," Theismann said. "Football is different than it was in the '80s. Coaches have to get guys balls, balance all the out-of-control egos, convince a quarterback to feed those egos."
And Theismann believes wide receivers need to be greedy -- to a point.
"If I'm throwing passes in a wide receiver's direction and he's not working to get open, we have a problem. You work for me, I'll feed you.
"I was talking to Marvin Harrison before the (Week 4) Sunday night game against New Orleans. In the last three games of 2002 and the first two games of 2003, he never had more than 67 yards in a game. During the week he asked Peyton, 'What do you do with a hungry man?' "
Manning replied, "Feed him."
"That's what I'm talking about," Harrison said.
Manning found Harrison six times for 158 yards and three touchdowns.
On a certain level, Theismann has sympathy for Owens.
"Interestingly enough, Terrell Owens' run-ins have always been confined to the field," Theismann said. "His passion, as bizarre as it may seem, is directed in the right way -- it's directed toward production.
"If you're the best chance a team has to make a play, they've got to give you the ball. As a quarterback, I was greedy. I wanted to throw touchdowns. If I do that it translates into success for our offense. Guys responsible for points need to have an individualistic approach. The trick is to get that approach functioning in a team environment."
Greg Garber is a senior writer for ESPN.com.
Writer, Reporter
Greg Garber joined ESPN in 1991 and provides reports for NFL Countdown and SportsCenter. He is also a regular contributor to Outside the Lines and a senior writer for ESPN.com.
SPONSORED HEADLINES
MORE NFL HEADLINES
MOST SENT STORIES ON ESPN.COM
EDITORS' PICKS
Before earning Seattle's reverence, Pete Carroll endured New England's scorn while trying to replace a legend.
Ashley Fox »

Bill Belichick denied any team wrongdoings and offered other potential reasons for the deflated footballs.
Story »

Interviews with nearly 20 Browns sources revealed that Johnny Manziel was a turbulent presence in '14.
Fowler/McManamon »