Union's cut, revenue sharing center of holdup
That the owners are not only haggling with the union but also among themselves is making the completion of a new CBA extension difficult.
Originally Published:
October 26, 2005
By
Greg Garber
| ESPN.com
On Sunday, the National Football League again demonstrated why it has such a forceful grip on the sporting public:
The Philadelphia Eagles turned what looked like a certain defeat to the San Diego Chargers into victory with a late blocked field goal and a return for a touchdown. The Minnesota Vikings escaped from a 17-point second-half deficit to stun the Green Bay Packers as time ran out -- with a 56-yard field goal. The New York Giants, trailing the Denver Broncos by 13 points in the fourth quarter, rallied to win on a touchdown with five seconds left. The Seattle Seahawks scored 10 points in the final 40 seconds to beat the Dallas Cowboys.
On Monday, aficionados of fantasy football already were turning their attention to this Sunday's lineups and fans were joyously contemplating a tasty menu of pivotal divisional games. The NFL is our comfort food when the days get colder and shorter -- and we take it largely for granted.
| | | |
| --- | --- | --- |
| | " | Progress continues to be slow on a CBA extension, but we are working hard at it. That is as much as we can offer right now." |
| | | —NFL Vice President of Public Relations Greg Aiello |
One of the chief reasons the NFL prevails as America's most popular professional league is the rarely disturbed peace on the labor front. The last players' strike was in 1987, an unmitigated disaster that sent both sides back to their Aesop's fables to relearn the lesson of the Goose with the Golden Eggs -- an economic tale the NHL would have done well to study.
A disruption in service seems unlikely, even unthinkable, but when it comes to collective bargaining, it always remains a possibility. The NFL owners were planning to gather at the Westin Crown Center in Kansas City today to hear an update on the status of negotiations between the league and the NFL Players Association. However, the meeting was postponed because of the passing of Giants co-owner Wellington Mara on Tuesday. That said, the status is not so great. NFL commissioner Paul Tagliabue has described the distance between the two sides as a "significant gap."
The issue, as always, is money. The players, of course, want more. There is the usual pull and tug over the players' percentage of the teams' revenues, but there is another issue complicating the equation. The owners are not in universal agreement over how those revenues -- specifically, those generated by the 32 individual teams at the local level, such as sponsorships, luxury suite rentals, parking and concessions -- should be shared among themselves.
News is difficult to come by. Tagliabue has threatened to drop a $500,000 fine on any owner who discusses the proceedings publicly. The NFL declined to make Harold Henderson, chairman of the NFL Management Council, available to ESPN.com for an interview.
"Progress continues to be slow on a CBA extension, but we are working hard at it," said Greg Aiello, NFL vice president of public relations. "That is as much as we can offer right now."
Here is what we know:
The two sides are attempting to extend the 1993 collective bargaining agreement for the fifth time. The heart of the agreement is a system of free agency controlled by a gradually expanding salary cap. The current agreement runs out after the 2007 season, but there are compelling reasons -- negotiated into the existing contract for this very purpose -- pressing both sides to get a deal done before the '07 campaign begins.
If nothing changes, the 2007 season would be played without a salary cap, a big disadvantage to the owners. The penalty for the players would be that unrestricted free agent status would occur only after six years of service, not the present threshold of four.
"There is a sense of urgency," said Richard Berthelsen, the NFLPA's general counsel. "Contracts are being negotiated now that anticipate there being an uncapped year. As time goes on, there is more and more pressure to get something done. If we're sitting here talking about this a year from now, it gets harder to unscramble the egg."
The new deal under discussion involves a five-year extension, from 2008 to 2012.
Collective bargaining negotiations tend to run in cycles with television contracts -- the league's biggest source of income. A series of new multiyear deals in place for the 2006 season -- plus an expected contract for additional Thursday games -- should bring the league's annual television revenue to nearly $4 billion. The cut for each team, approximately $125 million, represents a 43 percent increase over the previous eight-year deal.
This is the basis of the union's increased demands. The NFLPA's current proposal asks for 64 percent of the league's revenues. The NFL has countered with a proposal calling for approximately 58 percent. NFLPA Executive Director Gene Upshaw has said publicly that there will be no deal if the first digit isn't "6." Although that might not sound like a "significant" gap, it represents a serious piece of change.
To put that in context, consider the numbers for the 2005 season. The overall salary cap for teams is $103.38 million, a total that includes salaries, pension and insurance contributions. The amount that goes to salaries is $85.5 million. The players' percentage of league revenues -- although not all revenues are covered under the current contract -- is approximately 60 percent.
According to Berthelsen, the difference between the union and league proposals amounts to between $10 million and $15 million as applied to the annual overall cap for each team. That works out to an additional average of $188,679 to $283,019 for each player on the 53-man roster.
"We're certainly not there yet," said Berthelsen, who accompanies Upshaw in bargaining sessions. "There are still some significant differences."
Worst-case scenario
The football, delivered from
Brett Favre
, arrived marginally ahead of
Detroit Lions
safety
Terrence Holt
. The strain of the collision was too much for the anterior cruciate ligament in
Javon Walker
's right knee.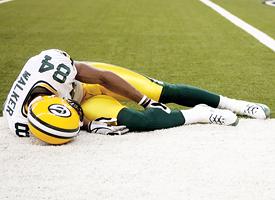 Jonathan Ferrey/Getty ImagesWalker's season-ending injury could have major ramifications on his next contract.
The ACL, roughly the thickness of a piece of twine, snapped in the Packers' opener on Sept. 11 and, with it, Walker's leverage for a new contract. The injury, if rehabilitation isn't a complete success, could cost the 26-year-old receiver tens of millions of dollars.
"Everybody knows injury is part of this game," Packers center Mike Flanagan said. "It's why guys get paid the way we do. The worst-case scenario happened for Javon."
In the NFL, where the average career lasts 3.2 years, earning power is only as strong as the body is able.
A first-round draft choice in 2002, Walker signed a five-year contract worth $7.5 million, including a $3 million signing bonus. After averaging only 32 catches in his first two seasons, Walker broke through in 2004 with 89 catches for 1,382 yards, 12 touchdowns and a Pro Bowl berth. Suddenly, the $515,000 he was scheduled to make this season and the $650,000 called for in 2006 didn't seem like enough.
"At the end of the day, everything is business. Everybody understands business," Walker said in the offseason. "You've got do what you've got do to get things done."
Throughout the summer, Walker's agent Drew Rosenhaus insisted he couldn't allow Walker to risk his health for that paltry sum and threatened a holdout in an attempt to force the Packers to renegotiate the deal. Rosenhaus' chief argument for a salary increase (and a large, guaranteed signing bonus) was the possibility of a major injury -- precisely like the one Walker suffered in Detroit. If he had produced another Pro Bowl-quality season, Walker very likely would have been offered that lucrative contract extension by the Packers.
But now, Walker finds himself in a gut-wrenching limbo. He will receive his $515,000 salary while he rehabilitates his knee in Houston and next year, if he is able to play, he'll receive his $650,000 base salary, plus another $500,000 from a statistically driven escalator clause.
The pressure on Walker to deliver big numbers in 2006 will be enormous. And given the distinct possibility that a CBA won't have been approved when the season kicks off, Walker won't even know what his bargaining position is. He could conceivably play out his original contract but be denied unrestricted free agency because of an agreement in the current CBA pact. Walker's season-ending injury and uncertain future have led to reports that he could be looking to replace Rosenhaus as his agent.
Walker's precarious situation frames the debate over guaranteed contracts. While Major League Baseball and the NBA offer guaranteed contracts, the NFL -- given the violence of the game and the greater prospect of injury -- historically has declined to.
Still, the concept of caveat emptor -- let the buyer beware -- continues to haunt NFL teams every year. Jacksonville Jaguars safety Donovin Darius signed a three-year extension for $8.5 million, then tore his ACL in Week 2 and will miss the entire season. The Lions drafted Charles Rogers second overall in 2003 and gave him a $14.4 million signing bonus. All they've gotten for their money is nine games in three seasons, as Rogers has been limited by a recurring collarbone injury and a four-game suspension for violating the league's substance-abuse policy.
As the free agency process has evolved, players have taken their guaranteed money in the form of huge signing bonuses and option bonuses with the understanding that teams might not honor the entire contract. NFLPA officials point out that if guaranteed contracts were introduced, teams rarely would offer anything more than a one- or two-year deal.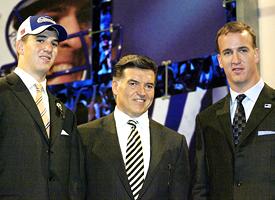 Jonathan Ferrey/Getty ImagesAgent Tom Condon, center, got Eli Manning, left, a $20 million signing bonus as part of his contract in 2004.
At the very top of the NFL food chain, however, there is a trend toward more guaranteed money, as the last three No. 1 overall picks -- all quarterbacks -- demonstrated.
Alex Smith
, the first choice in the 2005 draft, by the
San Francisco 49ers
, signed a six-year deal worth $49.5 million, of which nearly half ($24 million) was guaranteed. This followed
Eli Manning
's $20 million signing bonus in 2004 and
Carson Palmer
's 2003 bonus of $10 million.
In its current proposal to the owners, according to Berthelsen, the union is asking the NFL to guarantee rookie salaries for each year beyond a four-year deal. This is an attempt to avoid the situation in which Richard Seymour finds himself.
The Patriots' defensive end, the sixth player taken in the 2001 draft, signed a six-year deal worth $14.3 million. And though the contract could be worth nearly $21 million after escalator clauses are factored in, the fifth and sixth years of the deal will pay the Pro Bowl player far below the market value of a Jevon Kearse or Adewale Ogunleye.
A wide disparity
The NFL, according to one economist's estimate, is an $18 billion business -- nearing the combined values placed on the NBA ($9 billion), Major League Baseball ($7 billion) and the NHL ($5 billion).
If the NFL were a corporation like General Motors or Microsoft, approving a collective bargaining agreement with union workers might be significantly easier. But the fact is, the league is composed of 32 teams, owned by 32 very different people.
Moreover, even in the socialistic world of the NFL, where parity is a product of shared revenue, not all teams' revenues are created equally. While television money is shared equally, regardless of a team's ratings power, locally generated revenues -- advertising, luxury suite and club seat sales, stadium naming rights, and concessions -- are not. So despite that shared revenue and the salary cap that insists teams spend the same amount on player salaries, there is a surprisingly wide disparity in teams' individual revenues.
According to Forbes Magazine, the Washington Redskins led the league in revenues in 2004 with an estimated $245 million. The Cowboys ($205 million), Houston Texans ($201 million) and Eagles ($198 million) were next in line. Contrast that with the bottom of the list: the Arizona Cardinals ($131 million), Atlanta Falcons ($144 million) and Vikings ($144 million).
When Daniel Snyder's Redskins bring in $114 million more each year than Bill Bidwill's Cardinals, opinions are, predictably, going to vary on collective bargaining negotiations.
Upshaw, the union chief who has cited the owners' revenues that approach $6 billion, has been pressing the league's financially more successful teams to contribute more to the salary pool.
"We've had a good deal for 10 years," he said last fall after a meeting with the NFL Management Council in Dearborn, Mich. "We want to go forward, but the model has to change."
According to Upshaw's figures, the total revenue that isn't shared is 7 percentage points more than it was when the salary cap was introduced a dozen years ago. Not surprisingly, teams with higher revenues generally are against sharing this revenue, while the teams with lower revenue are in favor of it. For example, Texans owner Bob McNair is on record as opposing it, while Steelers owner Dan Rooney -- whose team is No. 16 among 32 teams in revenue -- is in favor of increased revenue sharing. An owner such as Jerry Jones of the Cowboys could, in fairness, ask why he should subsidize a fellow owner whose marketing vision and reach does not match his own.
So, with that kind of gap, how do you get the owners to agree on a CBA? According to NFL rules, a three-fourths majority is necessary for passage, meaning 24 of 32 owners must back a new deal.
"It can be quite difficult," the NFLPA's Berthelsen said. "That means a group of nine owners could stop anything. And, that group of nine could include high-revenue clubs not wanting to share more and/or low-revenue clubs needing to get more in order to afford a higher cap."
There are ways to get around the clash between haves and have-nots. Teams with higher revenues could call the subsidy a loan and tie it to maximizing revenues. Another possibility is that higher-revenue teams could wind up paying a greater share of pension costs.
According to Berthelsen, there already has been movement between the two sides with respect to which revenue is fair game for the players. Currently, the players get a percentage of a category known as designated gross revenues -- which has averaged about 90 percent of all revenues. Berthelsen said the new union proposal calls for all revenues to be considered in the equation.
| | | |
| --- | --- | --- |
| | | Walker's precarious situation frames the debate over guaranteed contracts. While Major League Baseball and the NBA offer guaranteed contracts, the NFL -- given the violence of the game and the greater prospect of injury -- historically has declined to. |
Although it does not enjoy the sanguine reputation of the MLB players' union, over time, the NFL's players' association has grown more aggressive and sophisticated. It was founded in 1956 when players on the Packers and Browns formed a union and demanded a minimum leaguewide salary, per diem, salaries paid to injured players, plus uniforms and equipment to be paid for by the teams. Don Shula of the Colts, Norm Van Brocklin of the Los Angeles Rams and the Giants' Frank Gifford later joined the effort, but the owners refused to meet with them. Twelve years later, the NFL first formally recognized the NFLPA.
In the end, labor is not pretty or exciting. Labor is, by definition, hard work.
For some time now, every two or three weeks, the principals have sat down face to face, usually in an executive conference room in the NFL office high above Park Avenue in New York. Upshaw and Berthelsen, joined by outside counsel Jeff Kessler and Jim Quinn, represent the NFLPA. Henderson is flanked by Tagliabue; Peter Ruocco, senior vice president of labor relations; and Eric Grubman, executive vice president of finance and strategic transactions.
They usually start early in the morning and, if discussions remain cordial, work through lunch. They are rational, reasonable men, even if the people they work for don't always fit that description. As they debate, in the back of their minds -- always -- is the lesson of the Goose with the Golden Eggs.
Greg Garber is a senior writer for ESPN.com.
Writer, Reporter
Greg Garber joined ESPN in 1991 and provides reports for NFL Countdown and SportsCenter. He is also a regular contributor to Outside the Lines and a senior writer for ESPN.com.
SPONSORED HEADLINES
MORE NFL HEADLINES
MOST SENT STORIES ON ESPN.COM
EDITORS' PICKS
Tony Dungy's stance on Michael Sam lacks logic.
Whitlock »

Which players have most value on the trade market?
Barnwell »

This could be Frank Gore's last hurrah with the 49ers.
Williamson »