Cowboys-Redskins a shadow of what it used to be
It once captured the country's attention and forced it to choose sides. Now, like many other so-called rivalries, the Cowboys-Redskins is just another game, writes Greg Garber.
Updated:
November 3, 2006, 1:00 PM ET
By
Greg Garber
| ESPN.com
The Cowboys-Redskins relationship, political correctness aside, never really had a chance.
When the idea to place an NFL franchise in Texas surfaced in the late 1950s, Washington owner George Preston Marshall was vehemently against it. It was an ugly struggle. At one point, the Dallas group purchased the rights to "Hail to the Redskins" and held the fight song hostage until Marshall relented. On Jan. 28, 1960, the Cowboys were born at the league's annual meeting in Miami Beach, Fla.
On Oct. 9, 1960, the Redskins beat the fledgling Cowboys 26-14 in the third game of their existence. Thus, the rivalry -- one of the greatest in sports history -- was born. Tom Landry, George Allen, Joe Gibbs, Marshall, Tex Schramm, Roger Staubach, Sonny Jurgensen, John Riggins, Tony Dorsett, Bob Lilly, Randy White and Rayfield Wright -- they all enriched the rivalry, and they're all enshrined at the Pro Football Hall of Fame in Canton, Ohio. The two teams would win eight Super Bowls between them and fire emotions not just in their own cities, but across the nation as well.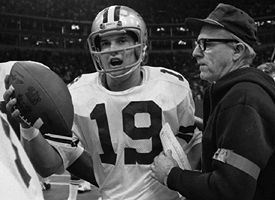 AP PhotoThe Cowboys-Redskins rivalry made legends out of unknowns, like Clint Longley, who rallied Dallas to a win on Thanksgiving in 1974.
"Those were the glory days," said Thomas "Hollywood" Henderson, who played linebacker for the Cowboys from 1975-79. "We had Crazy Ray and they had the black Indian, and those mascots were
hating
on each other. There was nothing better than a Cowboys-Redskins game."
On Sunday, the Cowboys meet the Redskins for the 94th time in their 47-year history. Dallas holds a commanding 55-36-2 edge in the series that has featured two games every season since 1961 with the exception of 1982, which was shortened by the strike. Based on the first meeting this season (a 27-10 Cowboys win in Week 2), this rematch isn't exactly inspiring a ground swell of enthusiasm.
It features Dallas head coach Bill Parcells -- whose biggest games against the Redskins came when he stalked the sideline of the New York Giants -- and Joe Gibbs, who is back as Redskins coach after a NASCAR sabbatical.
"We've got our lunch bucket full here with jobs we've got to do," Parcells said on Monday. "We'll see where we go."
Said Gibbs, "They've got a real good football team."
The player who has created the most buzz this season is Terrell Owens; he defected to Dallas after two years in that other NFC East venue, Philadelphia. The player in the spotlight this week, quarterback Tony Romo, has played exactly zero games against the Redskins. Washington's three offensive statistical leaders -- quarterback Mark Brunell, running back Clinton Portis and wide receiver Santana Moss -- arrived, respectively, in 2004 (in a trade from Jacksonville), 2004 (in a trade from Denver) and 2005 (in a trade from the Jets).
See a pattern developing here?
In today's mercenary world of the NFL, how can you generate hatred without history? The rivalry, at least at the professional level, is dead.
Rivalries still flourish in college, where the program matters more than the player. Consider the best: Ohio State-Michigan, Auburn-Alabama, Florida-Georgia, Oklahoma-Texas and, naturally, Harvard-Yale.
Free agency, of course, has changed everything. The Redskins might be the most active team in aggressively pursuing free agents in seven years under owner Daniel Snyder. There were nine unrestricted free agents added to Washington's training camp roster in 2006 alone. This kind of roster movement undermines continuity and, with it, long-term tenures that identify a player with a single team.
"I think all the rivalries in the NFL have lost a little because of free agency. Players and coaches, too, move around so much more than they used to," said NBC broadcaster John Madden on the Cowboys Radio Network back in September. "They haven't grown up in the culture.
"But as far as rivalries exist in today's NFL, I don't think there's much question Dallas and Washington is probably the best one."
Back in the day, say the 1970s, there were only three television networks to chose from, not the 100-plus cable offerings we have today. In 1975, there were only 26 teams; the NFL has since added six teams and, say, Jacksonville-Carolina doesn't exactly wake up the echoes. The expanding universe of entertainment -- instant messaging, video games and televised poker are all culprits -- has also diluted the impact of the great NFL rivalries.
In 2005, Sports Illustrated ranked the NFL's best rivalries this way: 1. Cowboys-Redskins, 2. Bears-Packers, 3. Chiefs-Raiders, 4. Giants-Eagles, 5. Steelers-Browns, 6. Broncos-Raiders, 7. Packers-Vikings, 8. 49ers-Rams, 9. Bengals-Browns, 10. Dolphins-Jets.
All of these rivalries have had their moments but, clearly, the most sustained runs of excellence belong to the past. Rivalries today have the shelf-life of a sitcom in a world of "reality" television. Because of their division affiliations, matchups like Steelers-Browns and Broncos-Raiders still occur twice each season, but lately, it seems, both teams are rarely playoff contenders in the same season.
Perhaps the best short-term "rivalry" in today's game is the Colts and Patriots. They meet this Sunday night, with only one loss between them in 14 games, in what may be the most anticipated game of the regular season. These two teams, which feature the two most highly regarded quarterbacks in the game -- Tom Brady and Peyton Manning -- have built talented and deep rosters that have landed them in the AFC's Final Four for three years running. This game could determine who plays the host when/if they meet later in the playoffs.
Still, there's not the long-term history that the Redskins and Cowboys have. When Gibbs returned to the Cowboys in 2004, it added some thrust to the dormant rivalry. On Sept. 19, 2005, Washington trailed 13-0 with four minutes left in the game, but Brunell and Moss stunned the Cowboys and Parcells with two long touchdown passes and the Redskins won 14-13. The sequel was devoid of drama, as so many are. Washington won a 35-7 contest in December -- the biggest victory margin in the 45-year series.
Wins like that, they used to be the kind of thing that could save a season. Case in point: The Cowboys made the playoffs every season between 1966 and 1985 -- except one. That happened in 1974, but the Thanksgiving game with the Redskins that season almost made up for it. Washington had a 16-3 lead in the third quarter when Staubach, the Cowboys' quarterback, was knocked out of the game with a concussion. Rookie Clint Longley rallied the Cowboys with two touchdown drives. The Redskins countered with another score but Longley hit Pearson with a 50-yard touchdown pass with 35 seconds left.
"That Thanksgiving game in 1974, that's where the rivalry was born," Henderson said. "There was a level of hatred there that you didn't see anywhere else. The mascots were going at it, the fans were yelling obscenities at me.
"It's just not like that any more. I don't think you'll ever see mascots in a fist fight. If you do, you'll know the old days are back."
Greg Garber is a senior writer at ESPN.com.
Writer, Reporter
Greg Garber joined ESPN in 1991 and provides reports for NFL Countdown and SportsCenter. He is also a regular contributor to Outside the Lines and a senior writer for ESPN.com.
SPONSORED HEADLINES
MORE NFL HEADLINES
MOST SENT STORIES ON ESPN.COM
EDITORS' PICKS
Former Ravens running back Ray Rice has won his appeal for reinstatement and is eligible to sign with any team.
O'Connor »

Janay Rice shares her account of the incident with Ray Rice in Atlantic City, and their lives since that night.
Story »

The Browns battle the Bills in game neither can afford to lose. Here are our Week 13 predictions.
NFL Nation »