They're from N.Y., but Jets, Giants totally different
Outside of the fact they are both from New York and both play a division team in the playoffs, the Jets and Giants have very little in common, writes Greg Garber.
Updated:
January 3, 2007, 1:02 PM ET
By
Greg Garber
| ESPN.com
In theory, anyway, the co-tenants of Giants Stadium are on equal footing as they venture into Sunday playoff games against division rivals on the road.
The Giants play the Philadelphia Eagles for the third time this season and the Jets have a similar, oppressively familiar meeting with the New England Patriots. Both teams qualified for the playoffs on the last Sunday of the regular season. It's the fourth time in 22 seasons that these two teams from the same building have reached the postseason in the same year.
But that's where the similarities end. The atmosphere surrounding these two teams could not be more different.
"It's kind of like a new life," Giants linebacker Antonio Pierce said after the Giants defeated the Washington Redskins, 34-28, on Saturday night. "All that talk about whether the Giants are going to make it -- well, they did."
Barely. After winning six of their first eight games and inspiring Super Bowl hopes, the Giants went 2-6 in the second half. They are only the eighth team in NFL history to make the playoffs with an 8-8 record. They didn't officially gain the playoffs until late Sunday afternoon, when they learned the Texans and Panthers had won their games. There was no Gatorade shower for head coach Tom Coughlin, who may not be around when the Giants arrive in Albany for training camp in 2007.
Relief seems to be the dominant emotion in the locker room of the Giants, who have struggled with more than their share of injuries. That's not the case for the other New York team. Rather than feeling like they dodged a bullet, the Jets are rising, with a bullet.
At Giants Stadium, after the Jets dispatched the Oakland Raiders 23-3, Kerry Rhodes, Eric Barton and Jonathan Vilma borrowed a play from the Giants' playbook, circa the mid-'80s. In a serious breach of protocol, they doused rookie head coach Eric Mangini with Gatorade and were rewarded with a hint of a smile and permission, for the first time this season, to use the P-word.
"I was just waiting for the clock to run down so I could start using the word 'playoffs,' " said wide receiver Jerricho Cotchery. "I'm about to wear that word out."
The Jets, 2-3 after a horrific 41-0 loss to Jacksonville in early October, rallied to win eight of their final 11 and three straight at the end when it mattered most. This was quite a surprise to the many prognosticators who saw the Jets winning four or five games, at best.
Regardless of the outcomes on Sunday, these are teams headed in opposite directions. A brief tale-of-tape examination: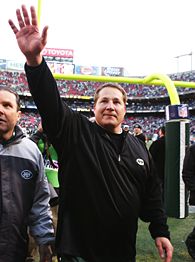 Al Bello/Getty ImagesFirst-year coach Eric Mangini took a 4-12 Jets team and made it a playoff team.
Head coach
: After New Orleans' Sean Payton, Eric Mangini is probably most deserving of Coach of the Year honors. The 35-year-old was the Patriots' defensive coordinator under head coach Bill Belichick last season and took the Jets job, presumably against the advice of Belichick, who was once, very briefly, the Jets head coach. Must-see highlight: The Belichick-Mangini Postgame Handshake III.
"I respect and appreciate all of the things he's done for me throughout the course of my career, and that's never going to change," Mangini said on Monday. "It will probably be a busy week down here. There will probably be some questions I've answered before."
Outgoing Jets coach Herm Edwards was a players' coach, which means discipline was not always the first priority. Mangini immediately changed the chemistry and during training camp it was obvious the players were struggling with his authority.
"It's exciting, because it's been a long road for us," Mangini said. "Believe me, they will tell you how hard the work has been. I'm proud of them."
The Jets improved six games from last year's 4-12 mark and, while critics noted that they were only 2-4 against teams with winning records, there is already talk that Mangini's relatively meager four-year contract that calls for $1.75 million per season may be upgraded. After Edwards made the playoffs with a 10-6 record as a rookie head coach six years ago, he got an improved deal.
Coughlin, 59 and old enough to be Mangini's father, is just hoping he has a contract for next season. An old-school, on-the-clock administrator, Coughlin led the Giants to an 11-5 record last season. But a surprising first-round playoff loss -- 23-0 to the Panthers -- raised questions.
This season, bold criticism from running back Tiki Barber and tight end Jeremy Shockey underlined questions about Coughlin's ability to motivate his players. At times, the Giants have been undisciplined, even reckless, and oddly dispassionate. Coughlin, who nevertheless became the first coach to take the Giants to back-to-back playoff berths since 1989-90, is a middling 25-24 in his three seasons with them.
"I'm not talking about anything that has to do with that," Coughlin said when reporters asked him about his job status. "I've not even thought once about that."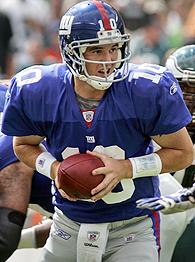 AP Photo/George WidmanTiki Barber claimed Eli Manning's lack of leadership hurt the Giants.
Quarterback
: Is there any player more deserving of the Comeback Player of the Year award than
Chad Pennington
?
Pennington, coming off serious shoulder surgery for the second straight season, played in all 16 games for the first time in his seven seasons with the Jets. He had a terrific year, completing 64.5 percent of his passes, and carrying the Jets' offense, which features two rookie starters on the offensive line and a rookie running back.
"After what I have been through," Pennington said, "I try not to take anything for granted, ever."
Manning, on the other hand, could be voted the NFL's Step-Back Player of the Year.
He threw 24 touchdown passes this season, but there were times when his already-suspect mechanics seemed to deteriorate even more. With the season on the line in the last two games, Manning is 21-for-51 and 174 yards. On a critical third-and-10 late against the Redskins, Kevin Gilbride asked Manning to hand the ball off to Barber, who was dropped three yards short of a first down.
General manager: After a long and distinguished career as an NFL administrator, the Giants' Ernie Accorsi, 65, is retiring.
He was widely viewed as the league's executive of the year in 2005, but the decisions to hire Coughlin and make the trade that brought Manning to the Giants in 2004 are questionable in retrospect. Ask the Chargers whether they'd trade back Pro Bowl quarterback Philip Rivers for Manning.
Jerry Reese, the Giants' director of player personnel, is the leading in-house candidate, while Charley Casserly, the former GM of the Redskins and Texans, and Patriots vice president of personnel Scott Pioli are among the outside candidates.
The Jets' Mike Tannenbaum is a rookie GM who is only 37 years old and in his 10th season with the team. Draft choices OT D'Brickashaw Ferguson, C Nick Mangold and RB Leon Washington have all performed exceedingly well.
Running back: Curtis Martin gained more than 14,000 yards in a dozen NFL seasons, but at the age of 33 there was no tread left on his tires. He never made it onto the field for the Jets.
Washington, a fourth-round pick out of Florida State, helped fill the void, carrying 151 times for 650 yards and four touchdowns. He was the lead horse in the Jets' three-headed attack that also featured Cedric Houston (113-for-374, five TDs) and Kevan Barlow (131-for-370, six TDs). Add it all up and you get a respectable 1,394 yards and 15 touchdowns.
The Giants, of course, are losing Barber after a terrific 10-year career. He set a franchise single-game record by rushing for 234 yards against the Redskins in what could have been the last game of his career. Barber, who hasn't backed off his decision to retire, ran for 1,662 yards and five TDs. He leaves the game with numbers that approach Hall of Fame quality.
So yes, they're both from New York, but that's about the only thing the Jets and Giants have in common. And nothing that can happen in the playoffs can change that.
Greg Garber is a senior writer for ESPN.com.
Writer, Reporter
Greg Garber joined ESPN in 1991 and provides reports for NFL Countdown and SportsCenter. He is also a regular contributor to Outside the Lines and a senior writer for ESPN.com.
EDITORS' PICKS
Clayton's mailbag: The "minimum spend" rule will make free agency interesting. Plus: AP's options and more.
Mailbag »

Kiper: This year's WR class includes three studs, nine potential first-rounders and plenty of potential.
Mel Kiper Jr.

Is Jameis Winston still the top pick? Here's how the combine impacted Todd McShay's first-round outlook.
Mock 3.0

MOST SENT STORIES ON ESPN.COM