Commentary
T.O., Moss thrive in similar situations
Randy Moss and Terrell Owens are similar in many ways, so it's fitting they're enjoying a renaissance at the same time, writes Greg Garber.
Originally Published:
October 10, 2007
By
Greg Garber
| ESPN.com
Video Clip No. 1: With the Chicago Bears well into the state of prime-time hibernation, Dallas Cowboys wide receiver Terrell Owens and quarterback Tony Romo kneel side-by-side on the sideline, their mouths going a mile a minute. Truth be told, they look like a couple of giddy, sugar-crazed kids on the playground.
Video Clip No. 2:
After catching his second touchdown pass against the Cincinnati Bengals on a Monday night, Patriots wide receiver Randy Moss works the sideline like a politician. He starts with the offensive line and, after much hand slapping, winds up in front of quarterback Tom Brady. Their smiles are incandescent.
Unlike the official Halo 3 trailer or Danny Bonaduce's latest onstage smackdown, these video companion pieces are not available on YouTube. And while they aren't as spectacular as some of the catches authored by Owens and Moss this season, they are just as telling. Maybe more so.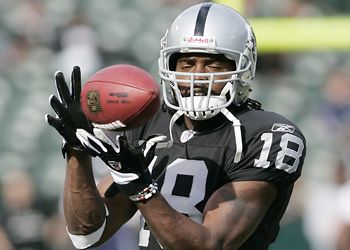 Scott Boehm/Getty ImagesAfter two forgettable seasons in Oakland, Randy Moss has been a dominant force in New England.
"They're an indication of where those guys are coming from," said Robert Smith, a former teammate of Moss' in Minnesota. "Randy's coming from the Black Hole in Oakland and T.O. comes from whatever that was -- the pain medication and depression -- last year in Dallas.
"To be through all that, and now find themselves in a place and a position where they can be successful, that's got to be the best feeling in the world."
Both athletes, at times angry young men, brooding and misunderstood during their long and productive careers, seem to be experiencing something new: happiness and fulfillment.
"Terrell's situation, basically, I think he's grown up," said ESPN analyst and Hall of Fame quarterback Steve Young, who threw to Owens in San Francisco. "I think it's a function of him being comfortable in that team setting. For Randy, with the moral authority in that Patriots locker room, he has absolutely no wiggle room. If he acts out, the players will go to [Bill] Belichick and say, 'Get him out of here.'
"Both guys have found a place where they can become Hall of Fame players by rehabilitating their personal history. There's enough time for them to do it."
Moss doesn't often reveal his thoughts to the media, but he does a weekly Q&A on his Web site.

Both guys have found a place where they can become Hall of Fame players by rehabilitating their personal history. There's enough time for them to do it.
--Steve Young, Hall of Fame quarterback
"That's what really makes me laugh, when my soul is feeling good," Moss said in a post a few weeks ago. "That has a lot to do with being happy, being in a good environment. When my soul is happy, I'm happy. It has to do with all of my surroundings, from players to people."
Owens had similar sentiments before the season began.
"I am [at peace]," he told Texas reporters. "Anytime you can go into a season without any legitimate distractions, and it doesn't weigh heavily on your mind, yeah, you're going to go out there and play free.
"You're just going to have an overall better feeling about yourself."
Both No. 81 in your program, Owens and Moss are the same man in so many ways, as their careers have traced remarkably similar arcs:
Scintillating talent. A series of dubious on- and off-the-field adventures. Consistently gaudy statistics with their first NFL teams, followed by a two-year sabbatical that ended with charges, counter-charges and, ultimately, failure. And now, in their 30s, they have sublimated their outsized egos and worked within the context of thoroughly professional organizations. Their success can be traced to the genuine relationships they have fashioned with their quarterbacks.
Today their teams are both 5-0 -- in no small part due to their muscular contributions -- and look to be leading contenders for the Super Bowl. Is it too early to imagine Owens and Moss colliding in February? One of them could crown his career with the only thing missing from his résumé, a Super Bowl victory.
How, really, did this happen?
Moss: Feeling the love
A year ago in Oakland, Moss suffered through the most unproductive season of his career. The Raiders, whose offensive line was abysmal, just couldn't get him the ball. Moss caught 11 touchdown passes in two seasons and was shipped on April 29 to the Patriots for the 110th overall pick in the 2007 draft.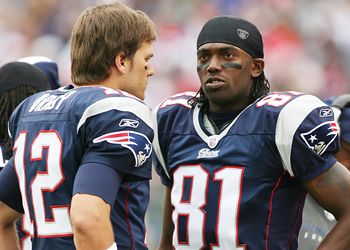 Tom Hauck/Getty ImagesIt didn't take long for Randy Moss, right, and Tom Brady to develop a winning chemistry.
The deal, even in the narrow retrospect of five games, is beginning to look absurd.
Through five games, Moss has caught 34 passes, leads the NFL in receiving yards (551) and is tied with the Giants' Plaxico Burress for the lead in touchdowns (7). Through four games, Moss had already caught as many touchdown passes as any Patriots receiver ever caught from Brady in an entire season. The prospects are terrifying for NFL defenses.
The numbers, extrapolated across 16 games, would look like this: 109 catches, 1,763 yards and 22 touchdowns.
The Patriots, of course, saw this coming. They assigned the locker next to Brady to Moss, now 30, and watched the chemistry develop.
"There's just a lot of love in the air," Moss said on his Web site. You can really feel it, you can smell it, you can taste it. That's just something good that they have here in the Patriots' organization. There's a love that we have for one another."
"We share some pretty deep conversations," Brady told reporters a few weeks ago. "He's a veteran player who has provided leadership in his attention to detail, his awareness on the field. Everybody's happy to have him.
"I don't know what he was like before, it's the only Randy I know. The nice part of being here is you really just have to worry about yourself, and the rest takes care of itself because you realize you have a bunch of teammates that are doing the exact same thing."

There's just a lot of love in the air. You can really feel it, you can smell it, you can taste it. That's just something good that they have here in the Patriots' organization.
--Randy Moss
Brady trusts Moss to the extent that he will do something most NFL quarterbacks won't; he'll throw the high-risk ball to Moss' back shoulder -- a pass that can easily turn into an interception. Against the perceived odds, Moss has bought heavily into the selfless, almost mythical "Patriot Way."
"The Patriots believe in team," Moss wrote on his Web site last week. "There are no I's up here. When you put the team concept together and really go out and execute your game plan and make things happen, it feels very good."
Moss has put his money where his mouth is. Due to earn $21 million in the two years remaining on his Raiders contract, Moss agreed to a one-year deal that included a $500,000 roster bonus and $2 million in incentives.
His teammates say he has simply come in and acted like a professional.
"He doesn't have to be the guy," Patriots linebacker Mike Vrabel told ESPN's Rachel Nichols. "He wants to be part of the team. He wants to be part of the piece that helps us go out and win games.
"There's a lot of ways to be a leader. It's not just [that] you were voted a captain or you're the one hooting and hollering. It's the little things: He knows his assignments, where to line up, what routes to run. He knows what to do when Tom looks over and gives him a signal. Those are things that young guys can look at and say, 'Not only is he talented, but he knows what to do and works hard.'"
Sound like lip service? During a second-quarter completion from Brady to Donte' Stallworth in Week 5, Moss actually blocked two different Browns defensive backs. Despite a below-par day, he was seen on the sideline laughing and joking with teammates.
"There's a culture round here of just doing your job," Brady told reporters. "Players who come into this organization, they see it and -- that's just the way it ends up going."
Smith sees symmetry in the evolution of Owens and Moss.
"Being in this [broadcasting] industry, if they don't like you, people find what they're looking for," Smith said. "They use everything about you in a negative way to support what they believed all along. Both of these guys are incredible players, and to find themselves at the height of their games and in position to win the ultimate prize, well, I think it's great."
Owens: A new lease on life
It was a little more than a year ago that Owens was rushed by ambulance to a Dallas hospital for what was believed to be a suicide attempt. A day later, Owens denied that he had tried to kill himself, blaming a combination of pain-killers and supplements for his erratic behavior.
Anthony Gardner, the pastor of Life Giving Word Ministries in Delran, N.J., and a close friend of Owens, was at his home the night of the incident.
"One thing about Terrell, he hates to be betrayed, the feeling that he's being stabbed in the back," Gardner said. "When he feels betrayed, when he feels he's being tolerated, well, sometimes he wrassles with himself.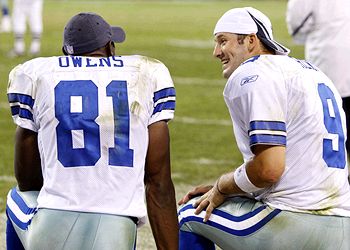 Matthew Emmons/US Presswire A longtime quarterback critic, Terrell Owens appears to have a lot of respect for Tony Romo.
"When he moved to Dallas, in his mind, he was headed in the right direction. But when you want to start new, people put a name tag on you and your reputation follows. There was a conflict there. To understand Terrell is to open your arms to him. When you close your arms, you put him into the same environment that he came from."
Owens, after signing a three-year contract worth $25 million in 2006, was a constant target of jibes of head coach Bill Parcells and often ran afoul of buttoned-down receivers coach Todd Haley, who insisted on punctuality for team meetings. A hamstring injury that took him out of the first 14 days of training camp was a particular sticking point. And while Owens' 2006 numbers were more than respectable -- 85 catches, 1,180 yards, 13 touchdowns -- it was a difficult season. He suffered a broken hand and wound up dropping an NFL-high 17 passes.
With Parcells and Haley gone, replaced by player-friendly head coach Wade Phillips and receivers coach Ray Sherman, Owens has relaxed appreciably -- and thrived.
"I talked to T.O. about it," said quarterback Tony Romo. "And he feels like you don't want to let the head man down. Because he allows you to be a professional, and if you let him down, it hurts him. It hurts T.O. to let someone down who really trusts in you."
So far, so good. At 33, Owens has 21 catches for 387 yards and three touchdowns. With wideout Terry Glenn still missing following knee surgery, Romo relies on a troika of Owens, tight end Jason Witten and wide receiver Patrick Crayton.
The T.O. that never seemed satisfied with the number of passes thrown his way in Philadelphia, actually boasts about creating opportunities for others.
"We're playing for fun," Owens said. "Players are playing great, the offensive coordinator is calling great plays. They're moving me around. Witten is catching big gains and I'm taking away the coverage. [Romo's] doing a great job finding us."
Like Moss, Owens has made a decided effort to integrate with the team. He is a regular fixture, along with running back Marion Barber and linebacker Bradie James, in the lunch-time dominoes games in the Valley Ranch locker room. Owens attended an NBA Finals game with safety Roy Williams and has taken wide receiver Sam Hurd under his wing.
Owens has also cultivated a relationship with his quarterback.
"From day one, Terrell's been saying that this kid was going to be a player," Gardner said. "They're on the same page and you can see it on the field."

We're playing for fun. Players are playing great, the offensive coordinator is calling great plays. They're moving me around. (Jason) Witten is catching big gains and I'm taking away the coverage.
--Terrell Owens
Gardner sees a new maturity in Owens.
"I see that he's settling into himself," Gardner said. "He's feeling really good about himself, feeling really good about his teammates. We've talked about it a lot: Do your job well and without incident, and you'll find there's more peace.
"This year he's going to re-invent himself, and let people see the Terrell that I know from Bible study."
Said Owens, "I think what's missing [in 2007] is I have never had the off-field problems. That is a credit to the way my family raised me. I know right from wrong just as well as the other guys. I just tend not to put myself in situations where things may come up."
But critics and skeptics are just waiting for a misstep. As Romo melted down with a five-interception performance in Buffalo on Monday night, Owens seemed to get tenser and tenser, which begs the question: What will happen if he catches only two passes and they lose?
Owens' recent end zone celebration, in which he pantomimed filming with an old-school movie camera from behind the goal post -- a tribute to the Patriots' illegal videotaping of signals -- suggests he's still a performer with a need for attention.
"The right atmosphere brings out the right things," Gardner said. "Terrell, Randy Moss, these kind of athletes need the right chemistry, the right people around them. The city loves him, the players love him, the coaches seem to love him.
"I'm happy he's found what makes him happy."
Greg Garber is a senior writer for ESPN.com.
Writer, Reporter
Greg Garber joined ESPN in 1991 and provides reports for NFL Countdown and SportsCenter. He is also a regular contributor to Outside the Lines and a senior writer for ESPN.com.
THE DUEL IN DALLAS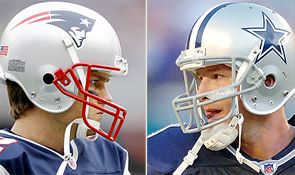 It's a battle of unbeatens ... and a potential preview of Super Bowl XLII. It's T.O. vs. Moss, Romo vs. Brady. It's 5-0 New England vs. 5-0 Dallas on Sunday at Texas Stadium (4:15 p.m. ET).
Commentary/features
•
Clayton's First and 10: Expect lots of offense
•
Garber: Moss and T.O. are two of a kind
•
Bendetson: Unsung Green gets job done for Pats
•
Sando: Brady, Moss among scheme-busters
|
List
•
Harasta: Sharing a moment with the Folk hero
•
Joyner: Cowboys defense passing the test

•
Wojciechowski: Mr. Belichick, meet Mr. Romo
•
Helyar: Romo's marketability a 'perfect storm'
•
Pasquarelli: Cowboy ugly win against Bills
•
Tafoya: Is Romo the next Brett Favre?

•
Power Rankings: Pats No. 1, Cowboys No. 3
•
Great Debate: Will Pats go 16-0 this season?
•
Hashmarks: Matt Mosley blogs on the big game
News
•
Cowboys' Phillips denies 'Spygate' comments
•
T.O. goes silent until after the game
Video
•
Belichick, Phillips sound off
•
Is T.O. nervous for the duel?
•
Werder: T.O. lets sign speak for itself
•
Nix: Brady, receivers keep improving
•
Parcells: What Romo, Dallas will face
•
Duel dialogue: Cowboys leaking oil?
•
EA Sports Madden Challenge: Dallas
Audio
•
Parcells, Keyshawn, Mort on Romo, more

•
Green: Game preview
•
Green: Debating which team is better
•
Tirico: Jerry Jones on QB Tony Romo

•
Mosley: Taking the temperature in Dallas

•
Mortensen: Romo will improve with age

•
Mosley: Bills wake-up call for Dallas

•
Clayton: Timeout rule needs a change

Scouts Inc.
•
Horton's Film Room: Romo's misreads
•
Pats will come hard after Romo
•
Take 2: Pats-Cowboys scouting report
•
Green: Cowboys should use more of Barber
•
Pats vs. Cowboys: Tale of the Tape
•
Green: The new Moss is same as old Moss
•
How to slow down the playmakers
•
Kretz: Newman gives Dallas options
•
Patriots-Cowboys scouting report
•
Kidd: Patriots key on Cowboys TE
•
Maalouf: Dallas special teams will struggle
•
Green: Romo can lead Dallas to Super Bowl
•
Horton: Here's why the Patriots could go 16-0
Zoom Gallery
•
Scouts Inc. on under-the-radar players
Simulations
•
EA simulation: Patriots 41, Cowboys 10
•
AccuScore: Moss makes major difference
SportsNation
•
Pats-'Boys: Who'll win? Who'll make the plays?
•
Rank the Patriots and Cowboys
Community
•
Post a comment on Dallas' Tony Romo
•
Join the conversation on Power Rankings
•
Readers discuss Cowboys' win in Buffalo
Animated Plays
The Cowboys could have their hands full with a defense that is the master of disguise. •
Patriots' games on defense
2007 Results
NEW ENGLAND (5-0)
•
Game 1:
Patriots 38, Jets 14
•
Game 2:
Patriots 38, Chargers 14
•
Game 3:
Patriots 38, Bills 7
•
Game 4:
Patriots 34, Bengals 14
•
Game 5:
Patriots 34, Browns 17
•
Patriots clubhouse page
DALLAS (5-0)
•
Game 1:
Cowboys 45, Giants 35
•
Game 2:
Cowboys 37, Dolphins 20
•
Game 3:
Cowboys 34, Bears 10
•
Game 4:
Cowboys 35, Rams 7
•
Game 5:
Cowboys 25, Bills 24
•
Cowboys clubhouse page


MOST SENT STORIES ON ESPN.COM