Commentary
Sam Wyche: From NFL to high school...and loving it
Former NFL head coach Sam Wyche is enjoying his second coaching stint with the Pickens (S.C.) High School Blue Flame, writes Greg Garber.
Originally Published:
October 26, 2007
By
Greg Garber
| ESPN.com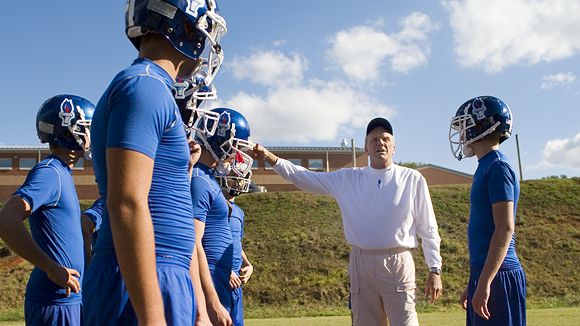 Brian Schneider for ESPN.comSam Wyche, who once tutored quarterbacks such as Joe Montana, brings his knowledge to the high school ranks these days. The former NFL head coach is dealing with heart and vocal cord ailments.
PICKENS, S.C. -- Arms folded, skinny as a scarecrow, his pale blue eyes process the chaos of a squirrelly special teams drill.
"Come on, C.J., get to it," Sam Wyche says forcefully after a kickoff falls in front of tailback C.J. Holley. "You've got to get up the field."
And then he softens and smiles. When this happens, which is often around these kids, Wyche exhibits an almost elfin quality.
He was an NFL head coach for a dozen seasons, in Cincinnati and Tampa, but it doesn't really register with members of the Pickens High School football team. Here, in the northwest corner of South Carolina where it still feels like the 1950s, the linebackers coach lines the field the day before a Friday night game with Travelers Rest High, the head coach's wife mends the blue game jerseys and the offensive game plan is prepared by the man who introduced the no-huddle as a standard offense.
Wyche through the years
A look at Sam Wyche's career in pictures, from the San Francisco 49ers to Pickens, S.C. Photos

Wyche labored over that game plan last week, mapping out 12 base runs, 11 base passes and 13 quick snap plays -- Crappy (82-All-Hook-Possession-Z-Quick-Post) was one of two plays he designed to be run out of the split-right shotgun. Wyche left a neat pile of 65 single-page copies in the locker room Monday. A day later, only 14 had been taken.
These teenagers, the 62-year-old Wyche concedes, are more interested in girls. "I'm having a blast -- I hope they are, too," he said. "It keeps you grounded in reality, the circle of life. "They're in the most impressionable time of their life. They're framing opinions and values. As a coach and teacher and parent, that's when you're the most influential. I watch them and I learn something from them every day. I learned more from Joe Montana than he ever learned from me -- by far -- and I'm not afraid to admit it." Sam Wyche, who was Montana's first NFL position coach back in 1979, has never been afraid to tell the truth as he perceived it. As he acknowledges, his legacy in the league has nothing to do with wins and losses. During a game in December 1989 against Seattle, Bengals fans -- unhappy with the officials -- started throwing snowballs and beer bottles onto the field. Wyche took the public address microphone and admonished them, saying memorably, "You don't live in Cleveland, you live in Cincinnati!" In October 1990, he reportedly barred USA Today sportswriter Denise Tom from the locker room after the Bengals' 31-16 loss to the Seattle Seahawks. In the wake of the Patriots-Lisa Olson controversy, Wyche said he believed some of his players might be embarrassed by having women see them undressed. Enforcing a league policy opening the locker room to all reporters, commissioner Paul Tagliabue fined Wyche nearly $30,000. At the time, it was the largest fine imposed on an NFL coach.
[+] Enlarge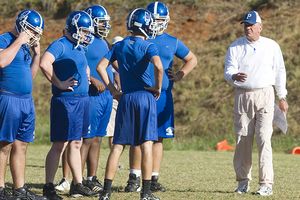 Brian Schneider for ESPN.comFormer NFL mastermind Sam Wyche is in his second stint as an assistant coach at Pickens High in South Carolina.
Wyche's emotional personality, his self-deprecating sarcasm and sense of humor, always has overshadowed his football r&eacutesum&eacute, but he played NFL quarterback for nine seasons, with the Bengals, Redskins, Lions, Cardinals and Bills. He spent four years tutoring Montana as an offensive assistant to Bill Walsh in San Francisco, then matriculated to head coaching jobs at Indiana University (1983), as well as the Cincinnati Bengals (1984-91) and Tampa Bay Buccaneers (1992-95). Wyche had a 64-68 record with the Bengals and took them to Super Bowl XXIII, where Montana led the 49ers to a last-minute comeback victory with a 10-yard touchdown pass to John Taylor. These days he is, as Tom Wolfe might describe him, a southern gentlemen, and a man in full. He's the volunteer offensive coordinator of the Pickens Blue Flame, a college analyst for Fox Sports South, an in-demand public speaker with his own
Web site
and a philanthropist. He lives with his wife Jane -- a former baton-twirling 1961 Miss Pickens he met at nearby Furman University -- on 28 acres of the sweetest land you'll ever see. There is a white 1938 farmhouse, framed by the Blue Ridge Mountains looming to the northeast, dogs and cats everywhere and four young Morgan horses frisk in the long grass.
"He gets excited no matter what team he's coaching," said Jane. "If they win, he's thrilled. If they lose, he gets down. The best part is that there's not as much pressure."
Where are they now?
What ever became of Chuck Knox, Wayne Fontes, Bobby Ross, Chuck Noll and other former NFL coaches? Story

Said Brett Turner, Pickens head coach: "He's a very humble person. He's always thinking of the kids, even the ones that don't play much. One day we took Polaroids of the kids and he made a book for himself so he could learn all their names. When a kid has no way to get home, he'll be one of the first ones to give them a ride."
"Man, ever since I retired, I don't have time for anything," Wyche said, shaking his head and pausing. "Could be worse."
The unkindest cut
A few years ago, it was. He had always been an active runner, but in 2000 Wyche found himself getting winded with little exertion. He was, he says, "a lousy date" and sometimes spent 23 hours a day in bed. Doctors didn't like the look of his enlarged lymph nodes and, fearing cancer, proposed a biopsy. During the procedure, the nerve connected to the left vocal chord was accidentally severed. Instantly, his voice -- the chief instrument of his engaging personality -- was all but gone. Operating on its own, Wyche's right vocal chord could only produce a gravely, ghostly whisper, not enough volume to allow him to continue in his role as a broadcaster for CBS NFL telecasts. And then, things got worse. In March 2001, doctors told Wyche he had viral cardiomyopathy, a condition that attacks the heart muscle and can lead to heart failure. "They put in a pacemaker in 2002," Wyche said. "Dick Cheney has the same one I do. He just gets [the rhythm swings] on weekdays. I get mine on weekends." Wyche laughs, but it's not funny when he wakes up every night at 2:55 a.m. The Medtronic pacemaker keeps his heart beating 75 times per minute, but occasionally it drifts out of that rhythm. That's when a small computer that is part of the device fires a defibrillator. It usually happens around 3 a.m. when, theoretically, Wyche is supposed to be asleep.
[+] Enlarge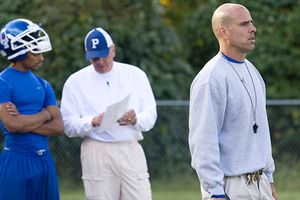 Brian Schneider for ESPN.comSam Wyche counsels running back Dante Rice (left) on offensive schemes as Pickens High head coach Brett Turner (right) overlooks the defense.
"It's fired eight times, sometimes in non-life threatening situations, other times in full [life-threatening] fibrillation," Wyche says. "That's more than 750 volts and, let me tell you, it throws you up against the wall. After a few times, your body says, 'Wait a minute, I think I need to be awake at five before three.' "
"He never lets it get him down," said Jane. "He could have gone ahead and quit, but he can't stand not having anything to do. Even if it kills him, he goes ahead and does it anyway. Yesterday, he was out sawing fencing to keep the horses from getting out."
This is actually his second tour of duty with the Pickens Blue Flame. After he was forced to give up his television career, then-head coach Andy Twiedo asked him to help out. Wyche taught some classes and ran the offense in 2002-03, before getting a call from newly named
Buffalo Bills
head coach Mike Mularkey. Wyche, who had given Mularkey his first NFL position in Tampa Bay, served as his quarterbacks coach in 2004-05. When Mularkey was fired, Wyche rejoined the Pickens staff at the request of Turner. Last year, with Wyche drawing up the plays, Pickens won its first playoff game in more than 20 years. The only problem, Wyche says, is that the kids have difficulty distinguishing his sarcasm from something more serious.
"The other day, our running back, Dante Rice, threw a reverse pass and the receiver dropped it," Wyche said. "I said, 'Jeremy, you've got to be ready. Next time, Dante will throw it just right, so the laces are up when you catch it. The ball's easier to catch when the laces are up.'
"They just sort of stood there looking at me, nodding their heads."
Proud to be a small-town guy
NFL head coaches, past, present and future, carry a certain swagger about them. They usually have good posture, a direct manner and invariably drive Escalades or large German automobiles. Sam Wyche, naturally, drives a Honda Civic hybrid. "It gets 42 to 46 miles per gallon," Wyche says. On a recent Thursday, he was in a buoyant mood, driving down Route 8 East from Greenville. His knees were crowding the wheel and sometimes, when he was pointing out a landmark -- say, his Rock Springs Baptist Church in the adjoining town of Easley -- he'd take both hands off the wheel.

He could have gone ahead and quit, but he can't stand not having anything to do. Even if it kills him, he goes ahead and does it anyway. Yesterday, he was out sawing fencing to keep the horses from getting out.
--Jane Wyche on her husband
Wyche took the time to introduce an ESPN producer and reporter to Main Street in Pickens. There was a trip to the hardware store, Brock's clothing shop and a terrific lunch at Michael's restaurant. Wyche attacked his collard greens and pineapple casserole with the vigor of one of his players.
Twenty-four hours later, the Pickens Blue Flame dusted the Travelers Rest Devildogs, 41-0. Holley ran for touchdowns of 46, 37, 18 and 11 yards in the first half, three of them coming on Wyche's 35- and 34-Gut plays, where the guards pull and take out the widely aligned defensive ends. Wyche's voice is still sometimes a concern. He's had three major operations -- you can see the shiny scars at the base of his neck -- and stints implanted in his throat have restored some vocal power. Fortified by voice therapy, his vocal chords produce a credible, albeit raspier version of the original. But after three hours of sideline duty last Friday night and another three in the broadcast booth Saturday for the Georgia Southern-Elon game, Wyche sounded a little hoarse on Sunday. He was glad his corporate outing Monday in Atlantic City, N.J. was likely to involve more golf than public speaking. "When I press, the voice strains," he said. "You just drink some water and get through it." He'd like to get back into NFL network broadcasting. He's pulling a manuscript together for the book he wants to write; a non-fiction entry that doesn't go as far as kiss-and-tell, yet feels like Pete Gent's "North Dallas Forty." And, after the high school football season, he has scheduled hip-replacement surgery for later next month. Watching him count to make sure there were exactly 11 Blue Flame players lined up for a kickoff drill, you got the idea he was in his element. It could be worse, a lot worse.
Greg Garber is a senior writer for ESPN.com.
Writer, Reporter
Greg Garber joined ESPN in 1991 and provides reports for NFL Countdown and SportsCenter. He is also a regular contributor to Outside the Lines and a senior writer for ESPN.com.
SPONSORED HEADLINES
MORE NFL HEADLINES
MOST SENT STORIES ON ESPN.COM
EDITORS' PICKS
Viewer's Guide: Can Detroit's defense overcome Green Bay's Lambeau advantage? Here are the Week 17 trends to track.
Graphic »

Eric Berry has received an outpouring of support since being diagnosed with cancer.
Ashley Fox »

John Clayton's mailbag: Give Jerry Jones his due for the Cowboys' success. Plus: Russell Wilson's value and more.
Mailbag »